Arsenal vs. Swansea: 6 Things We Learned from FA Cup 3rd Round Replay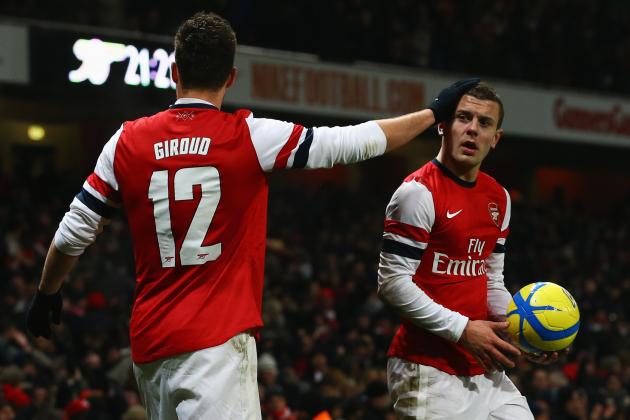 Jan Kruger/Getty Images
Olivier Giroud congratulates Jack Wilshere on his match-winning display.
After a tense tussle with Swansea, Arsenal have made it through to the fourth round of the FA Cup.
For a long time it looked as if the one goal they needed might elude Arsenal, but in the end Jack Wilshere stepped up to thump home, and guarantee his team a tantalising away tie with Brighton.
On a night when Wilshere was the undoubted star for Gunners, we take a look at the conclusions to be drawn from this vital victory.
Begin Slideshow

»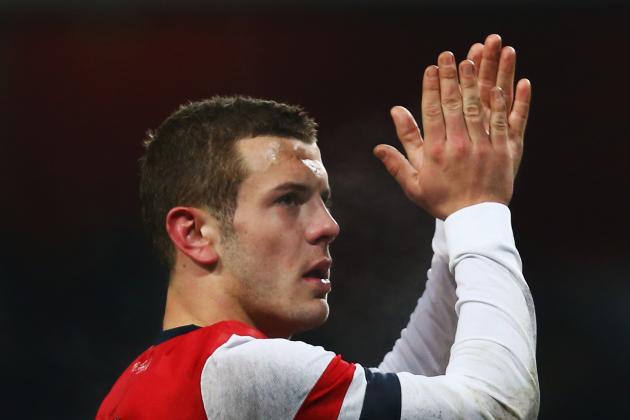 Jan Kruger/Getty Images
Jack Wilshere is Arsenal's true leader.
Thomas Vermaelen might be the man wearing the captain's armband, but there is no doubt about who Arsenal's true leader on the pitch is: Jack Wilshere.
Wilshere's heroic display against Manchester City signalled his ascension to being the heartbeat of this Arsenal team. Against Swansea, he went further still, marrying his trademark desire and guts with a display of outstanding technical quality.
Although still just 21, Wilshere's courage and maturity is that of a man far beyond his years. It can't be long until he inherits the captaincy from Vermaelen and takes his rightful place as Arsenal's talisman and leader.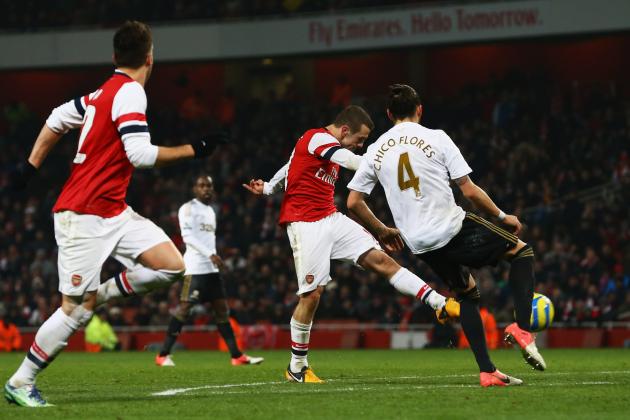 Jan Kruger/Getty Images
Jack Wilshere thrashes home the winning goal.
Jack Wilshere has worn the No. 10 shirt on his back since returning from injury. Tonight, he was given a rare chance to play in the position most strongly associated with that number: that of a central playmaker, just behind the striker.
Wilshere excelled.
Afterwards, Arsene Wenger was hesitant to confirm whether or not he will keep Wilshere in that role, but did admit:
He is a guy who can dribble and give a final ball, so the closer he is to goal, the better it is. He has quality and enthusiasm, and love for the game. That is the most important thing to me.
Wilshere is following the same evolutionary path as Cesc Fabregas, who began first time-team career in a deeper role before advancing to play as a goalscoring No. 10.
If the switch is half as successful for Wilshere as it was for Cesc, Arsenal will have some player on their hands.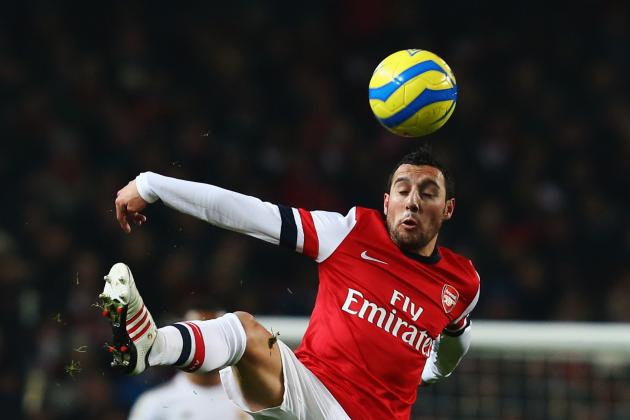 Jan Kruger/Getty Images
Santi Cazorla flourished in a new position against Swansea.
With Jack Wilshere in the advanced playmaking role, Santi Cazorla was shunted wide to the left wing.
It did him the world of good.
Upon initially arriving at Arsenal, Cazorla excelled in the centre. However, since then, teams have got wise to his skills, and sought to crowd him out.
Moving him wide seemed to liberate Cazorla. He was free to roam and find space, while Arsenal benefited from having a trio of more solid and defensive-minded midfielders behind him.
It is an option Arsenal should look to explore further in the future.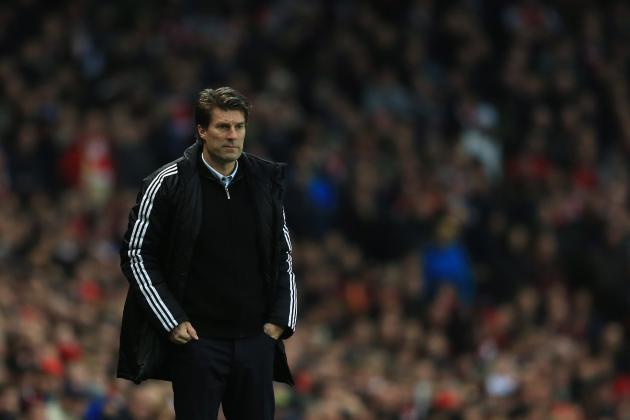 Richard Heathcote/Getty Images
There is much to admire about Michael Laudrup's Swansea.
There is so much to admire about the job Michael Laudrup has done at Swansea. One cannot help but wonder if he could one day be in contention to sit in the home dugout at the Emirates Stadium.
Laudrup inherited a Swansea side who were excellent at retaining possession but lacked penetrative power. It is a problem Arsenal often suffer from themselves.
He has evolved the Welsh side into a dangerous counter-attacking unit, who are both solid at the back and ruthlessly efficient in possession. Even though they lost this match, there was still so much quality about their play.
He obviously has an eye for a bargain, too. Arsenal know that more than most, having fallen victim to Michu on two occasions already this season.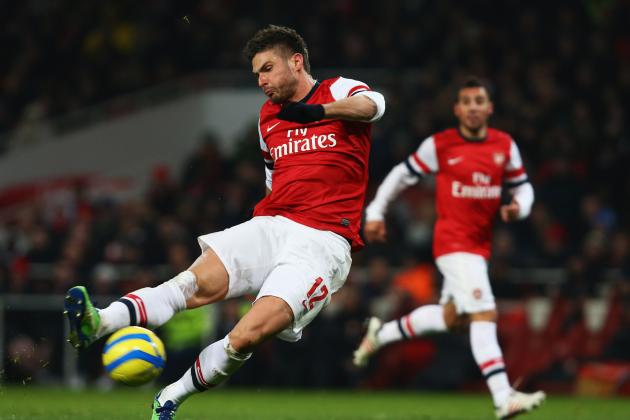 Jan Kruger/Getty Images
Olivier Giroud struggled once again in front of goal.
Arsene Wenger handed a start to Olivier Giroud against Swansea, and while the Frenchman's link-up play was typically excellent, he also conspired to miss several presentable opportunities.
Theo Walcott was also off-target on a couple of occasions when it looked easier to score.
Although both forwards have performed well in flashes this season, neither has looked capable of scoring 25 goals or more in a campaign. Arsenal would benefit from such a striker in their ongoing quest to banish the memory of one Robin van Persie.
If there is any way Arsenal can prise David Villa from Barcelona, they must do it.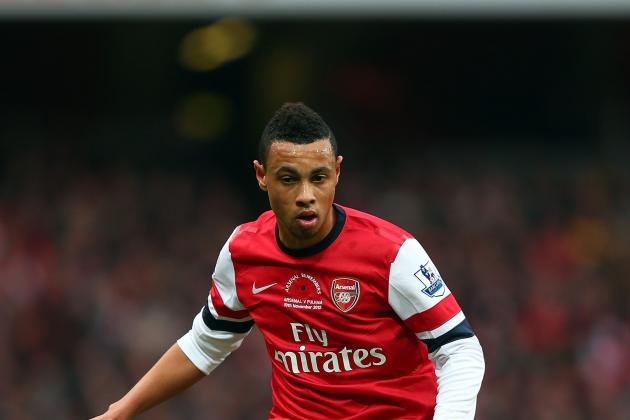 Clive Rose/Getty Images
Francis Coquelin showed his defensive qualities against Swansea.
Francis Coquelin's introduction to the Arsenal team immediately shored up the midfield.
Although he has the stamina to go from box to box—as late as the 85th minute, he was making lung-bursting runs in to the opponent's half—he is primarily a defensive-minded player. This makes him the most natural replacement for the injured Mikel Arteta.
Encouragingly for Arsenal fans, in stoppage time, was Coquelin—the least experienced player on the pitch—pulling his fellow midfielders back and organising the defensive shape.
His display makes him a candidate to start in the weekend's game with Chelsea.