Predicting the Top 9 Headlines from NFL's Conference Championship Weekend
Doug Pensinger/Getty Images
After one of the wildest divisional rounds in recent memory, the stage is set for a huge weekend of conference championship games. All four remaining teams have a chance to represent their conference in the Super Bowl, with plenty of storylines to fuel them.
Will this be Ray Lewis' last game? Will there be a "Har-bowl" after all? Or will Tom Brady and Matt Ryan meet for a Super Bowl title?
Here are nine predictions for the top headlines that could start the build up to the Super Bowl.
Julio Jones, Roddy White Light Up Niners' D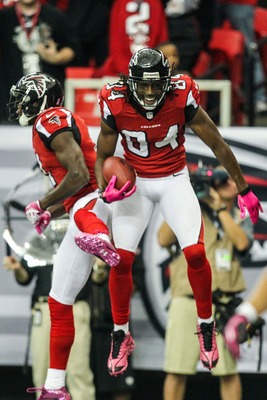 Daniel Shirey-USA TODAY Sports
The 49ers are known for their suffocating defense, but ever since Justin Smith tore his tricep in the regular season, the 49ers defense has been hardly living up to their name. Their pass rush is rated in the bottom half of the league, according to FootballOutsiders.com.
Conversely, when given time to get downfield, the Falcons' receivers are among the best in the NFL at generating big plays. Neither Carlos Rogers nor Terrell Brown, the 49ers two starting cornerbacks, are capable of matching up with either Jones or White on the outside, and Matt Ryan is going to have plenty of chances to take deep shots.
If Justin Smith starts to look like the man that he was earlier in the season, the 49ers stand a much better chance to stop the Falcons' offense. But if Smith cannot play as dominant as the 49ers are used to, it will affect the production of guys like Aldon Smith as well.
Kaepernick's Youth Exposed in 49ers' Loss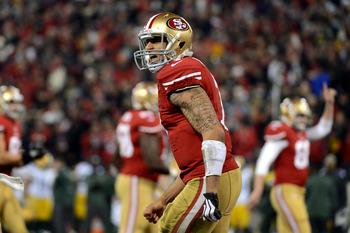 Harry How/Getty Images
What Colin Kaepernick did against the Packers was nothing short of spectacular. He broke the single-game rushing record for a quarterback, which led to a resounding win over the team with the best player in the world.
Kaepernick has plenty of momentum heading into this game, but how can he possibly maintain this level of success?
There is no doubt that "Kaep" has been more exciting to watch than Alex Smith, but he has been prone to turning the ball over on rookie-like mistakes in big situations, such as when he mishandled a toss play in a Week 13 loss to the Rams.
Meanwhile, "Matty Ice" has a track record of comeback performances, including last week when he drove down the field in less than 30 seconds to secure the game-winning field goal attempt.
Both teams should have plenty of offensive success against two beat-up defenses, but the team that maintains poise in clutch situations will come out on top. Based on the history of these two quarterbacks, it's impossible to bet against Matt Ryan is such situations.
Invisible Pass-Rush Fails Patriots' Defense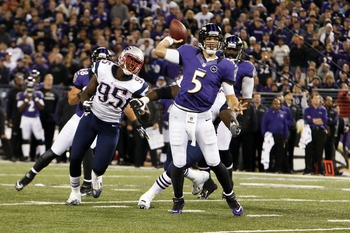 Mitch Stringer-USA TODAY Sports
This matchup will be the one that decides the AFC Championship game.
The Patriots currently rank in the bottom-half of the league in pass-rushing efficiency. After a very strong start, rookie Chandler Jones appears to have hit a bit of a rookie wall.
Meanwhile, the Ravens' offensive line has improved immensely since they moved Michael Oher to right tackle and Bryant McKninnie to left tackle. This combination held the vaunted Broncos' pass-rush to just one sack last week, despite the fact that the Ravens ran plenty of time-consuming pass plays.
If Joe Flacco has time in the pocket, the Ravens' speed receivers will be able to generate big plays against an average Patriots' secondary.
If the Patriots fail to reach the Super Bowl, it will be primarily because of their inability to rush the passer.
Lewis, Gonzalez Hope to Have Cinderella Ending to Fairytale Careers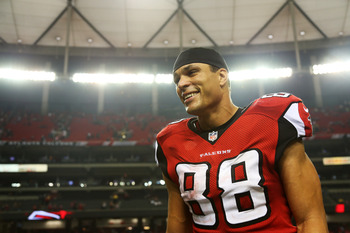 Mike Ehrmann/Getty Images
The fact that this could be Ray Lewis' last game will get plenty of airtime, but many forget that this could also be the last time we see Tony Gonzalez in uniform as well. He has stated that he will likely retire after the season (h/t USA Today).
Gonzalez is a shoe-in for the Hall of Fame in his own right, and just like Ray Lewis, he is in the conversation as possibly the best player to ever play his position.
It is also important to remember that this could be Ravens safety Ed Reed's final game, who has been mum on his playing future as well.
Should both players have a chance to meet in the Super Bowl, it would be one of the top storylines leading up to the game. All three players were icons in their era and have one last chance to go out on top, which is a privilege so few players get to experience.
Frank Gore Has Monster Day Against Falcons' Defense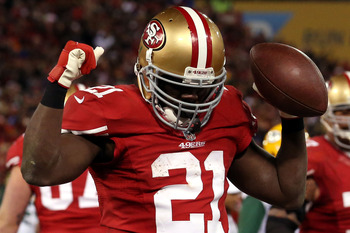 Stephen Dunn/Getty Images
The biggest weakness for the Falcons headed into this game is their porous run defense, ranked as the 12th-worst unit in the NFL.
This week, they face the daunting task of having to stop both Frank Gore and Colin Kaepernick. After watching Kaepernick rip off 180 rushing yards against the Packers last week, the Falcons are going to be a bit more prepared for the read-option, causing the players to spend more time thinking than reacting. This could leave them more susceptible to "standard" runs with Gore.
The Falcons have an excellent chance to win the game, especially with it being at home, but expect Frank Gore and the 49ers' rushing attack to have their presence felt.
Tom Brady, Wes Welker Pick Ravens Apart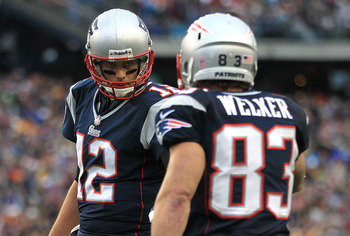 Jim Rogash/Getty Images
The Patriots seem to add a new facet to their team every year, but the connection between Welker and Brady remains as the toughest combination to stop in the NFL.
Coming off a 118-catch regular season, Welker will feast on Baltimore's average secondary.
The Patriots are going to want to limit the Ravens' big-play offense to a few possessions as possible. The best way to do that is by sustaining drives with the short passing game and timely runs that will slow down Terrell Suggs and the rest of the Ravens' pass rush.
Another storyline to watch in this game is the fact that this could be the last game with Brady and Welker on the same team, as Welker is scheduled to become a free agent after the season. Given the Patriots' track record of letting quality players go a before they start to decline, there is a very good chance that Welker will want to get the most out of what could be his last game in New England.
Joe Flacco Has His Revenge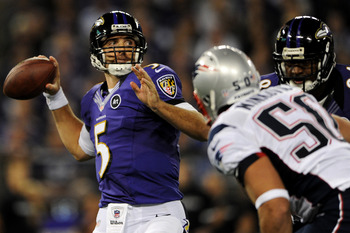 Patrick Smith/Getty Images
Exactly one year ago, Joe Flacco lost the most frustrating game of his life. He played a spectacular game in this same venue against the same opponent, but a dropped pass and a missed chip-shot field goal sent him and the Ravens packing, leaving them to ponder "what if?" for another year.
Now, it's Joe Flacco's turn to finally beat the Patriots in the postseason and get the Ravens into the Super Bowl.
The Ravens may not be favored to beat the Patriots in Foxborough (who ever is?), but they have a much better chance at winning than most realize.
As I previously mentioned, the Ravens are set up to have another day of good pass protection, which sets up the deep ball that the Ravens are so reliant on. If their defense can continue to play well as their roster gets healthy, all it will take is a few deep shots to Torrey Smith to put the Ravens on top.
If Flacco plays anything like he did last week against the Broncos, the Ravens will be headed for New Orleans.
Matt Ryan Cements "Elite" Status with Super Bowl Berth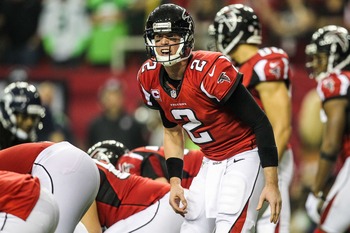 Daniel Shirey-USA TODAY Sports
Few topics spark as much debate as categorizing quarterbacks as elite, and Matt Ryan has been on the cusp of such categorization for most of his career.
This has been Matt Ryan's best season of his career, posting career-bests in completion percentage, yards, and touchdown passes.
But all of that will be for naught if he is unable to get himself a ring.
He was at least able to get himself his first playoff win (in dramatic fashion) to silence some of his critics, but Ryan is a better quarterback than his playoff record suggests, and this Falcons team is capable of winning a Super Bowl with their allotment of talent.
If Ryan can get the Falcons to the Super Bowl, he will be instantly known as one of the best Falcons quarterbacks in franchise history, and he will be immediately put back into the conversation for the coveted "elite" label.
Top Quarterbacks from '08 Draft to Meet in Super Bowl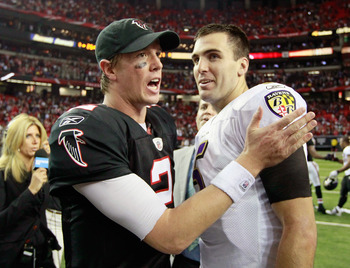 Kevin C. Cox/Getty Images
The 2008 quarterback class was viewed as a rather thin group with some upside, but each prospect was laced with red flags that led many to believe that they had a high "bust potential." The thinking was that any team looking for a quarterback was likely better off waiting until 2009.
Matt Ryan's habit of turning the ball over scared the Dolphins away from taking him first overall. Deleware product Joe Flacco, a transfer from Pitt because he was unable to beat out the likes of Tyler Palko for the starting job, lasted until the middle of the first round.
Now, both players could be meeting each other in the Super Bowl.
Flacco has made the playoffs in every year of his career. Ryan has missed the playoffs just once. At this rate, it is inevitable that one of these players is going to eventually get to the big game, and the fact that they could both do it at the same time only adds to the drama.
Keep Reading