NHL Preview 2013: Bold but Reasonable Predictions for the Shortened NHL Season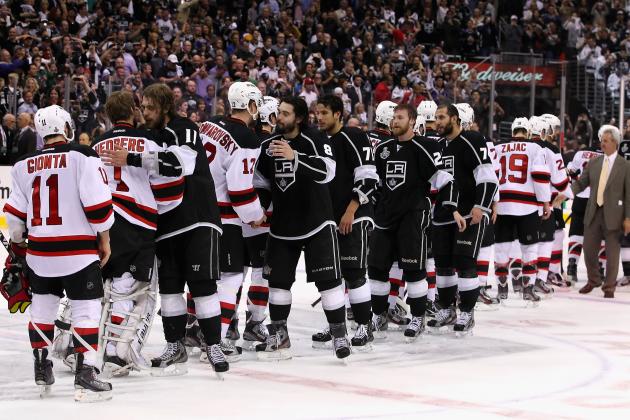 Christian Petersen/Getty Images

In a sport as unpredictable as hockey, bold predictions are tough to make without sounding like an absolute idiot. Then again, making bold predictions could be the only way to sound like a genius when all is said and done. Look at what happened last spring.
One thing we learned last year was that no prediction can be a wrong prediction before the season or playoffs started. If anyone picked the Kings and/or Devils to be playing in June last April, he or she must have had to withstand a huge amount of criticism before looking like an expert.
Bold predictions are even more interesting in a shortened season, as the likelihood of anything happening increases with a fewer amount of games. If one team goes on an unexpected hot streak, it can make the playoffs. On the contrary, if a top contender goes on an unexpectedly cold streak, it could miss the playoffs entirely.
Here are some bold, yet not impossible predictions for the shortened 2013 NHL season.
Begin Slideshow

»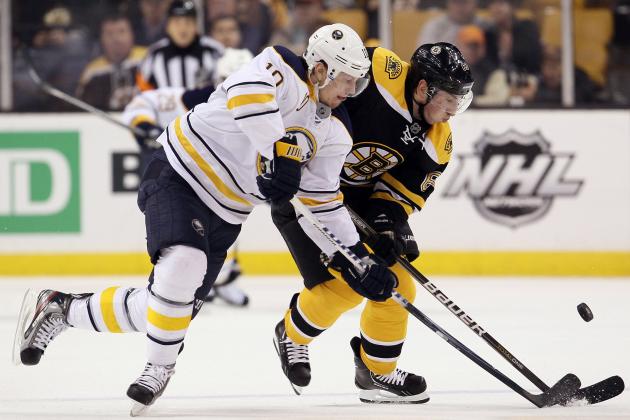 Elsa/Getty Images

The Bruins should come away with this one in the end, but expect the Northeast Division race to go right up through the last week of the season.
Boston is possibly the deepest all-around team in hockey, but it will have some adversity to work with as superstar goalie Tim Thomas has decided to just take this year off. Tuukka Rask is very promising, but he cannot be expected to outperform Thomas.
The Sabres, on the other hand, are a very hungry team after being huge underachievers and missing the playoffs in 2012. They still have most of their solid roster intact, and added some grit in the offseason to be able to stand up for themselves against the big, bad Bruins.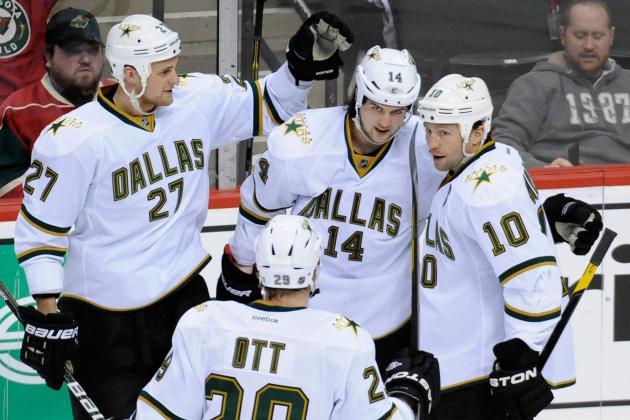 Hannah Foslien/Getty Images

The Dallas Stars made a big splash in free agency, signing a pair of 40-year-olds in Jaromir Jagr and Ray Whitney. These moves showed that the Stars are clearly concerned about winning right now, as they added some star veterans to work with younger stars like Jamie Benn and Loui Eriksson.
The bottom line is, this will either work out great, or it won't work out at all. In a compressed season, the two 40-year-olds could get fatigued easily and cause the team to underachieve. Also, Dallas has been known to start out great but finish terrible in the regular season, as they lost their last five games of the regular season last year to barely miss the playoffs.
Will Jagr and Whitney's experience help out the Stars? Will the team's age slow it down? And will Dallas be hot like they are for the beginning of the year, or cold like they usually are from February on?
Many questions surround this team, and they will be one of the most interesting clubs to keep an eye on.
Isaac Brekken/Getty Images

Brian Elliott and Jaroslav Halak were both sensational in net for the Blues last season, creating easily the best goalie tandem in the league.
Both goalies were so good that the chance for either to replicate that kind of success is very small. Elliott and Halak were not big names before last season, and although Halak led Montreal to a miracle playoff run in 2010, neither had been known as a top-tier goalie.
Expect both to still be solid goalies, but not put up insane under-2.00 goals-against averages for the second season in a row.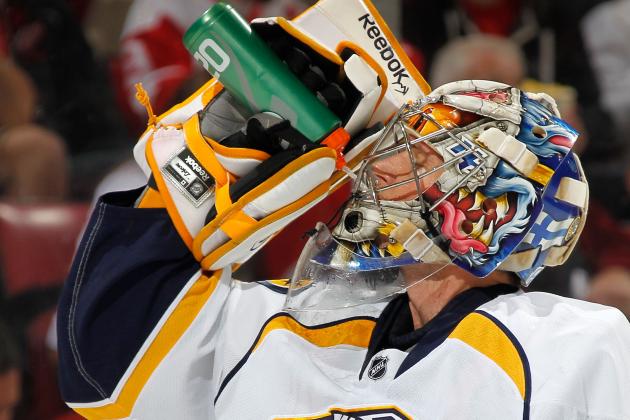 Gregory Shamus/Getty Images

Pekka Rinne was a huge reason why the Predators finally defeated the hated Red Wings in the playoffs last year. Despite getting outshot for most of the games in the series, Rinne stood on his head and made some incredible saves to keep his team in the game. Then, when the Predators got a scoring chance themselves, they pounced on it.
Rinne's play will be just as superb this season, and the loss of Ryan Suter on the blue line will do minimal damage to the amount of goals this team gives up.
Pekka Rinne shocks the hockey world and beats out Henrik Lundqvist and Jonathan Quick for the Vezina Trophy.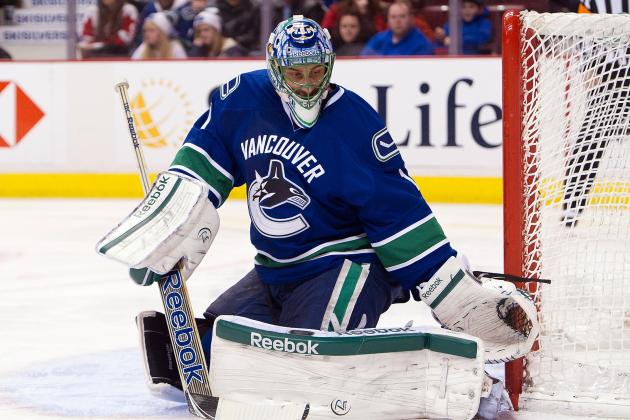 Rich Lam/Getty Images

Vancouver still has not traded Roberto Luongo, and remains a solid team in every aspect of the game. A good return for the recently-demoted backup would be nice, but the Canucks' roster is just fine as it stands right now.
Training camp only has a few days left, and if Luongo is not traded in the next day or two, Vancouver will hang on to him and keep him as some insurance in case Cory Schneider underachieves or gets hurt.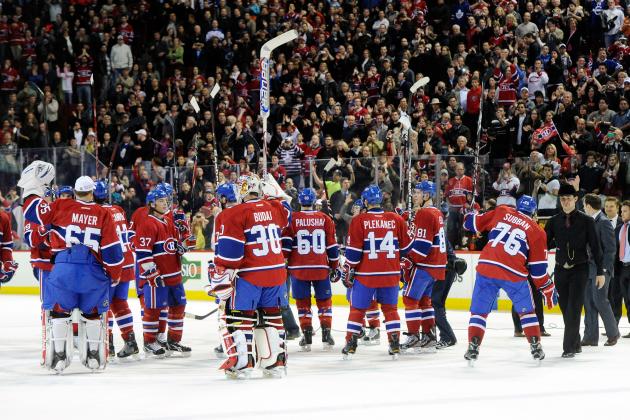 Richard Wolowicz/Getty Images

It happened last year, so it can happen again, right?
The Canadiens' roster is not very impressive, and if Andrei Markov cannot stay healthy again, this team will have another dismal season.
Carey Price is a decent goaltender, but he is not talented enough to carry the team to a playoff berth.
Also, the contract issues with P.K. Subban could cause some problems both within the locker room and on the ice.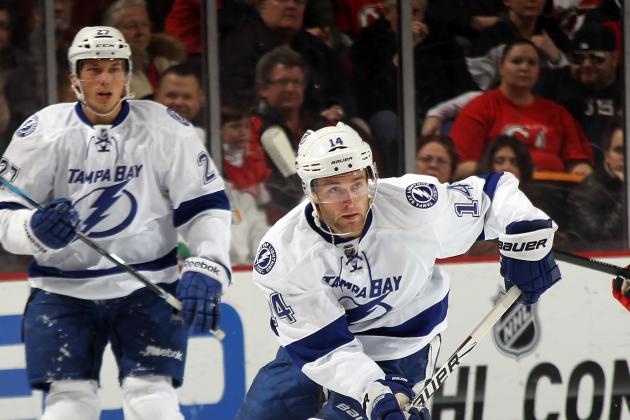 Bruce Bennett/Getty Images

After a magical run in 2011, the Lightning took a big step backward in 2012. Despite another MVP-caliber season by superstar Steven Stamkos, the team still gave up 46 more goals than it scored, as it faced defense and goaltending issues all season long.
Also, behind Stamkos, Martin St. Louis, Vincent Lecavalier and Teddy Purcell, the offense does not have very much depth at all. Even if the unproven Anders Lindback is the answer in goal, the offense cannot put its entire workload on the shoulders of these four guys.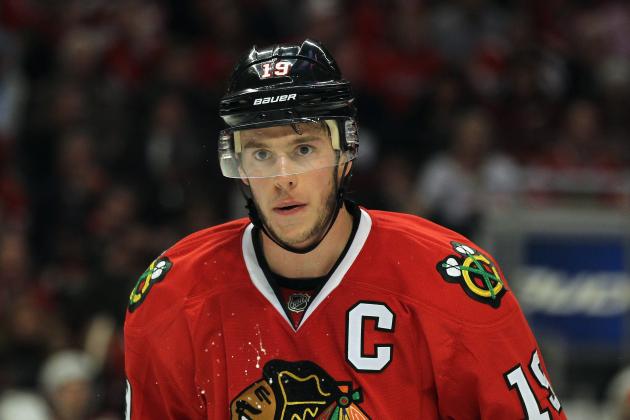 Jonathan Daniel/Getty Images

Chicago is an offense-based team, and leading that offense is captain Jonathan Toews.
Toews is a dynamic forward who is among the best in the league at putting the puck in the net. He has already led Chicago to a Stanley Cup Championship, and after two disappointing seasons, he will look to lead his team to another long playoff run in 2013.
Toews always plays alongside other star forwards in Chicago, and they should help him bolster his numbers even more.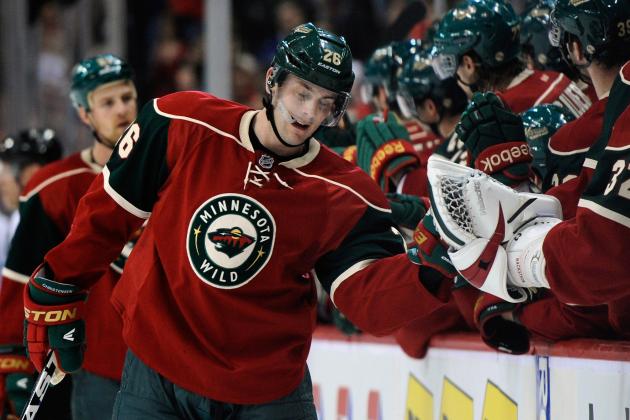 Hannah Foslien/Getty Images

If this was a full season, I would say wait until next year. However, Zach Parise and Mikael Granlund will be what this team needs in order to put some pucks in the net and be successful for short bursts of time. Plus there won't be enough time in the season to fall off the map like last year.
This team still has a lot of holes, but if they can string together some big wins, they will squeak into one of the bottom two spots in the Western Conference playoffs.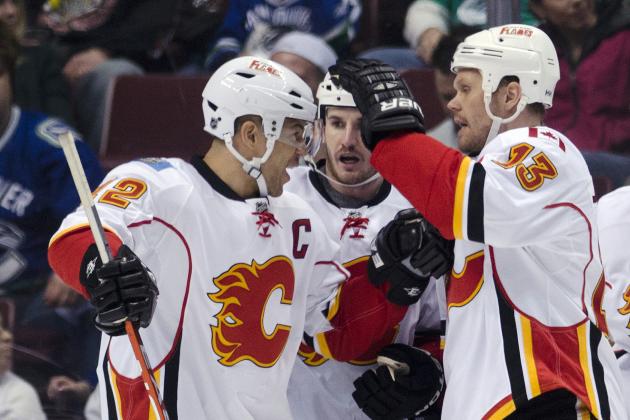 Rich Lam/Getty Images

Calgary is one of the most undervalued teams by writers this offseason. They were the best team in the Western Conference to not make the playoffs last year, and they arguably only improved this offseason.
Jiri Hudler is a decent addition at forward, and Dennis Wideman will create some goals from the blue line, but the most important thing for Calgary could be the arrival of Sven Baertschi and Roman Cervenka. These two could possibly be top-six forwards and add some more scoring depth to the team.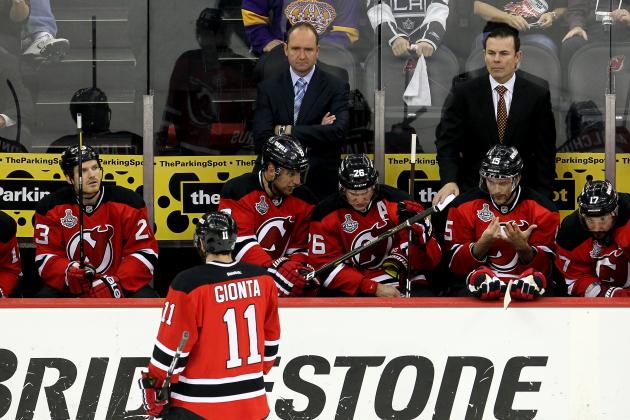 Jim McIsaac/Getty Images

Head coach Peter DeBoer took his New Jersey Devils to a huge jump in the standings and a trip to the Stanley Cup Final in 2012. The team has to face even more adversity in 2013 due to the loss of Zach Parise, but with one of the best bench bosses in the league, they should be better than most people expect.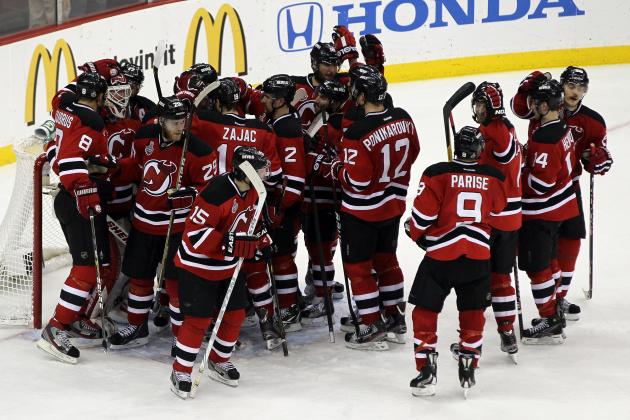 Jim McIsaac/Getty Images

With DeBoer behind the bench, New Jersey surprises many people and returns to the Stanley Cup playoffs as the seventh seed in the Eastern Conference.
Zach Parise is gone, but the rest of the team's forwards are capable of stepping up and improving their game. Also, Martin Brodeur showed us that he can still be a consistent NHL goaltender last season, and there is no reason to believe that he can't do the same this year. If he gets fatigued, New Jersey also has a decent backup in Johan Hedberg.
The Devils will return to the playoffs and have another shot at working the same magic that they did in 2012.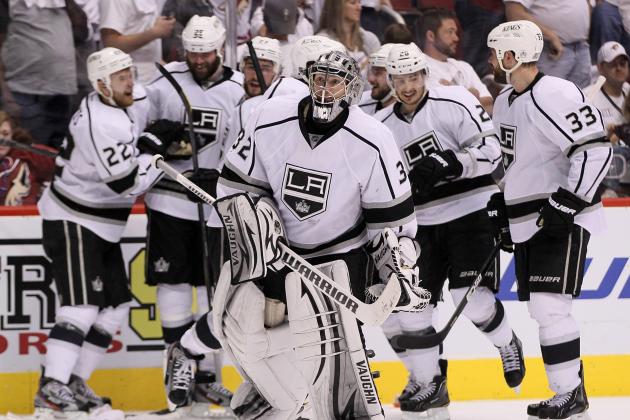 Jeff Gross/Getty Images

The Kings pulled off possibly the greatest playoff run in sports history last spring, but that does not guarantee them a division title this season. In fact, they didn't even get first in the division last year. Or second.
The Kings proved how dangerous they can be, but winning the Stanley Cup does not clinch a division title the next season. Pittsburgh didn't win their division after they won the Cup. Chicago didn't either. And Carolina missed the playoffs entirely in 2007 after winning the Cup the year before.
Los Angeles is a great team, there's no denying that. However, they were not impressive in the regular season last year, and the Pacific Division looks to be a four-dog race once again. With Anze Kopitar missing some time due to injury and a potential Stanley Cup hangover, a slow start could force the Kings out of the top three in the conference.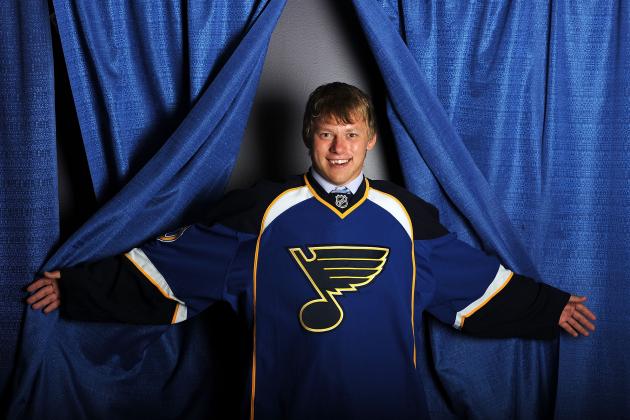 Harry How/Getty Images

Tarasenko will make his debut with the St. Louis Blues this season, and he will have an immediate impact on their sometimes-lackluster offense. He will provide the scoring touch that St. Louis needs in order to have a shot at the Central Division crown again, and he take home the hardware for the NHL's best rookie in 2013.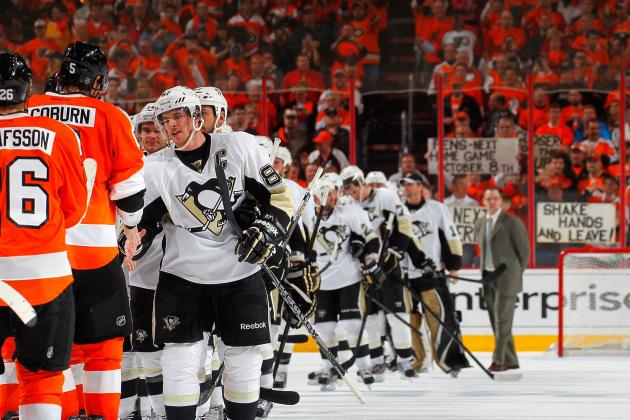 Paul Bereswill/Getty Images

For the fifth consecutive season, the Penguins will get fourth seed in the Eastern Conference playoffs.
For the third consecutive season, they will be out after one round.
In last year's playoffs, the Philadelphia Flyers took advantage of the Penguins' lack of defense and goaltending to vanquish them in six games. Then, the Flyers were embarrassed by New Jersey due to their own defense and goaltending.
If Pittsburgh's high-powered offense couldn't defeat the Philadelphia defense and Ilya Bryzgalov, that really says something about their own defense and goaltending. In fact, before the playoffs started, Pittsburgh had been giving up many goals in regular season games due to its concentration on offense and penalty-killing issues.
This offseason did not go as planned, as the Penguins traded away penalty-kill specialist and solid two-way forward Jordan Staal in order to clear up cap space after he turned down a big contract. With that cap space, the Penguins didn't do much. Top free agents Zach Parise and Ryan Suter, who were both on Pittsburgh's radar, bolted for Minnesota, leaving the Penguins with merely the same team as last year, minus Staal and plus Brandon Sutter.
Unless the Penguins trade for some defensive help, they are in for more playoff disappointment.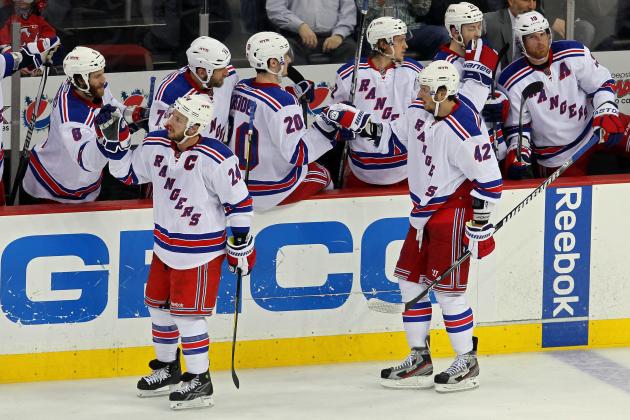 Jim McIsaac/Getty Images

I have never seen a team selected as the Stanley Cup champion by so many different writers and experts before a season began as the New York Rangers this year.
Since last year's Stanley Cup Final was between an eighth seed and a sixth seed, it is easy to see why this is confusing.
On paper, the Rangers are the best team in the NHL; there isn't really much of a doubt about that. However, these teams hardly ever win the Stanley Cup.
In fact, one of the No. 1 seeds has been knocked out of the first round in the playoffs in 2006, 2009, 2010 and 2012. If history says anything, it is that the label of "favorite" means absolutely nothing in the NHL.
Obviously, this is not a valid reason to pick against the Rangers, but no team is perfect, and in a shortened season, New York could run into some unexpected problems. They should be able to win a series or two, but it would not be surprising in the least if they were knocked out before making it to the Stanley Cup Final.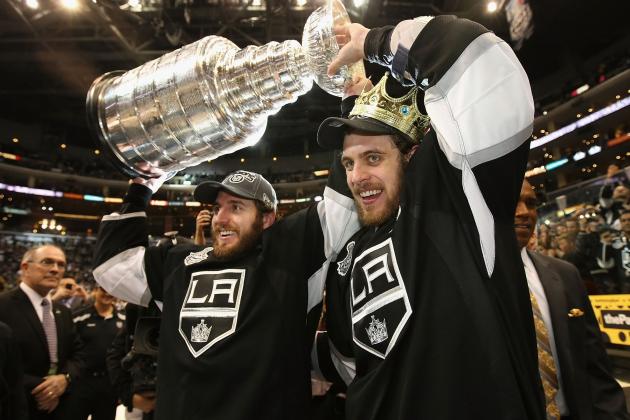 Christian Petersen/Getty Images

The parity is at an all-time high, the season is short and an eighth seed won the Stanley Cup last spring.
Everything for this season shapes up to be completely unexpected, and to culminate the entire season will be a Stanley Cup Final of at least one team who wasn't supposed to have a chance to get there.