Top 15 NFL Players Who Made Their Big Break in 2012
Stephen Dunn/Getty Images
Colin Kaepernick further solidified his claim as the 49ers starting QB with an electrifying playoff performance against the Green Bay Packers.
The NFL thrives on parity and unpredictability, much of which comes in the form of breakout performances by unexpected players.
The outstanding debuts of some highly-touted rookies and the amazing comebacks by Peyton Manning and Adrian Peterson dominated the headlines during the 2012 season. However, this past season also featured some previously unheralded or underachieving players that were finally able to cement their place in the league with some big-time play on the field.
Here are 15 NFL players that finally became household names following their impressive 2012 campaigns.
Begin Slideshow

»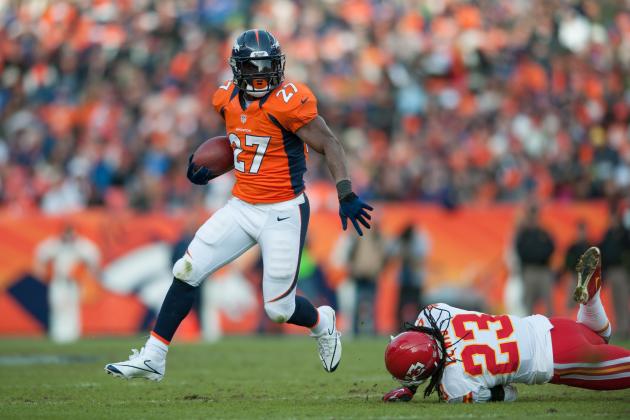 Dustin Bradford/Getty Images
Knowshon Moreno was a big reason why the Denver Broncos finished 13-1 this season.
Knowshon Moreno was beginning to look like a first-round bust, but he got a shot at redemption during his fourth NFL campaign.
When starting running back Willis McGahee went down with a torn MCL in Denver's Week 11 win over the San Diego Chargers, the Broncos turned to Moreno as their new featured back. His performance was crucial to the team's continuity on offense, allowing Denver to end the season with 11 consecutive victories.
Moreno was on his way to another big day against the Baltimore Ravens last weekend, when a third-quarter knee injury forced him out of the game. His departure may have played just as big of a role in the Broncos' disappointing home loss as any of the mistakes that the rest of team made during that contest.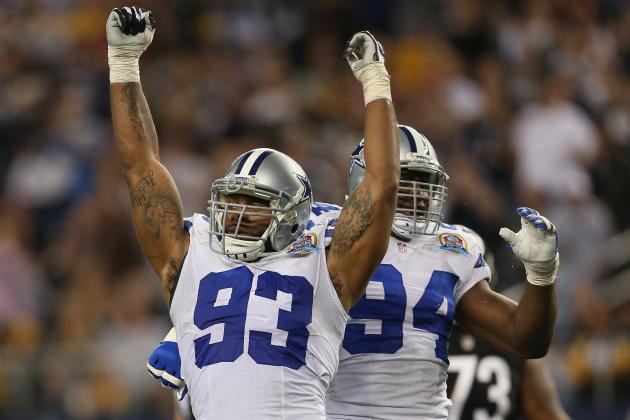 Ronald Martinez/Getty Images
Anthony Spencer (93) and DeMarcus Ware form one of the NFL's best pass-rushing duos.
When the Dallas Cowboys selected Anthony Spencer with the No. 26 overall pick in the 2007 NFL Draft, they imagined him and DeMarcus Ware pairing up to wreak havoc on opposing quarterbacks for years to come. It took Spencer a while to grow into the role, but the Cowboys finally got what they expected.
Playing in only 14 games, Spencer had a career year, finishing with 95 combined tackles and 11 sacks. He and Ware will be the anchors of Dallas' defense next season, even with new defensive coordinator Monte Kiffin taking over.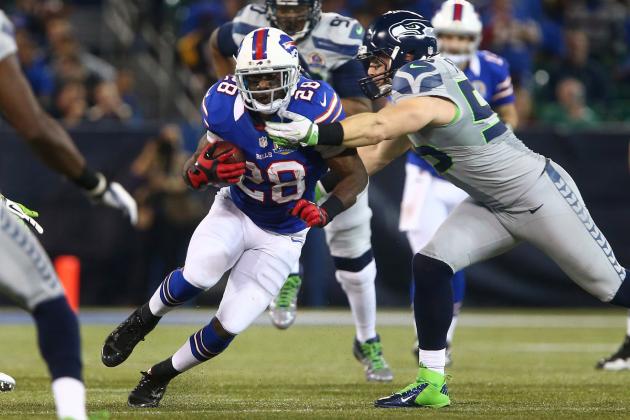 Tom Szczerbowski/Getty Images
C.J. Spiller took his increased roll and ran with it in 2012.
Buffalo Bills fans have been anxiously awaiting the day that C. J. Spiller would get an expanded role in the team's offense. They finally got their wish in 2012, although it unfortunately came as a result of injuries to Fred Jackson.
Spiller rushed for 1,244 on only 207 carries during the regular season. He finished tied for first with Peterson in yards-per-carry among all NFL running backs.
Spiller was also a major threat in the passing game, finishing with 43 receptions for 459 yards.
Assuming new head coach Doug Marrone sticks with Spiller as his lead back, look for him to have an even better season in 2013.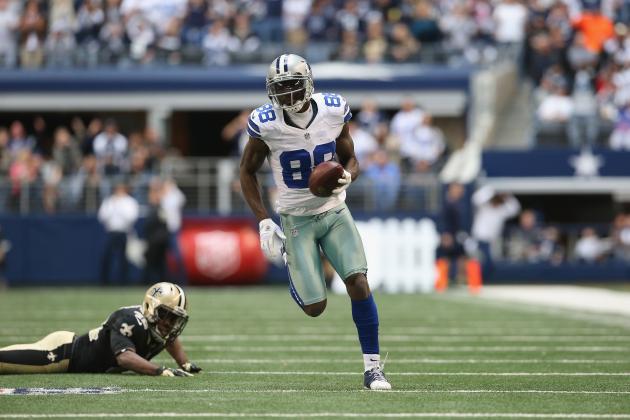 Ronald Martinez/Getty Images
Dez Bryant developed into one of the NFL's best wide receivers in 2012.
After another disappointing season filled with off-field controversy, Dez Bryant was on his way out of Dallas, and possibly the NFL, following the 2011 season.
He started taking football more seriously last offseason, but a domestic violence incident involving his mother got Bryant down to his last strike with Cowboys owner Jerry Jones. The third-year wide receiver responded by having a Pro Bowl-caliber season and finally living up to the hype that accompanied him out of Oklahoma State.
Bryant finished sixth in the NFL in receiving yards (1,382) and third in receiving touchdowns (12), including seven straight games with a touchdown reception during Dallas' push towards the playoffs. He gained more credibility and respect while playing through a late-season injury that required offseason surgery on his index finger.
If Bryant continues to demonstrate the growth and maturity that he showed in 2012, he could end his career as the best in a long line of great Cowboys receivers.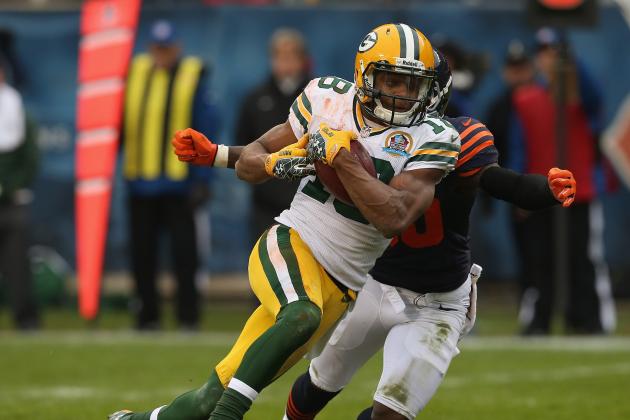 Jonathan Daniel/Getty Images
Randall Cobb became Green Bay's most dynamic playmaker and Aaron Rodgers' favorite target.
Aaron Rodgers put up another MVP-caliber season in 2012, thanks largely to the emergence of wide receivers Randall Cobb and James Jones. With Greg Jennings and Jordy Nelson missing much of the season with injuries, Cobb and Jones were forced to pick up the slack—and they did not disappoint.
Cobb quickly became Rodgers' favorite target, leading the team with 80 receptions in the regular season. He was also a big weapon out of the backfield and in the return game.
Jones developed into Green Bay's best red zone target, leading the NFL with 14 touchdowns on just 64 receptions.
If Jennings happens to leave the Packers as a free agent this offseason, Cobb and Jones will still be around to help Rodgers and the Green Bay offense continue to run smoothly.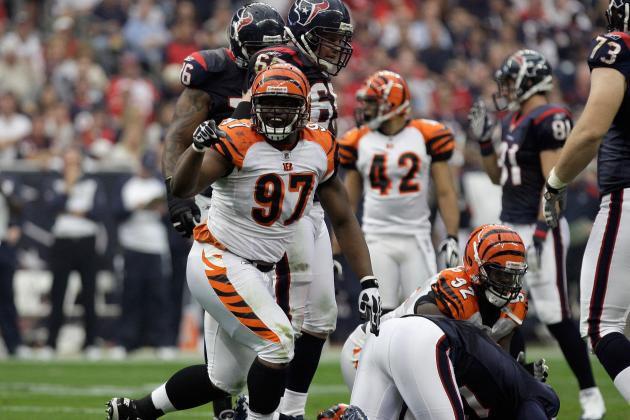 Thomas B. Shea/Getty Images
Geno Atkins earned his first Pro Bowl berth with his play in 2012.
In his third NFL season, Geno Atkins grew into the heart and soul of the Cincinnati Bengals' defense. He led all defensive tackles with 12.5 sacks, and earned his first trip to the Pro Bowl for his efforts.
Atkins is the leader of a defense that finished sixth in the NFL in total yards allowed. Still only 24 years old, he should be around to terrorize opposing offenses for many years to come.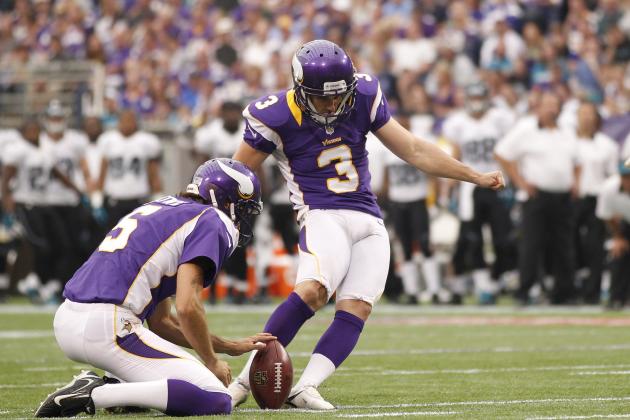 Andy King/Getty Images
Blair Walsh was just as importan as Adrian Peterson to Minnesota's surprising 10-6 finish.
Adrian Peterson may win the NFL's MVP award this season, but Blair Walsh got a well-deserved Pro Bowl nod in his rookie season.
For a team that struggled to put points on the board, Walsh's ability to make clutch field goals from long distances played an integral role in the Minnesota Viking's surprising 10-6 finish. He led the NFL with 35 field goals made, and his 92.1-percent accuracy was good for fourth in the league.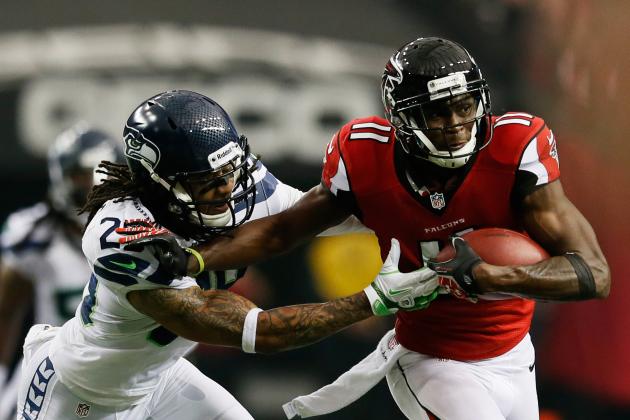 Kevin C. Cox/Getty Images
Julio Jones is often the go-to receiver when the Falcons need a big play on offense.
Julio Jones showed flashes of brilliance during his rookie year, but injuries prevented him from immediately justifying the Atlanta Falcons's decision to trade up to get him in the 2011 NFL Draft. However, with a season of experience under his belt and with his health a non-issue, Jones became a beast in 2012.
His 1,198 receiving yards and 10 touchdowns aren't eye-popping numbers, but Jones is just one of many potent weapons in Atlanta's high-powered offense. Even while playing alongside Pro Bowlers Roddy White and Tony Gonzalez, Jones was often the player that quarterback Matt Ryan looked to when he needed a big play downfield.
Jones is a big reason why the Falcons ended up as the NFC's top seed in the playoffs this year. He will need to come up big again this Sunday if Atlanta is going to beat the San Francisco 49ers and advance to the Super Bowl for the first time since the 1998 season.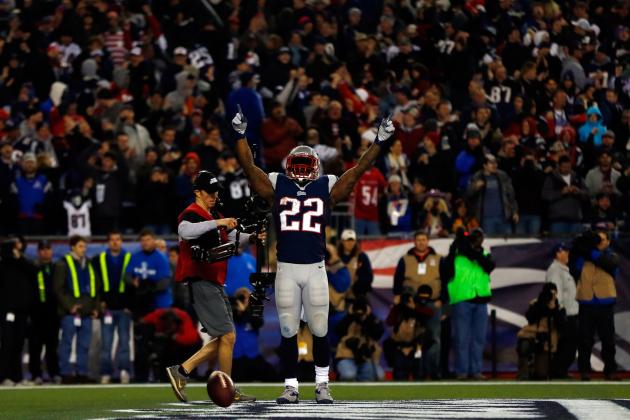 Jared Wickerham/Getty Images
Stevan Ridley has emerged as the featured back that the Patriots have long lacked in their backfield.
Stevan Ridley has finally ended the game of musical chairs that the New England Patriots have been playing at running back since the beginning of their current dynasty.
The second-year back out of LSU added some much-needed versatility to New England's offense this season, making their attack even more dangerous. Thanks in part to Ridley's 1,263 yards and 12 rushing touchdowns, the Patriots scored an NFL-best 557 points during the regular season.
New England's backfield is still mainly a timeshare, with Danny Woodhead and Shane Vereen getting most of the looks in passing situations. But there is no question that the emergence of Ridley has made the Patriots more difficult to stop, and it has taken a lot of pressure off of quarterback Tom Brady.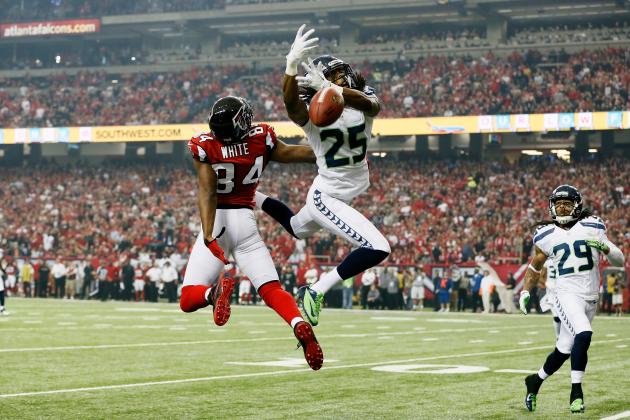 Kevin C. Cox/Getty Images
Richard Sherman backs up his big talk with big play on the football field.
Richard Sherman was understandably upset by the lack of recognition that he received from fans, coaches and fellow players by not making the Pro Bowl. But justice was served when he was named a first-team All-Pro, and he got the last laugh by leading the Seahawks to their first road playoff victory in almost 30 years.
Sherman finished second in the NFL with eight interceptions during the regular season. His physical, intimidating play helped give Seattle one of the most feared defensive units in the NFL.
Although the Seahawks came up short in their bid to upset the Atlanta Falcons, you better believe that Sherman and Co. will be back in the postseason multiple times over the next few years.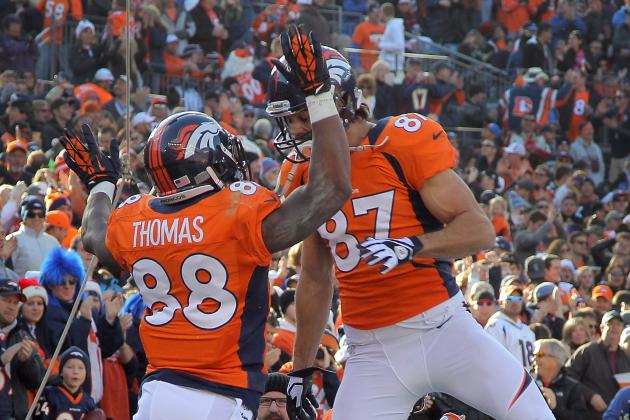 Doug Pensinger/Getty Images
Demaryius Thomas and Eric Decker made Peyton Manning's comeback a whole lot easier.
If Peyton Manning ends up winning his fifth NFL Most Valuable Player Award, Demaryius Thomas and Eric Decker should be among the first two people that he thanks. The pass catching duo combined for 179 receptions, 2,498 yards and 23 touchdowns during Denver's 13-3 campaign.
There is no question that each of them benefited greatly from the transition to Manning at quarterback from Tim Tebow last season. However, their abilities to quickly get on the same page with the future Hall of Famer helped ease his recovery from a neck injury that cost him the entire 2011 season.
Thomas and Decker are both just 25, so their reign in Denver should far outlast the Manning era. That is great news for Broncos fans everywhere.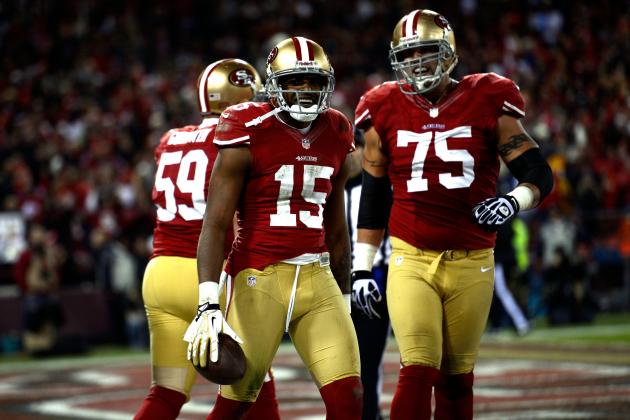 Thearon W. Henderson/Getty Images
Michael Crabtree has finally turned into the No. 1 receiver the 49ers drafted him to be.
Michael Crabtree wasn't exactly heading for "Bustville," but he had not lived up to the considerable hype that he received as a standout wide receiver at Texas Tech during his first three NFL seasons.
This year, though, he finally grew into the No. 1 receiver that the 49ers expected him to be.
While wracking up 85 catches for 1,105 yards and nine touchdowns, Crabtree developed particularly good chemistry with first-year starter Colin Kaepernick. That connection was on full display during last week's playoff victory over Green Bay, and it will be equally important during Sunday' NFC Championship game.
They may not turn into Montana and Rice, but the Kaepernick-to-Crabtree combination should be on full display in San Francisco for quite some time.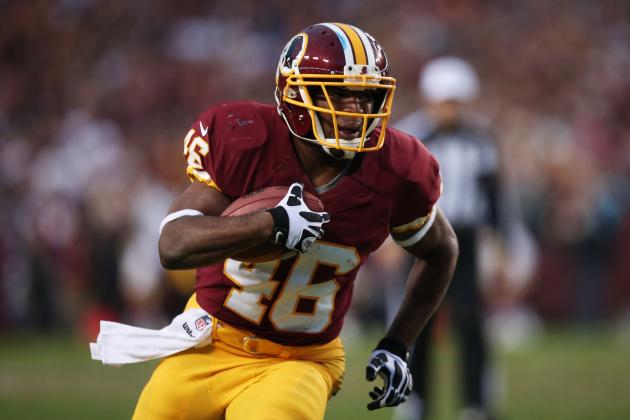 Win McNamee/Getty Images
Alfred Morris may have finally burried the theory that elite running backs need to be targeted in the first round of the NFL draft.
Running back Alfred Morris played just as big of a role as Robert Griffin III did in the Washington Redskins' worst-to-first performance this season.
The rookie out of Florida Atlantic finished second in the NFL in rushing yards with 1,613. His punishing, north-south running style allowed offensive coordinator Kyle Shanahan's read-option attack to be successful, paving the way for RGIII's star to shine bright.
With Morris and Griffin III in Washington's backfield, the rest of the NFC East has been put on notice that it is no longer a three-team race for the division title.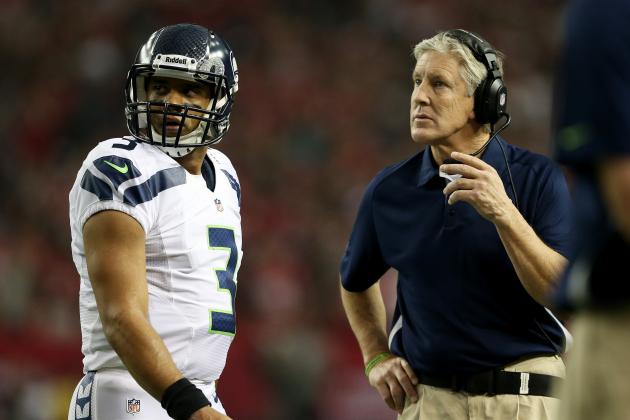 Streeter Lecka/Getty Images
Russell Wilson's rookie year made Pete Carroll look like a genius.
When Seattle Seahawks head coach Pete Carroll named rookie Russell Wilson the team's starting quarterback in the preseason, many NFL observers (myself included) thought it was crazy. Along with Russell's inexperience and lack of ideal height, the decision was largely questioned because of the offseason signing of Matt Flynn to a three-year, $26 million contract.
Wilson wasted little time justifying Carroll's faith in his ability.
The third-round pick out of Wisconsin was arguably the NFL's most impressive rookie during the 2012 season. He made plays with his arm and legs, while showing the poise of a 10-year veteran and leading the Seahawks to a road victory in the NFC Wild Card round.
Football fans in the Pacific Northwest should be excited about watching this kid shine for the next 10 years.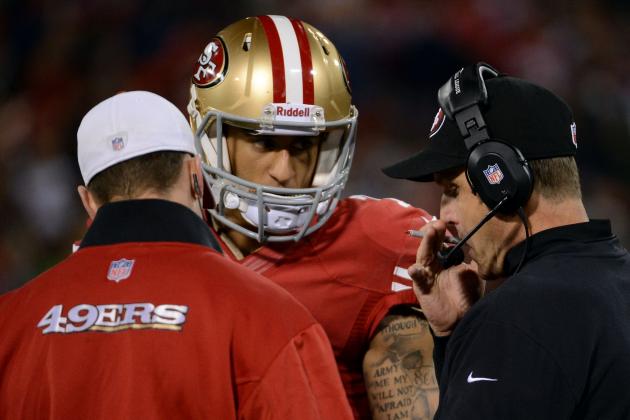 Harry How/Getty Images
Colin Kaepernick's electrifying play has once again validated coach Jim Harbaugh's brilliance.
It seems fitting that Jim Harbaugh's decision to ride the hot hand of Colin Kaepernick would come in the same season that Carroll decided to gamble on Wilson. It is also fitting that Harbaugh would gain the bigger advantage, given he and Carroll's long-standing rivalry, dating back to their days as head coaches at Stanford and USC, respectively.
The San Francisco 49ers have ridden Kapernick's sensational play all the way to this weekend's NFC Championship game. He may need to lead them to victory to fully justify the move, but to many, a win would just be the icing on the cake.
Kaepernick has made his fair share of mistakes that most would expect from a first-year starting quarterback. But last week, he looked like Cam Newton with turbo boosters as he shredded Green Bays defense for 444 total yards and four touchdowns in a 45-31 playoff victory.
The 49ers have a tough assignment heading into Atlanta, where they will face the top-seeded Falcons on Sunday. If they manage to make their first Super Bowl appearance since 1994, Kaepernick's performance will be a big reason why.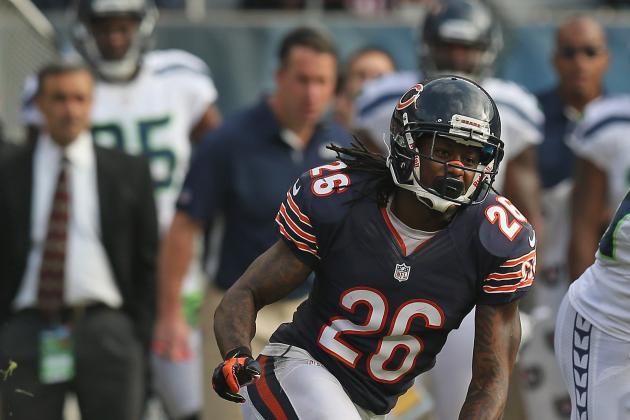 Jonathan Daniel/Getty Images
Tim Jennings emerged as one of the NFL's premier corners in 2012.
Stevie Brown, S, New York Giants: When starting safety Kenny Phillips went down with an injury, Stevie repeatedly showed the Giants what Brown could do for them.
Tim Jennings, CB, Chicago Bears: Jennings combined with Charles Tillman to help the Bears finish second in the NFL in opponents QB Rating.