Predicting Last-Minute Moves MLB Teams Will Make Before Spring Training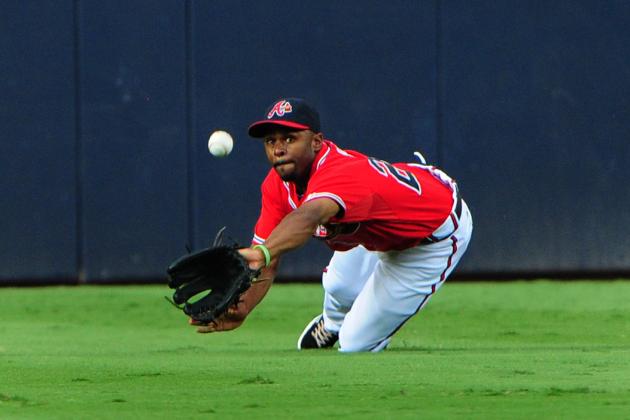 Scott Cunningham/Getty Images

Less than a month from now, most of the teams around Major League Baseball will have a full complement of players stretching on the field in spring training.
In other words, the 2013 season is fast approaching.
While some teams have their rosters set with no plans to make a move until injury or poor performance demands that they do, other squads are still trying to fill holes and add depth to their rosters before pitchers and catchers report.
As the pool of available players—free agents and those on the trade block—continues to shrink, teams looking to make a move will need to make a decision as to what they are going to do in the next few weeks.
Let's take a look at five moves that we think are going to be made before the Cactus and Grapefruit Leagues get underway.
Begin Slideshow

»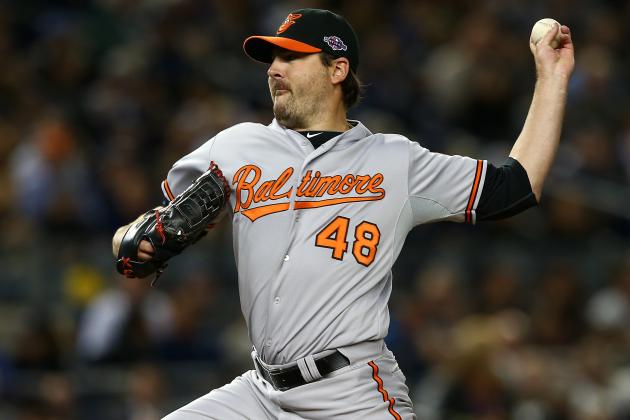 Elsa/Getty Images

Pitchers and Catchers Report: Feb. 12
Full Squad Reports: Feb. 15
Left-hander Joe Saunders, who finished the 2012 season in Baltimore, will return to the Orioles for the 2013 season.
After Jason Hammel, the Orioles starting rotation is largely unproven and inexperienced, and adding a veteran arm certainly isn't going to hurt the Orioles' chances of making the playoffs for a second consecutive season.
Saunders, who was acquired by Baltimore at the end of last August, was solid down the stretch, going 3-3 with a 3.63 ERA in seven starts. But it was his playoff performance that makes a return to the Inner Harbor a no-brainer.
In two playoff starts, Saunders allowed only two earned runs over 11.1 innings of work, scattering nine hits.
That recent performance, coupled with the fact that Saunders is an innings-eater (averaging 195 innings pitched per season since 2008), is why the Orioles will wind up bringing him back into the fold for the 2013 season on a one-year deal.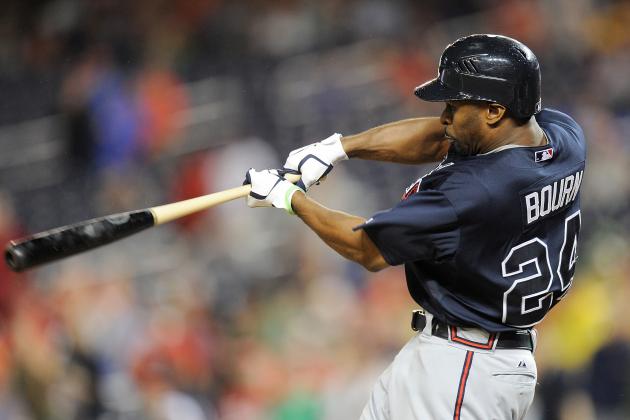 Greg Fiume/Getty Images

Pitchers and Catchers Report: Feb. 12
Full Squad Reports: Feb. 15
Jon Paul Morosi of Fox Sports reports that the Rangers are keeping the lines of communication open with the Arizona Diamondbacks in regards to Justin Upton, but that free-agent center fielder Michael Bourn is also on the team's radar:
Rangers are keeping lines of communication open on Bourn (free agent) and Upton (trade), prepared to act if price is right.

— Jon Morosi (@jonmorosi) January 14, 2013
With Arizona's asking price for Upton still being quite high, surrendering a draft pick to land Bourn is a far less costly move for Texas to make.
Despite having prospect Leonys Martin and 29-year-old Craig Gentry available to play center field (right now they'd platoon: Gentry against southpaws, Martin against right-handers), Bourn could make a lot of sense for the Rangers.
But here's the thing: Bourn's defense is superior to what either of them bring to the table, and he will save runs—and win a game or two—with his glove alone.
Of course, adding a career leadoff hitter like Bourn is going to force skipper Ron Washington to get creative with his lineup, as Ian Kinsler has done an excellent job atop the Rangers order.
Whether Bourn hits leadoff or in the nine-hole, his ability to get on base—and essentially turn a single into a double with his speed and base-running acumen—would add a dynamic element to an already potent Rangers lineup, especially if Kinsler is batting behind him.
At this point in the game, Bourn and his agent, Scott Boras, know that the lucrative multi-year deal that they hoped for isn't going to materialize.
A one-year deal with the Rangers makes sense for all parties involved.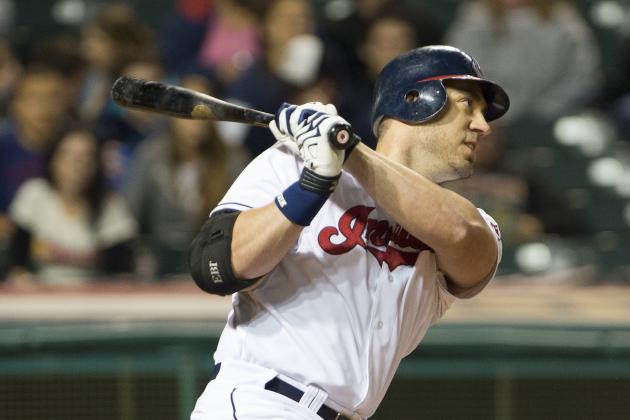 Jason Miller/Getty Images

Pitchers and Catchers Report: Feb. 10
Full Squad Reports: Feb. 13
As it stands now, the Indians are heading into spring training with career minor leaguer Chris McGuiness as the team's designated hitter.
While the 24-year-old flashed his power at Double-A in 2012 by hitting 23 home runs, the fact remains that he has never sniffed the major leagues. As we know all too well, minor league numbers aren't necessarily an indicator of major league success on the horizon.
Travis Hafner, 35, is a shell of the player that he once was, having been felled by injuries and spending time on the disabled list in each of the past five seasons.
But he can still get on base, posting a .346 on-base percentage in limited playing time for Cleveland last season. He also still has some pop left in his bat, which he proved by hitting 12 home runs in 66 games.
He's not an everyday player, and by all means, Cleveland should give McGuiness every chance to play on a daily basis.
But Hafner certainly has value, not only as a veteran in the clubhouse, but as a left-handed power bat off the bench.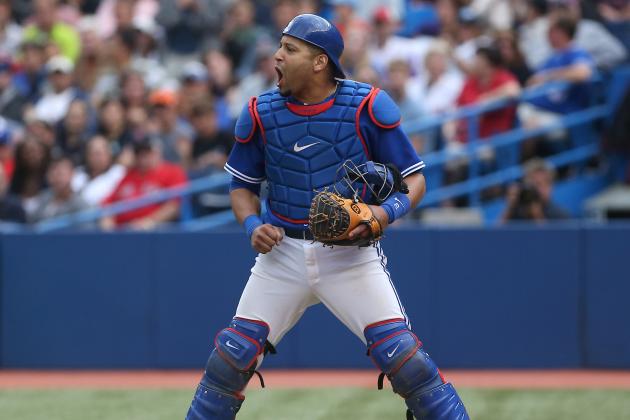 Tom Szczerbowski/Getty Images

Pitchers and Catchers Report: Feb. 12
Full Squad Reports: Feb. 15
Signing Yorvit Torrealba isn't a sexy move by any stretch of the imagination, but it's a necessary one for the Mariners.
Seattle had to give up starting catcher John Jaso in the three-team deal that bought Michael Morse to the Emerald City, leaving Jesus Montero as the team's everyday catcher.
As the Mariners learned quickly last season, Montero isn't the ideal choice to stick behind the plate on a daily basis.
While über-prospect Mike Zunino tore the cover off of the ball in the minor leagues last season—posting a .360/.447/.689 slash line between three different levels of the Seattle farm system—it was his first taste of professional baseball.
Chances are, Seattle would prefer to give him another year to develop in the minors before bringing him up.
That leaves an opening for a veteran backstop, and while Torrealba might not be the best option available, he's the best fit for the Mariners.
A solid defensive backstop, Torrealba has similar slash lines over his career against right-handed starters (.258/.312/.383) and southpaws (.255/.326/.394).
Montero, by comparison, has struggled against right-handers thus far in his young career (.227/.267/.328), while crushing lefties (.343/.390/.483).
I'm not suggesting that Torrealba should get the bulk of the playing time over Montero, and sooner or later, Montero is going to need to figure out how to hit right-handed pitching. But Torrealba would be a relatively inexpensive signing, and he would give the Mariners some insurance behind the plate.
Perhaps most importantly, though, it would allow the team some time so they wouldn't have to rush Zunino to the big leagues.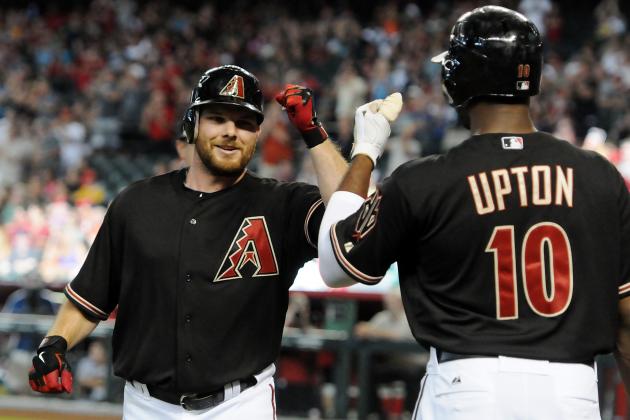 Norm Hall/Getty Images

Pitchers and Catchers Report: Feb. 11
Full Squad Reports: Feb. 14
Last but not least, the team that clearly needs to make a move is Arizona.
Arizona has six outfielders—Adam Eaton, Jason Kubel, Gerardo Parra, A.J. Pollock, Cody Ross and Justin Upton—vying for three spots.
While Diamondbacks GM Kevin Towers told CBS Sports' Jon Heyman that team owner Ken Kendrick was "fine" with keeping all of the outfielders currently on the roster, it's hard to imagine the six players involved share the same sentiment.
Sure, Arizona could keep Eaton and Pollock down on the farm for another season and roll with an outfield of Kubel, Ross and Upton, but that certainly isn't an ideal scenario.
Either Kubel or Upton will be playing elsewhere before the start of the season.
Arizona's asking price for Upton remains high, something Towers told Heyman that he isn't backing down from:
Towers suggested the Seattle deal, which got a lot of attention around baseball as a rather large package, should be looked at as the baseline for another deal, not the ceiling.
The deal, which Upton squashed with his limited no-trade clause, would have seen the Mariners send four players, most notably top pitching prospect Taijuan Walker and infielder Nick Franklin, to Arizona in exchange for the former All-Star right fielder.
Moving Kubel may prove to be the easier task based on asking price, but Upton clearly has the most value. After years of trade speculation and seemingly falling in and out of favor with management, it would behoove the team to move on from the Upton Era at Chase Field.