Houston Rockets vs. Dallas Mavericks: Postgame Grades and Analysis for Houston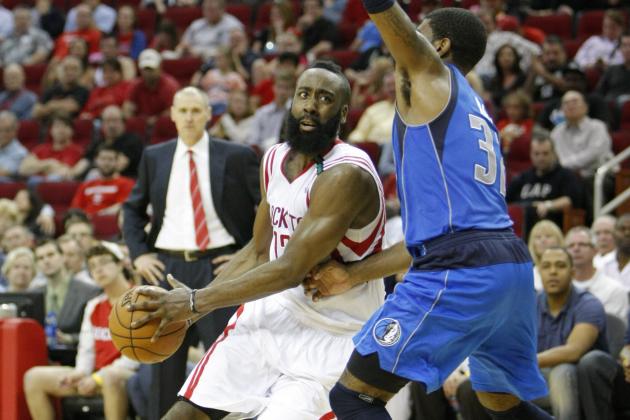 USA TODAY Sports

The Houston Rockets fell to the Dallas Mavericks on Wednesday night 105-100, giving this installment of the I-45 rivalry to the Mavs. Dallas had six players score 10 or more points and led by as many as 15, but Houston made the game close and trailed by a single point in the final minute.
It was too little, too late.
The Rockets came into Wednesday's game against Dallas with a 21-18 record, 9.5 games out of first. They've been propelled by the strong play of new acquisition James Harden, the improving game of Jeremy Lin and the surprising production from Chandler Parsons.
They're currently in seventh place, but the Portland Trail Blazers and Utah Jazz are only half a game behind them. Houston has surprised the NBA by averaging a league-high 105.5 points per game. The only problem is that they allow 103.7 points per game, which is worst in the league.
This is somewhat misleading, as the high scoring on both sides of the ball is by design. Houston coach Kevin McHale employs an up-tempo style that seeks to outrun opponents.
According to ESPN's John Hollinger, the Rockets lead the NBA in possessions per game, and they're ahead of the second-place team (the L.A Lakers) by almost two possessions per game.
Hollinger also has Houston ranked eighth in the NBA in offensive efficiency despite averaging the most points per game.
Dallas, meanwhile, has sputtered to a 16-23 record, good for 12th place (which is even worse than the downtrodden Lakers). Despite the strong play from O.J. Mayo (who was 3-of-14 on the night but still managed 18 points thanks to 12 free throws, as well as eight dimes), Dallas can't seem to find the recipe for consistent success.
Even after Dirk Nowitzki returned from his knee injury, the Mavs went 1-8 before winning their last three contests. However, those recent wins include a 21-point victory over the Memphis Grizzlies and a 15-point win over the talented Minnesota Timberwolves (albeit without Kevin Love on the court).
So, things could be looking up for the Mavericks, especially after owner Mark Cuban recently put the league on notice, saying, "We're letting everybody know that the 'Bank of Cuban' is open" (via Tim MacMahon of ESPNDallas.com). That's good news for a team on a four-game winning streak.
It was a discouraging loss for the Rockets, who have dropped their last five games. Let's go position by position and examine Houston's report card.
Begin Slideshow

»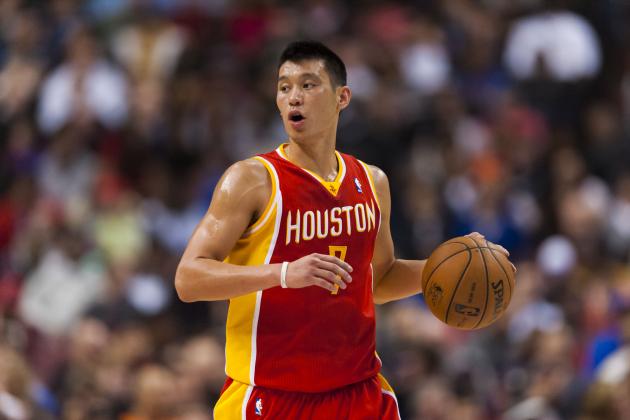 USA TODAY Sports

Jeremy Lin, PG: C

Lin struggled mightily to start the game, going 0-of-3 with two turnovers and no assists in the first quarter. He didn't shoot very well and was 2-of-9 midway through the fourth quarter. He didn't seem to have much confidence in his shot and shied away from open looks in the final frame.
Then he got things going.
His ball distribution got better as the game wore on, and both Lin and James Harden were able to exploit the defense more in the second half.
Lin scored six points in the span of a minute midway through the fourth quarter, and a steal directly following it led to a pair of free throws from Harden. That 8-0 run cut the Mavs lead to three points and kept the contest close.
Lin rolled his ankle with four minutes remaining, but he hit one of the free throws and then drained a three-pointer to bring the Rockets within a single point of Dallas.
His 14 points in the fourth quarter made for a thrilling finish, but he also missed three of his eight free throws in the fourth when Houston desperately needed those points. He finished the night with 19 points and four assists.
But Lin made a bad pass with just 15 seconds remaining that resulted in his fourth turnover. This one was the costliest, as Houston was down by three points and did not get a shot off as a result of Lin's error.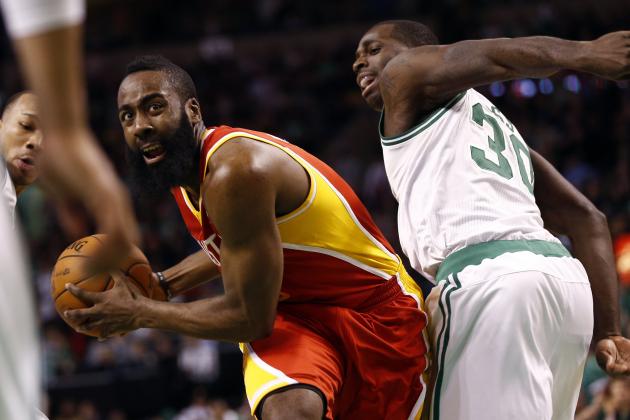 USA TODAY Sports

James Harden, SG: C-

It took Harden a while to get going, and by that point, it was too late. He ended up shooting an ugly 5-of-23 but still ended up with a team-high 20 points. He also added eight rebounds, seven assists and three steals, but his four turnovers loomed large.
Dallas went on a 19-0 run in the first quarter. Houston was scoreless for six minutes and committed six turnovers in that span. It also didn't help that the Rockets played some very poor transition defense, and Harden was actually their most efficient offensive player through the first 12 minutes.
In the first quarter, James Harden went 2-of-4 while the rest of the Rockets shot 4-of-15 from the floor. But Harden went ice cold in the second quarter, shooting 0-of-7.
He even missed two of his first four free throws, which is very uncharacteristic.
Dallas coach Rick Carlisle had Shawn Marion guarding Harden for much of the game, though Mavs did give Houston a variety of defensive looks. Marion's defense was a big reason for Harden's struggles.
A three-point play in the third quarter got Harden going a little bit. He began attacking the rim and drawing contact down the stretch. Perhaps this was due to his "deceptive footwork cadence" that announcer Hubie Brown was discussing with Mike Breen on ESPN.
Harden also played solid defense, which was key to keeping the game close. But he flirted with foul trouble, and this may have muted his aggressiveness on the defensive end.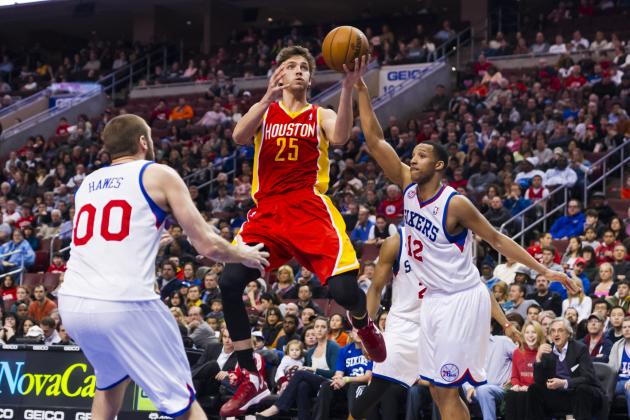 USA TODAY Sports

Chandler Parsons, SF: B

Parsons got it going early and had 10 points in the first half to lead the Rockets. He started out 4-of-4 from beyond the arc, which provided some sorely needed offense. He finished with 18 points and six boards.
Parsons also seemed like the only Rocket that could knock down an open jumper for much of the game. He played big minutes (39:49) and again proved that he's a key contributor.
Parsons' stats are no fluke (14.4 points, 6.1 rebounds, 3.6 assists, 1.2 steals). He's the real deal—a skilled swingman who can hit shots from long range.
But his defense leaves something to be desired. Shawn Marion and Jae Crowder both scored in double digits against him.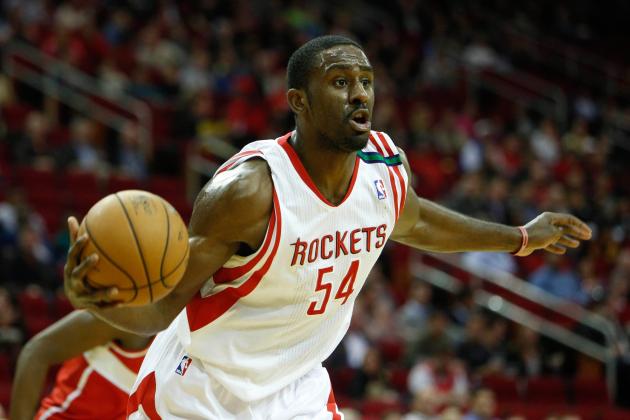 Thomas Campbell-USA TODAY Sports

Patrick Patterson, PF: B-

Patterson was effective early and was strong on the glass, but his minutes were somewhat limited as he gave way to Marcus Morris.
Patterson didn't get into foul trouble, so it just seems that McHale prefers to rotate in the frontcourt.
This could also have been to keep Patterson from getting worn out by Dirk Nowitzki. He did end up with nine points and five rebounds, and his plus/minus differential was a very good plus-15, the best on the team.
He took the last shot of the first half and nailed a three-pointer, but his head fake made him a split-second late to beat the horn and the bucket was waved off.
Patterson also yielded big numbers to Elton Brand, who came off the bench to score 11 points and pull down 10 boards.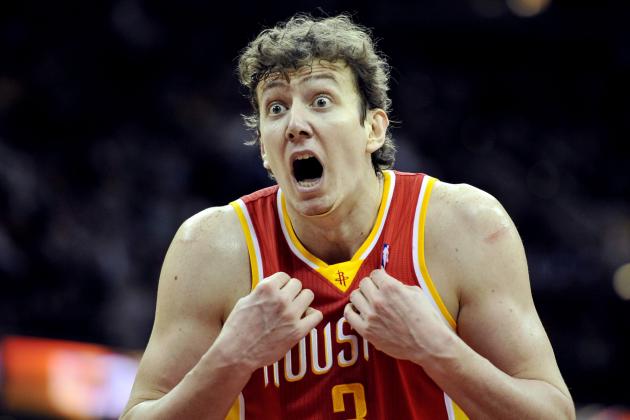 USA TODAY Sports

Omer Asik, C: B+

Asik didn't bring much offense to the table, but he was very active in the paint from the get-go. He was altering shots and snatching up boards. When Asik went to the bench, Houston had a vacuum on the inside with no shot-blocking presence.
Asik's eight first-half rebounds were a big reason why they Rockets were only down by eight points at the break. Houston's 33-22 advantage on the boards helped counteract their poor shooting and turnover woes.
Asik got the offense going a bit in the second half, ending up with 12 points, but his physical presence was the biggest factor for the Rockets. He pulled down 15 rebounds, including six on the offensive glass, and swatted a couple of shots.
Asik made Chris Kaman a non-factor, holding him to just six points and six rebounds.
USA TODAY Sports

Carlos Delfino, SF: D

The Rockets turned the ball over nine times in the first quarter. Carlos Delfino was to blame for four of them.
In just under 25 minutes, Delfino managed just five points to go with his five turnovers. Yes, that's right, five turnovers. He missed five of the seven shots he took and contributed only a rebound and an assist.
It was not a good night from the explosive sixth man. They could have used the hot three-point shooting Delfino has shown lately, but he managed just one trey on the night.
Delfino fired up a three-pointer in the waning seconds with a defender all over him. Needless to say, it did not go in.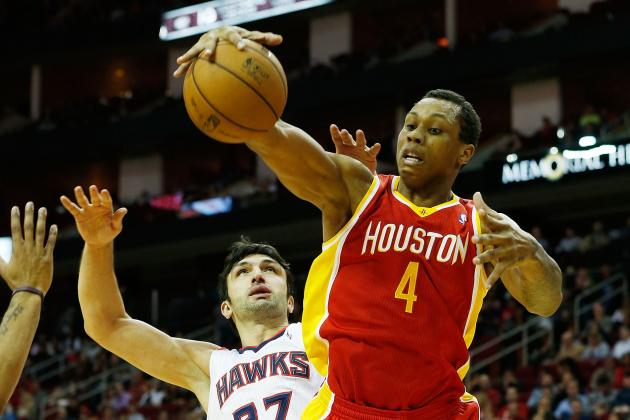 Scott Halleran/Getty Images

Rest of the Bench: B

The surprise of the night was Patrick Beverley, who was just called up from the D-League this week. He had played in Russia, Greece and the Ukraine, and he showed great effort and court IQ.
He hit all three shots he attempted and provided great energy. Beverley even contributed two rebounds, an assist and a block in his 13 minutes.
Toney Douglas attempted only one shot all game, but it was a big one. His three-pointer in the first quarter ended a 19-0 run by Dallas. He also committed one of Houston's 16 turnovers.
Greg Smith got in some foul trouble early and didn't score a single point, but he managed to pull down 10 rebounds in 11 minutes and also added three blocks.
Ultimately, the Rockets came up just short against a Mavericks team that is starting to roll. Better shooting from Harden or Delfino, or even just fewer turnovers, could have given Houston the victory, but it wasn't their night.
The Rockets are skidding while the Mavs are rolling. This was a game of two teams headed in opposite directions.
Note: All statistics are accurate as of January 16, 2013.