Notre Dame Football: Predicting Irish's Top 2013 Offensive Playmakers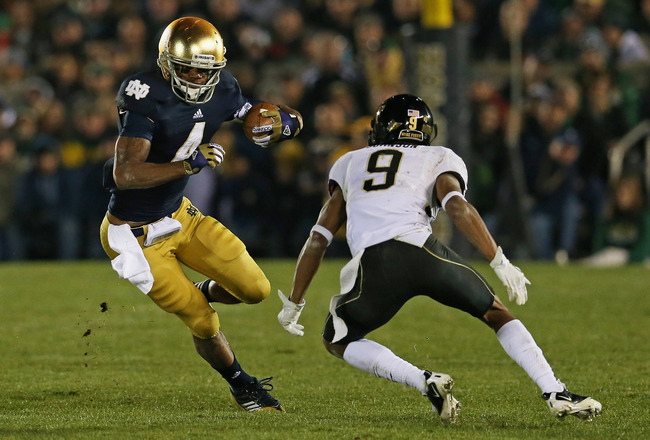 Jonathan Daniel/Getty Images
Notre Dame will look for an offensive renaissance in 2013. The Irish played lights out on defense last year, but the offense needed playmakers and they were hard to find.
Looking ahead to the coming fall, there are five guys that will be major role players for the Irish offense. They will ensure that Notre Dame stays at the top of the discussion heading into the announcement of the BCS rankings for 2013.
The Irish have a few players that have already made names for themselves in the past year and a few that project to become game-changers once they find their role. Here are the top five offensive playmakers for Notre Dame for the 2013 season.
George Atkinson III: Running Back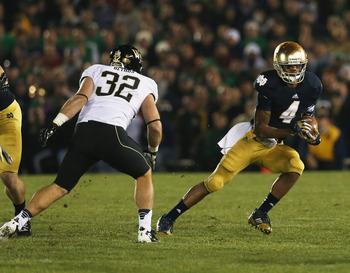 Jonathan Daniel/Getty Images
George Atkinson III is a proven back in the Irish offense. In 2012 he rushed for 361 yards on 51 carries. That gave him a stunning 7.1 yards per carry average, and he was second on the team in rushing scores, finishing the season with five.
Atkinson III is an elusive runner who has the ability to turn the ball up field at any point and push through defenders. He has solid speed and can be a threat in the passing game.
Look for the Irish to turn to Atkinson III to be the primary back for the offense next season. He will have to improve his pass-blocking a bit, but his overall game will make him a solid impact player for the Irish offense.
Everett Golson: Quarterback
Mike Ehrmann/Getty Images
Everett Golson is not the shoe-in to be the starting quarterback next season even though he finished the season in that role, but at this point he is the most experienced option for the Irish.
I also think he is the best option because he was a major contributor for the Irish this fall. Golson was able to pass for 2,405 yards and 12 touchdowns this fall.
He also rushed for 298 yards on 94 carries and scored a team-leading six rushing touchdowns.
Against Alabama, Golson looked very poised and played well despite mistakes made by his supporting cast. Put Golson at the top of the 2013 offensive contributors list.
Greg Bryant: Running Back (Fr.)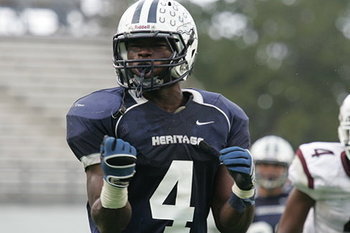 Photo via 247Sports.com
Greg Bryant is an incoming freshman who is expected to become an immediate star. He was the best running back on the field during the Army All-American game, showing elite change of direction and one-cut ability against menacing defensive flow.
Bryant is also dangerous out of the backfield as a receiver and should be able to implement that piece of his game into the Irish offense early this fall.
There is a need for offensive explosion in South Bend. The Irish will be able to have it if they get Bryant on the field early. This is an important piece of the 2013 offense for the Fighting Irish.
DaVaris Daniels: Receiver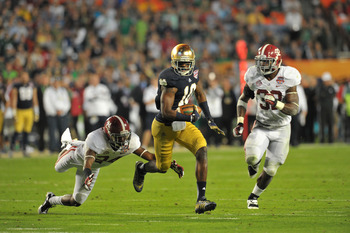 Matt Cashore-USA TODAY Sports
The Fighting Irish needed help at receiver a year ago. It was one of the few positions where they didn't have a significant playmaker. DaVaris Daniels was a player that made plays time and again this past fall in the passing game, but he was never a consistent threat.
Daniels didn't record a catch in four games this fall, but had a breakout game against Alabama in Miami, recording six catches for 115 yards. He had a long of 31 against the Tide defense.
Everett Golson is already comfortable with Daniels—he had 31 catches for 490 yards and a 15.8 yards per catch average.
If he can add a few catches to the stat sheet and a touchdown or two, the Irish could make Daniels a star.
Davonte Neal: Receiver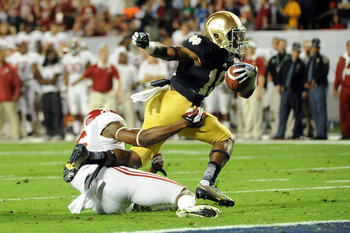 Steve Mitchell-USA TODAY Sports
Davonte Neal didn't have a breakout true freshman season, but the experience he gained as the punt returner was very valuable to his future with the offense.
The Irish need an explosive option at receiver and Neal has what the team is looking for. He has a shifty style in the open field and great field vision. If he can get on the field and earn some tosses, Notre Dame will have a dangerous tandem on its hands.
Neal will see his role increase as a returner and as a receiver in the coming year. He will reach his potential and become one of the best combo athletes in the game.
Keep Reading

Notre Dame Football: Like this team?