Roger Federer: Counting Down Fed-Ex's Shining Australian Open Moments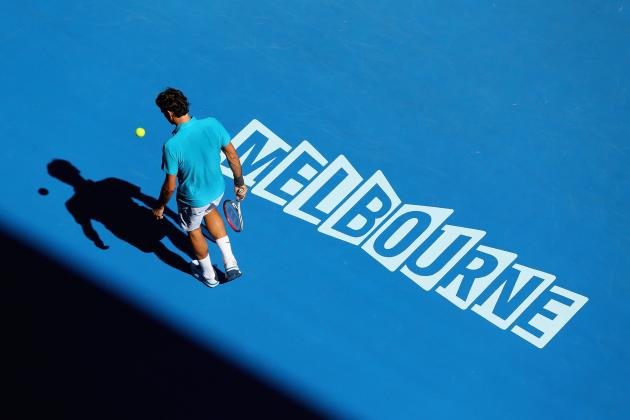 Cameron Spencer/Getty Images

The No. 2 player in the world, Roger Federer, has had no trouble winning titles Down Under in his career.
Though the surface is slower now and he has not been in the final since winning in 2010, he still has a serious chance to progress in the draw and add another championship to his achievements.
His worst Major besides Roland Garros has still seen tremendous prosperity for Switzerland.
Perhaps some of his most thrilling victories came in Melbourne, and they could provide the inspiration for him to do it all over again.
Here are some of his shining moments.
Begin Slideshow

»
Marcos Baghdatis was en fuego for the "Happy Slam" back in the good days of 2006.
He had won several slugfests against top opponents and was an unexpected visitor to the final, seeing as he was unseeded and had never produced results quite like those.
Nevertheless, his fight and early lead against the Swiss couldn't propel him to a great enough lead, and Federer prevailed, destroying the Cypriot in the final sets.
This match left the crowd stunned, as it only took the Maestro one break of serve to turn the match from a potential upset to a rapid thrashing.
Though Fed lost this epic match (he lost another one, which I'll get to shortly) this was one of the all-time greatest matches—even in Federer's entire career.
The level of play was extremely high and didn't dip once. Even when Federer looked to be in trouble in the decisive fifth set he fought his way back in an unbelievable match.
The talents of Federer and Marat Safin were as clear as day, and it displayed just the kind of match it took during this time period to upset the Swiss. One point away from losing the match, the Russian defied the odds and left us all with a match to remember.
Andy Murray had reached his second Major final. Maybe this was it.
Unfortunately for him it was not, and Federer got off to a quick start.
Beating his opponent fairly regularly in lengthy baseline exchanges, his victory truly stood out because it demonstrated the various styles and strategies Fed has learned to incorporate in his repertoire over the years.
Murray's counter-punching mindset wasn't nearly enough, as he succumbed in a straight-sets loss to his (Major) match-tough rival.
The Scot would be forced to change his style if he wanted to ever break through and win a big championship, and he did. Maybe this and the 2011 Melbourne final were enough to prove that to him.
The second or third most challenging final in Federer's career (the other two being the 2008 Wimbledon affair against Rafael Nadal and the 2009 U.S. Open showdown with Juan Martin del Potro) demonstrated just how tough it is to win points against the Spaniard on a slow surface.
I personally thought these two's battle at the Aussie Open last year was the most exciting match they had ever played (even though it was merely four sets) simply because of how high both players' performance levels were. Regardless, this was an insanely good match to keep as a memory.
Fed somehow snuck his way to a fifth set, wherein he would lose, but he still showed why he and his opponent on the other side of the net are two of the most sensational athletes in history.
This tournament had "demolition derby" written all over it.
One of the most defining events of his four- or five-year dominance, his precise shot-making and phenomenal anticipation was at an all-time high.
He had very few lapses in concentration and only looked down the barrel of a gun once (first set in the final).
Beating the likes of on-fire Tommy Robredo, Andy Roddick and Fernando Gonzalez, Fed's proved that it would truly take something special for his reign at the top of the game to end—he defended his title from the year prior.
This is a highlights video and recap of his best points over the two-week course that took place in early 2007.
Follow B/R Tennis Community Leader and Featured Columnist Jeff Cohn on Twitter.