NFL Draft 2013: Ranking Luke Joeckel and Best Offensive Tackle Prospects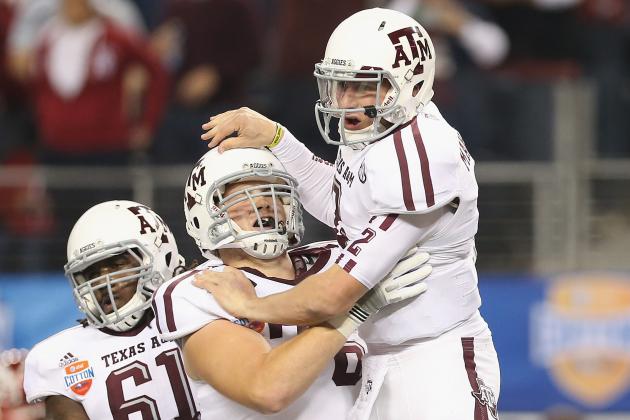 Ronald Martinez/Getty Images
Luke Joeckel (center) lifting up his quarterback.
Offensive tackles are one of the most demanding and sought after positions in the NFL, and it will be no different in the 2013 NFL draft. There are numerous tackles eligible to be selected, but which ones are the very best?
To determine which players are the best, I will look at their pro-readiness, athleticism, versatility and strength.
The ones that can combine those traits will make the best tackles.
Here's a power ranking of the best offensive tackles in the draft, starting with the fifth-best all the way to the best.
So who made the cut? Read on to find out.
Begin Slideshow

»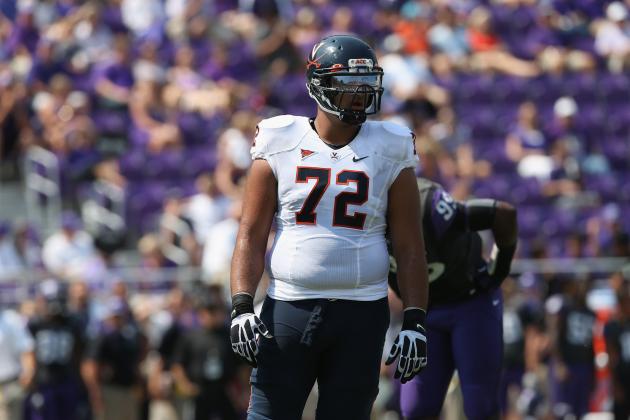 Ronald Martinez/Getty Images
Oday Aboushi
Oday Aboushi is an athletic tackle prospect who comes from a program with a rich tradition of producing quality tackles.
Aboushi has great size at 6'6", 310 pounds and uses that frame to keep pass-rushers at bay.
He needs work on his run-blocking skills, where he's still a bit inconsistent.
He'll also benefit from a reduction in penalties.
Aboushi projects as a late second- or early third-round pick with starting potential down the road.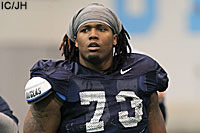 Brennan Williams. northcarolina.scout.com
Brennan Williams was having a fine senior season before injuring his shoulder.
The 6'7", 315-pound tackle excels as a run-blocker and could find a home on the right side in the NFL.
The big question with Williams is about his health. How bad is his shoulder and how soon can he contribute in the NFL?
If he can, teams will be getting a really good player. He's nimble enough to hold up in pass protection, but strong enough to really punish defenders in the run game.
Where he will be selected will depend on how his shoulder checks out. If he can remain healthy, he could become a starting right tackle relatively quickly.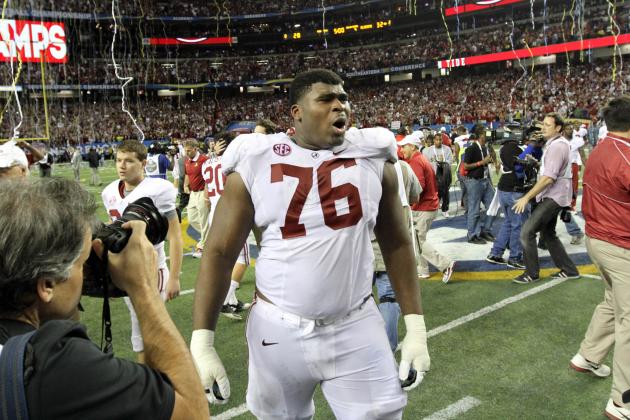 USA TODAY Sports
D.J. Fluker
D.J. Fluker had a dominant season in 2011 as a punishing run-blocker on the right side for the Alabama Crimson Tide.
2012 wasn't as good. He struggled a bit in pass protection and his stock could fall because of it.
Despite that, many prognosticators have him in the first round. ESPN's Mel Kiper Jr. was quite effusive in his praise of Fluker: (via AL.com)
"I thought even in pass protection this year he did a heck of a job," Kiper Jr. said. "That was the big question mark with him. Got very incredibly long arms, physical, tough player. I thought he held up a lot better in pass protection."
NFL.com draft analyst Gil Brandt has Fluker going 13th-overall to the Tampa Bay Buccaneers.
Fluker will most likely only play right tackle in the pros, which will hide any pass-blocking deficiencies he has.
Despite that, Fluker could be a first-round pick. He's a tremendous run-blocker and has been pivotal in creating holes for Trent Richardson and Eddie Lacy. That's an important skill.
I don't think Fluker goes as high as Brandt thinks he will. I think he's a late first-rounder or early second-rounder. The reasoning behind that is because right tackles simply are not as valuable as left tackles. The game is rapidly becoming about the pass game, which requires athletic, nimble left tackles to protect the quarterback.
Because there aren't a lot of lefty quarterbacks, right tackles don't have the same importance as left tackles.
With many teams abandoning the run, the need for a road-grading right tackle is not as necessary as it was five years ago.
Fluker is a solid player and will be a starting right tackle. But because of his inability to play left tackle, he'll fall to the middle of the second round.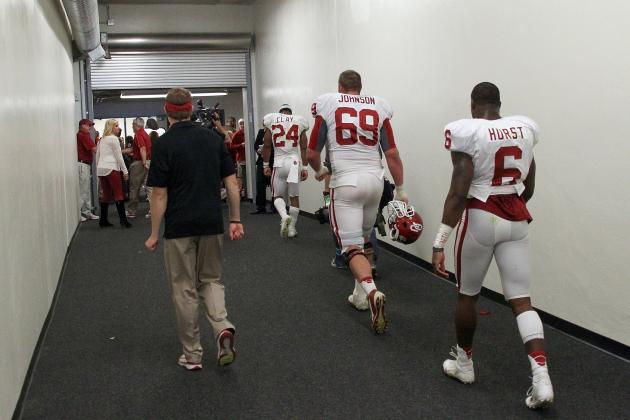 R. Yeatts/Getty Images
Lane Johnson (69)
Lane Johnson is an athletic tackle prospect who has been rising up draft boards in recent weeks.
The 6'7", 303-pound tackle started his career at tight end, before moving to defensive end and then finally finding a home at tackle.
He's excelled there, protecting Landry Jones for two years. He's an excellent pass-blocker, with great size.
He's also an improving run defender and has shown this season the ability to excel in that area.
There are questions about whether Johnson can play left tackle in the pros. Despite that, NFL scouts are really buzzing about him:
I'm anxious to start my draft prep. One name that is buzzing right now-- Oklahoma OT Lane Johnson. Lot of 1st rd grades on him.
— Daniel Jeremiah (@MoveTheSticks) November 15, 2012
If Johnson cannot play left tackle, then it hurts his stock and he could fall. Left tackles are much more valuable than right tackles.
But if he can prove to be nimble enough to handle the blindside, Johnson could find himself in the first round.
Depending on how the draft shakes out, he could go as high as 20th to the Chicago Bears and probably won't get past the Arizona Cardinals at pick 38 of the second round.
Johnson is a bit of a project, but he has the potential to be a long-time starter in the NFL.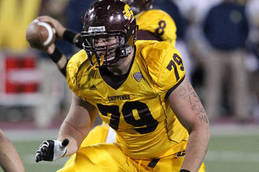 Eric Fisher. mlive.com
Eric Fisher is a solid left tackle prospect who could be starting in the NFL by season's end.
At 6'8", 305 pounds, Fisher has the size and arm length needed to be an elite pass-protector.
As a blocker, Fisher is athletic and uses his long arms to his advantage. He can stay with speed rushers off the edge.
Fisher will need to bulk up and until he does, he will struggle in the run game. He plays hard, but doesn't quite have the strength to bully defenders and move them off the line of scrimmage.
As the second-best tackle in this class, Fisher should be selected in the first round. Where he goes is still a mystery and he has a variety of teams interested in him.
He could go as high as 11th to the San Diego Chargers, but most likely won't get past the Chicago Bears at 20.
Fisher projects as a long-time starting left tackle, with the ability to play right tackle. He's not an elite talent, but he has the ability to play in a few Pro Bowls and keep the left tackle position locked down.
Luke Joeckel is not only the best offensive tackle in this class, he may very well be the best player in the draft.
The 6'6", 310-pound junior from Texas A&M is strong and athletic. He is equally effective against speed and power rushers and plays with great technique.
He plays the demanding and highly sought after position of left tackle, although he would be equally dominant on the right side.
At present, he's a better pass-protector than run-blocker, but he should improve in that facet with a true NFL strength program.
Joeckel is the best offensive tackle prospect since Jake Long came out of Michigan in 2008 and was the No. 1 overall pick. He is, by far, the best offensive tackle in this class.
The only real mystery surrounding Joeckel is where he will be selected. The Kansas City Chiefs have the first overall pick and could certainly use a left tackle. Branden Albert is a free agent and while he's an above-average left tackle, he does not possess the elite potential of Joeckel.
If they decide to pass on Joeckel, then he won't fall any further than fourth overall and the Philadelphia Eagles. The Eagles had an awful offensive line last season and Joeckel can step right in and start from day one.
Joeckel has All-Pro potential and whoever drafts him will have a franchise left tackle for the next 10 years. He will most likely start in Week 1 and prove to be an excellent player in no time.
Once he beefs up and improves his run-blocking, there's really no stopping him. In a short time, he could be the best tackle in football.
It may seem like hyperbole, but it's not—Joeckel is the real deal.