Pac-12 Football Power Rankings for 2013, Post-Chip Kelly Departure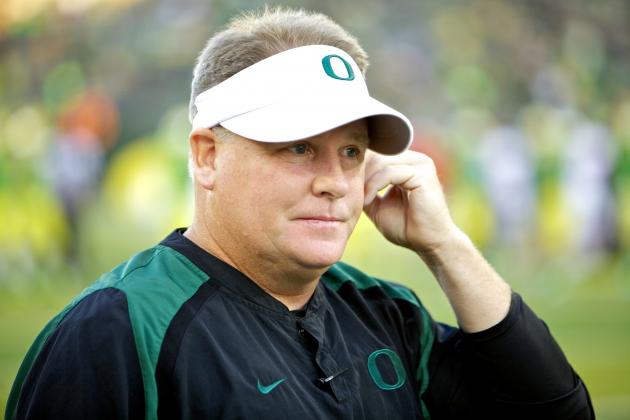 Craig Mitchelldyer/Getty Images

The Philadelphia Eagles have hired Chip Kelly as their new head coach (via ESPN.com), and the Oregon Ducks are left searching for somebody to lead them. This is a sad day for college football, as Kelly was an exciting coach who helped provide a high-flying offense that the game has never seen before.
At the same time, this is wonderful if you are a fan of another team in the Pac-12. Other squads in this conference no longer have to prepare the way they used to for one of the toughest teams in the country to contain. Keeping Oregon out of the end zone was difficult to say the least, but without Kelly on the sidelines, it might be easier to stop the Ducks.
Where do the Ducks sit now among Pac-12 teams heading into the 2013 season?
Here are the Pac-12 power rankings now that Kelly has taken his talents to the NFL.
Begin Slideshow

»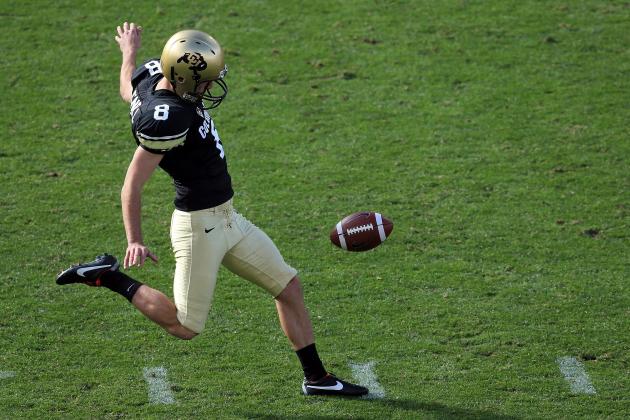 Doug Pensinger/Getty Images

Let's get Colorado out of the way first.
The program has won a combined nine games in the last three years. In other words, four teams in this conference won as many or more games last year than the Buffaloes have won in three.
There have been some bad defenses in this conference, but allowing 67 defensive touchdowns in only 12 games absolutely takes the cake.
With a new head coach in place, it is hard imagining such a quick turnaround from the debacle we witnessed last year with this program.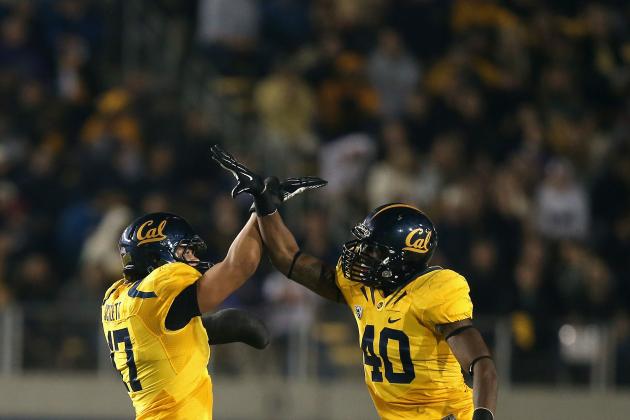 Ezra Shaw/Getty Images

Another team that has a new head coach is California, as Sonny Dykes is looking to bring some of the coaching success he had with Louisiana Tech over to the West Coast.
Good luck with that.
The Golden Bears will need to find a new starting quarterback, running back, receivers and several new offensive linemen. There will be new faces on the defensive line, and the secondary also took a hit.
Cal should be motivated to play for a new coach and will be excited for the fresh start, but there are way too many holes to expect a great improvement right away.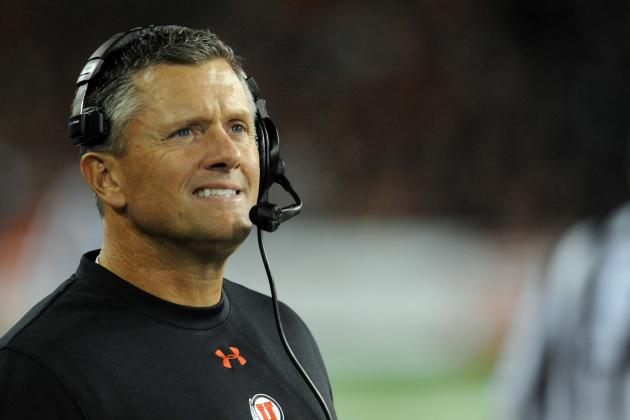 Steve Dykes/Getty Images

Nearly everything that Utah did well last season has been taken away.
The physical defensive line will be no more with Star Lotulelei and Dave Kruger graduating. Veteran running back John White is no longer around to provide that boost on the offensive side of the ball. The offensive line took a hit, and that doesn't even include the fact that the Utes have to find two new starting cornerbacks.
Utah head coach Kyle Whittingham is great at what he does, but he has his work cut out for him this year.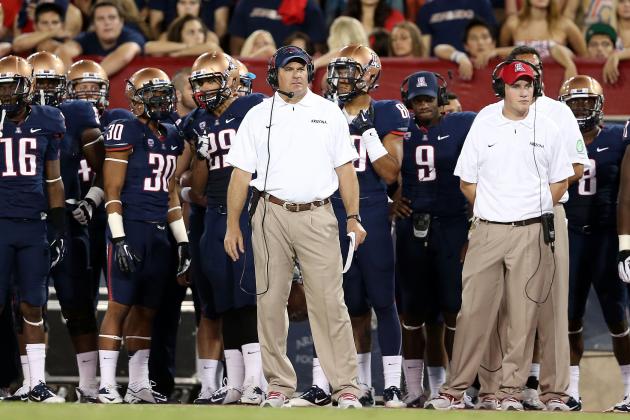 Christian Petersen/Getty Images

Rich Rodriguez was able to bring this Arizona program back to life last season. His second year as the Arizona head coach won't be so easy.
He will have to find a quarterback to replace Matt Scott and will be missing a couple of starters on the offensive line. The good news is that every starter on defense returns, but this was a unit that was dead last in the Pac-12, allowing nearly 500 total yards a game, so I'm not sure that is a good thing.
Without a legit starting quarterback, and with a defense that couldn't stop a runny nose, it is hard seeing the Wildcats take that next step.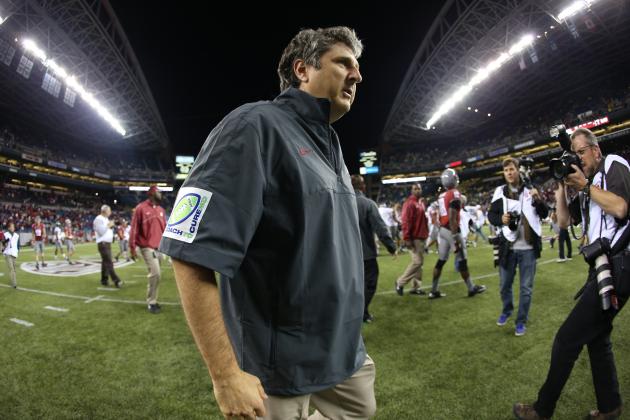 Otto Greule Jr/Getty Images

There shouldn't be many excuses for head coach Mike Leach in his second season. Washington State is returning 20 starters from a year ago, which happens to be the most of any team in the Pac-12.
One of those starters is quarterback Connor Halliday, who will now have an entire offseason to work with the offensive guru and get on the same page to improve this Cougars offense that ranked 108th in the country.
The bad news is that the defense did take most of the hit and the schedule doesn't look like much fun with Auburn, USC and Oregon all coming on the road.
Washington State should be better next year, but that is really not saying much.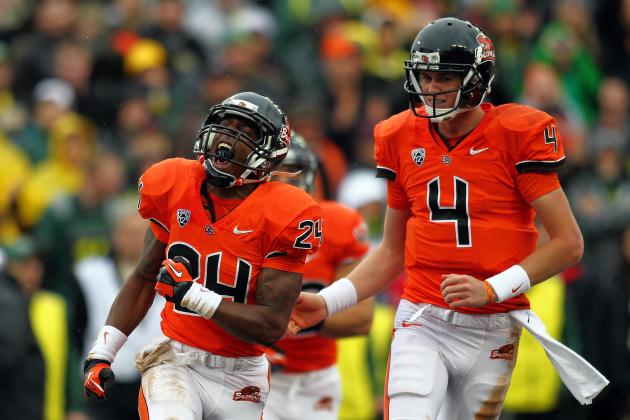 Jonathan Ferrey/Getty Images

Oregon State has enough guys to continue to push the rest of the pack but will have to overcome losing a couple of key players. The Beavers lost Markus Wheaton, their leading wide receiver, and Jordan Poyer, their best cornerback and defensive player. There are also questions at the quarterback position, as there seemed to be a different guy under center every week.
But even with those issues, Oregon State still has a loaded defense that returns seven starters, including All-Conference defensive end Scott Crichton. With cornerback Rashaad Reynolds getting more leeway in the secondary, the Beavers should continue to have a top-25 defense. Offensively, a 1,000-yard receiver in Brandin Cooks returns and playmaker Storm Woods should see an increased workload.
Oregon State will remain in the hunt for a division title, but it has a few questions to answer first.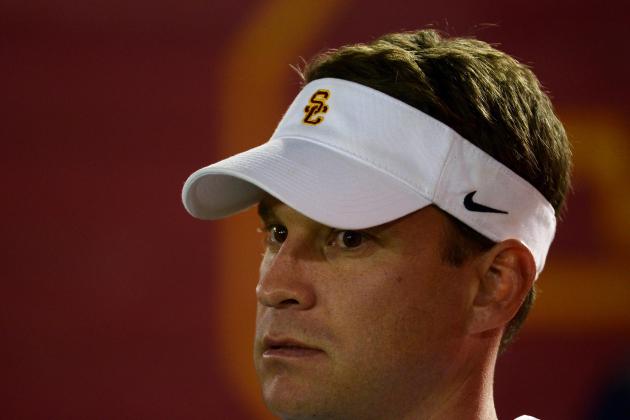 Harry How/Getty Images

Maybe I'm crazy to have the USC Trojans this high. Yes, with the season that the team just had and the constant comedy it provided, even No. 6 in the power rankings is being considerate.
But how can you not like the talent that the Trojans are bringing back?
Quarterback Max Wittek has shown that he can be a solid starter in the couple of games that Matt Barkley missed. He will also have plenty of guys around him to help, including a wide receiver corps that is led by Marqise Lee, who is easily the best receiver in the country. Although the defense has been a joke, that side of the ball still has talent and returns seven starters as well.
You can win with this team, the question is, can Lane Kiffin actually keep his head in the game and stop making bizarre play calls? College football is only big enough for one Les Miles.
Seriously, USC has enough talent to win the Pac-12 South.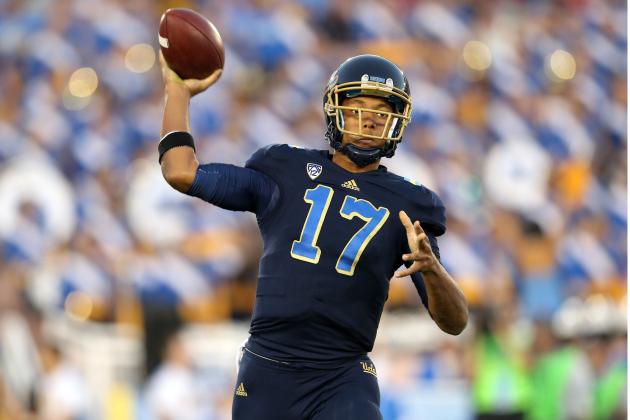 Stephen Dunn/Getty Images

In a conference that is so explosive offensively, Brett Hundley and his accomplishments may have been underrated a little bit. We are talking about a freshman quarterback who completed 67 percent of his passes, passed for 3,740 yards and was responsible for 38 total touchdowns. With him leading the offense, the Bruins will be in good hands on that side of the ball.
All-American linebacker Anthony Barr returns on defense and will lead a front seven that has five starters coming back. But if this unit is going to make strides from a season ago, the secondary must improve drastically from last season, in which it allowed 255 passing yards per game.
UCLA was given no favors schedule wise, as trips to Oregon, USC, Utah and Stanford aren't going to be easy. But with a star at the quarterback position and a few defensive pieces in place, the Bruins could win the Pac-12 South title.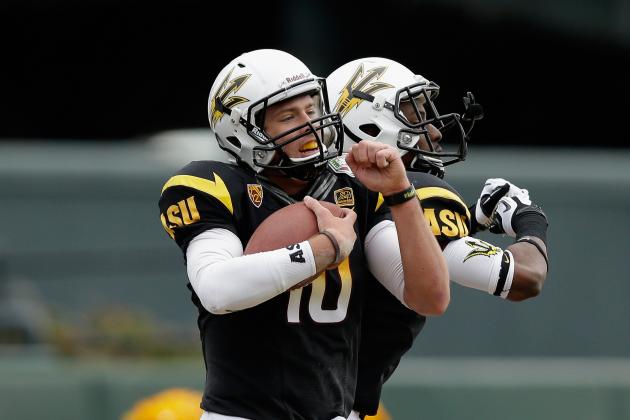 Ezra Shaw/Getty Images

Arizona State had a new coaching staff last year and still managed to win eight games. That included beating down Utah, squeaking by Arizona and losing to UCLA by only two points. The team that is returning has the ability to build on last year's success.
An offense that was ranked 14th in the country in scoring is bringing back starting quarterback Taylor Kelly and running backs D.J. Foster and Marion Grice. Defensively, the Sun Devils received terrific news when defensive tackle Will Sutton announced he was returning for his senior year. The big man up front could have easily been an early draft pick come April.
The Sun Devils still have question marks at wide receiver, and the defensive backfield will need to improve for them to take that next step. But this is a team that is clearly on the rise and should continue to make some noise in this conference.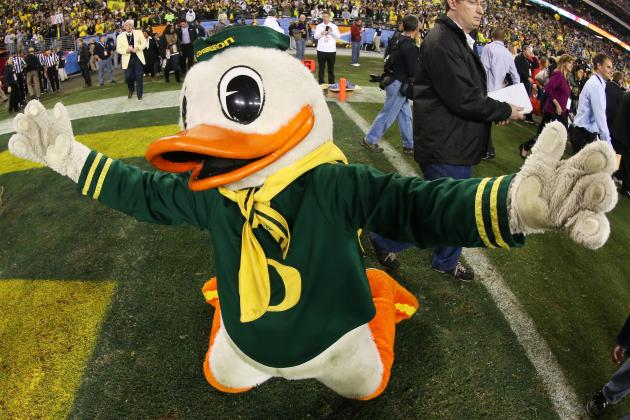 Stephen Dunn/Getty Images

I drop Oregon a couple of notches because we have seen in the past just how much a head coach plays a part to a team's success. Just ask Arkansas how things worked out if you don't believe me.
But even without Kelly calling the shots, Oregon remains one of the best teams in the country on paper. Quarterback Marcus Mariota is a Heisman candidate, and he has tons of weapons around him such as De'Anthony Thomas, who is always a threat to score. No matter what plays are being called, with their athletic ability, they will find the end zone a lot next season.
Defensively, the Ducks aren't too shabby with seven starters returning, including every starter in the secondary, which could be the best in the conference this year.
Oregon would be wise to keep the new hire in the family by turning to offensive coordinator Mark Helfrich. But regardless of who the new head coach is, there is simply way too much talent to write the Ducks off as Pac-12 contenders because one guy decided to leave.
The transition may not be a sexy one, but this isn't the end of the world for Oregon, or its season.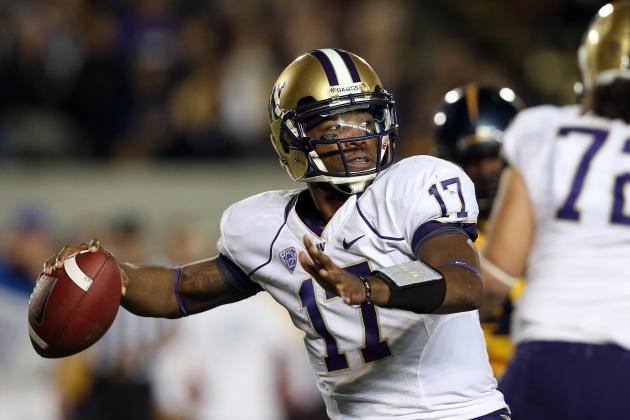 Ezra Shaw/Getty Images

Washington has a feisty defense that returns eight starters from last season. Offensively, only one starter is missing, which is always a good thing when trying to take that next step. With a year under its belt, the offensive line should improve and the Huskies should be able to put more points on the board.
The reason is because quarterback Keith Price is returning for his senior year. The dual-threat signal-caller has the potential to be one of the best quarterbacks in the country if he can just get some protection.
As for the schedule, Washington doesn't have to play USC or Utah, and will get Oregon at Husky Stadium.
If you are looking for a sleeper team to win the Pac-12, Washington is your best bet.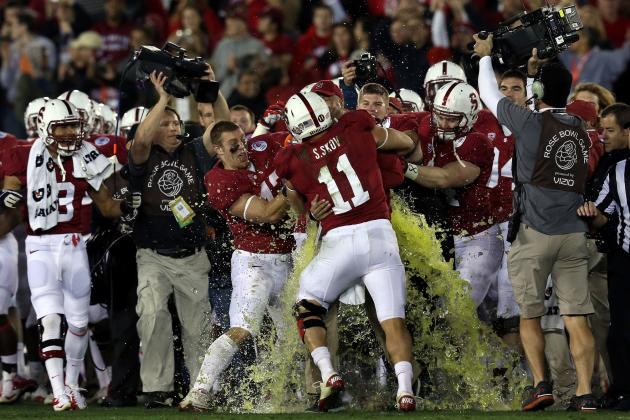 Stephen Dunn/Getty Images

Welcome to the party, Stanford.
With Oregon left looking for a new head coach, the Cardinal have to become the overwhelming favorite to win the Pac-12.
The Cardinal had more than a puncher's chance to win with or without having to compete against Chip Kelly. However, without having to deal with Oregon's offensive genius, things get a little easier for Stanford.
As for the team itself, eight starters are coming back from one of the best defenses in the country. Offensively, Kevin Hogan has been making strides at the quarterback position and should be a dangerous dual-threat playmaker on offense.
With big-time potential on both sides of the ball, the Cardinal are the favorite to win the Pac-12.