Odds on Next Oregon Football Coach After Chip Kelly Bolts for NFL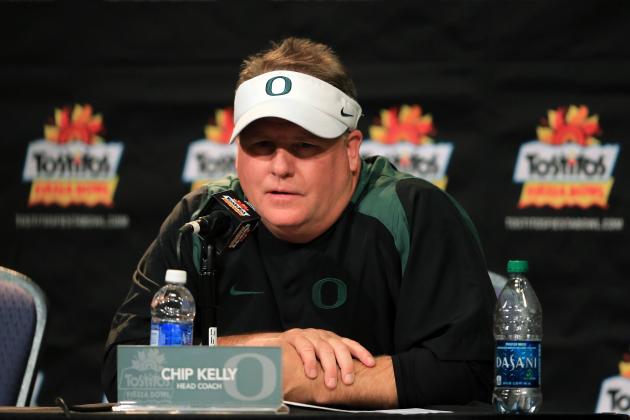 Doug Pensinger/Getty Images

On Wednesday, news dropped that Chip Kelly would depart from Eugene, Ore., leaving the Ducks program behind for the Philadelphia Eagles. He had previously interviewed for the NFL head coaching job, but there had been no indication of his hiring until Jan. 16.
The Oregon program will look to adjust immediately, with three names popping up early as heavy odds to replace Kelly now that he has bolted for the NFL.
Offensive coordinator Mark Helfrich is a name that is immediately mentioned with the change of regime, but there are others with their hats in the ring as well. Here is a look at the top candidates and their odds of becoming the next University of Oregon head football coach.
Begin Slideshow

»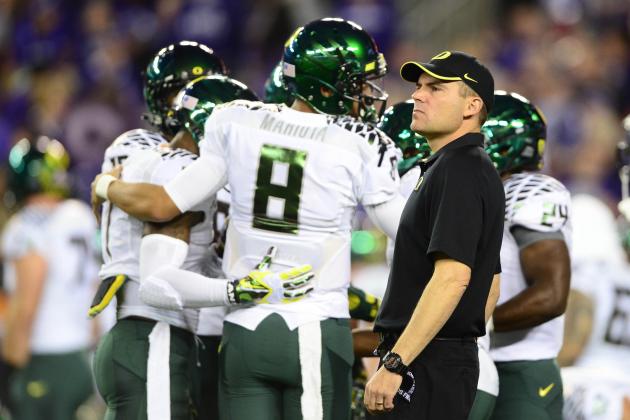 Mark J. Rebilas-USA TODAY Sports

Oregon Head Coach Odds: 90 percent and rising
Mark Helfrich has been the assumed head coach in-waiting for the Oregon Ducks for some time now, and a recent report from USA Today confirmed that on Jan. 4.
Helfrich has spent his entire career coaching quarterbacks and running offenses. He has previously made stops at Boise State, Arizona State and Colorado.
This is his second time with Oregon. He has been the Oregon offensive coordinator and quarterbacks coach since the 2009 season.
When there is a recipe that breeds great results, there is no reason to change it. At this point, the Ducks have success hiring from within. Expect that same move to happen with Helfrich taking over the reins heading into the 2013 season.
USA TODAY Sports

Oregon Head Coach Odds: 8 percent
Chris Petersen is a name that gets tossed around every major college football job opening. While his 84-8 record speaks for itself, his decade and a half spent in Boise makes him seem unreachable.
He would be a great fit for Oregon and could rule college football from the Pac-12 North if he could find Boise State success, but Petersen isn't likely to leave, and Oregon isn't likely to offer.
If the Ducks don't give the job to Helfrich, the Petersen talk will begin to heat up. Who knows, he may be interested in trying for another pay raise at Boise.
The Ducks have the pocketbook to draw in Petersen, and it would be rated as the best hire of the year. It is fun to dream, Ducks fans.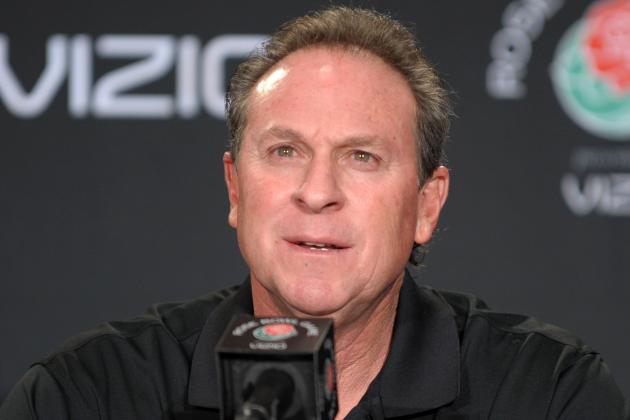 Kirby Lee-USA TODAY Sports

Oregon Head Coach Odds: 2 percent, wild card
Nick Aliotti has been the defensive coordinator for the Ducks program since 1999. He was previously with Oregon from 1988-94 as a linebackers coach and eventually a defensive coordinator.
Aliotti left Oregon for the pros, where he spent three seasons with the St. Louis Rams. He then returned to UCLA in 1998, and Oregon in 1999.
The Oregon defense has always been good enough to keep the Ducks in games with their explosive offense, but its nothing overwhelming. He coaches great defensive backs and has a good blitz scheme.
The combo that Aliotti brings to an offensive coordinator running the Oregon scheme is a perfect match. He wouldn't fit as the head coach, but he is a name that floats from time to time. His best position is right where he is: as the defensive coordinator for the Ducks.