Golovkin Promises Fireworks: I Will Knock Rosado Out!
Use your ← → (arrow) keys to browse more stories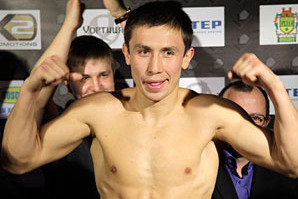 Courtesy of SI.com
Article Link - http://www.boxingscene.com/?m=show&opt=printable&id=61437#ixzz2I9vwgojB This is a legal waiver. By copying and using the material from this article, you agree to give full credit to BoxingScene.com or provide a link to the original article. This week'ss edition of BoxingScene's official audio show, The Boxing Lab, featured an appearance by Gennady Golovkin. The IBO/WBA middleweight champion spoke to us about his upcoming HBO televised fight against Gabriel Rosado. Golovkin said that he is excited to fight in New York again. "I am happy because this is my second fight in New York and my first at Madison Square Garden. I can't wait for the fight," Golovkin stated.