Manchester City vs. Fulham: 4 Key Battles to Watch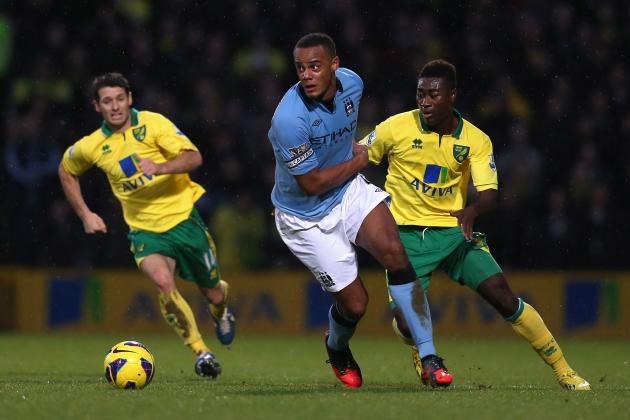 Julian Finney/Getty Images
With the red card he was given against Arsenal rescinded, Vincent Kompany will now likely prepare for Fulham and their star man Dimitar Berbatov.
Fulham manager Martin Jol's happiness at his team's progression into the FA Cup Fourth Round on Tuesday night will have been tempered somewhat by the fact it took 30 minutes longer than he would have liked.
A lackluster display saw them only just force extra-time against Blackpool through Kieran Richardson's long-range shot before Brede Hangeland scored late to complete a 2-1 replay win.
Seeing Saturday's opponents exacerbate already weary legs like this will have been pleasing to Roberto Mancini in what was the latest positive development in a good week for the Manchester City manager.
A good win at Arsenal was followed by the news Vincent Kompany's red card in that game had been overturned. Pep Guardiola's decision to take up the Bayern Munich job removed one potential rival for his job this summer. Refreshingly, it has been light on off-pitch controversy too (prior to writing this, at least!).
Fulham are capable of causing Man City problems. However Mancini will be confident his side can dispatch the West London outfit reasonably comfortably as they attempt to keep pace with Manchester United in the title race.
Ahead of the meeting we take a look at where the key battles might take place at the City of Manchester stadium this weekend, and whom they might involve.
Begin Slideshow

»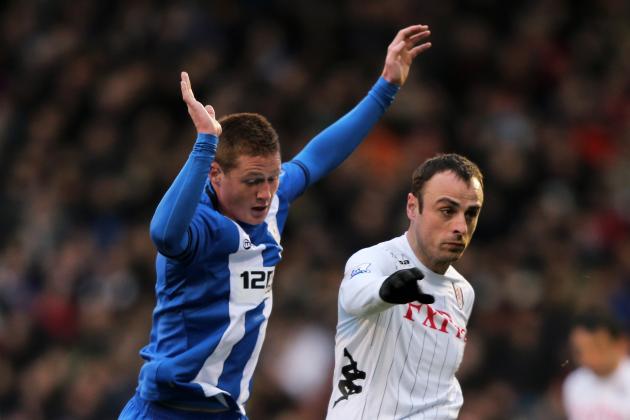 Ian Walton/Getty Images
Dimitar Berbatov in action against Wigan Athletic.
Martin Jol rested Dimitar Berbatov for the FA Cup replay against Blackpool in midweek. The Bulgarian was missed in a tense contest in which Fulham only just scraped through.
Despite this, it was a break Berbatov needed, as his team can barely afford to lose his services further down the line. And it worked out anyway as they won, and he is now (somewhat) refreshed for a tough fixture against Manchester City.
After his red card from last week was rescinded, Vincent Kompany will be ready to deal with the former cross-city rival.
The freedom with which Berbatov plays ensures this will not strictly be a one-on-one battle. He will look to influence the game from wherever he can and hope by drawing attention to himself he can free space for others.
Ultimately, though, Fulham will need him to have an impact in and around the penalty box, and Kompany will be the man charged chiefly with dealing with that threat.
Berbatov will avoid contact with Kompany as much as possible, but invariably they will come together. At which point you have two physically imposing players with distinct but equally effective skill-sets looking to get the better of the other.
As far as duels go, this could be a particularly engaging one.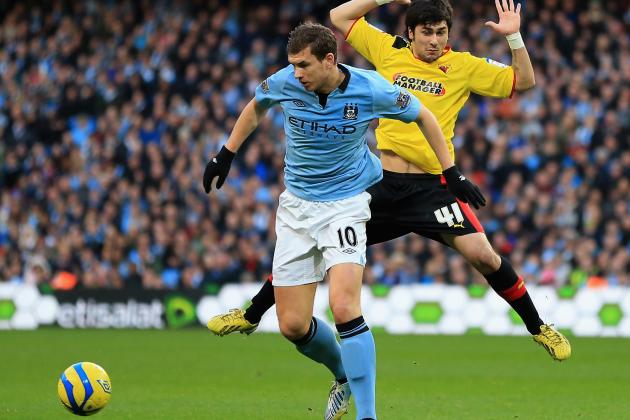 Richard Heathcote/Getty Images
Edin Dzeko has eyes only for the ball against Watford.
It is not always easy to anticipate who Roberto Mancini is going to start upfront for Man City on any given week. Even when circumstances would appear to indicate a certain direction, the nature of having a group of talented forwards means there is always room for variation.
Given his recent goalscoring form, though, (four goals in four starts) there is a good chance Edin Dzeko will start against Fulham. And almost certainly, it will be Brede Hangeland who is given the primary responsibility of stopping the Bosnian.
The Cottagers have a tough afternoon ahead of them as they contemplate facing the myriad of attacking options City have to offer.
When you have a David Silva or a Carlos Tevez attempting to skip or pass their way into the penalty area, Hangeland will be needed elsewhere at times. At which point he will need defensive teammates like Aaron Hughes to be alert to Dzeko too.
But at just over 6'6" the Fulham captain will be their best shot of keeping the 6'3" Dzeko from bullying them. The latter is more than a target man, but he does offer a sizable presence that can hurt you if not dealt with.
As has been the case on previous occasions when Mancini has left Dzeko on the pitch and taken off one of his smaller teammates, the striker will be required to add to City's height in defending set-pieces, too. Hangeland showed with his winner against Blackpool that he is a player that best not be left alone.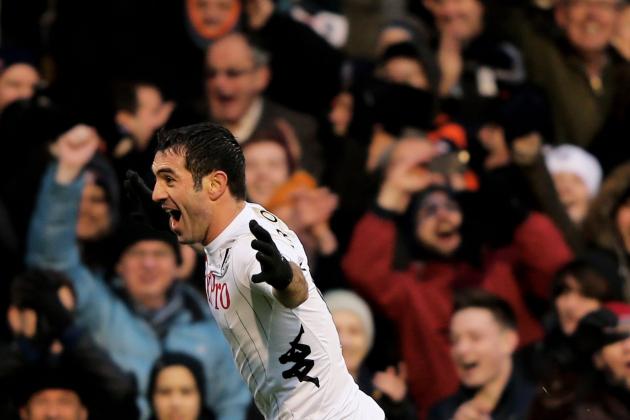 Ian Walton/Getty Images
City won't want to see Giorgos Karagounis celebrating against them.
A free-transfer signing last September, Giorgos Karagounis has proven to be a smart acquisition for Fulham.
The Greek midfielder is belying any assumption that by 35 years old a player is on his last legs with some energetic and tenacious displays. He has further highlighted his value to the Fulham cause with two goals in the last three games.
Karagounis might not have the instant game-changing ability of someone like Berbatov, but he is a player capable of upsetting the flow of the opposition in various ways.
Man City will be looking to take the game to Fulham so Karagounis will hardly be a priority. But by keeping him quiet they can avoid the risk of him unsettling them at some point in the match.
Tasked with doing so will probably be Gareth Barry, who will cross paths with Karagounis in the centre of the pitch.
Barry is quietly preventative compared to some more overt defensive midfielders (a benefit of playing in such a good side, perhaps) but he more often that not gets the job done. Given that City will be working hard to keep Fulham as quiet as possible elsewhere, stopping Karagounis will restrict the away side's hopes of instigating a change in momentum.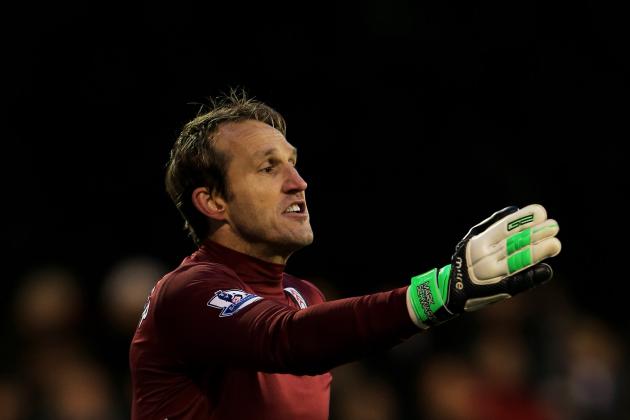 Ian Walton/Getty Images
Mark Schwarzer has a busy afternoon's work ahead of him.
Okay, it is pretty obvious that Fulham goalkeeper Mark Schwarzer will have to have a great day to stop Man City. Especially when they inevitably find a way through his defense.
If those in front of him can restrict the frequency with which City do this, though (and that is a tough ask), Schwarzer must stay at action stations as the home side will then rain down on him a mass of long-range firepower.
The sprightly Silva or tricky Tevez are well capable of working themselves the space necessary to get a shot off, while others like James Milner can be deadly from distance if teed up just right.
Schwarzer also has to contend with the surging runs forward of City's full-backs Pablo Zabaleta and Gael Clichy, who demonstrate the breadth of attacking options City can summon.
If the game is tight the champions must be firing effectively in this regard, as, despite getting on in years, the Australian remains as challenging as ever to beat.