After a disappointing 2012 season, the Tennessee Titans are left with a ton of questions to answer in the 2013 offseason.
Is Jake Locker really the guy? Should Chris Johnson be a Titan next season? Is it time to give up on Kenny Britt? Is the defense really that bad? Why exactly did the team fire Alan Lowry—special teams was one of the bright spots this season, right?
With all that in mind, here I will take a look at the Titans roster, breaking down where the team is strong, where the team could use help and which positions the Titans should consider bolstering with the No. 10 pick in the first round.
But before I do, here is the breakdown Bleacher Report's own Matt Miller and Aaron Nagler put together while enjoying a few drinks. Next round is on Mike Munchak!
Quarterback
Whether or not you think Jake Locker is a franchise quarterback—personally, I don't think he is—the Titans have to roll with Locker in 2013. They're going to stick with him because they need to find out, once and for all, if he can be the guy and eventually become the face of the franchise.
But don't be surprised if the Titans look for a new quarterback in 2014.
Running Back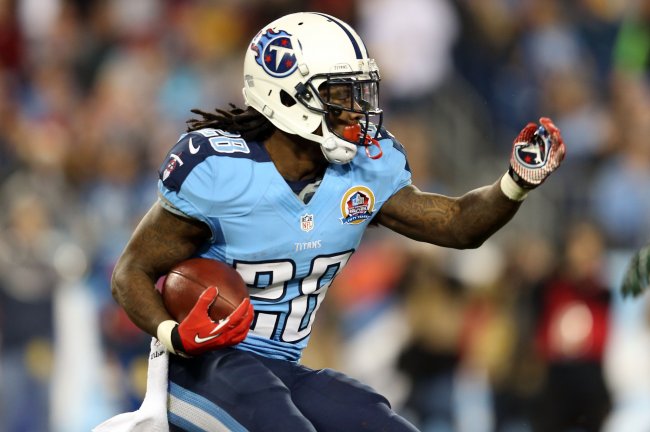 Andy Lyons/Getty Images
Given that Chris Johnson finished with 1,243 rushing yards and six touchdowns after a miserable start to the 2012 season, I'd be surprised if the Titans cut ties with him. He remains the most dynamic player they have on the offensive side of the ball by far.
But Miller and Nagler are right—adding a bigger, stronger running back to complement him would be wise. There are plenty of solid options in the middle of the draft to do just that.
Wide Receiver/Tight End
If Kenny Britt could stay out of trouble (h/t ESPN) and remain healthy, this would be a very solid receiving crew. I really like the potential of Kendall Wright, and Nate Washington remains a solid No. 2 or No. 3 option. There are far bigger needs than this.
As for the tight end position, much will depend on whether or not the team brings back Jared Cook. Paul Kuharsky of ESPN expects the team to use the franchise tag on him, so I wouldn't expect any major moves at this position, either.
Now, if only the Titans could get Cook to play up to his potential...
Offensive Line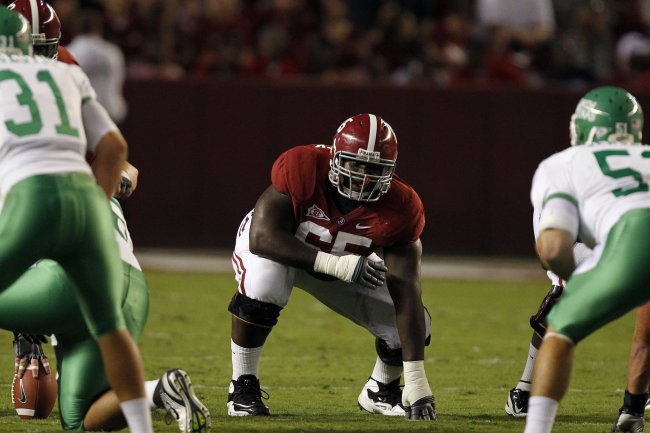 Butch Dill/Getty Images
Without a question, the Titans must improve the interior of their offensive line this offseason. I know drafting a guard is hardly any fan's idea of a good time, but you could argue that the player who would most immediately improve the Titans through the draft is Alabama's Chance Warmack.
Honestly, a player like Warmack would quietly improve this offense quite a bit next year. If the Titans don't go with an offensive guard in the first round, expect them to target the position in the second or third.
Defensive Line
The Titans are doing just fine at defensive tackle, so I wouldn't expect that to be a priority on draft day. But this team could still use an elite pass-rushing end—Derrick Morgan led the team with 6.5 sacks, while Kamerion Wimbley disappointed by finishing with just 6.0—and this draft is rife with pass-rushing prospects.
At No. 10, the Titans will surely have the opportunity to land a player from the group of Bjoern Werner, Damontre Moore, Ezekiel Ansah, Alex Okafor, Sam Montgomery or Barkevious Mingo, among others. I wouldn't be surprised if the team goes this route.
Linebacker
This isn't really a position of need. The Titans may draft for some depth, but I wouldn't expect to see them take any linebackers in the first few rounds.
Secondary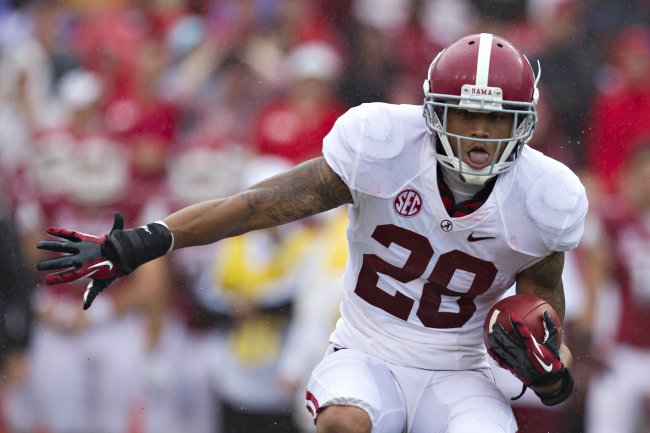 Wesley Hitt/Getty Images
Without question, the Titans need to improve at safety. The only problem is, I don't see any safeties worth using the No. 10 pick to select. And if they want a player like Kenny Vaccaro, Eric Reid or Matt Elam, they'll probably have to trade back into the first round or hope one of them drops into the second.
The team will have the same conundrum at cornerback. Dee Milliner would be a major upgrade but I don't see him slipping past the Detroit Lions with the fifth pick. Johnthan Banks will be available at No. 10, but he seems like a reach there and wouldn't provide an immediate improvement over Jason McCourty or Alterraun Verner.
No, I think the Titans will either draft a defensive end with that first pick or go after Warmack if the ends they like are off the board.