San Francisco 49ers vs Atlanta Falcons: A Tale of Two Quarterbacks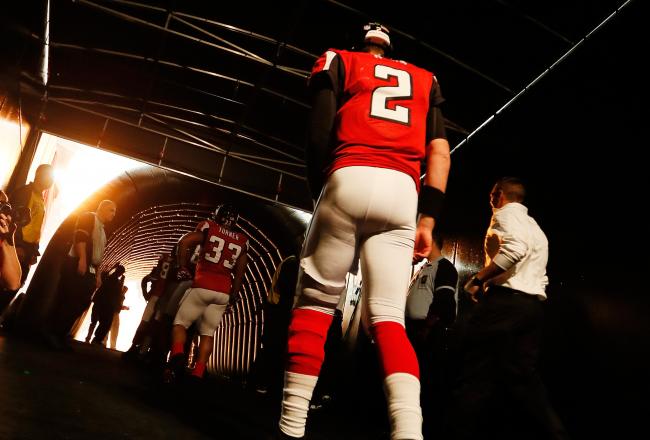 Kevin C. Cox/Getty Images
The Atlanta Falcons and San Francisco 49ers have taken very different roads to the NFC Championship Game. Despite being the No. 1 seed, the underdog Falcons have traveled a rocky road full of close calls and doubters. The 49ers enter the game favored by oddsmakers and analysts alike.
The two teams do have one similarity. Despite playmakers on both sides of the ball, they enter Sunday's game defined by their quarterbacks. Yet, Matt Ryan and Colin Kaepernick could not be more different.
In the Beginning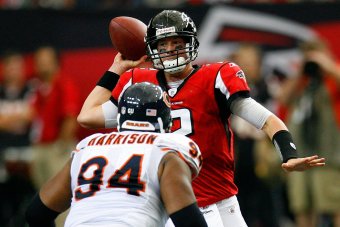 Kevin C. Cox/Getty Images
In 2008, Matt Ryan began his career with a down-and-out Falcons team. Ryan won the starting job in training camp that year from former insurance salesman Chris Redman. Ryan showed potential in Mike Mularkey's run-first offense.
Ryan would lead the Falcons to the playoffs in three of his first four years. One-and-done each time, Ryan and the Falcons seemed to be in reverse during the postseason. In 2008, the Falcons were left with a handful of what-ifs. Last year, the New York Giants shut down Ryan completely the way to a 24-2 blowout.
Colin Kaepernick took an unusual path to the spotlight. In 2011, the 49ers traded three draft picks to move up to the fourth spot in the second round just grab him. With Alex Smith already installed as the starter, Kaepenick spent 2011 learning. When Smith was having a career year in 2012, Kaepernick continued to bide his time.
In Week 10, Smith went down with a concussion. Kaepernick stepped in and never stepped out. Where as Smith provided a steady hand, Kaepernick brought an energy and versatility that would be hard for Jim Harbaugh to put back on the shelf.
Of Perception and Reality
In 2012, Matt Ryan found himself unshackled from Mulkarkey's old-school playbook. Ryan took flight by setting team records for single-season passing yards (4,719) and passing touchdowns (32). Ryan was the driving force behind the Falcons' 13-3 season and fourth trip to the playoffs since he was drafted.
Despite his success, the perception of Ryan became muddled. His supporters would point to his six regular-season fourth-quarter comebacks as proof he was clutch. His detractors would quickly point to his mistakes that necessitated a fourth-quarter comeback. Ryan's long history of amazing finishes was over shadowed by his lack of playoff success. The quarterback with the most fourth-quarter comebacks in his first five years was labeled a "choker."
Kaepernick's mercurial rise was not without controversy. Whether Smith should lose his starting job due to injury was a hot topic. Through his play, Kaepernick slowly silenced the critics. As the 2012 regular season came to a close, few doubted that Harbaugh had made the correct choice.
2012 Postseason Sets Stage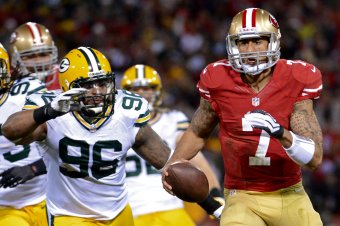 Harry How/Getty Images
Matt Ryan finally pulled the playoff monkey from his back with the heart-stopping win against the Seattle Seahawks. Down by one and 31 seconds left in the game, Ryan did what he does best. With two quick strikes, Ryan put the Falcons within field goal range. The Falcons win was merely the postseason manifestation of Ryan's regular-season career.
Kaepernick took full advantage of his first playoff experience. He was seemingly unstoppable. Kaepernick punished the Green Bay Packers on the ground (181 yds, 2 TD) and through the air (263 yds, 2 TD). Kaepernick was pure excitement and one of the main reasons the 49ers are favored this weekend.
The two performances highlighted the vast divide between the two quarterbacks. Ryan showed his fiery determination and poise under pressure. Kaepernick's easy smile made him appear immune to pressure all together.
Then there is playing style. Ryan is a cerebral pocket passer. Rarely a threat to run, Ryan relies on his ability to read defenses to keep the chains moving. Like Robert Griffin III and Russell Wilson, Kaepernick seems to be the evolution of the quarterback position. Not only a passer, but his own check-down. A dual threat that is hard to gameplan for.
By Sunday afternoon, one of these quarterbacks will walk away with a ring and a chance to become legendary. The other will be back at work preparing for the next season. One will be asking, "Who's next?" The other will be asking, "What if?"
The stage is set for two quarterbacks to prove they are the future. And chances are, fans of the NFL might be the biggest winners of them all.
This article is
What is the duplicate article?
Why is this article offensive?
Where is this article plagiarized from?
Why is this article poorly edited?

Atlanta Falcons: Like this team?