5 Adjustments the Atlanta Falcons Must Make to Stop Colin Kaepernick
Harry How/Getty Images
The Atlanta Falcons struggled to contain or pressure Seattle Seahawks quarterback Russell Wilson on Sunday, but eventually prevailed in a 30-28 thriller that earned them the duties of hosting the NFC Championship.
Enter Colin Kaepernick. San Francisco's first-year starter helped keep the 49ers in the second slot in the NFC throughout the season, despite subtle controversy regarding head coach Jim Harbaugh's decision to replace Alex Smith.
Kaepernick arguably made his full arrival against Green Bay in the divisional playoffs, where he broke a playoff record for rushing yards by a quarterback in a 45-31 victory.
Can the Falcons actually contain Kaepernick if they struggled with Wilson?
The answer is yes. Here's how.
More John Abraham
Kevin C. Cox/Getty Images
John Abraham started against the Seahawks, but he didn't make it very far before being sent to the sidelines with an aggravation of his ankle injury suffered in Week 17 against the Buccaneers.
He insists he will be ready for the NFC Championship game. Considering it's Abraham's first-ever conference championship game, he surely isn't kidding.
Abraham saw a resurgence of his career this season with 10.5 sacks. If he's fresh, his presence will greatly benefit Atlanta's contain and rush.
Zone Coverage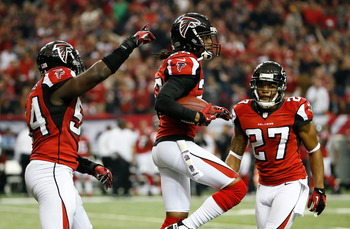 Kevin C. Cox/Getty Images
One of the main reasons the Green Bay Packers struggled so much against Colin Kaepernick was because they elected to play man-to-man when spread out by the 49ers offensive formations.
Even if the Falcons get stuck in nickel or dime, defensive coordinator Mike Nolan has to realize the team needs to stay in a scheme where defenders have eyes in the backfield.
The Falcons have a secondary that has thrived from keeping eyes on the quarterback anyways, so a zone scheme won't hurt.
Green Bay proved man-to-man is not the answer.
Exotic Blitzes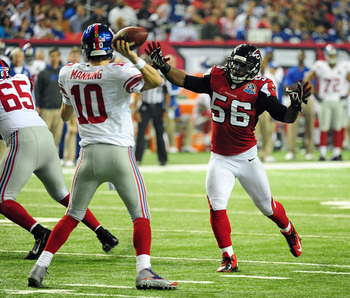 Scott Cunningham/Getty Images
If Atlanta tries to match up and force San Francisco to execute, it's going to have problems.
Even if coverage downfield is good, Kaepernick can tuck and run. That is exactly what Russell Wilson did against great coverage against the Falcons.
Atlanta has to make the first-year starter uncomfortable. No matter the spread of the 49ers' offensive formations, defensive coordinator Mike Nolan needs to have a way in each package for the Falcons to make a complicated blitz call at the line of scrimmage.
We saw it all year from Nolan. Now's time for his trademark tendencies to pay off.
Ball Control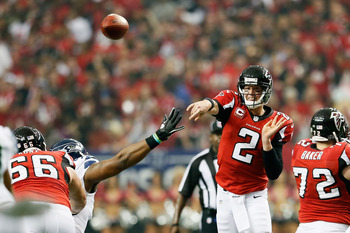 Kevin C. Cox/Getty Images
The more Atlanta has the football, the better.
With home-field advantage, ball control will be the Falcons' best friend.
Kaepernick can score in an instant, on the ground, or through the air when the secondary has its eyes fixated on the backfield.
San Francisco is probably going to get its fair share of big plays, but the Falcons must be able to weather the storm.
If the Falcons can keep Kaepernick on the sideline, they can keep him off rhythm and frustrate the 49er offense.
Linebackers Staying True to Assignments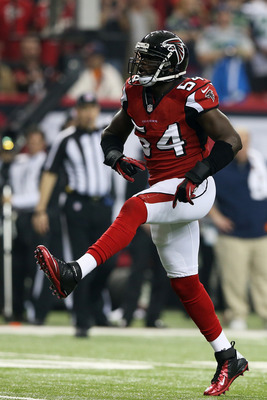 Streeter Lecka/Getty Images
Another area where Green Bay struggled against San Francisco was with linebackers staying true to their assignments.
Really, San Francisco's offense was made to look much more potent than it was against the Packers because the linebackers struggled throughout the contest to stay focused on assignment football.
Countless times both linebackers fell for the dive to Frank Gore or LaMichael James while Colin Kaepernick took off around the tackles.
Yes, the acceleration of Gore and James out of the pistol makes for a very difficult-to-decipher running game, but as long as Atlanta can play assignment football and bring up a safety, it will be in decent shape.
And with cover corners like Asante Samuel and Dunta Robinson, the Falcons can sneak a safety inside and let a backer key on Kaepernick.
Keep Reading

Atlanta Falcons: Like this team?