2012 NFL MVP: Making a Case for Each of the Top 5 Candidates
Doug Pensinger/Getty Images

What makes the 2012 NFL MVP race so fascinating is the real challenge to the usually quarterback-dominated field. A 2,000-yard running back leads that challenge. He is joined by a lineman who enjoyed arguably the most dominant season by a defender in league history.
These two stalwarts are legitimate threats to the top three quarterback candidates. Two of those passers are the most celebrated signal-callers of their generation. They have been locked in a career-long battle for supremacy and are real rivals for MVP.
The other is a previously steady player who has emerged as a game-winner, while leading an expanded offense. Here is a compelling argument for each of the top five MVP candidates, beginning with an honourable mention for a previous winner who just missed the cut.
Begin Slideshow

»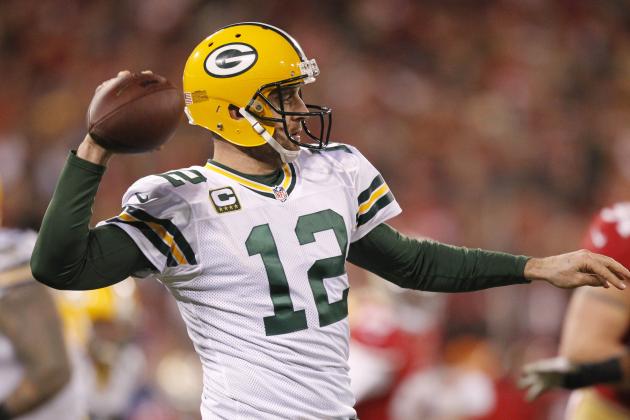 Cary Edmondson-USA TODAY Sports

Aaron Rodgers finds himself overlooked, thanks to the statistical excellence of the leading contenders for MVP. That's not to say Rodgers hasn't posted impressive numbers of his own.
In any other year, he would be a front-runner. He threw for 39 touchdowns and registered a rating of 108 during the regular season. Perhaps the most impressive aspect of Rodgers' dominance was the lack of consistent support around him.
He was without a credible running game or a dominating defense—not to mention injuries and inconsistency among receivers such as Jordy Nelson, Greg Jennings and Jermichael Finley.
However, Rodgers has been usurped by record-setting performances and the rise of a fellow NFC quarterback.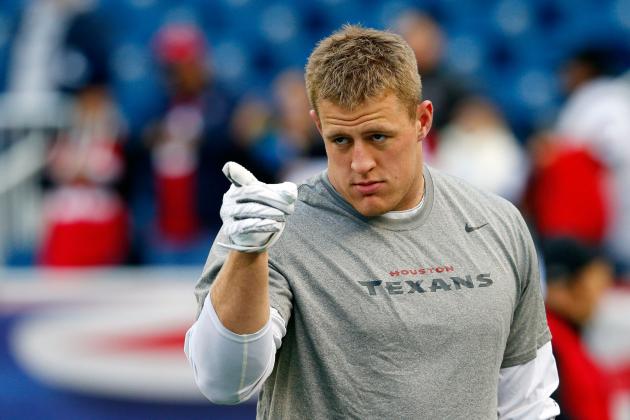 Jim Rogash/Getty Images

It's difficult to imagine any defensive player ever matching the prolific output managed by J.J. Watt in 2012. The powerful defensive end was the true driving force behind the Houston Texans' 12-4 campaign.
Leading the league with 20.5 sacks is impressive enough. Double and even triple teams have failed to slow down Watt's pressure.
Yet just as impressive is Watt's equal dominance against the run. He registered 81 tackles, including 69 solo stops. Perhaps the true measure of the way Watt destroyed offenses this season is his league-leading 39 tackles for a loss.
Then there is his all-time record of 16 batted passes, a stat that is more than just for good measure. Watt has dominated every area of the game.
Without him, the Texans attacking schemes simply wouldn't work. He has been the focal point of their run defense and the linchpin of their pressure packages. He has managed it both on the edge and along the interior of the front.
Houston's defense keyed many of their 12 wins and Watt has been the key to that defense. If he doesn't win MVP, it's hard to imagine exactly what a defensive player has to do to scoop the award.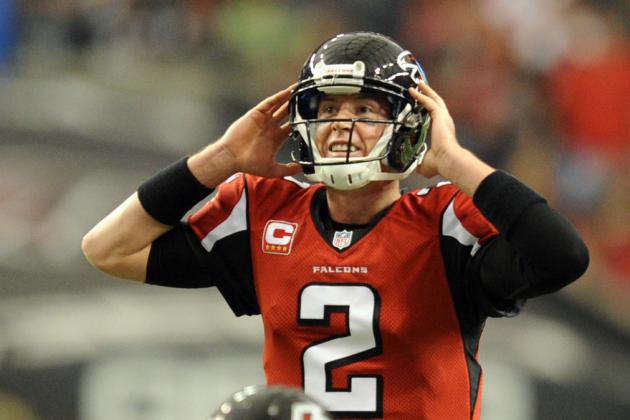 Kevin Liles-USA TODAY Sports

For the first four years of his pro career, Matt Ryan was a glorified game manager for the run-first Atlanta Falcons. The NFC South outfit often won with heavy doses of Michael Turner, efficient game planning and an opportunistic defense.
That dynamic altered dramatically in 2012, thanks to Ryan's emergence as an elite quarterback. The 2008 first-round pick transformed a dour offense into the most dangerous passing attack in the league.
In doing so, Ryan posted career-best numbers in touchdowns, with 32 and yards, with 4,719. He elevated the Falcons from a solid team expected to exit early from the playoffs, to a legitimate Super Bowl contender.
He certainly benefited from an ultra-talented and diverse cast of receivers. However, it was Ryan's intelligent use of these weapons, and prolific penchant for the big play, that took Atlanta to 13-3.
Expanding their offensive schemes was the only way the Falcons could progress after three playoff defeats in four seasons. That wouldn't have been possible without the improvement and dynamism shown by Ryan in 2012.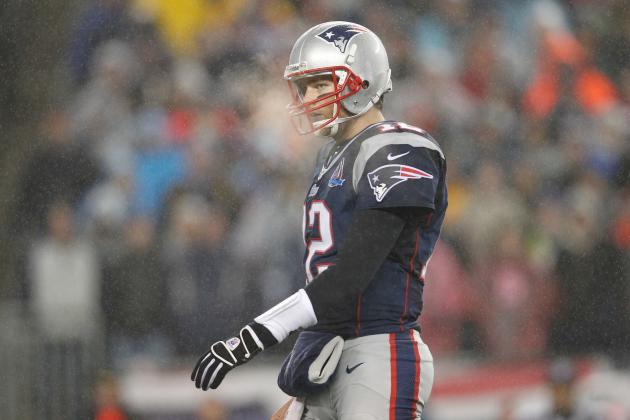 Greg M. Cooper-USA TODAY Sports

Tom Brady didn't quite hit the heights of his 2011 season, but he was still exceptional in 2012. His finest attribute was his ability to direct a fast-paced, multifaceted offense that dominated the league.
Buoyed by a productive ground game, Brady led an intelligent scheme that made full use of every weapon. With Brady at the helm, defenses had to account for every possible receiver and formation.
At the line, he audibled and attacked weaknesses in defenses, in a manner more commonly associated with Peyton Manning. Anyone churlishly claiming Brady to be merely a "system quarterback" was fiercely rebuked in 2012.
The 35-year-old was at his cerebral best in mixing the run and the pass for a devastating balance. Brady seemed to know exactly when to quicken pace, or when to strike with the big play.
His skills running the game were almost matched by his scoring production. Brady accounted for 38 touchdowns for the AFC East champions, including 34 through the air.
A 12-4 finish came as no surprise, thanks to this model of relentless, intelligent efficiency.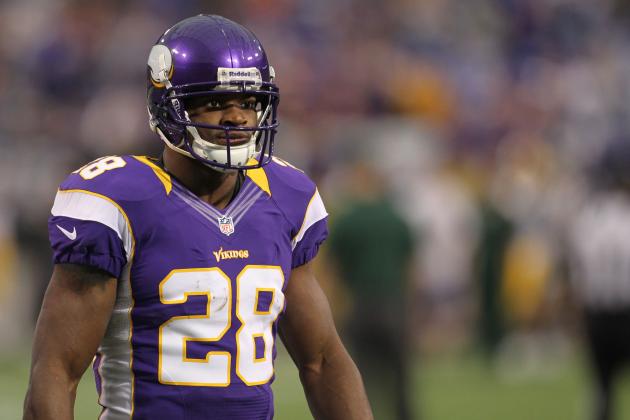 Brace Hemmelgarn-USA TODAY Sport

Adrian Peterson deserves to be many people's favourite for MVP. Any case for the prolific running back winning the award, must begin with his stunning comeback from knee surgery.
Had Peterson made such a speedy recovery from a torn ACL and MCL to rushed for 1,000 yards, the league would marvel. However, eclipsing 2,000 yards in this context is simply astonishing.
Basic running between the tackles is commendable enough on a surgically repaired knee. However, the stats that impress the most are Peterson's 27 runs of 20 yards or more, including eight rushes of over 40 yards.
That showed that Peterson could still stretch the field and rely on elite quickness, agility and acceleration. A six-yard average per carry and 10 100-plus yard games are more than just gloss on an awesome stat line.
Peterson's individual brilliance propelled an un-fancied Minnesota Vikings team to collective success. Not many outside Minnesota, or even inside for that matter, would have expected the Vikings to reach the playoffs out of the tough NFC North.
Then there probably would have been fewer who counted on Peterson dominating 2012 the way he did. Every team that faced the Vikings knew he was the man to stop, however none managed it.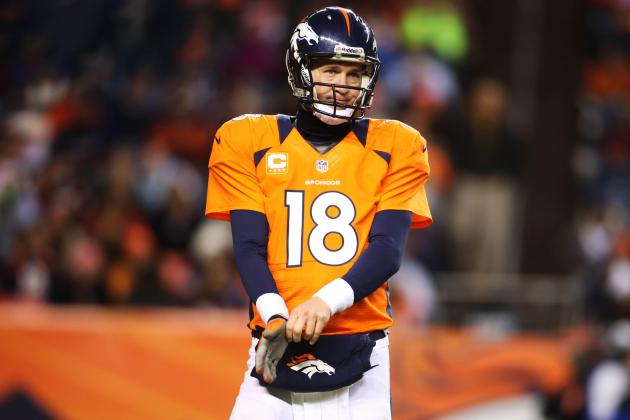 USA TODAY Sports

Just as impressive as Peterson's comeback was the spectacular NFL return of Peyton Manning. Injured for a full season and having four neck surgeries surely meant Manning couldn't be as good as before.
Clearly the stellar veteran himself had no time for such arguments. Manning moved to a new team, with a different supporting cast and still produced the precision brilliance of his pre-injury years.
It is amazing that a quarterback hampered by nerve damage in his throwing arm could enjoy the 2012 season Manning did. He threw 37 touchdowns, passed for 4,659 yards and posted a 105.8 rating.
Despite clearly diminished arm strength, Manning still posted an eight-yard average per pass completion. That's the third highest mark of his career. It proves that physical erosion has not stifled Manning's talent for directing a quick-strike, big-play offense.
Manning may have inevitably slowed towards the end of the season and particularly in the playoffs. However, that only serves to show the extent of the challenges faced in his comeback. It also emphasises how impressive his regular-season dominance has been.