Liverpool FC: Best and Worst Case Scenarios for the Remainder of the Season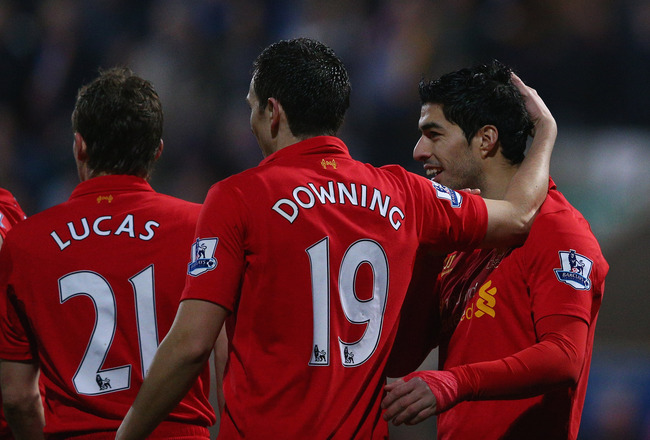 Clive Mason/Getty Images
Liverpool head into the back end of January following a (finally) consistent run of form that has seen the reds claim maximum points from seven of the last 10 fixtures.
Brendan Rodgers and Liverpool fans alike have cause to boast justified optimism when it comes to the rest of the season—Liverpool will go equal on points with Arsenal should they beat Norwich this weekend, providing Arsenal falter away from home against Chelsea, and the chance to leapfrog Arsenal will arise when Liverpool travel to London later this month.
That being said, Liverpool fans are painfully aware of the chances that the Reds will slow down their run of form. Unfortunately, Liverpool have made a habit of taking their fans on a roller coaster ride, and while Liverpool seem to be a club on the ascendancy, the nature of the Premier League dictates that the next dip (sometimes severe dip) could always be just around the corner.
So what should fans expect from the remainder of the season?
This article will present both the optimistic and pessimistic predictions for the rest of Liverpool's season.
Best-Case: Liverpool Continue Their Run of Form and Finish Fourth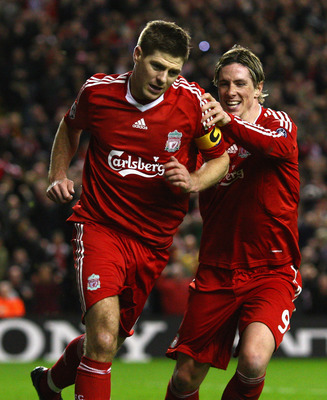 Laurence Griffiths/Getty Images
Liverpool came into the season with the simple domestic task of finishing in the final Champions League spot. The target is still achievable and, thus, Liverpool must go all out to overcome the nine point deficit to fourth-placed Tottenham. Liverpool lost to Tottenham 2-1 away from home earlier this season, but in the return fixture, Liverpool must look to come away with three points.
Should Liverpool win at the Emirates, the Gunners will be level on points with the Reds but without the momentum necessary to put a string of wins together. If Liverpool can put the string of wins together, they will climb very, very quickly.
If Liverpool continue their home form there is a chance of Champions League football next season.
Worst-Case: Liverpool Finish Below Eighth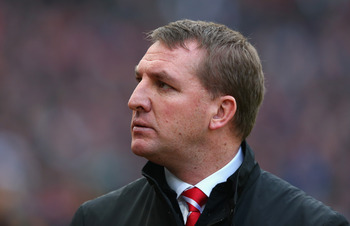 Alex Livesey/Getty Images
Liverpool have made a habit of halting progress via the sudden loss of form they had worked so hard to maintain. Liverpool lost 2-1 to Manchester United, and though the loss was expected (for me, at least) Liverpool must turn things around when Norwich visit Anfield this weekend, before a pivotal clash against Arsenal at the Emirates.
If Liverpool were to lose against Arsenal, Tottenham, Manchester City and Chelsea, Liverpool may end up outside any European football next season.
Personally, I'd much rather finish outside Europa League qualification if Liverpool can't finish fourth this season, in order to enhance Liverpool's chances of finishing in fourth place next season.
All or nothing, really.
Best-Case: Liverpool Win the FA Cup and Europa League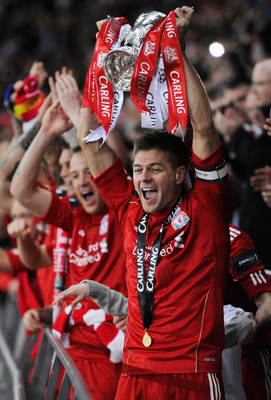 Pool/Getty Images
Liverpool tasted cup success last season and will be raring to emulate that aspect of last season this time around. Liverpool have a great chance of success in both competitions, though perhaps the Europa League bears greater reason to be expectant.
If Liverpool field strong sides in the cup competitions, there's no reason why the Reds can't go and win two trophies this season.
Worst-Case: Liverpool Falter in Both Cups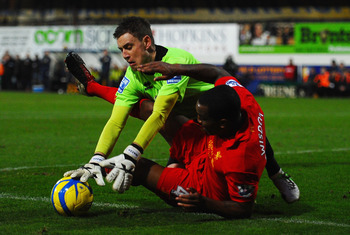 Laurence Griffiths/Getty Images
Liverpool should expect to reach the quarterfinals of the FA Cup, taking into account the relatively easy trip to Oldham in the next round. If Liverpool have learnt Sunderland's lesson, the next round or two shouldn't present too big a challenge.
However, from then on, the danger of exiting the competition intensifies. The worst-case scenario—they drop out as soon as it isn't completely embarrassing to do so.
The Europa League... Well, the worst case is simple. Russia may be too hard a hunting ground for the Reds.
Best-Case: Luis Suarez Finishes the Season Top of the Scoring Charts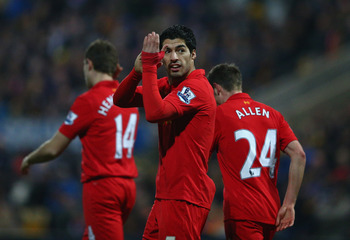 Clive Mason/Getty Images
Luis Suarez has hit the ground running from the start of the season and currently sits second in the goal-scoring charts.
If his form continues, he could take advantage of Daniel Sturridge's introduction into the Liverpool squad, and come the end of the season, he may pip Robin van Persie to the post.
Worst-Case: His Form Dips, and He Is Forced to Leave in Summer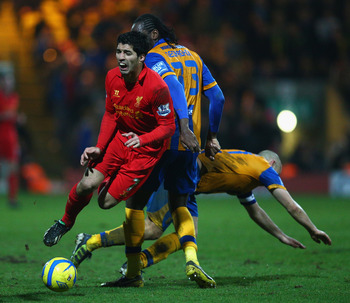 Clive Mason/Getty Images
Suarez is only human and his class will act as a magnet to other top clubs, only intensified by the media scrutiny the Uruguayan is forced to endure on a weekly basis thanks to the exaggeration of the English press.
There's a very unfortunate, but real chance that Luis Suarez may be forced out of England this summer.
My Predictions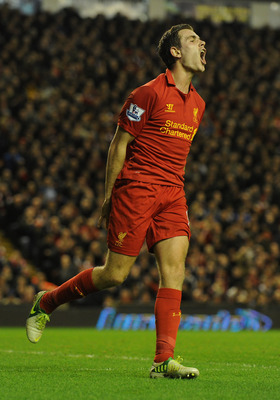 Chris Brunskill/Getty Images
Premier League: Improvement on last year, while providing a base for next season, finish in sixth place.
FA Cup: Visit Wembley for the third time in two years, but falter at the semifinal stage.
Europa League: Liverpool's European reputation stands before them as they win the competition.
Luis Suarez: Hits over 25 goals this season yet loses the golden boot to Robin van Persie.
Thanks for reading, comment your thoughts below.
Keep Reading

Liverpool: Like this team?