Have you ever witnessed a person toiling away at work and thought to yourself, "there's a person that truly detests their job"? You take one glance at them and you can instinctively tell that they're just putting in time. Punching a clock. You know that the job is just a means to an end for them. They gain no satisfaction from the task, only a paycheck.
And then you have Donald Cerrone.
Cerrone seems to love his job; he's always out there campaigning for the next task, looking to get as much work as possible. Cerrone is trying to maximize his earnings at a job he loves and a job he does well.
Some of the less open-minded of the world may find Cerrone's chosen profession a little odd, he is after all paid to do violence to another man inside a cage, but who are they to judge? Aren't some of those that shake their heads paid to sit inside fabric and aluminum cubicles to perform their daily tasks? That's kind of the same, isn't it?
The next time Cerrone steps into the cage to do his job will be Jan. 26, when he faces Anthony Pettis on the UFC on FOX 6 fight card.
The fight may be third from the top of the card and come with no special billing, but fans that have circled the event on their calendar know that this is the fight to see.
Cerrone and Pettis may not be billed as the main or co-main event, but you can bet that more people will be tuning in to to see this fight than the two that will follow it on the card.
That's not an insult to Rampage Jackson, Glover Teixiera, Demetrious Johnson or John Dodson, but fans have been waiting a long time for this fight and they want to see Cerrone and Pettis dig in and get to it.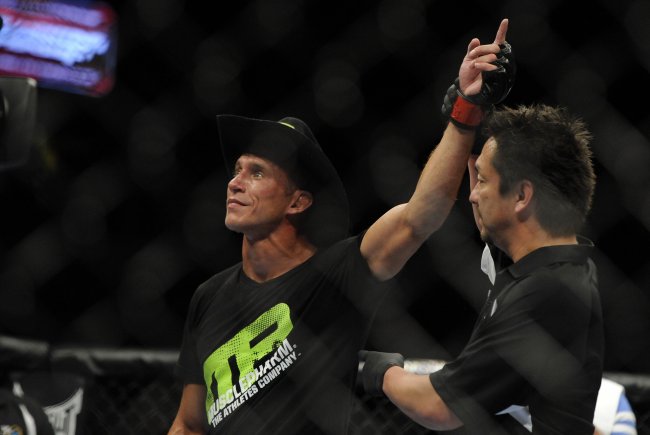 Rafael Suanes-USA TODAY Sports
When Cerrone was asked what his expectations of the fight were, he wasted no time in replying, "I think this fight is going to be exactly what all the fans and media think it's going to be, we're going to go in there and throw the f**k down."
And you know what? He's right, that is what the fans and media are expecting to see from these two fighters who share 14 "Fight Night" bonuses between them.
Speaking of "Fight Night" bonuses, main-event fighter John Dodson was on Tuesday's media call talking about how he felt that he and opponent UFC flyweight champion Demetrious Johnson were going to win "Fight of the Night" honors on the Chicago card.
Dodson was cut off by Cerrone, who informed him, "Hey John, you better fight on another card if you think you're going to get 'Fight of the Night,' you little mother…."
The two shared a laugh about the comment, but you know Cerrone was only half-joking; he wants that bonus cash.
There had been talk that more was at stake in this fight than a win or a loss or a potential bonus check.
It was widely speculated that the winner of this bout would move on to face lightweight champion Benson Henderson, but water was thrown on that fire earlier Tuesday when it was confirmed that Strikeforce lightweight champion Gilbert Melendez was going to get a shot at Henderson in April.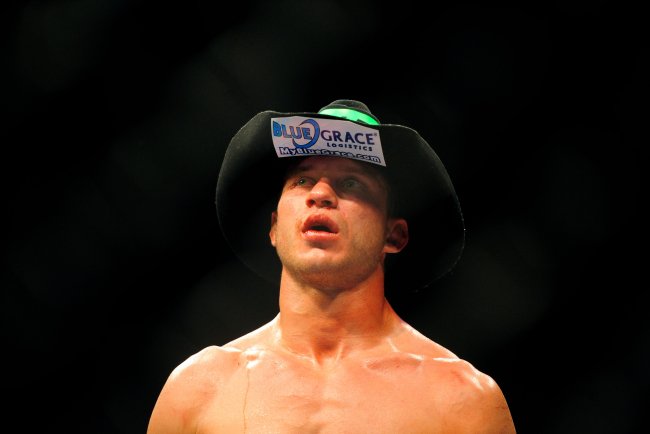 Mark J. Rebilas-USA TODAY Sports
When asked his thoughts on the subject, Cerrone replied, "He's (Melendez) held that (Strikeforce) belt for a while and I don't know if he deserves it (the title shot) or not, it's not really for me or Anthony to decide, all we can do is go out there and put on one hell of a fight and give everyone what they want to see."
As for what he expects from his opponent on the 26th, Cerrone said, "he's tough and he's angry and this is going to be a fight that everyone is dying to see, so it should be fun."
When Cerrone mentions a fun fight he's not talking some glorified freak show fight that is essentially meaningless, he's talking about the kind of fun fight that brings fans to their feet in an appreciation of pure and glorious violence.
He's talking about the kind of fight that Donald Cerrone has become known and appreciated for delivering.
**all quotes obtained first hand by BR MMA.