Milwaukee Bucks vs. L.A. Lakers: Postgame Grades and Analysis for L.A.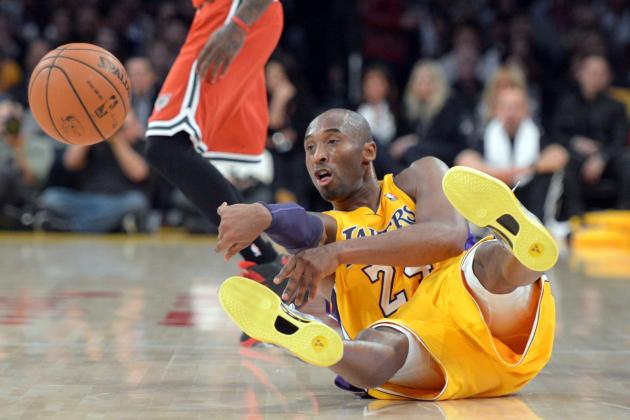 USA TODAY Sports

Mike D'Antoni said the season began on January 13 (via ESPN Los Angeles). In that case, the Los Angeles Lakers are now 2-0.
Behind a powerful performance by their stars, the Lakers convincingly defeated the Milwaukee Bucks by a score of 104-88.
Dwight Howard led the way with 31 points, 16 rebounds and four blocks. Kobe Bryant provided 31 points of his own, while Steve Nash added 11 assists.
Most important of all, this was the first time the Lakers held an opponent under 90 points since December 28, 2012.
With Pau Gasol sidelined, the Lakers appeared to be an actual team for the first time all season. It may be an overreaction, but this is the type of win that turns around a disappointing season.
So how did it all go down?
Begin Slideshow

»
Overall Grade: B
Minutes Played: 33
+/-: plus-17
Stat Line: 8 points, 11 assists, 2 rebounds, 2 steals, 3-of-10 FG, 0-of-4 3PT
Against an interior that collapses as quick as any, Steve Nash found a way to get into the paint and facilitate for every one of his teammates.
On the evening, Nash dished out a game-high 11 assists to four different players. He also picked up two steals and overcame a poor shooting night to facilitate an excellent two-way performance.
What more can you offer Nash but praise?
His 3-of-10 shooting could've hurt his grade, while his three turnovers could offer a slight cause for concern. But the fact of the matter is, those numbers mean very little when you see the way Nash was dishing it out.
Nash's signature play came as he drove along the side of the lane, drew both defenders and hit Dwight Howard with a bounce pass.
It is this type of facilitating that will create a flourishing offense in Los Angeles. It's also this type of facilitating that the Lakers have lacked recently.
Nash has changed all of that.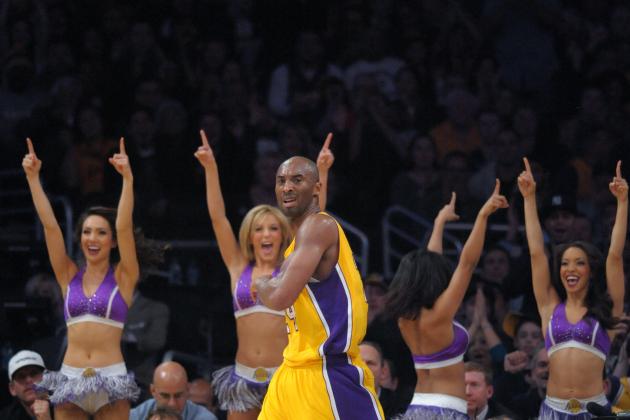 USA TODAY Sports

Overall Grade: A+
Minutes Played: 37
+/-: plus-23
Stat Line: 31 points, 6 assists, 2 rebounds, 1 steal, 12-of-19 FG, 3-of-5 3PT
Remember when people told you that Kobe Bryant couldn't score, facilitate and defend simultaneously? They were wrong.
Very wrong.
Kobe played as close to a flawless game as you could ask of him.
Bryant started out as a facilitator, getting Dwight Howard involved early. It was his ability to look inside to D-12 that got the big man going for a monster evening.
Once the Bucks became wary of Bryant's ability to facilitate, he took over as a scorer.
Bryant finished with 31 points on 12-of-19 shooting from the floor and 3-of-5 from beyond the arc. It was Bryant's 22nd consecutive game with at least 20 points. That's the third-longest streak of his career.
In typical Kobe fashion, eight of his points came during the fourth quarter.
Kobe's signature shot came during the second half, with a beautiful turnaround fadeaway over two defenders. Bryant would fall to the ground, drain the shot and put a dagger in this one.
Vintage Kobe. Or just today's Kobe; that works too.
On top of his scoring, Bryant finished with six assists. A truly masterful performance.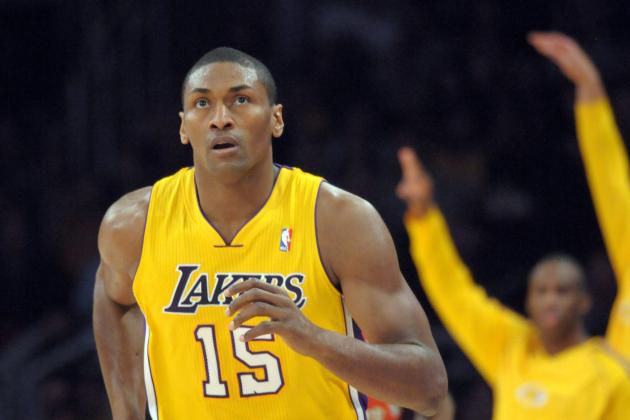 USA TODAY Sports

Overall Grade: A-
Minutes Played: 33
+/-: plus-27
Stat Line: 12 points, 6 rebounds, 3 assists, 2 blocks, 5-of-10 FG, 2-of-6 3PT
It takes a lot to earn a grade in the A-range.
Scoring with efficiency, playing masterful defense and dominating off of the ball is a great way to do so.
World Peace may not have had the monster statistics of his three star teammates, but he played an incredible game.
Statistically, MWP finished with 12 points, six rebounds, three assists and two blocks on 5-of-10 shooting. He also posted a team-high plus/minus of plus-27.
Nothing was more important about World Peace's performance than his first-quarter three-point shooting.
With the Bucks attempting to take control of the game early, MWP dropped in two three-point field goals. This created a 10-point lead for the Lakers and set the tone for the game.
Even as the Bucks made it close, World Peace created momentum for L.A. to score in bunches.
As for the defensive end of the floor, World Peace played a role in Luc Richard Mbah a Moute and Ersan Ilyasova shooting a combined 6-of-19 from the floor. He also helped slow down Mike Dunleavy once he got going.
A strong outing from MWP.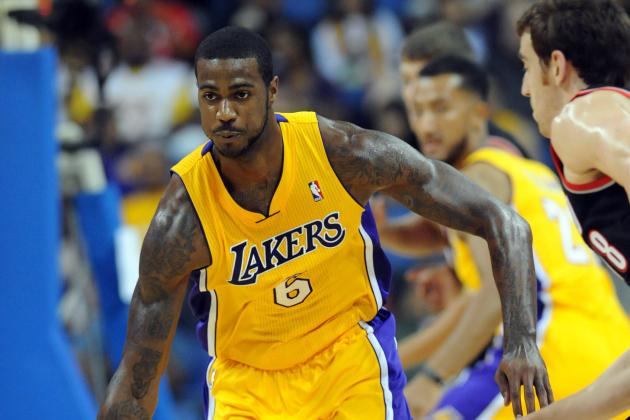 Jayne Kamin-Oncea-USA TODAY Sports

Overall Grade: B-
Minutes Played: 24
+/-: plus-5
Stat Line: 6 points, 9 rebounds, 4 assists, 1 block, 3-of-7 FG
Earl Clark was quiet for a majority of this game and padded his statistics during garbage time.
Six of his nine rebounds came with the Lakers up by 15 or more points during the final 5:39. Two even came during the final minute.
Even still, Clark's ability to stuff the stat sheet displays one thing: He's working his tail off until the final buzzer.
The athletic big man spread the floor well by providing a threat with his mid-range game. He also passed very well and pulled opponents off of the block to allow Dwight Howard to work out of the post.
It wasn't a phenomenal performance by Clark, but it was his fifth consecutive game with at least nine rebounds.
The effort was there and the numbers came late. A very admirable outing by The Clark Knight.
USA TODAY Sports

Overall Grade: A+
Minutes Played: 40
+/-: plus-24
Stat Line: 31 points, 16 rebounds, 4 blocks, 14-of-18 FG
Dwight Howard doesn't deserve an A+. He deserves whatever grade is higher than that.
Now it's time for him to do this every time out.
It started in the first quarter for Howard, as Kobe Bryant looked inside from the opening tip. Steve Nash and others followed suit and helped to establish D-12's interior dominance early and often.
This set the pace for a dominant game.
The turning point for Howard came as he went up and cleanly swatted Luc Richard Mbah a Moute. Unfortunately, Howard was called for the foul.
Normally, D-12 will lose his cool in these instances. This time around, he responded by swatting the next shot Mbah a Moute put up.
It is this level of aggression that enables Howard to be the best big man in the NBA. Should he embrace this mindset every time out, he will help guide the Lakers to elite status.
This performance against the Bucks was evidence of his ability to do so.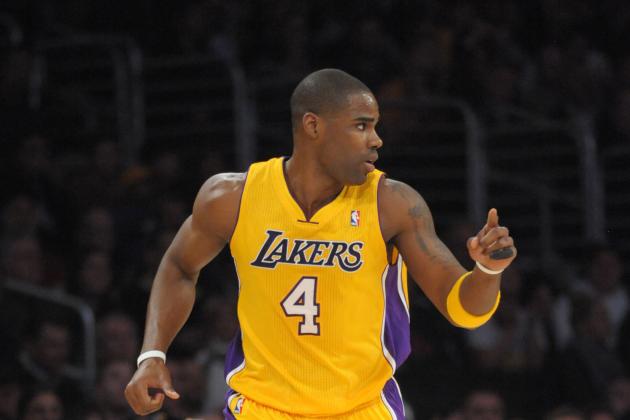 USA TODAY Sports

Overall Grade: B-
Minutes Played: 29
+/-: minus-1
Stat Line: 10 points, 8 rebounds, 3 assists, 1 steal, 3-of-8 FG, 3-of-6 3PT
With Pau Gasol sidelined by injury, Antawn Jamison stepped up to provide a quality performance on the scoreboard and glass.
All three of Jamison's made field goals were three-pointers. His play of the game had nothing to do with making shots, though.
It was a save and assist that made his grade.
With a loose ball headed out of bounds, Jamison dove up against the reporter's table and threw the ball to Kobe Bryant. Kobe took the ball in transition and finished with a dunk.
This was one of the key turning points during the game—a play that wouldn't have happened if not for Jamison's effort and tenacity.
An excellent performance by Jamison in his return to major minutes.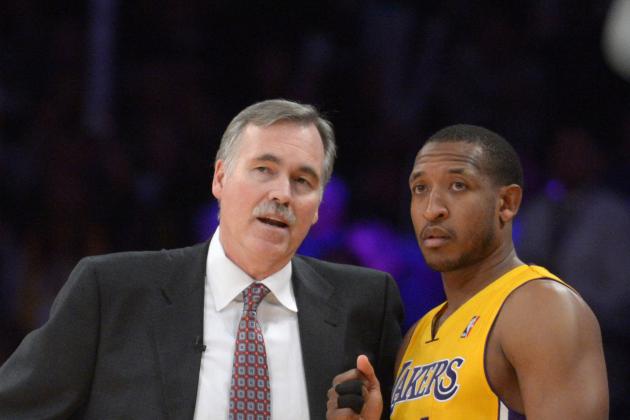 USA TODAY Sports

Overall Grade: D
Average +/-: minus-3.2
Collective Stat Line: 16 points, 11 rebounds, 6 assists, 2 steals, 5-of-20 FG, 5-of-14 3PT
To put it simply, Jordan Hill's injury has been devastating to the Los Angeles Lakers' second unit.
Outside of sixth man Antawn Jamison, the Lakers reserves combined for six points, three rebounds, three assists and one steal.
They also shot 2-of-12 from the floor as a second unit.
Once Pau Gasol returns from injury, the Lakers will move Earl Clark back to the bench. This will create a much more balanced attack from the reserves and cure these all-around woes.
Until then, however, they will continue to come up short.
Kenyon Martin anyone?