Nebraska Football: 5 Changes the Cornhuskers Must Make on Defense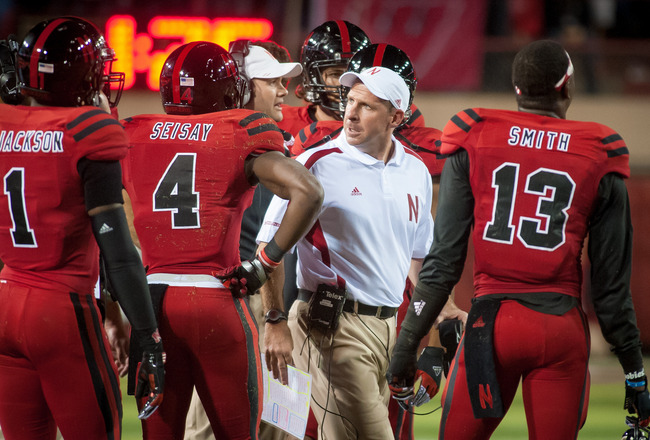 Eric Francis/Getty Images
The Nebraska Cornhuskers' defense left a lot to be desired in its 2012 campaign as it produced a startling dichotomy with showings of solid reliability and utter ineptitude.
Truth be told, it might be easier to list what the Blackshirts should keep the same moving forward than to discuss their shortcomings that require attention before 2013.
But let's take a look at the five changes the Husker defense can make to produce the most drastic improvement in the 2013 season.
5. Organization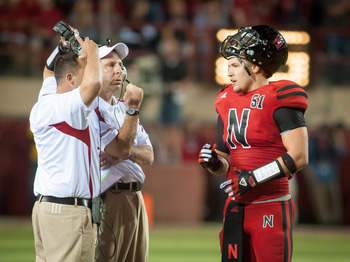 Eric Francis/Getty Images
Far be it from a lowly sports writer to tell Bo Pelini how best to run his defensive unit, but the confusion often seen in the Husker defense prior to the snap just cannot be beneficial.
Of course, this confusion did not always precede a complete defensive breakdown. In truth, the effects of this frequently observed pre-snap chaos are hard to quantify. Just suffice it to say that this uncertainty more often led to wasted timeouts and conceded yardage than tackles for loss or pass breakups.
Many argue that this is due to the unnecessarily complex schemes of Pelini's defense. Others blame the introduction of defensive coordinator John Papuchis for the added confusion. Whatever the cause, the Nebraska coaching staff needs to get its players on the same page and prevent more big plays in 2013 from being needlessly conceded.
4. Bend but Don't Break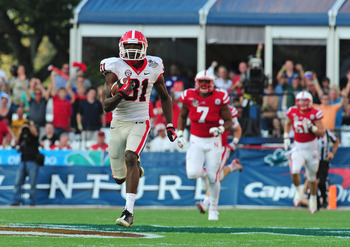 Scott Cunningham/Getty Images
One can blame the defensive schemes, one can blame the blown coverages or one can blame some crucial missed tackles. Either way, the Blackshirts clearly had trouble making their opponents work for their points.
Sure, it would be wonderful if the Nebraska defense could execute perfectly on every single play. But that is not going to happen. The Huskers' feast-or-famine defense of 2012 was certainly great for producing highlights for both sides, but it would have been a whole lot more effective had they been able to play a more damage-control style of defense and live to fight another set of downs.
Including special teams defense, Nebraska conceded at least one touchdown of 46 yards or longer in eight of its 14 games this season. If the Blackshirts hope to improve in 2013, they must make their opponents work harder for their points.
3. Athleticism on the Perimeter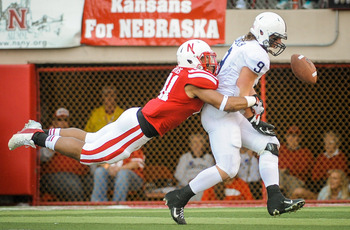 Eric Francis/Getty Images
UCLA exploited it early in the season, Ohio State resumed the nightmare and Wisconsin (prior to realizing it could run over Nebraska in any manner it wished) followed the Buckeyes' lead in attacking the Nebraska defense on the perimeter.
When the defensive line is offering as little help as it did, particularly in those three games, the Blackshirts' linebackers' ability to defend from coast-to-coast becomes even more crucial.
Fortunately for Nebraska, this is an easily solved problem. Of course, this is primarily because the coaches have few options other than turning the reins over to David Santos, Zaire Anderson and/or Thomas Brown.
This is not to take anything away from Will Compton, who had a great senior season, and Alonzo Whaley, who showed huge improvement as the season progressed. But the Husker defense will clearly benefit from the added speed and agility of these young guns.
2. Open-Field Tackling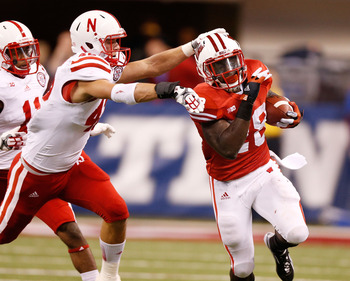 Gregory Shamus/Getty Images
Once a trademark of Bo Pelini defenses, open-field tackling was not a strength as Nebraska fans were forced to suffer through a season ripe with formless tackles in 2012.
Gone are the days of leisurely watching Larry Asante attempt to decapitate opposing receivers under the assumption that anyone else in the secondary could clean up for him if the receiver somehow survived the collision. Now, the Huskers just need to get ball-carriers on the ground in whatever way possible.
Defensive schemes and diagnosing opponents' plays should be the difficult part. Once a player reaches the ball-carrier, everything should be quite straight-forward. Unfortunately for the 2012 Blackshirts, it was rarely that simple.
As Johnathan Franklin, Braxton Miller and Montee Ball can attest, the Husker defense conceded much of its appallingly large yardage totals after first contact. A return to the fundamentally sound defenses of the beginning of Pelini's tenure would do wonders for the Blackshirts' overall performances in 2013.
1. Strength at Defensive Tackle
Gregory Shamus/Getty Images
This is a change that will not come easy. Size cannot be taught, and the weight room can only do so much for strength and agility. Regardless, Nebraska must find some quality at the defensive tackle positions.
When the center was anchored by future NFLers Ndamukong Suh and Jared Crick, the rest of the defense was allowed to shine even brighter. Linebackers did not have to fight through as many blocks and the secondary was able to rely on the front four for a dependable pass rush.
However, upon the departure of those two stars, the Huskers have struggled to fill their giant shoes. Throughout the 2012 season, quarterback pressure was non-existent without blitzing, and the middle of the defensive line was carved up by better opposing offensive lines.
Baker Steinkuhler came on strong as the season progressed, but the Huskers need more consistency up front. It is time for next-generation players like Chase Rome to step up and carry the torch. Because despite its lack of glamour, the defensive line is what sets the tone for the entire Blackshirt defense.
Keep Reading

Nebraska Huskers Football: Like this team?