Andres Iniesta, Cesc Fabregas and the Top 7 Attacking Midfielders in La Liga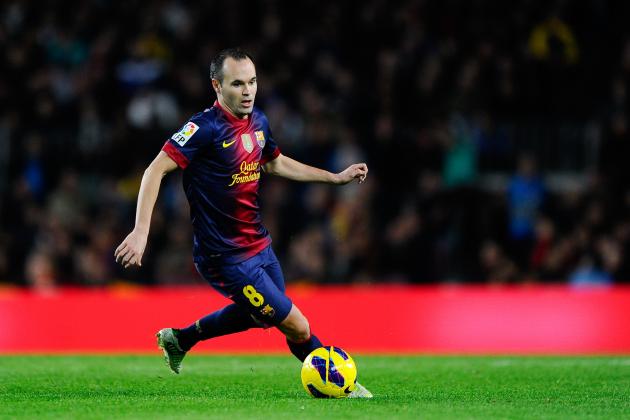 David Ramos/Getty Images

Another of La Liga's best midfielders may have been lost last summer when Santi Cazorla followed the likes of Juan Mata and David Silva to England, but there are still plenty of elite players in Spain.
In fact, when it comes to midfield talent, there are few leagues that can compete with La Primera Division's ability to grow, produce and develop players into some of the world's best.
This list will rank the top seven attacking midfielders in La Liga this season.
Players like Xavi who play a more reserved playmaking role will not be considered here.
Nor will Cristiano Ronaldo who does start as a wide attacking midfielder, but plays a more forward, targeted role with Real Madrid.
The duties and roles of those two players, specifically, are too different to relly be comparable to oter true midfielders.
Please let us know if there are other players you would have included here instead.
Begin Slideshow

»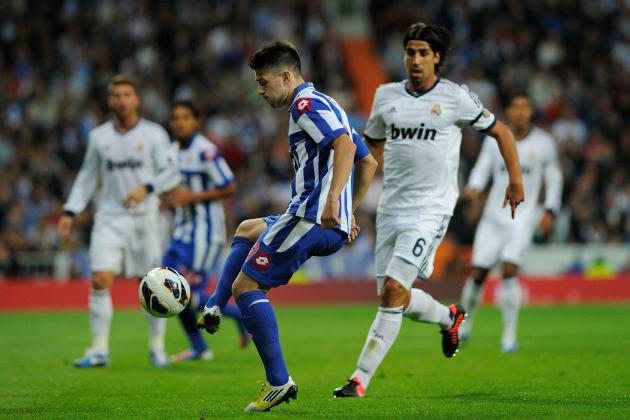 Gonzalo Arroyo Moreno/Getty Images

As much as Diego Simeone is loving this season, I imagine he is already looking forward to next season when he will have one of the best midfields in La Liga after Pizzi returns.
The Deportivo loanee is having perhaps his best season and might have earned another shot with Portugal after some fine performances.
In his last two games alone, the 23-year-old almost single-handedly won four points for Depor against two far superior teams.
The prospect of Pizzi lining up alongside Koke and Arda Turan feeding Falcao will have Atleti fans very excited.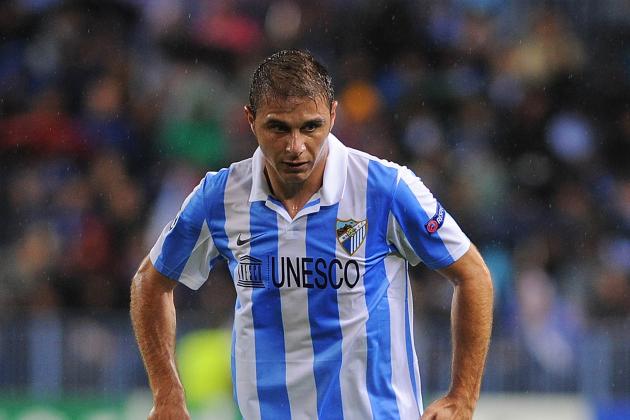 Gonzalo Arroyo Moreno/Getty Images

At 31 years of age, Joaquin has finally started to slow down a bit and is no longer able to rely on pace as his main weapon.
As he showed when he bossed Real Madrid and helped end their title defense, that is no problem at all since there are plenty of tricks up the veteran's sleeve now.
People are raving about Isco and his prodigious performances over the last year, but it is Joaquin who is the more influential and important player for Malaga.
The former Valencia star is tied for the most key passes per game in the league this season and leads his team in assists.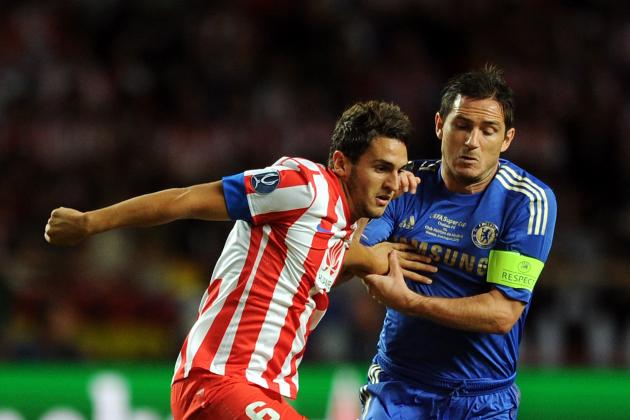 Chris Brunskill/Getty Images

It turns out they were right after all. Watch out for this kid!
All the hype and praise Atletico Madrid fans have had for Koke as he worked his way to the senior squad looks completely justified.
Diego Simeone's plan in August was to use the 21-year-old as a rotational squad player.
The youngster had bigger plans and, after some fantastic early performances, has now laid claim to the starting gig and might not let it go for a very long time.
This is really his first season as a starter, but the Spaniard already looks comfortable playing against many of the best players in football.
Koke co-leads the league with 2.9 key passes per game and is the second-most accurate crosser in Spain.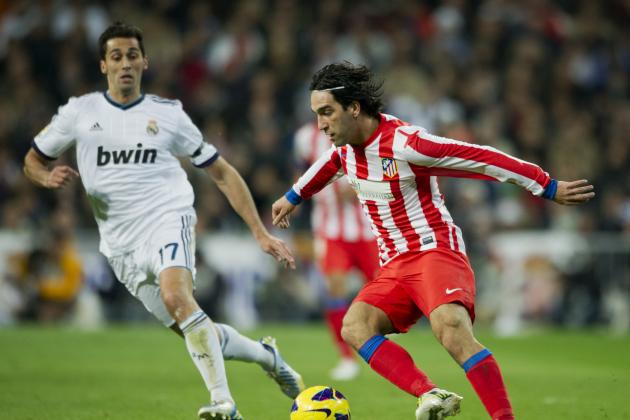 Jasper Juinen/Getty Images

Arda Turan has been one of the elite playmakers in Spain this term.
His defensive work-rate, vision, footwork and creativity have helped put Atleti into that next tier of top European clubs.
The Turkish international can barely even be considered a true attacking midfielder despite him so often ending up in the final third—not to mention his four goals and three assists.
After such a great season, Los Colchoneros are hoping Turan listens to former Atleti star Diego, who suggested he stay at the club: "He's playing perfectly. Arda should continue at Atletico. If he leaves, I think he would be making a mistake."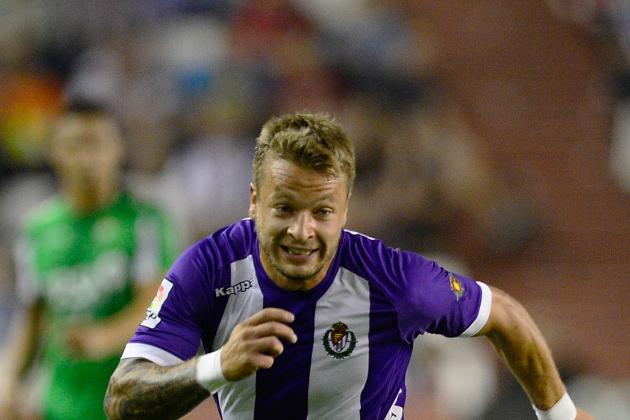 Gonzalo Arroyo Moreno/Getty Images

Sometimes we have to look beyond the stats to really appreciated how good a player has been and to understand how valuable he is to his team.
Patrick Ebert only has five goals and five assists this season, but there is not a single midfielder in Spain who has been more important to his team.
The German was the main reason Valladolid were fighting for a place in the top six and his assist actually had La Pucela up two goals to none against Real Madrid.
Unfortunately, Ebert then got injured, Madrid came back to win the game and Valladolid didn't win a single game until he returned.
It is no surprise that Atletico Madrid are rumored to be targeting the midfielder.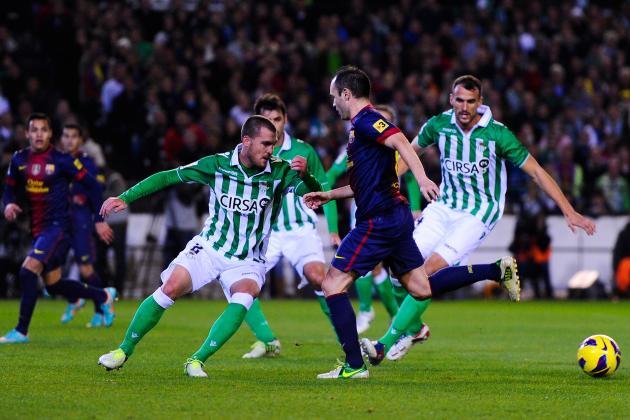 David Ramos/Getty Images

Honestly, the battle for the top spot just comes down to which Barcelona player one finds to be better this season.
Andres Iniesta leads the league with 11 assists after starting the same number of games to this point.
The reigning European Player of the Year has been nothing short of phenomenal this season and is playing some of the greatest football he has ever played.
His dazzling footwork has been a spectacle to behold, while his ability to penetrate nearly an entire opposing team single-handedly at times will be replayed for years to come.
El Ilusionista is the best midfielder in football at the moment, and his health could prove to be the key to Barcelona's dream of winning the treble this season.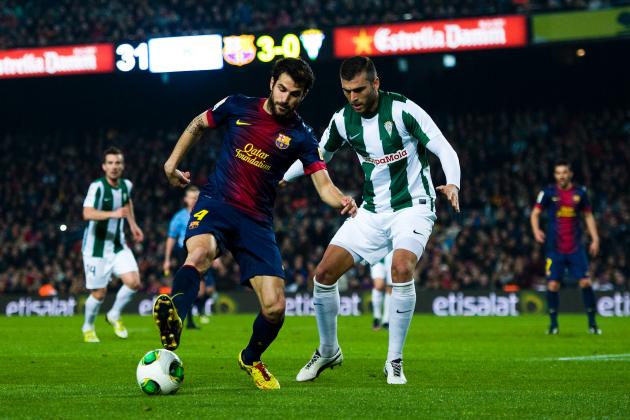 David Ramos/Getty Images

An injury forced Cesc Fabregas to miss a month of play that saw him fall behind in the assist race, but chances are he will be the leader by season's end.
The former Arsenal superstar is only two behind Andres Iniesta with nine right now, but he also has six goals to show in support.
Barcelona's Golden Boy gives Tito Vilanova the option of playing a more direct style of football that Pep Guardiola began using last season, and the No. 4 finally feels at home.
Before his injury I explained how Fabregas was the most in-form midfielder in Spain and arguably Europe this season.
As long as he avoids his seemingly habitual second-half slow-down this spring, Cesc will be recognized as an equal with the greatest midfield duo of this generation.
Please read my recent columns looking at the 5 Most Exciting Young Spanish Midfielders and the Best Starting XI from the City of Madrid.