5 NCAA Basketball Coaches Who Desperately Need a Change of Scenery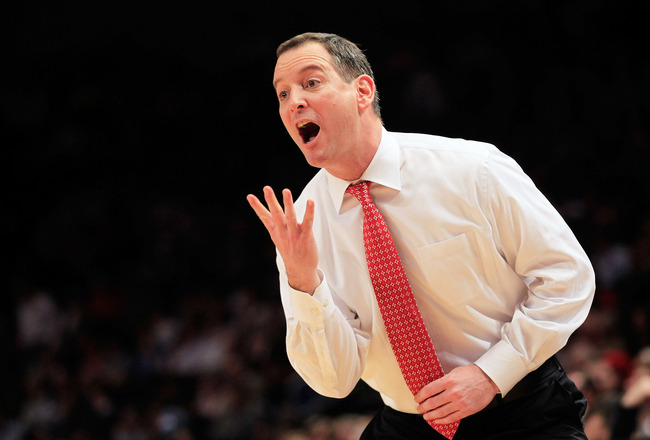 Chris Trotman/Getty Images
We've reached the midseason mark of the 2012-13 college basketball season, and teams are starting to separate themselves as either contenders or pretenders.
A few coaches, such as Tubby Smith and Herb Sendek, appear to have moved their way off the hot seat, while that seat is getting even hotter for others. For Kevin O'Neill, who was in line to earn the top spot in this article, USC decided it couldn't wait any longer for O'Neill to try to lead the Trojans to the promised land and fired him yesterday.
Whether they are fighting to keep a job or not, there are a few guys who could use a change of scenery from their current head coaching position.
Here are five head coaches who desperately need such a change.
Mark Fox: Georgia Bulldogs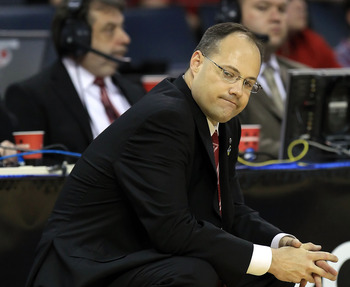 Streeter Lecka/Getty Images
When Mark Fox became the head coach of the Georgia Bulldogs in 2009, he was faced with the difficult challenge of leading a program with a fanbase that is little more than apathetic toward basketball.
For most Bulldog fans, the months of January, February and March are more about football recruiting and seeing which young players are proving themselves in spring practice.
Fox has tried to change the culture in Athens and generate more fan support for the hoops program, but things haven't really changed. It doesn't help that the results on the court also have not changed.
Now in his fourth year at Georgia, Fox has compiled a 56-55 record. Fox led the Bulldogs to the NCAA Tournament in 2011 before losing in the opening round to the Washington Huskies. Many thought the program was on the rise following that 2011 season, but it has since taken a step back.
The team struggled to a 15-17 record last season and is currently off to a 6-9 start this season, which includes losses to Youngstown State and Iona.
Fox has made a valiant attempt to make Georgia basketball relevant again, but it appears to be time for him to move on.
Mike Rice: Rutgers Scarlett Knights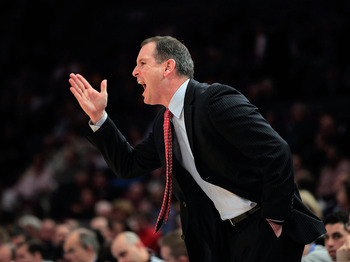 Chris Trotman/Getty Images
If you only look at wins and losses, Mike Rice looks like he has the Rutgers Scarlett Knights going in the right direction. Rutgers is currently 11-4 with a 2-2 record in the Big East. But this is about much more than wins and losses for Mike Rice.
Earlier this season, Rice was suspended for 16 days after the university found he had engaged in abusive behavior, which included throwing basketballs at his players heads during his first or second season at Rutgers.
Although the Rutgers Athletic Director, Tim Pernetti, has given Rice a vote of confidence and says the program is moving forward, the head coach is skating on incredibly thin ice.
According to Brendan Purty of The Star-Ledger, Rice has been ordered to attend anger management classes and sensitivity training to help address his issues, and he also has a monitor at practices who reports back to Pernetti about the coach's behavior.
How will all of this sound when Rice goes on recruiting visits?
It sounds like it's time for Rice to find a fresh start.
Bill Carmody: Northwestern Wildcats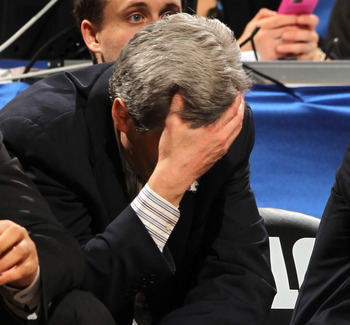 Jonathan Daniel/Getty Images
Bill Carmody has guided Northwestern to a level of success unprecedented at any time in the program's history, but things appear to have reached a plateau.
He has led the Wildcats to four straight winning seasons, but none of those seasons were good enough to reach the NCAA Tournament. Northwestern appeared on its way to the Big Dance last season before struggling down the stretch of its Big Ten schedule.
Carmody took over at Northwestern in 2000, when he replaced Kevin O'Neill, which is a tall task for anyone who has to pick up the pieces O'Neill leaves behind. Carmody has run a clean program that is no longer the laughingstock of the conference.
However, it appears Carmody is unable to take the Wildcats to the next level. At 10-7 and 1-3 in the Big Ten, Northwestern looks to be destined for the NIT once again.
Fans should appreciate what Carmody has been able to do at Northwestern, and Carmody should see if he can have success elsewhere.
Jay Wright: Villanova Wildcats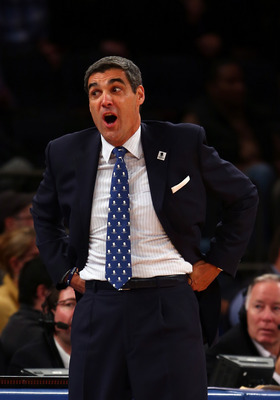 Elsa/Getty Images
Jay Wright is looking to guide the Wildcats back to the Big Dance after last season ended his string of seven consecutive NCAA Tournament appearances.
Wright isn't necessarily coaching for his job this season, but after a first-round tournament loss in 2011 and a 13-19 record last year, the pressure is increasing for him to get the program back to its regular level of success.
Yet, this could also be a time for Wright to look for other head coaching opportunities.
Villanova is one of the schools that will be part of the wreckage of the former Big East Conference and has been mentioned in discussions about being part of a "Catholic 7" league. But there are questions about whether or not this proposed conference can succeed long term.
With a team that is struggling and a school that could be searching for a conference home, Wright should get out while he's still ahead.
Rick Barnes: Texas Longhorns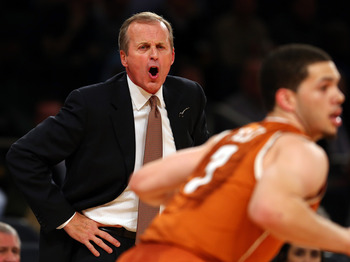 Elsa/Getty Images
As with Mark Fox at Georgia, Rick Barnes is the head coach at a school where football will always be king.
Even when the Longhorns have had great success on the court, fans focus more on what is taking place in the football program with recruiting and spring practice.
But even with the success Barnes has had during his 15 years in the Lone Star State, last season and the first half of this season have not given him many banner moments.
The Longhorns struggled to a 20-14 record last year and currently have a 0-3 conference record this season. And with Myck Kabongo suspended for the rest of the season due to NCAA violations, things might get worse before they get better for the Longhorns.
Barnes has led Texas to two Elite Eights and one Final Four appearance as head coach. Now, it's time for him to move on to a school where he won't always play second fiddle to the football team.
Keep Reading