Milwaukee Bucks vs. L.A. Lakers: Live Score, Results and Game Highlights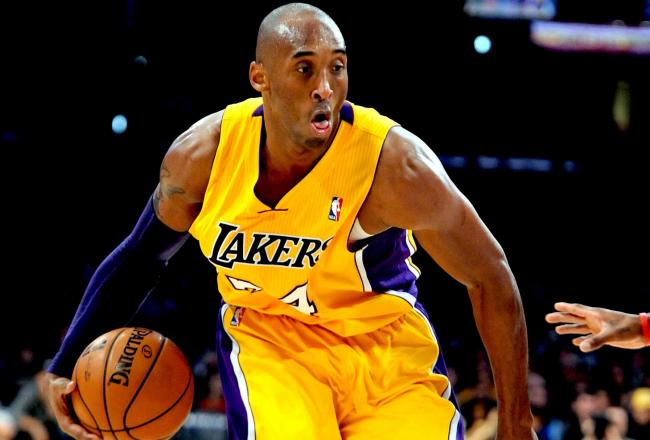 Based on the way the Los Angeles Lakers thumped the Milwaukee Bucks 104-88, there's reason to believe things are finally coming together in L.A.
Kobe Bryant scored 31 points on 12-of-19 shooting, but more impressively, he hounded Bucks point guard Brandon Jennings into an awful 4-of-14 performance.
Dwight Howard put up 31 points and 16 rebounds of his own against a dreadfully overmatched Milwaukee front line. And for the second game in a row, Howard looked like the guy Mitch Kupchak brought over from Orlando.
The Bucks actually stayed reasonably close in the early going, but a 15-point fourth quarter doomed them. Monta Ellis essentially shot his team out of the game, going 6-of-16 from the floor and a stunning 3-of-9 from the foul line. Combined with Jennings' poor effort, the Bucks' guards simply didn't do enough to make any sort of positive impact.
The Lakers' offense was humming (30 assists on 42 baskets) and the defense tightened up, as L.A. allowed the Bucks to shoot just 36 percent from the floor as a team.
From the moment L.A.'s "Big Four" assembled, everyone knew that the team would go as far as its stars could take it. Now, it appears that Howard is rounding into form, Nash is comfortable in the offense (11 assists) and Bryant is primed to continue his late-career renaissance.
If Pau Gasol gives the Lakers anything at all when he returns, watch out. L.A.'s playoff hopes seem very much alive right now.
Final Score: Lakers 104, Bucks 88

Final Box score via ESPN.com.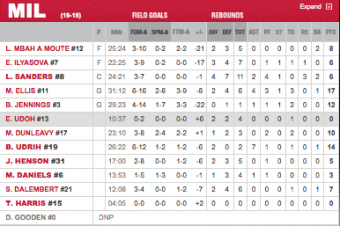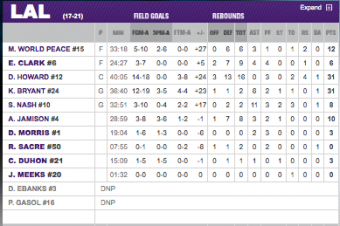 Final Score: Lakers 104, Bucks 88
Postgame Storylines
Star Power
The Lakers won this game because Kobe Bryant, Dwight Howard and Steve Nash all had excellent games. Bryant and Howard scored 31 apiece on a combined 26-for-37 shooting night and Nash ran the offense with expert precision.
That'll be a necessary trend for the Lakers as they move ahead in the season, because the bench continued to underwhelm and the other starters didn't make particularly great impressions.
The reserves shot just 5-for-20.
At the risk of dampening the enthusiasm among Laker fans, it's a little troubling that L.A. needed big nights from its starts to knock of a pretty mediocre Bucks team. At this point, though, the Lakers will take any win they can get as they try to propel themselves back into the playoff picture in the Western Conference.
Kobe's Defense
Bryant has suffered criticism for his defense at louder volume this year than ever, but his performance on Brandon Jennings should help quiet things down a bit. Kobe held Jennings to just 12 points, one assist and one rebound in 29 minutes. Obviously viewing the assignment as a personal challenge, Bryant showed tremendous effort all night.
He dove on the floor, moved his feet and generally harassed Jennings (and anyone else unlucky enough to face him on a switch) with frightening intensity.
To be fair, most of the critics of Bryant's defense have been pointing to his listless help rotations and habit of losing vision on his man. Still, though, tonight's performance at least indicates that Bryant is willing to make a defensive commitment when his team needs him to do so.
He'll have to carry that over into the subtler aspects of his team defense (and do it consistently) if he hopes to completely silence his critics.
What to Do With Milwaukee?
We'll give the Bucks a little shine here—if you consider "shine" to be a very serious question about whether it's time to blow up the whole operation.
Look, the Bucks just aren't sensibly constructed.
Monta Ellis is a shoot-first volume scorer whose only concept of defense revolves around gambling for steals. If you've got him coming off the bench in a Jason Terry role, you can live with him. But if he's starting and taking the most shots on your team and has to be paired up with a similar player in Brandon Jennings, it's just never going to work.
The Bucks have some nice young pieces in John Henson and Larry Sanders, but they're going nowhere with an Ellis-Jennings backcourt.
Taking tonight as evidence, Milwaukee's starting guards combined to make just 10-of-30 shots from the field and didn't play a lick of defense between them. In fact, Bryant simply toyed with the oblivious Ellis on more than one occasion (with a corner three against an apparently distracted and flat-footed Ellis serving as the most obvious example).
It's time to light the dynamite in Milwaukee. Not just because of this game, but because there have been so many like it.
Final Score: Lakers 104, Bucks 88
Lakers Leaders
Bryant: 31 points, 6 assists, 2 rebounds
Howard: 31 points, 16 rebounds, 4 blocks
Nash: 8 points, 11 assists, 2 steals
Bucks Leaders
Ellis: 17 points, 4 assists, 6 rebounds
Jennings: 12 points, 1 assist, 1 rebound
Udrih: 14 points, 7 assists, 2 rebounds
Final Score: Lakers 104, Bucks 88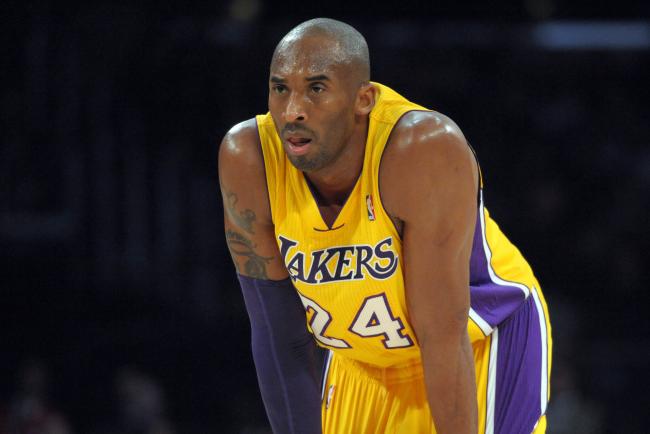 Positives for the Bucks: They outrebounded the Lakers, got to the line more often and especially dominated on the offensive glass. That's literally every good thing I could think of.
L.A. otherwise dominated this one.
Final Score: Lakers 104, Bucks 88
Physical big men have given the Bucks so much trouble this season.

— Andrew Gruman (@AndrewGruman) January 16, 2013
Howard has actually looked like one of those tonight.
Lakers 104, Bucks 88—1:32 remaining in 4th quarter
Both guys have looked tremendous tonight. RT @duransports: 2nd time this year Kobe and Dwight each have 30+ points for @lakers

— Lakers Nation (@LakersNation) January 16, 2013
It's worth mentioning that the last two Laker games have been against a pair of pretty tired (and not very good) Eastern Conference teams. L.A. has certainly looked better of late, but we've got to keep context in mind.
Lakers 104, Bucks 88—1:32 remaining in 4th quarter
It must be pretty nice for the Lakers to have now played two games in a row in which their main concern in the fourth quarter is pulling the starters. This one's out of reach, but in a good way for the Lakers. That's a nice change.
Lakers 102, Bucks 83—3:07 remaining in 4th quarter
Kobe's first-half smash. Also note Antawn Jamison did something on defense to precipitate the break.
Lakers 100, Bucks 80—4:10 remaining in 4th quarter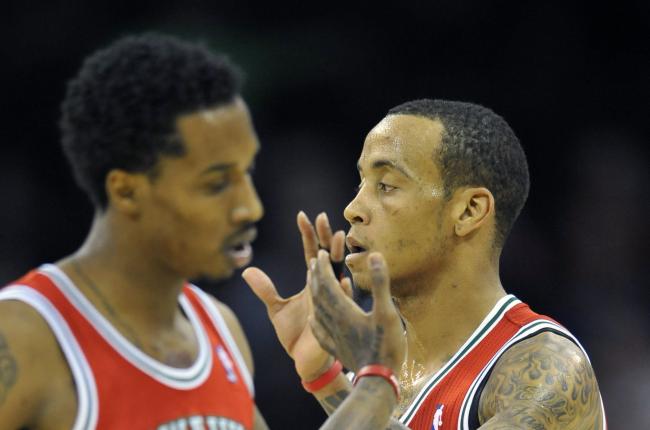 Sorry for the lack of Bucks-related posts here, but lately, there hasn't been much worth talking about. A summary of what Milwaukee has been up to over the past few minutes: Monta Ellis shoots long twos off the dribble, Brandon Jennings misses threes and nobody inside can stop Howard.
I'd say that covers it.
Lakers 97, Bucks 80—5:25 remaining in 4th quarter
Dwight yelling at Antawn on defense: "Stay home!" Antawn nodding.

— KEVIN DING (@KevinDing) January 16, 2013
Most nights this year, Howard would have meant that literally. Jamison has been serviceable in this one, though.
Lakers 97, Bucks 80—5:25 remaining in 4th quarter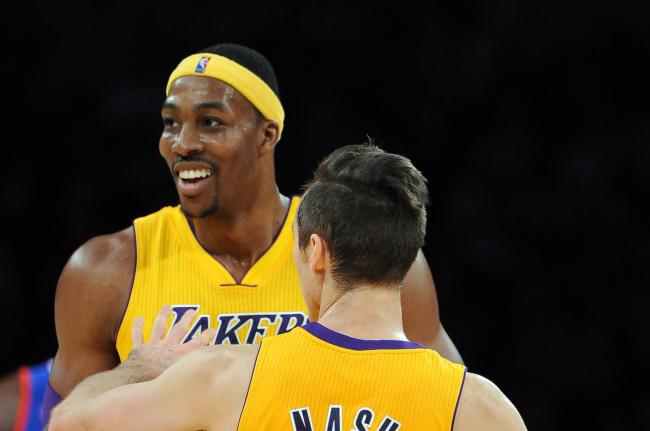 Don't look now, but a Nash-Howard pick-and-roll just resulted in a layup. We're seeing some flashes, folks.
Lakers 90, Bucks 77—6:50 remaining in 4th quarter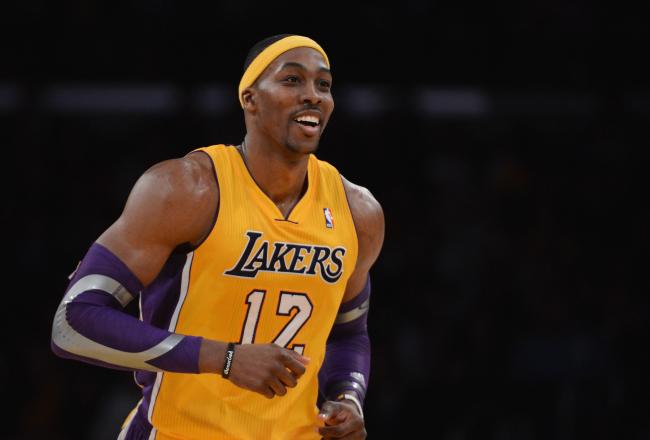 Perhaps the most important aspect of Howard's strong start to the fourth quarter: Kobe and Nash are resting on the bench. If D12 can anchor the second unit once in a while (which he should be able to handle), that'll be great news for the tired legs of L.A.'s aging backcourt.
Lakers 88, Bucks 77—7:12 remaining in 4th quarter
If you're looking for John Henson, he's now the chalk outline under the Laker basket.

— Frank Madden (@brewhoop) January 16, 2013
Yeah, things haven't been so great for Henson here lately. Chin up, big guy. You won't have to face Howard every night of your career.
Lakers 88, Bucks 75—8:20 remaining in 4th quarter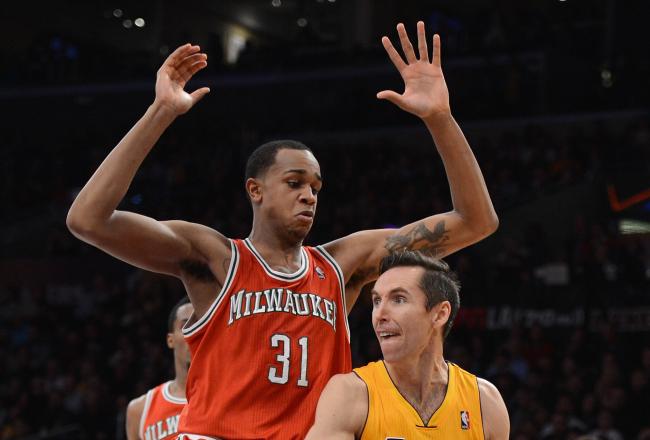 John Henson might turn out to be a very good player, but he doesn't have anywhere near the bulk to keep Howard out of the paint. Back-to-back dunks by D12 against the rail-thin Bucks rookie forces Jim Boylan to call a timeout.
Lakers 88, Bucks 75—8:55 remaining in 4th quarter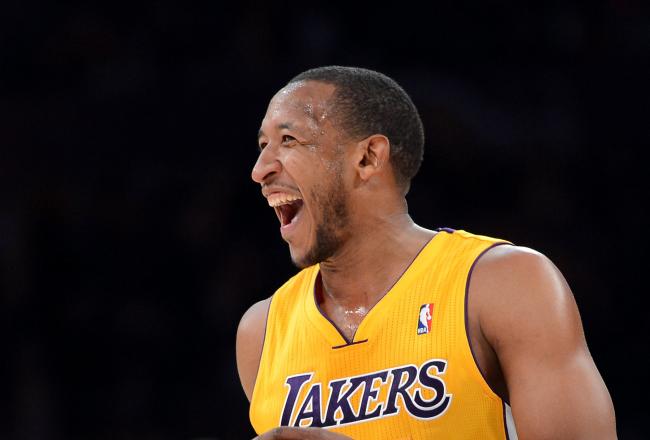 Duhon buries a three, giving the Lakers their biggest lead of the night. When that shot goes down, you have to start wondering whether an L.A. win is meant to be.
Lakers 86, Bucks 75—9:31 remaining in 4th quarter
So in summary, no one on the Bucks is playing well and Kobe/Dwight are playing like Kobe/Dwight. And the Bucks are down only six. OK!

— Frank Madden (@brewhoop) January 16, 2013
The Lakers have a comfortable lead, but should be concerned by those facts.
Lakers 81, Bucks 73—10:50 remaining in 3rd quarter
Lakers Leaders
Bryant: 23 points, 6 assists, 2 rebounds
Howard: 23 points, 10 rebounds, 4 blocks
Nash: 8 points, 10 assists, 2 steals
Bucks Leaders
Jennings: 12 points, 1 assist
Ellis: 15 points, 4 assists, 5 rebounds
Dunleavy: 10 points, 1 rebound
Lakers 79, Bucks 73—end of 3rd quarter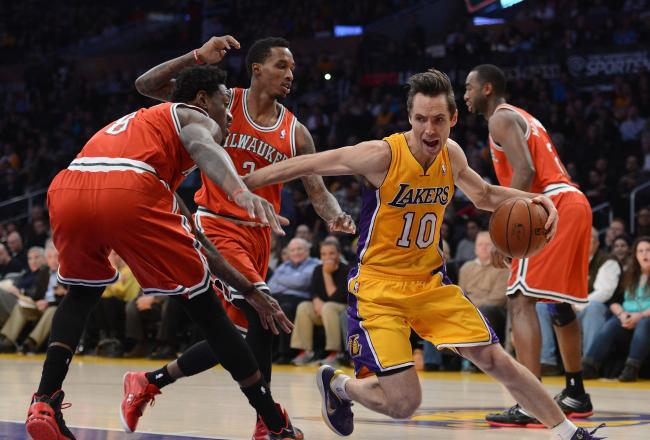 Milwaukee has won an ugly quarter by getting to the line and continuing to outrebound the Lakers. With Nash, Howard and Bryant carrying so much of the load so far, it's possible the Lakers run out of steam in the fourth.
Naturally, Bryant rails a jumper under duress to end the quarter.
Lakers 79, Bucks 73—end of 3rd quarter
Kobe just got an audible floor burn diving for a ball he dislodged from Beno Udrih. He's locked in on this challenge. ... LAL 74, MIL 71.

— KEVIN DING (@KevinDing) January 16, 2013
Audible? More like deafening. Everyone who's ever played basketball cringed on that one. Kobe's hustle can't be knocked tonight, though.
Lakers 75, Bucks 71—:35 remaining in 3rd quarter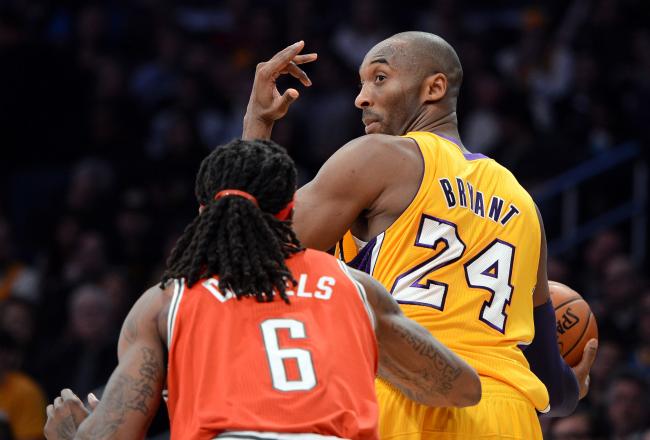 A nice game for Kobe overall, but a missed layup and ugly airball in the last couple of minutes have been pretty hard to watch. This one's sort of grinding to a halt at the end of the third period.
Lakers 74, Bucks 71—2:00 remaining in 3rd quarter
This game is hideous.

— Frank Madden (@brewhoop) January 16, 2013
There you have it, folks. The Milwaukee perspective on this game. Well said, sir.
Lakers 74, Bucks 69—2:58 remaining in 3rd quarter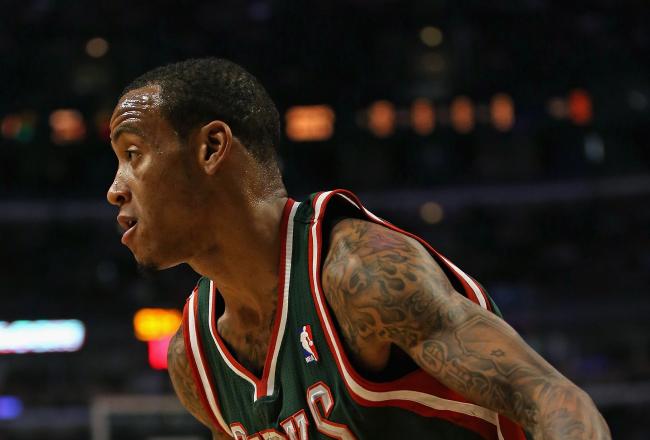 Despite shooting just 40 percent, the Bucks are on an 11-2 run and have narrowed L.A.'s lead to just three points. A 37-28 advantage on the boards is continuing to keep the Bucks in this one.
If Ellis could hit a free throw (he's 3-for-9), the Bucks would be winning.
Lakers 70, Bucks 67—4:08 remaining in 3rd quarter
LAL in foul trouble, with Jennings/Ellis drawing 'em; they'll now be in the bonus for the final 6:24 of the 2nd. LAL up 69-63.

— Mike Trudell (@LakersReporter) January 16, 2013
And instead of forcing the issue by driving, Ellis and Jennings brick threes on the same possession. That's the kind of boneheaded play that makes coaches want to quit. Just an inexcusable lack of awareness by Milwaukee's guards.
Lakers 69, Bucks 63—5:31 remaining in 3rd quarter
"Earlnormalcy" RT @janiscarr Earl Clark now with more fouls (3) than points (0) and rebounds (2)

— Dave McMenamin (@mcten) January 16, 2013
Yeah, all that talk about Clark being a revelation might have been premature. He's a nice player, but definitely not a guy L.A. can rely on for consistent production.
Lakers 69, Bucks 63—6:10 remaining in 3rd quarter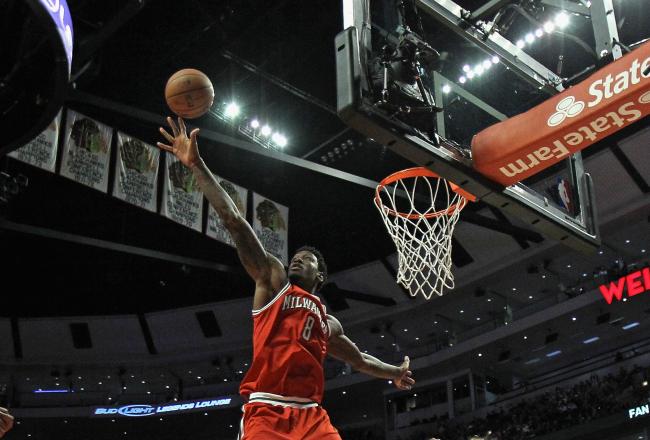 Lots going on here for the centers in this game. A scattered couple of possessions have been marked by a couple of Howard buckets and a sweet Larry Sanders block on Kobe. The Bucks big man, the NBA's leading shot-blocker met Bryant and pinned his dunk attempt to the board. He's long.
Lakers 67, Bucks 62—7:55 remaining in 3rd quarter
This article is
What is the duplicate article?
Why is this article offensive?
Where is this article plagiarized from?
Why is this article poorly edited?