5 Reasons It Has Been Harder for Lakers Than 2010-11 Heat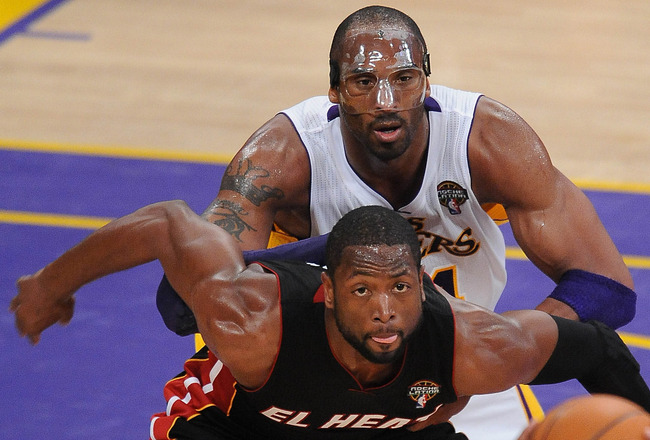 The top two 2-guards of the post-Jordan era will battle again Thursday.
Jayne Kamin-Oncea-USA TODAY Sports
It was a simple question posed to LeBron James, at a shootaround in Portland, earlier on the Heat's current six-game road trip:
Does the scrutiny compare to what the Heat endured in 2010-11, when their three top stars first came together?
"Nope," James said. "No, no, no, no. No one will ever be able to compare it to what we went through. Even though they're not winning, and they're losing a lot of games, that level of magnitude is nowhere near to where ours was two years ago. Nothing. Nothing compares to it."
The Lakers have won two games since, and are now 17-21 on the season.
Still, even with that sorry record, the Lakers' contest Thursday against the visiting Heat will rank as one of the marquee matchups of the season, with eight players (four on each side) combining for 65 All-Star appearances, before starters and reserves for the 2013 All-Star Game are named.
After beating Golden State on Wednesday night, James was asked whether he was surprised about the way the Lakers have lagged behind others in the West.
"Yeah, I'm surprised just like everyone else, in the sense of how much talent they have," James said. "But I'm not surprised at some of the struggles. We had struggles too in year one. You can't force or fast-track camaraderie, guys coming together. It's a team game, and you have to work through a lot of things before it becomes a team. And we went through that as well."
They did. Miami started 9-8 during the 2010-11 season, but blitzed through the next few weeks to get to 29-9 through 38 games, and ultimately advanced all the way to the NBA Finals.
Why did the Heat get going sooner?
(All quotes in this piece were collected as part of the author's coverage of the Miami Heat for the Palm Beach Post. All statistics were accurate as of Wednesday afternoon.)
5. Coaching Stability, with Management Support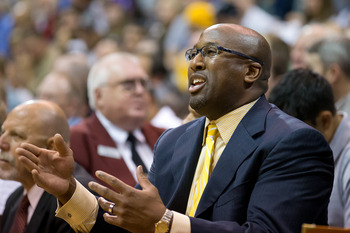 Mike Brown didn't stand much of a chance with the Lakers.
Russ Isabella-USA TODAY Sports
On the outside, the noise seemed as if it would never stop.
From the start of the season, skeptics among media and fans were waiting for LeBron James and his team to turn on the young and relatively inexperienced coach that Pat Riley had picked to guide the star-studded squad. Further, they were waiting for Riley to leave his seat in the stands and start stalking the sidelines again.
But, for all of that chatter, the reality was that owner Micky Arison stood behind Riley, and Riley stood behind Spoelstra, someone he had groomed from video coordinator to confidante, someone who embodied his ideals, espoused his principles and even impersonated many of his mannerisms.
Riley's support gave Spoelstra the leeway to turn things around, when the 2010-11 season started slow.
Mike Brown didn't have that in Los Angeles. So, on the day that Brown was fired, Spoelstra eschewed his usual restraint to say this: "Yeah, when you see one of your coaching peers, part of your fraternity, not get an opportunity, it's tough. We know what this business is like but, at the same time, really you just want an opportunity when you are coaching, and a full season, health, etc., all those factors to be right."
Then he compared it to his own situation.
"It was simply much, much different," Spoelstra said. "We had patience. The stability comes from Micky and Pat, they were thinking big picture the whole way, there wasn't a panic even when we were 9-8. I felt great confidence from them, but it wasn't needed to be said. All we did was try to get our hands dirty and get to work and figure out collectively how to get out of that hole. Mike is an excellent coach. It's a shame that it came down to that."
And, for the Lakers, which used Bernie Bickerstaff as a bridge to the ill-fitting Mike D'Antoni, the instability has clearly been an impediment to success.
4. No Cushion in the West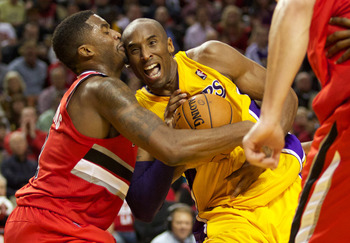 Not many expected Portland to put up a fight this season. But that's the depth of the West.
Jaime Valdez-USA TODAY Sports
During the 2010-11 season, the fifth seed in the East won 44 games.
The sixth seed won 42.
The seventh seed won 41.
The eighth seed won 37... while losing 45.
And when the Heat went on their remarkable run, after starting 9-8, they opened by beating three East teams (Washington, Detroit, Cleveland) much, much worse than that.
The point is, their weak conference allowed them to get settled and get rolling.
Compare that to the Lakers' situation.
Entering Wednesday, the teams with the three best records were all out West.
Nine teams in the West were above .500.
That means, with the unbalanced schedule, that the Lakers get the benefit of far fewer easy nights than Miami did in 2010-11. All of their weaknesses are exploited. They haven't had the same chance to build confidence that Miami did, when it feasted on weaklings to win 21 of 22.
The Heat could coast a bit until they clicked.
If the Lakers do that, they often get clocked.
3. Miami's Stars Arrived as Friends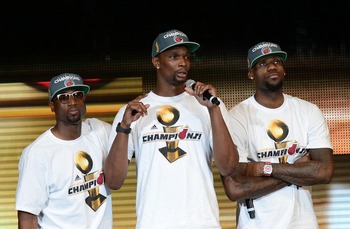 Long before they won a title together, Dwyane Wade, LeBron James and Chris Bosh had talked about it.
Steve Mitchell-USA TODAY Sports
Dwyane Wade, Chris Bosh and LeBron James came together by choice.
All had abundant options in 2010 free agency.
All could have been centerpieces, and earned more, somewhere else.
They decided that they wanted to play together and, while the relationship between Bosh and the two others may have been overstated at the time, the trio's desire to collaborate was strong enough that they took the risk to their respective reputations.
Those relationships were tested at first, especially as Wade and James struggled with the duplication in their skill sets, and the need to sacrifice spots on the floor and shots at the rim.
After falling to 9-8 in Dallas that season, and looking lost and frazzled, the players called a closed-door meeting in the visiting room, in order to vent.
"That was the start of it," James said of developing a stronger bond. "It still took us a little time after that to be even more comfortable, but that was the start of it. We understood the talent that we had, we understood the opportunity that we had, but we had to be real with one another, and that was the start of it."
But maybe that meeting wouldn't have gone so well if the trio hadn't been so invested to prove that it had made the right choice in coming together.
The Lakers' circumstances were different. Steve Nash and Dwight Howard were trade acquisitions, and while they signed off on coming to Los Angeles (reportedly because Howard couldn't find his way to Brooklyn) it wasn't an organic as the Heat's unions.
And even if reports of tension between Howard and Kobe Bryant are overstated, the truth is they didn't choose each other, in quite the same way that James, Bosh and Wade did. That may make it harder to develop trust.
Plus, as poorly as James and Wade appeared to fit at times early on, neither appeared as out of sorts as Lakers forward Pau Gasol does with his teammates and with the system.
2. Defense Mattered More in Miami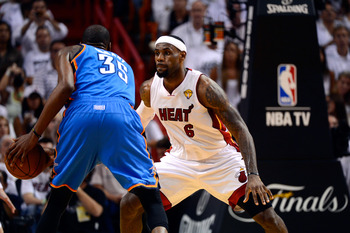 LeBron James bought into the Heat's defensive philosophy immediately.
Ronald Martinez/Getty Images
The Lakers imported the three-time Defensive Player of the Year.
You'd think that would do wonders for your defense, especially when it was slightly better than middle-of-the-pack the season before.
But Dwight Howard, even if healthy (more in the next slide) couldn't have made the Lakers elite on that end all by himself. He'd need help, and the Lakers didn't give him much.
Instead, they added two weak defenders, Steve Nash and Antawn Jamison, to a squad that already had some age (Kobe Bryant and Ron Artest, Steve Blake) on the wings and in the backcourt.
Then, they fired Mike Brown, a defense-first coach, five games into the season, eventually replacing him with Mike D'Antoni, whose track records suggests limited interest or acumen when it comes to that side of the floor.
Miami?
Well, its prize acquisition, LeBron James, had learned under Brown in Cleveland, and when he the Heat, he quickly embraced the defense-drilling mindset that Pat Riley had passed down to Erik Spoelstra.
And while Chris Bosh was average at best on defense in Toronto, he eventually started to fit comfortably into a team scheme that had hid more limited defenders (Tim Hardaway, among them) over the years.
Further, Miami still had some strong defensive pieces around, such as Udonis Haslem, until he got injured, and Joel Anthony, and even Zydrunas Ilgauskas to block the occasional shot.
The Heat would finish in the top five in most defensive categories this season.
The Lakers currently rank in the bottom third in most of the same.
1. Age, Speed and Health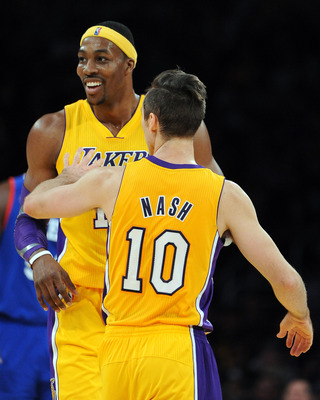 Dwight Howard and Steve Nash: Great on paper, not so often on the floor.
Jayne Kamin-Oncea-USA TODAY Sports
Kobe Bryant is 34.
Steve Nash is 38.
Ron Artest (or Metta World Peace) is 33.
Pau Gasol is 32.
Antawn Jamison is 36.
Dwight Howard is coming off major back surgery.
Should it be any surprise that members of this group have struggled to stay with quick opponents, and struggled to stay in the lineup.
Yes, the Heat had some age on their initial "Big 3" roster, in terms of role players such as Zydrunas Ilgauskas, Juwan Howard, Erick Dampier and late addition Mike Bibby, and they also had some injuries, notably to Mike Miller and Udonis Haslem.
But their three best players, LeBron James, Chris Bosh and Dwyane Wade, were all under 30 at the time, and they combined to play 232 of 246 games.
The Lakers?
Thursday is expected to be the first time time that their starting lineup will be together under Mike D'Antoni, with Gasol and Nash having missed significant time, and Howard not looking like his old self until recently.
"A lot of stuff takes time to put together," Wade said. "This is not easy."
And it's harder if brittle bodies keep falling apart.
Keep Reading

Miami Heat: Like this team?