Georgia Football: Projecting the Bulldogs' 2013 2-Deep Depth Chart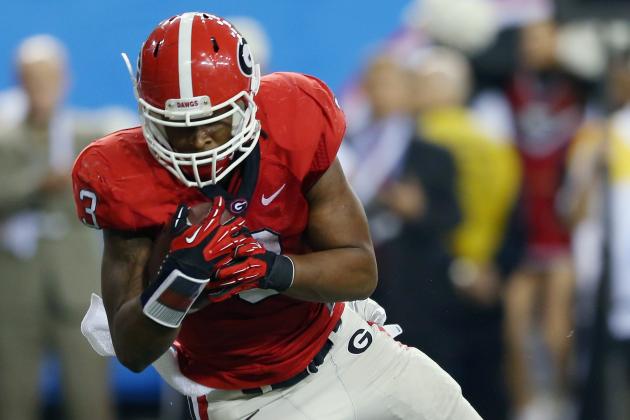 Mike Ehrmann/Getty Images

The 2013 Georgia Bulldogs will look similar to the 2012 team on one end, but completely different on the other end.
On offense, the Bulldogs will likely lose only two starters, which will make them even more dangerous.
On defense, because of seniors leaving and players like Jarvis Jones, Alec Ogletree and Kwame Geathers leaving early for the NFL, the Bulldogs will lose 12 players who started on defense last year.
So it's clear that one side will have little to address going into spring practice while the other side will have some interesting position battles going all offseason.
Here's a look at the projected two-deep depth chart for the upcoming season.
Begin Slideshow

»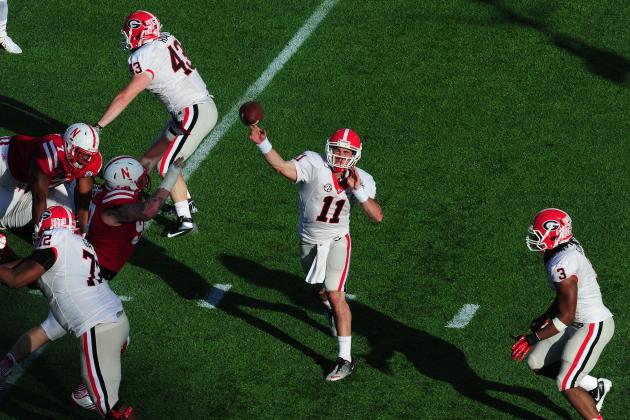 Scott Cunningham/Getty Images

Starter: Aaron Murray
Murray announced that he will come back for his senior season, and the Bulldog Nation could not be any happier.
The All-SEC quarterback is expected to break all kinds of records in 2013 and could be a legitimate candidate for the Heisman.
But the one thing he wants to do is win an SEC and national title.
Murray was only five yards away from those goals in 2012, but with the personnel he has coming back on offense, they could break through in 2013.
Backup: Hutson Mason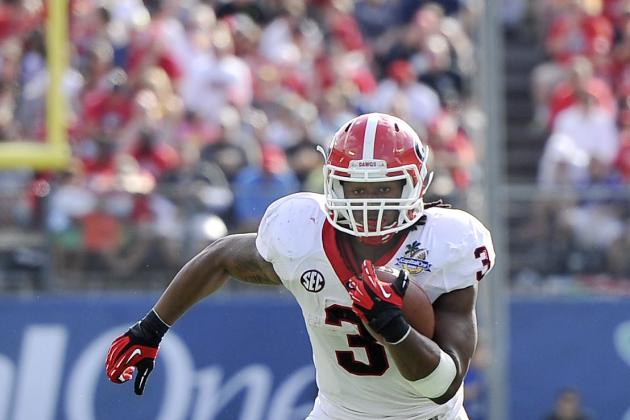 Brad Barr-USA TODAY Sports

Starter: Todd Gurley
Murray may have been the nation's top passer this season, but the reason he was so efficient was the play of running back Todd Gurley.
Other than Johnny Manziel, no freshman in the SEC has made a bigger impact than Gurley.
He led all SEC running backs in yards and touchdowns and was named to the FWAA Freshman All-American team.
2013 should, and will, only get better for Gurley.
Backup: Keith Marshall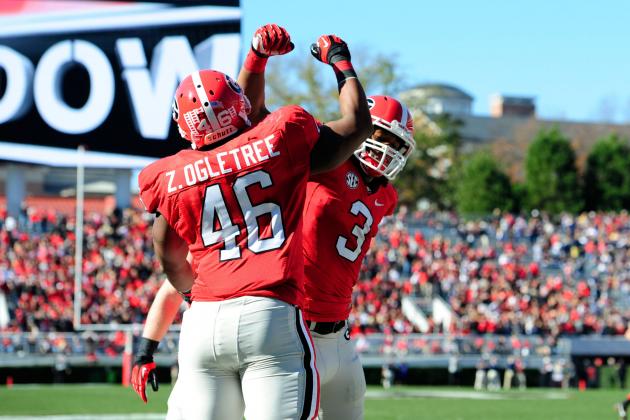 Dale Zanine-USA TODAY Sports

Starter: Alexander Ogletree
The fullback spot is going to be interesting to watch because there are going to be three players who have the ability to be the No. 1 guy.
But at the end of the day, Olgetree will likely be the one who comes out on top.
Taking the place of Merritt Hall halfway through the 2012 season, Ogletree really helped Gurley and Marshall race their way to the SEC title game.
But don't be surprised if he gets more carries this upcoming season because he also showed great ball skills this season, especially against Florida.
The other player to watch for is Quayvon Hicks as he was highly recruited last year.
Backup: Merritt Hall
Brad Barr-USA TODAY Sports

Starter: Arthur Lynch
Lynch had a solid 2012 season, catching 24 passes for 431 yards and three touchdowns.
He started to really develop good chemistry with Murray toward the end of the season, and that should carry into 2013, which should lead to bigger numbers.
The only problem is Jay Rome is also a talented tight end whom Murray will also look to more next season.
Backup: Jay Rome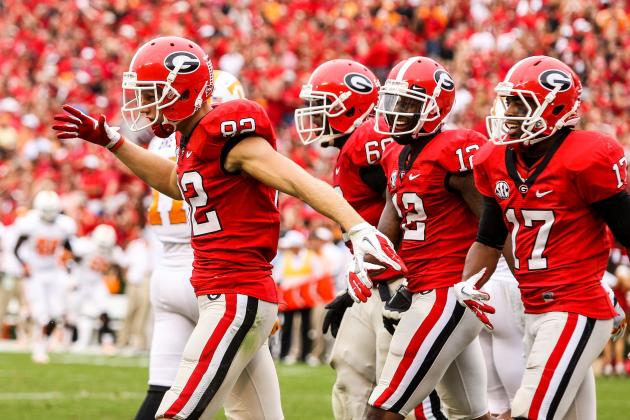 Daniel Shirey-USA TODAY Sports

Starters: Michael Bennett, Malcolm Mitchell
Murray's go-to guys are two guys who have tons of experience and can make impact plays at any point of a ballgame.
Before Bennett went down with an knee injury halfway through the season, he led the team in receptions and yards.
Mitchell played cornerback the first part of the season and had the same impact at wide receiver as he did in 2011 because of it.
But both players will be healthy and focused on making big catches for Murray.
Backups: Chris Conley, Justin-Scott Wesley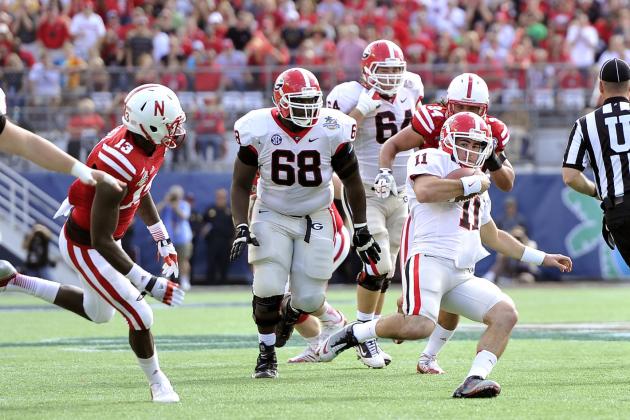 Brad Barr-USA TODAY Sports

LT Kenarious Gates, LG Dallas Lee, C David Andrews, RG Chris Burnette, RT John Theus

It doesn't look like any of the offensive linemen are leaving, so the same unit that was giving the skill players good protection last year will be intact for 2013.
Players like Theus and Andrews had their struggles, but they have learned from their mistakes and will be better for it in the future.
Gates and Lee on the left side will be tough to break though while Burnette is as solid of a SEC offensive lineman as they come.
Backups: Mark Beard, Watts Dantzler, Austin Long, Greg Pyke, Xavier Ward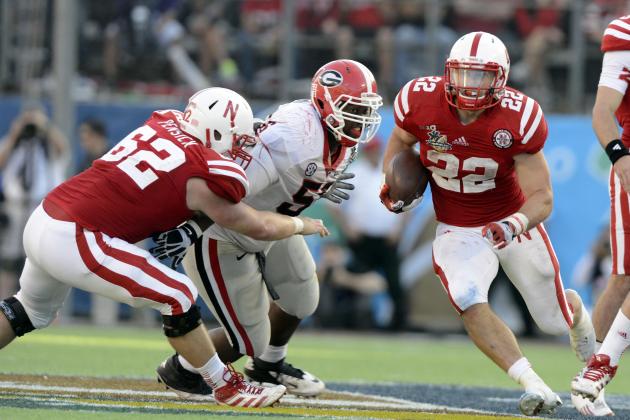 Brad Barr-USA TODAY Sports

Starters: DE Ray Drew, NT Jonathan Taylor, DE Garrison Smith
Other than Smith, this will be a new-look defensive line for the Bulldogs.
Drew played sparingly last year and could very well have a breakout season in 2012.
According to David Ching of ESPN, Taylor is expected to make a huge impact but has some big shoes to fill with Geathers and John Jenkins gone.
Backups: DE Mike Thornton, NT Chris Mayes, DE Sterling Bailey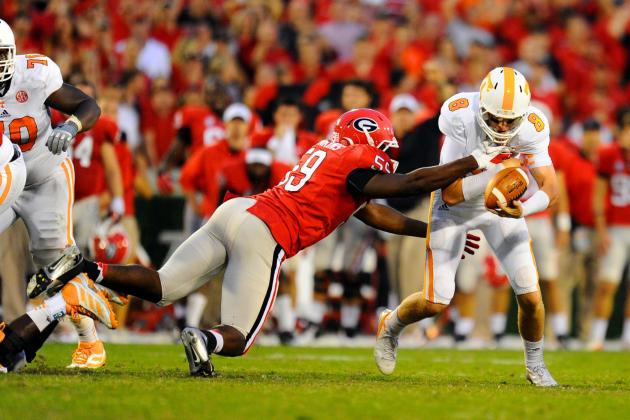 Dale Zanine-USA TODAY Sports

Starers: OLB Jordan Jenkins, OLB Ramik Wilson, ILB Brandon Burrows, ILB Amarlo Herrera
Jenkins and Herrera had great 2012 seasons and will help guide the younger linebackers in 2013.
Burrows, who thought about leaving the program at one point, has a great chance to start at inside linebacker because of the lack of depth.
Wilson has been a good contributor on special teams and will look to take that next step in his college career.
But all four of these positions are virtually open competition because there are slew of young and talented linebackers ready to take the place of players like Jones and Ogletree.
Backups: OLB T.J. Stripling, OLB Josh Dawson, ILB Ryne Rankin, ILB A.J. McDonald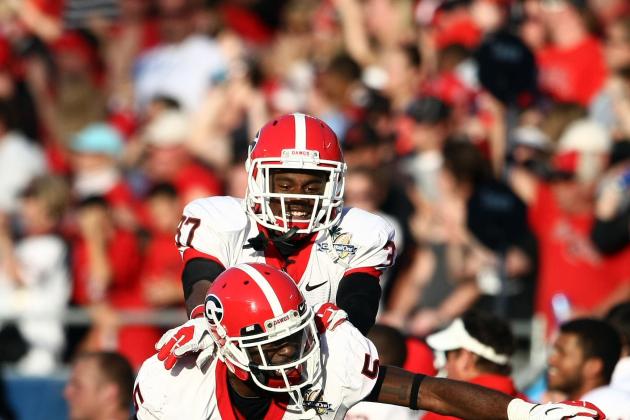 Douglas Jones-USA TODAY Sports

CB: Damian Swann, CB Devin Bowman, SS Corey Moore, FS Connor Norman
Swann will be the most experienced cornerback of the group, but Bowman also saw a good amount of action last season.
The combination of Swann and Bowman will be solid and will get better each time they step on the field.
As for Moore and Norman, both players got a lot of action early last year because of the suspensions, but they have the tough task of replacing a great safety duo on Shawn Williams and Bacarri Rambo.
Moore possesses the same skills as Williams, but it may take some time to make immediate impact because of the experience.
Norman will be a senior next season and will be looked as one of the leaders of the defense and the entire team.
Backups: CB Sheldon Dawson, CB Blake Sailors, SS Josh Harvey-Clemons, FS Marc Deas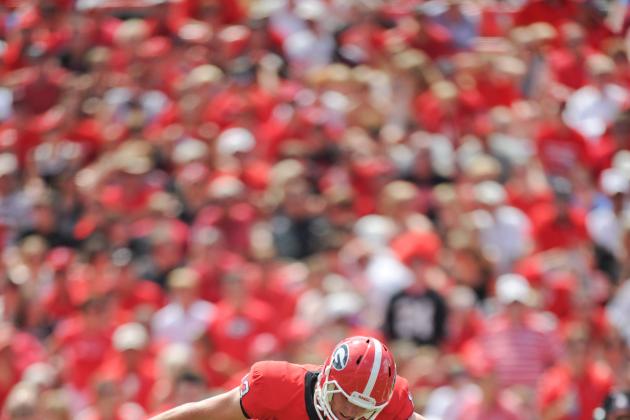 Kevin Liles-USA TODAY Sports

Kicker: Marshall Mogan
Punter: Colin Barber
Both Morgan and Barber had their ups and downs, but will be better for it in 2013.
Morgan has the leg to kick from anywhere, but he has to work on his accuracy, only making eight of his 14 attempts in 2012.
Barber averaged close to 42 yards per punt and got 19 of his 60 punts inside the 20.
Backups: K Thomas Pritchard, P Adam Erickson