Texas Football: 5 Recruits the Longhorns Must Lock Up Before Signing Day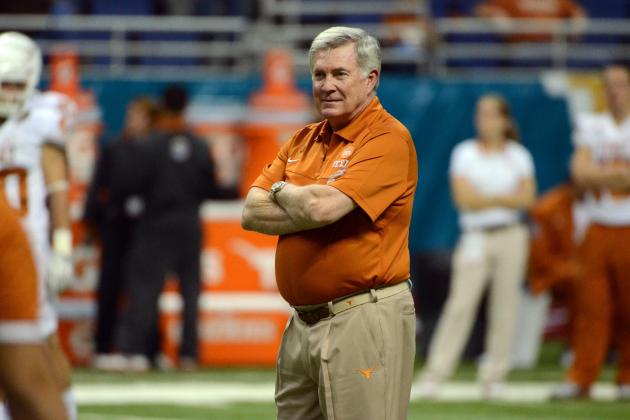 Brendan Maloney-USA TODAY Sports

With National Signing Day just over two weeks away, it is time for the Texas Longhorns to make their final recruiting push for 2013. Reeling in a few undecideds will be key in doing just that.
As of right now the Longhorns' 2013 class is ranked No. 11 by ESPN with only 13 commitments, six of which being ranked in the ESPN150. If this ranking holds, it would be the first time the 'Horns have been left out of ESPN's top-10. It would also be the first time Texas has ranked outside of the top-5 since 2008.
But the battle is from over for Mack Brown and his staff. Last year's No. 3 recruiting class did not sign major contributors Dalton Santos, Shiro Davis and Daje Johnson until after mid-January. Once again, there is top-level talent still waiting for the right program to win them over in the final stretch of the recruiting season.
Here are five undecided players that Texas must sign to take its 2013 class to the next level.
Begin Slideshow

»
Beyond any doubt, defensive tackle prospect A'Shawn Robinson is Texas' top priority, heading into the final weeks of the recruiting season.
Robinson is ranked just outside of ESPN's top-100 recruits, but Rivals has him as the state's top recruit and the third-best in the nation at his position. At 6'5" and 308 pounds it easy to understand why so many are high on him as he has impressed every time scouts have gotten a look at him.
The issue with Robinson is that while he has been committed to Texas since last February he has been exploring his options at other schools, visiting Alabama on Friday. He says he remains committed to Texas, but losing one of its surefire prospects is not something the coaching staff can afford with this class.
Texas needs to make sure it rolls out the red carpet for Robinson when he takes his final official visit next Friday. The 'Horns need more consistency out of the position, and Robinson has the talent to provide just that. His work ethic could also push returnees such as Desmond Jackson and Ashton Dorsey, who need to be challenged this offseason.
Perhaps telling him, now that Brandon Moore has declared for the NFL Draft, that he has a chance to start next season could be the final touch on retaining this stud's commitment.
The first longshot on this list, acquiring offensive tackle Laremy Tunsil would help Texas lay the foundation for one of the nation's best offensive lines in 2014.
At 6'6" and 295 pounds, Tunsil is the nation's top recruit at his position and has fielded offers from 15 of the nation's top programs. Texas, however, has not offered Tunsil but has spoken with him about taking a visit after he expressed interest earlier this month.
While Texas is probably set at the tackle position for next season adding Tunsil would give the program four of the class' top offensive linemen along with center Darius James and tackles Kent Perkins and Jake Raulerson. The 'Horns are still pursuing a tackle in JUCO prospect Desmond Harrison, but it seems more likely that he will go somewhere he can start. Tunsil fills a hole and gives Texas a likely three-year starter after incumbents Josh Cochran and Donald Hawkins move on.
If Alabama has shown us anything in the past four years, it is that you can never have too many good offensive linemen. Adding Tunsil to the mix could give the Longhorns national championship-caliber talent in the trenches by the time he is a sophomore.
Losing stalwart Kenny Vaccaro to the NFL leaves the Longhorns with a gaping hole at safety for next season. JUCO prospect Shaquille Fluker could fill that void immediately.
Outside of Vaccaro, the safety position was terrible at Texas this past season with missed tackles being the bulk of the problem. And without a safety commit in the 2013 class, Texas has explored the possibility of moving top corner Quandre Diggs to the position.
But Fluker, who is an absolutely vicious hitter, could alleviate those concerns from the moment he steps on campus. He can cover as well as he can help out against the run and is no stranger to forcing turnovers, all of which are areas in which the 'Horns need improvement.
Unfortunately Fluker is a serious reach as he has been committed to Georgia since before his season even started. But a lot can change in that amount of time, and he is a perfect fit for a defense that needs a game-changer in the secondary.
One player that the Longhorns certainly should take a look at is Dannon Cavil, who has some serious potential to become the future at tight end.
Cavil is listed as a wide receiver prospect, but his measurables scream tight end. He is 6'5" and weighs over 200 pounds with great hands and impressive strength, meaning with some work he could become exactly what the team has lacked at the tight end position.
Losing out on Durham Smythe really hurt the Longhorns' chances in getting the complete tight end they have so desperately craved. They were able to sign JUCO transfer Geoff Swaim, but he only tallied nine catches last season, and there is no reason to expect he will do more than run block.
Cavil is committed to Oklahoma, but his family has some serious ties to Texas and he expressed excitement over the offer that he received on Tuesday. Expect things to move very fast as both schools will try to keep him from one another.
Steal a recruit from their archrivals while getting a great prospect at a position of need? Sounds like a late Christmas present for Mack Brown and his staff.
Another player Texas has a great shot at landing is offensive guard Andrew Billings, whose size and versatility would be a great addition to the offensive line.
Billings is from Waco so Baylor would seem like the frontrunner here, but his reluctance to commit means Texas has as good a shot as any to add him to its haul.
Billings is big at 6'2" and 308 pounds, but has no problem meeting blockers at the second level. And since Texas does not have a commit at the position that will be left vacant after the 2013 season, he fills a position of serious need.
He has been quiet about his intentions throughout the recruiting process, but the indications are that Billings will not make his decision until the last minute. Keep an eye on his status as Signing Day approaches.