Last-Minute Predictions for Eastern and Western Conference NBA All-Star Starters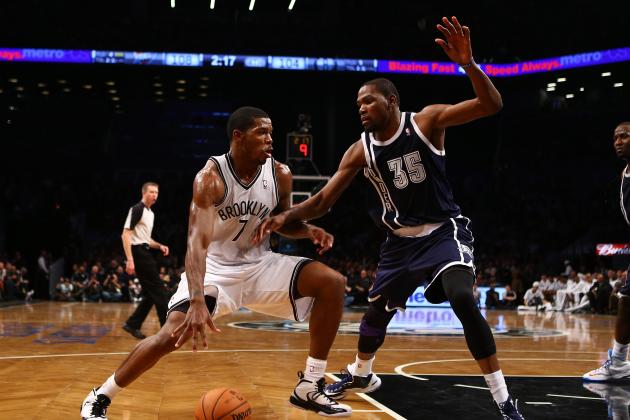 Al Bello/Getty Images

The NBA will announce the starters for the 2013 All-Star Game on Thursday, January 17 on TNT, and there will surely be some controversy over who got snubbed. Between fan voting and coach selections, worthy players are certain to fall through the cracks.
So, when predicting the game, it's important to remember that life isn't always fair. A player in a big market often gets the nod over a guy in a small city. A player who's been famous for a long time is chosen over a newcomer.
This year, we're lucky in that so many fan selections are lining up with guys who actually deserve to go, a reality that couldn't have happened without fan favorites Carmelo Anthony and Kobe Bryant playing some of the best basketball of their careers.
Ahead, you'll also find some speculation as to whom the coaches will select as reserves when the time comes.
Begin Slideshow

»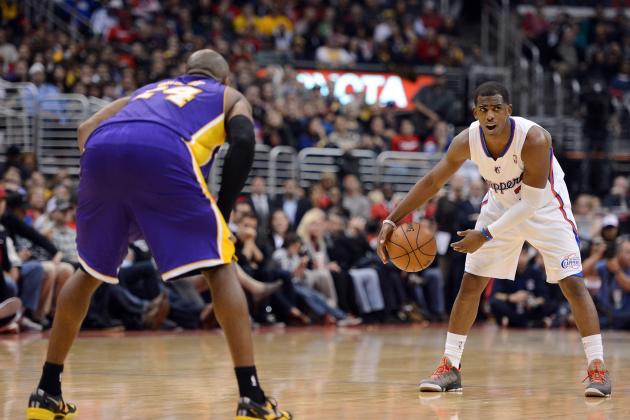 Harry How/Getty Images

Some choices in life are difficult. Paper versus plastic, boxers versus briefs and on it goes.
But some are, thankfully, rather easy. The starting Western Conference backcourt is simple to decide, and there aren't many counter arguments worth noting.
Chris Paul is playing better than any other guard by a wide margin. James Harden has a slight case for inclusion, but he trails the more famous Kobe Bryant in win shares and PER.
The fans will make the right decision and vote in Kobe and CP3.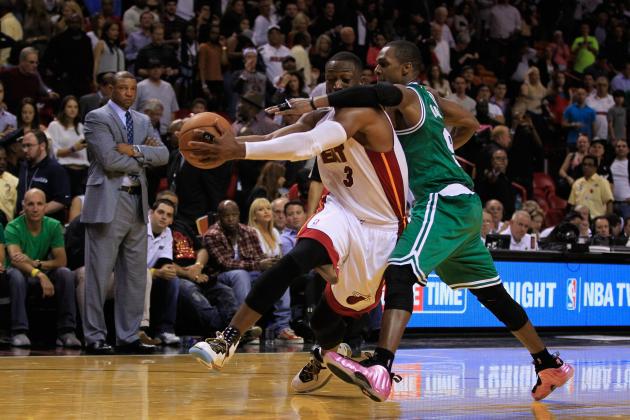 Chris Trotman/Getty Images

Behold, two enemies sharing a backcourt. Dwyane Wade and Rajon Rondo have gotten into it over the past few years, most recently with Rondo clotheslining his rival.
A cheap shot, but understandable considering that Wade either intentionally or unintentionally knocked Rondo out of a playoff series. Remember that one?
Neither player is having an incredible season so far, but the Eastern Conference has a dearth of talent this year. I'd personally select Kyrie Irving over Rondo, but the All-Star voters will almost certainly select the Boston Celtics point guard.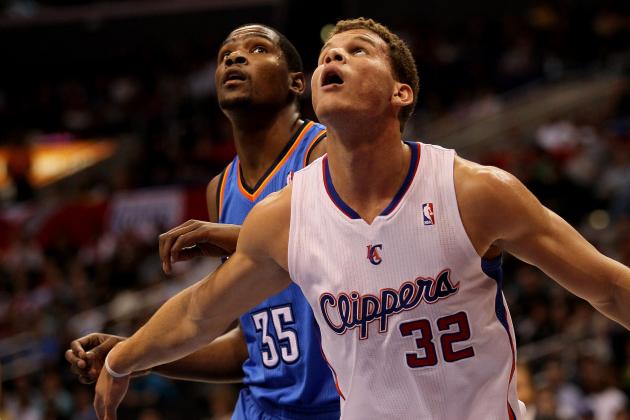 Stephen Dunn/Getty Images

The two most likely frontcourt players are deserving entries. Kevin Durant is having an incredible season. He's second in the league in John Hollinger's PER, and he's well on his way to joining the 50-40-90 shooting percentage club.
Blake Griffin is often dismissed as a guy who "just dunks," but those who make that criticism are only revealing their ignorance. Griffin is one of the best passers at his position, and likely the best dribbler. He's also a plus defender when matched up against three-point-shooting frontcourt players.
Tim Duncan is worth a mention here, but I don't believe that the fans will recognize his incredible season. Dwight Howard is getting the fan vote right now, but Duncan is clearly more deserving.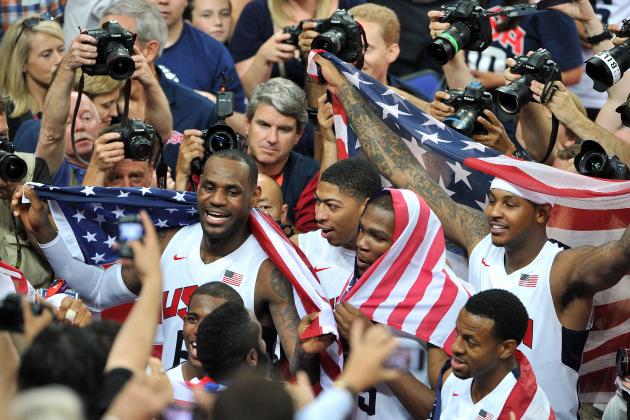 Pascal Le Segretain/Getty Images

The combo forward is ascendant. LeBron James and Carmelo Anthony might have different styles, but they're both listed as small forwards who do their best work at the power forward position.
LeBron can put up incredible numbers in either slot, but Melo has benefited from the slide to the 4. He's putting up career percentages from beyond the arc and fueling an efficient Knicks offense.
There aren't really any other popular choices who could push these two out of their spots. The fans are going to get it right on this one.
I'll also bet on fans rewarding Tyson Chandler with a deserved selection. He's trailed Chris Bosh and Kevin Garnett in recent fan voting returns, but his sterling play, mixed with his big-market status, should get him over the hump.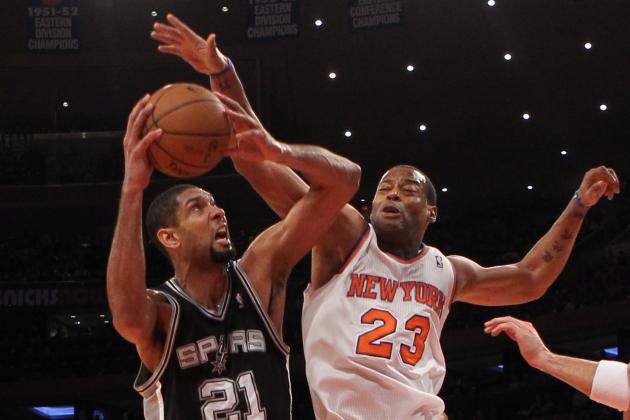 Bruce Bennett/Getty Images

Tim Duncan is a clear All-Star, and the coaches had better vote him in. The old man is still a defensive force, and he's second among all big men in PER.
Marc Gasol also deserves, and should receive, a selection. The Grizzlies have one of the league's best defenses, and Gasol is the main force behind that. His teammate Zach Randolph could also warrant a nod, but I'm liking David Lee's chances considering Golden State's sudden resurgence.
The coaches might not vote him in, but Nicolas Batum seems to be the clear choice for a reserve small forward. He's the second-best 3 in the West, next to Durant.
At guard, the competition is stiff. James Harden is a clear selection as the leader of the playoff-bound Houston Rockets. Tony Parker is still an efficient force on the Spurs, and Russell Westbrook remains an athletic force to be reckoned with on the Thunder.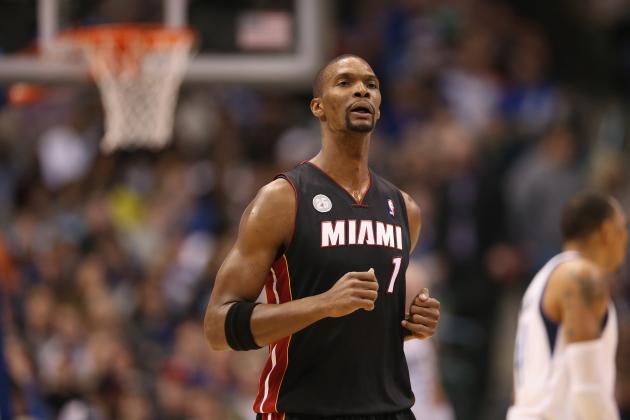 Ronald Martinez/Getty Images

Chris Bosh might get voted in as a starter, and that'd be fine by me. I'd favor Tyson Chandler on account of Chandler's incredible shooting efficiency, but Bosh is having a strong year. The Heat's big man is shooting almost 56 percent from the field while spacing the floor for Miami's deadly offense.
Bosh isn't the only forward-center combo who deserves a selection, as Kevin Garnett is a critical piece of Boston's defense. Dwight's departure from the conference opens up a spot for KG, as well as Brook Lopez and Joakim Noah.
In the backcourt, Kyrie Irving should be a lock. I can also see the coaches rewarding Deron Williams' status, along with Ray Allen's. The difference is that Allen, despite his sixth-man designation, actually deserves to be at the game.