Notre Dame Football Recruiting: Committed Recruits with Biggest Star Potential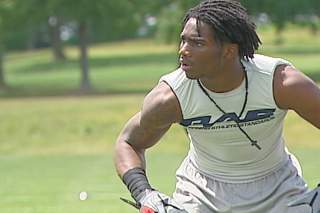 Credit: 247Sports
The Notre Dame Fighting Irish have an absolutely loaded 2013 recruiting class. With currently 22 top prospects giving their verbal to the team out in South Bend, head coach Brian Kelly and his squad have put together a top-five class, according to 247sports.com.
Many of these guys will have a chance to step on the field right away and become instant stars for a program that is trying to make it back to the national championship. Some will be able to take advantage of roster openings at certain positions, while others are just way too talented to keep off of the field for an entire season.
Either way, Notre Dame is going to have a bunch of fresh faces in the lineup next season, and some of these players will soon become stars.
Here are the top recruits who have that breathtaking effect and who will become the next elite college football superstars.
Begin Slideshow

»
Max Redfield was originally a commitment to USC but decided earlier this year to switch his verbal and become a member of the Fighting Irish. Now he is one of the top recruits in this overall 2013 class for Notre Dame.
The 5-star recruit from California is listed as a safety, but he actually has the ability to play either side of the ball. Due to his great athletic ability and wonderful ball skills, Redfield is a nightmare for opposing quarterbacks but could provide a spark on offense if the coaching staff really wanted to go that route.
His instincts are what really make him special, as he finds the ball quickly and reacts, allowing him to cover a ton of ground and become a force in stopping the run.
Redfield is best in pass coverage and provides the complete package with his ability to come up big in run support. With Notre Dame lacking depth in the secondary and having two open spots at the safety position, he will see playing time his first year and become a full-time starter in no time.
The athletic genes run in the family when it comes to wide receiver Corey Robinson. The 3-star recruit happens to be the son of former NBA great David Robinson. The good thing for Irish fans is that he is tall just like his father at 6'5".
Can you say red-zone threat?
With the height of Robinson alone, he has the potential to see the field early because of the mismatch problems he will pose for players in the secondary. Just throw the ball up there and this guy will go and get it. He is also a solid route-runner who likes to get physical at the line of scrimmage.
Robinson wasn't really a highly recruited player, and the commitment kind of came out of left field. But I'm sure Notre Dame would love to have a sure-handed receiver with his build on its team.
This is somebody who has solid upside and will provide that threat to create big plays for the offense.
With the starting running back position up for grabs, there is a chance that 5-star running back Greg Bryant could become the workhorse from day one of the 2013 season. With his well-built and stocky frame at 5'11", 200 pounds, he certainly has the body to carry the workload immediately.
Bryant isn't the speedster that Notre Dame was used to seeing last season with a combination of Theo Riddick and Cierre Wood. Instead, he is a physical runner who looks to break tackles and pick up extra yards after initial contact. He is really your typical SEC style runner who looks to wear down a defense with his taxing style of play, as he is a tough-nosed runner that is always looking for the positive gain, rather than hitting the home run.
With both leading rushers from a year ago no longer on the roster, Notre Dame may turn to the true freshman to lead the ground game. Bryant has the ability to become a star player for the Irish the moment he steps onto the football field.
Notre Dame lost Manti Te'o but gained 5-star recruit Jaylon Smith. And while Te'o was a great story and helped do a lot for the program as a whole, it might actually be Smith who is the better overall complete football player.
There really isn't much this kid can't do on the defensive side of the ball. He is comfortable dropping back into coverage, can line up anywhere on the defense and has enough speed and athleticism to chase down even the fastest ball-carriers.
Smith will likely play outside linebacker in South Bend, but will really be effective anywhere the coaching staff sees fit. Whether you want him to cover the extra man who's going out for the pass or want him to blitz the quarterback, he will get the job done.
Smith is that elite player in each recruiting class who has tremendous upside and extraordinary athleticism. The Irish will enjoy having this guy for three years, and he should help make an immediate impact on the defense.
Malik Zaire is one of the few Notre Dame recruits that has already enrolled on campus (via The Associated Press). And although the quarterback position may be a little crowded at the moment, Zaire has the opportunity to push all of them for the starting job in due time.
The 4-star dual-threat left-handed quarterback is already receiving comparisons to guys such as Tajh Boyd and Russell Wilson. What stands out about him is that although he has the ability to make plays with his feet, he much rather hurt you with his arm and show that he can throw an accurate football. Zaire has the ability to fit the ball in tight spaces and has a solid throwing motion for somebody who throws with his left arm.
Quarterback coach Yogi Roth has had the opportunity to work with current Irish starter Everett Golson, backup Gunner Kiel and Zaire at the Elite 11 camp. He happens to like Zaire the most, as he told Keith Arnold of NBCSports.com:
"If you look at his skill-set and where football is at this day and age, he's a great vision of what the QB position is right now," Roth said of Zaire's abilities. "Sixteen of the top 25 teams in the country run a spread offense. The game has changed and the quarterback position has changed from just being a big guy that can throw the football to a quarterback that's one of the best athletes on the field. That's Malik."
With the way dual-threat quarterbacks have taken over college football, Notre Dame may have that explosive guy to help add a spark to its offense.