10 College Football Players Who Made the Right Call to Forgo NFL Draft
Kevin C. Cox/Getty Images

College football players across the country had to make a difficult decision on whether or not to stay in college or skip to the NFL. There were a total of 75 underclassmen this year that made the decision to leave college, which shattered last year's record of 65 guys leaving for the next level. But while many thought it was time, there were also plenty of others who decided to stay in school and tweak a few things.
There are a lot of factors that weigh into such a tough decision, and the ultimate choice could either make or break these kids' future. If you leave prematurely, your draft stock could take a serious hit, and there is a good chance you won't be selected as high as you were hoping. Sometimes, it is best to wait things out, return to college and spend another year working on your craft.
While the list isn't nearly as long as the guys who won't be back next year, here are 10 players who made the best decision by returning for their senior season.
Begin Slideshow

»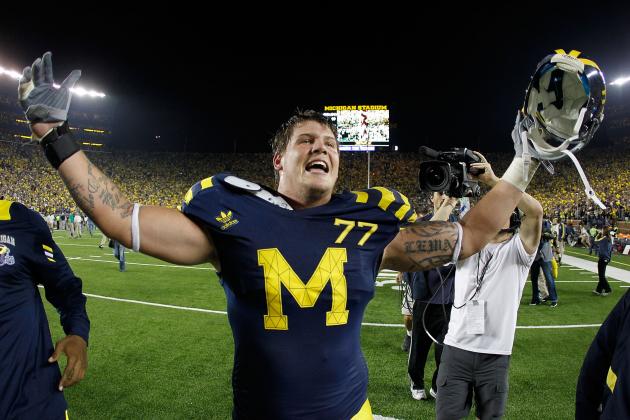 Gregory Shamus/Getty Images

Taylor Lewan was going to be a first-round pick and could have been the first offensive lineman taken in the draft. The way he controlled South Carolina's Jadeveon Clowney in this year's Outback Bowl solidified his draft stock as a legitimate NFL prospect.
However, Lewan and his decision to stay in school is something you don't see every day. It should be respected and it could pay dividends in the recruiting process, as 5-star running back Derrick Green could soon decide to become a Wolverine. This is a move that inspires the rest of the program and really makes you admire all of the good things about college sports.
Did Lewan turn down millions of dollars? You bet. Could it come back to bite him in the rear end? Absolutely.
But never mind all of that. This decision was much bigger than one player and could have an impact on the Michigan program for years to come.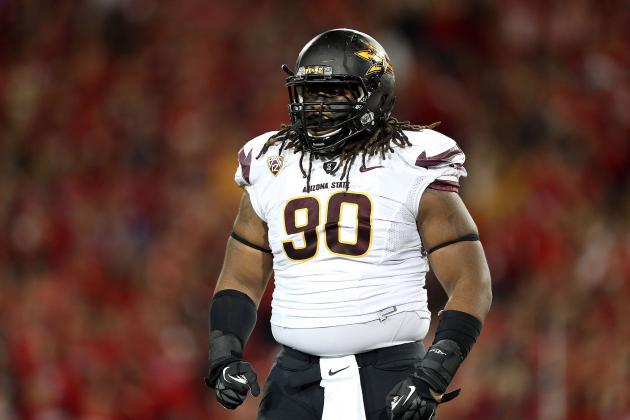 Christian Petersen/Getty Images

Will Sutton doesn't get as much shine as he should because of the team he plays on. But regardless of how his team performs, this is somebody who has the potential to become a very good defensive-tackle prospect. He has a relentless motor, plays with great power and, when healthy, Sutton is easily one of the better defensive players in the Pac-12.
ESPN draft guru Mel Kiper Jr. actually believes Sutton had the potential to be one of the better defensive tackles in this year's draft and could've been the fourth player taken at the position. But he has only had one great year at the collegiate level, which is why guys like Sharrif Floyd and John Jenkins may have gone ahead of him.
If Sutton can produce the way he did last season and continue to make a name for himself on the big stage, this Sun Devil could be taken as high as the first round next year.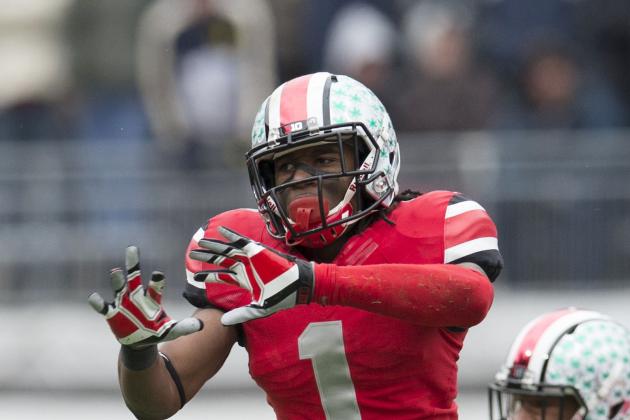 Greg Bartram-USA TODAY Sports

It is not very often when a redshirt sophomore throws his name into the hat for the draft, but Buckeye cornerback Bradley Roby was strongly considering doing just that. It is a good thing he decided to return to school because he can drastically improve his stock with another season.
Although Roby has only been on the field for two years, he has quickly built the reputation as being one of the best shutdown corners in the country. He led Ohio State with 17 passes defended and his terrific ball skills resulted in two interceptions, one of which was taken back for a score. He rarely gets beaten for a big play and is just as productive on special teams with his elusiveness in the open field.
Now that Ohio State is no longer banned from postseason play, this is a program that will receive a lot more attention in 2013. Roby likely will as well.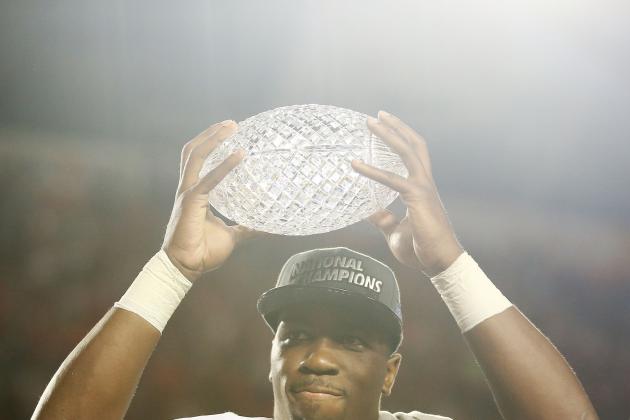 Streeter Lecka/Getty Images

C.J. Mosley was going to be taken high if he had entered the draft this season, but he has the potential to be taken higher when he leaves for the 2014 draft. With Alabama players such as Dee Milliner and D.J. Fluker leaving early and Chance Warmack graduating, it appeared that Mosley was kind of the forgotten man.
The Alabama linebacker has that great combination of size and athleticism, but it is his intelligence on the football field that helps him stand out. It doesn't take long for Mosley to find the ball-carrier, and he always takes the right angle to cut him off and limit the big play. He reads and reacts quickly to the football and lets his natural instincts take over.
Mosley will now be the leader of this Alabama defense and should receive the majority of the love this season. He is coming off of winning the defensive MVP of the BCS National Championship Game and should build on that momentum with another strong year.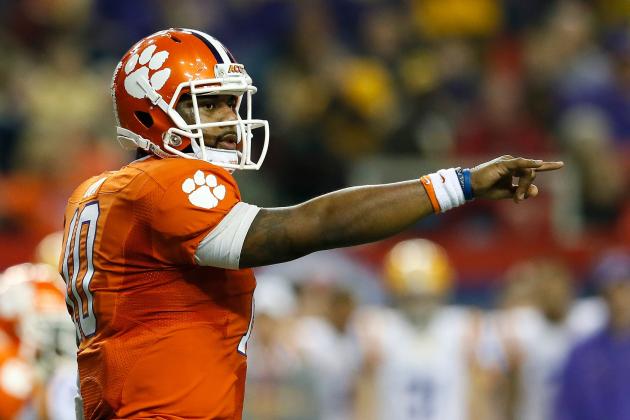 Kevin C. Cox/Getty Images

Tajh Boyd would have been foolish to leave because he had little-to-no draft buzz. He has been up and down throughout his career at Clemson and really didn't have enough big moments that would "wow" an NFL scout.
Skill-wise, Boyd has a lot of potential, as he is a dual-threat quarterback, but he usually looks to pass before taking off and making a play with his feet. He has a great feel in the pocket, throws the ball with tremendous velocity and is one of the tougher quarterbacks in the country due to his thick build at 6'1", 225 pounds.
The Clemson quarterback still needs to improve his footwork and make more of a name for himself with his best season yet. He is off to a great start with a victory over the LSU Tigers in last year's Chick-fil-A Bowl. If he can continue to improve, Boyd could be that somewhat nontraditional quarterback that makes a splash at the next level.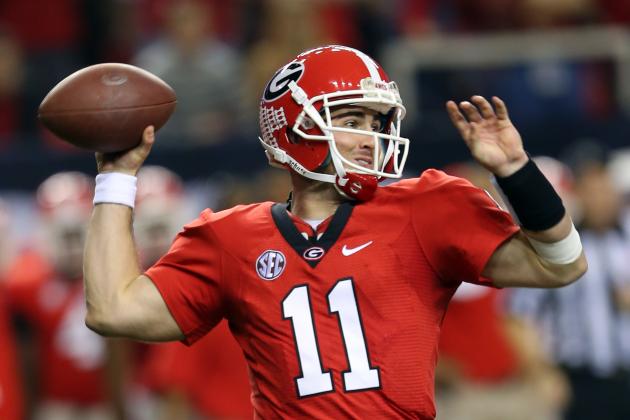 Mike Ehrmann/Getty Images

Aaron Murray can really take that next step and improve his draft stock during his senior year. He stands strong in the pocket, delivers a powerful throw and, despite not being the most athletic quarterback in the world, has a great feel in the pocket.
The problem is that he has a long history of folding in pressure situations and can never seem to get the job done against the elite teams in the SEC. Scouts everywhere have begun to question his mental toughness and wonder if he truly has what it takes to hack it in the NFL. Along with his lack of height at 6'1", this is the biggest area of concern, and Murray will continue to be doubted until he can step up in big games.
The Georgia quarterback has many things to like and could be the first player at his position taken in 2014. We just need to see him finally get over the hump and not cave when the situation gets a little hairy.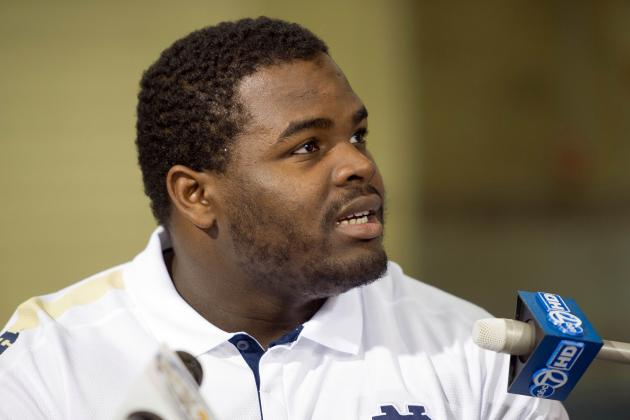 USA TODAY Sports

Louis Nix had a chance to make a name for himself this year, but now with Manti Te'o out of the equation, the big boy in the middle of the Irish defensive line should receive a lot more attention.
At 6'3", 326 pounds, Nix has the tremendous size to become a legit NFL defensive tackle. But even with that wide frame, he is known for having a high motor that allows him to chase down ball-carriers and make plays that you usually wouldn't see from such a massive guy. At times, he will explode off the ball and show that he can be more than just somebody who clogs up running lanes.
The Notre Dame defensive lineman could improve on using his hands, but overall, Nix should sneak into the earlier rounds with another wonderful season in South Bend.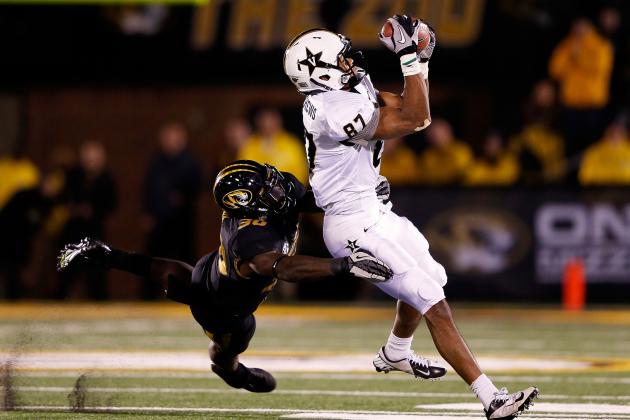 Jamie Squire/Getty Images

If you haven't heard of Jordan Matthews yet, he has given you one more year to get to know him. The Vanderbilt wide receiver finished last season with 94 receptions for 1,323 yards and caught eight touchdowns.
At 6'3", 205 pounds, Matthews has a sturdy, tall build that gives him a huge advantage over most cornerbacks and makes him the ultimate red-zone threat. He isn't much of a speedster, but he does run great routes, and with his large paws, he is about as sure-handed as you will find. He's really a consistent wideout who has the upside to develop into more of a complete prospect.
Now that Matthews has earned some attention his junior year, we should see a spike in interest when it comes to the Commodores' wide receiver. Just as Clemson receiver DeAndre Hopkins drastically improved his stock in 2012, we may see it with this guy next season.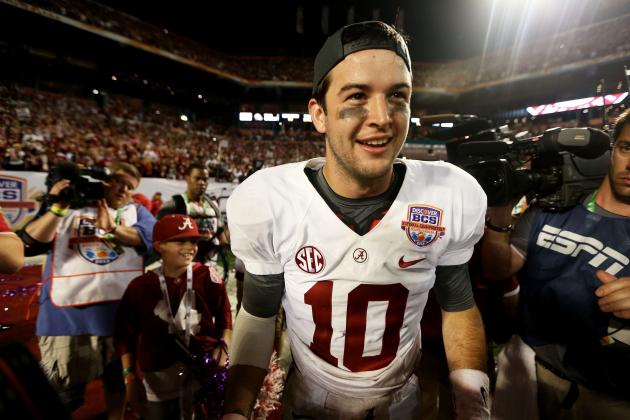 Streeter Lecka/Getty Images

At one point, AJ McCarron was a Heisman candidate before leading his team to a second straight national-championship victory. Usually, that is good enough to earn a top pick and become the next big thing at the quarterback position.
However, McCarron is kind of in a different boat. He was surrounded by tremendous talent and wasn't asked to do much, as his 314 pass attempts were good for ninth among SEC quarterbacks. Although he had a wonderful season and made better decisions with the ball, scouts would love to see him continue to play well and do a little more to lead his team.
McCarron has shown he has the accuracy, above-average arm strength and top-notch mechanics. Now it is time to see how well he can play behind a revamped offensive line and with a little more of the workload resting on his shoulders.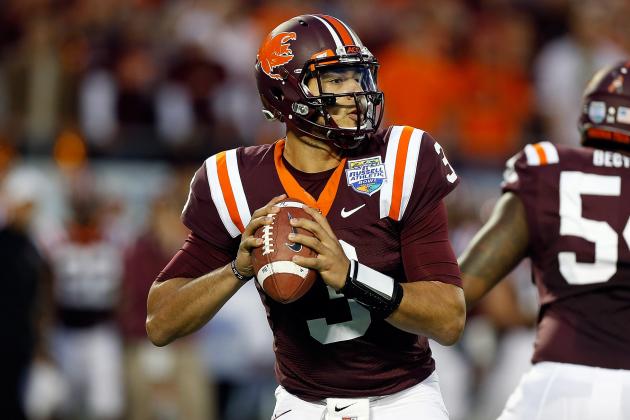 J. Meric/Getty Images

Remember when Logan Thomas was going to be the next Cam Newton and supposedly had more upside than any quarterback in college? Throwing 16 interceptions to only 18 touchdowns and leading your team to six losses can change everybody's opinion quickly.
Thomas had no choice but to return for his senior season because he wasn't going to be picked above guys like Matt Barkley, Geno Smith or Tyler Wilson. Upside or not, the Virginia Tech signal-caller looked absolutely terrible last year and showed that he has a lot to work on before he plays at the big-boy level.
If the Hokies' quarterback can improve on his decision making and accuracy, this is a player who can win everybody over again. He will have the most to prove in 2013, as an exceptional season will be the difference between a first-round selection and falling off the radar as an afterthought among prospects.