Tennessee Volunteers vs. Kentucky Wildcats: Live Score, Updates and Analysis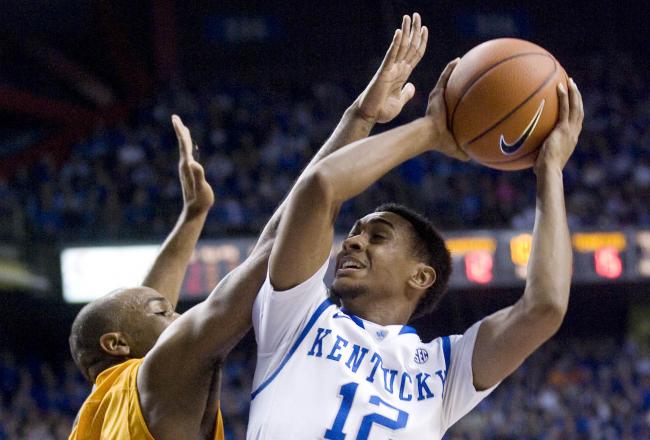 Mark Zerof-USA TODAY Sports
The Kentucky Wildcats (11-5, 2-1 SEC) was able to pull away late from rival Tennessee Volunteers (8-7, 0-3 SEC) Tuesday night at Rupp Arena for a 75-65 win.
Kentucky got an impressive game from Kyle Wiltjer as he poured in 17 points off the bench, most of which came down the stretch to help protect the lead for Kentucky.
Tennessee was able to overcome almost no contribution from Jarnell Stokes, just four points and five rebounds, to take the lead with seven minutes remaining in the game, However, Kentucky used Wiltjer and star-freshman Nerlens Noel to propel them to the win.
Noel finished with 12 points, nine rebounds, four steals and six blocks in what seemed to be another ho-hum day at the office for the top recruit.
Jordan McRae finished with 23 points for the Volunteers, the fourth time in a row he's scored over 20 points.
Well guys and gals, that will do it for tonight. This 75-65 victory could turn into the game Kentucky looks at that changed its season around if Kyle Wiltjer and Julius Mays can contribute off the bench like that.
John Calipari and the Wildcats head to Auburn on Saturday while Tennessee will look for it's first win in conference play against Mississippi State on Saturday as this is the third game in a row the Volunteers have let slip away after holding a lead late in the second half.
As always keep checking with us here at Bleacher Report for the latest on the SEC and all things college basketball!
If Kentucky wants to make a run in the NCAA Tournament, this can't be a statement made too often:
Great to see two guys who couldn't buy a bucket the last month, Wiltjer and Mays, hit huge shots down the stretch

— Matt Jones (@KySportsRadio) January 16, 2013
This is something Tennessee fans need to keep an eye out for. Golden was a mess tonight, committing five turnovers. This is someone who needs to be ready to attack presses if the Volunteers want success in the SEC.
I can't tell you what's going on with Trae Golden other than the shoulder. I'm baffled. So is Golden. So is everyone else.
— Wes Rucker (@wesrucker247) January 16, 2013
This is probably a fair statement this year. Also, helps to have very good scorers in Elston Turner and Jordan McRae.
No fear with opposing teams going into Rupp this year after watching Texas A&M pull upset and Tennessee take UK down to wire.

— Jeff Goodman (@GoodmanCBS) January 16, 2013
FINAL: Kentucky 75, Tennessee 65
Alex Poythress pulls down the final rebound for Kentucky as they hold on to defeat Tennessee by 10. Impressive game for Kyle Wiltjer as he scored 17 points off the bench for the Cats.
Kentucky 71, Tennessee 65 (42.7 second half)
Huge call coming up for the refs as Julius Mays was called for an offensive foul, similar to Skylar McBee's call in the first half. Could be an intentional foul giving Tennessee life again.
Kentucky 69, Tennessee 63 (1:25 second half)
Jordan McRae is special. Smart play getting the ball and attacking the rim with Julius Mays on him to get to the free throw. Only hit one free throw, but got the lead to two possessions. He might be the most underrated scorer in the country.
Kentucky 69, Tennessee 62 (1:37 second half)
It's currently the Kyle Wiltjer show at Rupp Arena. Two inside buckets, including a nice drive for a layup and a blocked shot has extended the Wildcats lead. Wiltjer also fouled out Jarnell Stokes and hit one of the two free throws. How good is this Kentucky team when Wiltjer is playing like this?
Kentucky 64, Tennessee 58 (3:51 second half)
This may be a fair question to ask about Nerlens Noel. Also, might be fair to ask about Jordan McRae:
If your definition of "valuable" is "Where would they be without him?" there can't be 5 more valuable guys in CBB than Nerlens Noel.

— Brett Dawson (@BDawsonRivals) January 16, 2013
Kentucky 64, Tennessee 58 (3:51 second half)
Kyle Wiltjer has shown up to play tonight for Kentucky. Just made a great pass to Julius Mays for a three. When the ball is in his hand good things tend to happen. This needs to be a consistent statement for the Cats down the stretch. Also, Tennessee needs Jordan McRae to come alive to come back from this deficit.
Kentucky 61, Tennessee 56 (4:59 second half)
Is there a more important player to their team than Nerlens Noel is to Kentucky?
Kentucky 56, Tennessee 56 (6:47 second half)
I may have answered my own question as how will Kentucky responds thanks to Tennessee's Yemi Makanjuola fouled out. Tennessee's interior defense is now next to nothing due to foul trouble. Kentucky exploited that as Nerlens Noel rebounded his own free throw miss for a dunk. Expect a lot of action at the rim for Kentucky now.
Tennessee 54, Kentucky 53 (7:05 second half)
Don't look now but Tennessee is now in the lead thanks to Jordan McRae's passing. Derek Reese hit a shot behind the arc for the lead. Will be interesting to see how Kentucky responds now in it's third straight close game.
Kentucky 53, Tennessee 51 (7:54 second half)
Just because this has been a game of two average teams doesn't mean it hasn't been a rivalry game. These two teams just don't like each other:
Nerlens Noel, everybody. Meanwhile, Trae Golden and Julius Mays love talking to each other so much, the referees have to separate them.

— James Pennington (@pennington_jl) January 16, 2013
Kentucky 53, Tennessee 49 (8:30 second half)
Call it writer's jinx. After calling Jarnell Stokes MVP for Tennessee early in the game, he's scored two points and is sitting on the bench with four fouls while Nerlens Noel has scored seven points in the second half and is starting to get in a rhythm of blocking shots.
Kentucky 49, Tennessee 47 (9:52 second half)
Both teams in the bonus as Goodwin picks up his third foul on a blocking call against Jordan McRae. Alex Poythress next one up to guard McRae.
Kentucky 47, Tennessee 47 (10:47 second half)
Kentucky forced to call a timeout after Jordan McRae hit a jumper over Archie Goodwin to tie the game. Kentucky can't guard him. McRae is too tall for Goodwin and too fast for Poythress. Not sure what their answer is going to be going forward for him defensively.
Kentucky 47, Tennessee 45 (11:35 second half)
Kentucky has its second shot clock violation of the game and Tennessee isn't even in a zone. Cats just look slow offensively. A little surprised to see Tennessee not go to a zone with Stokes out of the game.
Kentucky 47, Tennessee 43 (12:10 second half)
Kentucky starting to show signs of youth as they have started to pick up some cheap fouls while not moving on offense. Larry Vaught says what Kentucky fans seem to have to think every game:
Seems like UK has missed chance to open a good margin. Instead, leads on ly 47-43 at 12:10

— Vaughts' Views (@vaughtsviews) January 16, 2013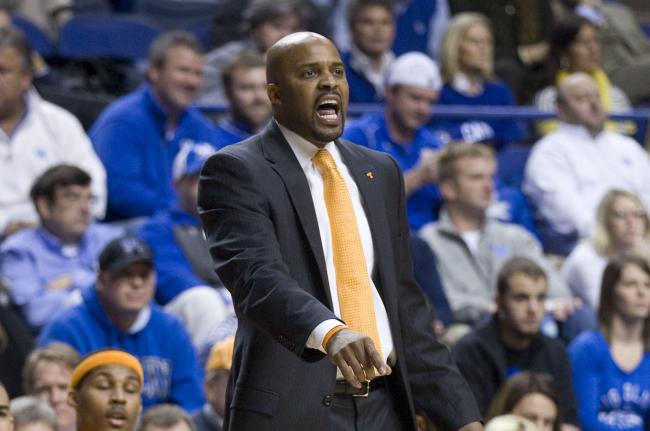 Kentucky 47, Tennessee 41 (12:30 second half)
Refs starting to call the game a little closer and that causes Jarnell Stokes to pick up his fourth foul for Tennessee. This game now rests on Jordan McRae doing his best Chris Lofton imitation.
Kentucky 47, Tennessee 41 (12:38 first half)
SEC coaches currently talking about how hard it is to play in Rupp Arena in a promo for ESPN. Personally, I think Rupp is slightly overrated and this is why:
Cats tie up Tennessee. Arrow stays with Vols, but some energy out of the UK players on the floor. Crowd follows suit.

— Brett Dawson (@BDawsonRivals) January 16, 2013
Kentucky 47, Tennessee 41 (12:41 second half)
Nice sign for Kentucky this game has been Alex Poythress' game. He currently has eight points and five rebounds and most of the rebounds have been in traffic. This is the guy who needs to show up game in and game out for Kentucky to be a serious contender this year.
Kentucky 45, Tennessee 37 (13:55 second half)
Big cause of concern for Tennessee currently: Trae Golden. He has five turnovers so far this game and just looks unsettled. While he has confidence, he just seems like he doesn't want to see any of Kentucky's press. One main thing you can't do as a point guard is shy away from a pressing team.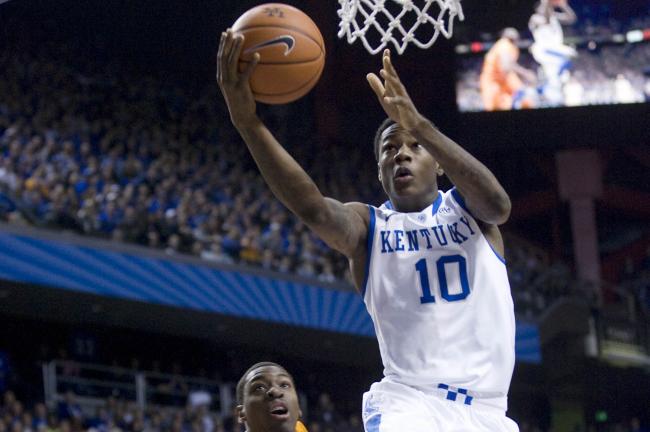 Kentucky 45, Tennessee 37 (14:30 second half)
Game is starting to get out of hand for Tennessee. Nerlens Noel just finished an and-1 off a sweet pass by Kyle Wiltjer. Jarnell Stokes needs to come back in here soon for Tennessee.
Kentucky 42, Tennessee 37 (15:00 second half)
Kyle Wiltjer drawing a shooting foul showing one of his post moves. The call has Tennessee fans asking this:
Said this before, I'll say it again: This might be a good time for the first tech of Cuonzo Martin's coaching career.

— Wes Rucker (@wesrucker247) January 16, 2013
This article is
What is the duplicate article?
Why is this article offensive?
Where is this article plagiarized from?
Why is this article poorly edited?

Kentucky Wildcats Basketball: Like this team?