The One Thing Each Red Sox Player Hopefully Improved This Offseason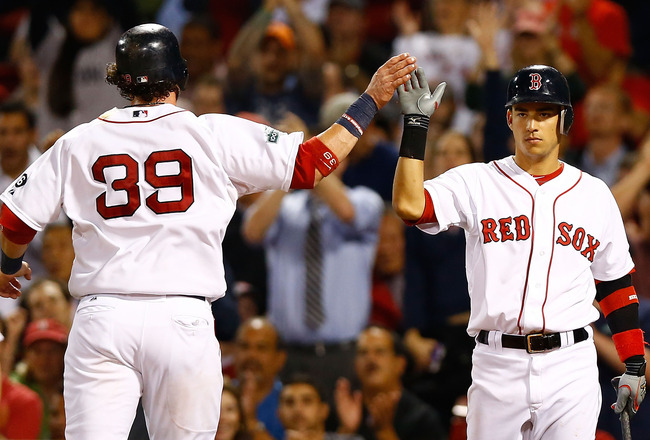 Jared Wickerham/Getty Images
The 40-man roster for the Boston Red Sox is complete, but the one thing that still needs to be decided is whether or nor Mike Napoli will be on it come spring training.
That being said, most of these players have a shot at making the 25-man roster once the season starts, and it all comes down to what they worked on in the offseason.
From conditioning to being more disciplined at the plate, the Red Sox roster needs to be ready for the long haul when it comes to the 2013 season.
All stats from MLB.com
Alfredo Aceves, RP: Attitude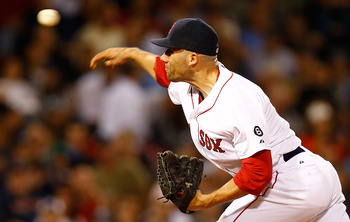 Jared Wickerham/Getty Images
Alfredo Aceves was thrust into the closers role in 2012 and did not do that bad during stretches, but overall did not perform well enough to be the permanent Boston Red Sox closer.
The 30-year-old finished with a 2-8 record and a 5.36 ERA in 69 games. He was used as a mop-up guy for the last month or so, and had some problems with manager Bobby Valentine.
There were several occasions where Aceves lost his cool.
There was the time he was suspended before the trip to Los Angeles where he got into a heated argument with Valentine when he was not used as a closer in a game.
Also, there was the time he avoided Valentine like the plague when he came to get him after a bad outing in August.
Last of all, there was the fight between Aceves and Dustin Pedroia later in the season.
All this fighting needs to stop and Aceves needs to look deep within himself and figure out how to handle his anger issues.
Andrew Bailey, RP: Acceptance of His Role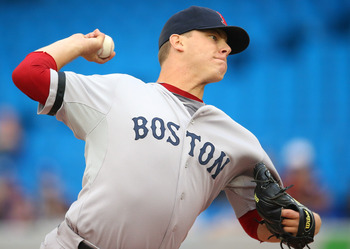 Tom Szczerbowski/Getty Images
Ben Cherington traded for Andrew Bailey before the 2012 season to be the closer, but the Boston Red Sox recently acquired Joel Hanrahan to take over as the closer to solidify the back end of the bullpen.
The 28-year-old finished 1-1 with a 7.04 ERA and blew three of his nine save opportunities.
Bailey did not really have any success in 2012 after coming back from the thumb surgery that kept him out until the end of August.
The right hander has the potential to be great trade bait or setup guy if he accepts the role, and he needs to be on board with Cherington's role moving forward.
Daniel Bard, RP: Control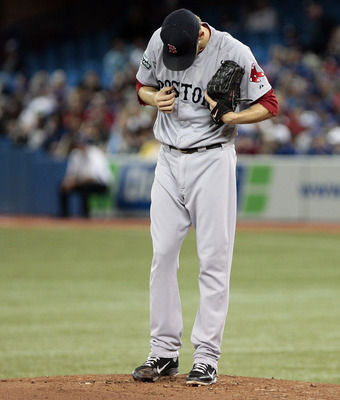 Abelimages/Getty Images
Daniel Bard had trouble at the Triple-A and major league level with his control in 2012 after starting off the 2012 season as a member of the starting rotation for the Boston Red Sox. He could not get batters out and finished with a total record of 8-8 with an ERA north of 6.50 between the two locations and four blown saves in four chances in Pawtucket.
The worst thing about the 27-year-old is that he had real trouble controlling his high-90s fastball. He walked a grand total of 72 batters in 91.1 innings pitched. He really started to become unsafe when he started constantly hitting batters with his fastball. He hit two batters in his final start with the Red Sox on June 3 and totaled 18 hit batters in his 91.1 innings pitched.
Something is wrong with Bard mentally and he needs to work on getting that right before he can return to any sort of role with the Red Sox in 2013 and beyond.
Craig Breslow, RP: Endurance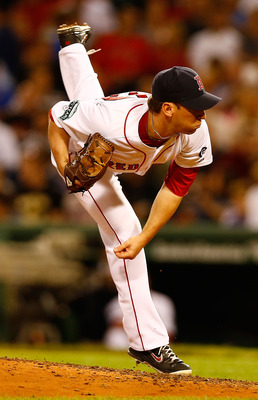 Jared Wickerham/Getty Images
Craig Breslow really had it going in 2012 with the Boston Red Sox.
He finished the season with a 3-0 record and a 2.70 ERA in 63.1 innings pitched in 63 games.
John Farrell and Ben Cherington need to look over this roster for the best lefty available. Breslow can put together a great two- or three-month stretch and the Red Sox should utilize his ability to pitch out of the bullpen so often.
Breslow is only 32 and can pitch to more than just lefties. His career high of 74.2 innings pitched only came a couple seasons ago and the Red Sox need to match that or exceed it in order to get the most out of the reliever.
Clay Buchholz, SP: Conditioning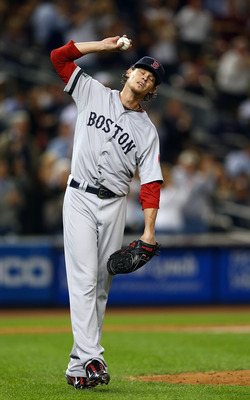 Elsa/Getty Images
Clay Buchholz had an up-and-down season in 2012, but finished tied with a team high 11 wins and a starter's low ERA of 4.56.
He bounced back from a horrid start that had his ERA above 8 during the start of the season after recovering from a back injury in 2011.
What the 28-year-old needed to work on this winter was his ability to stay on the field and conditioning was what he needed to spend his offseason doing.
Chris Carpenter, RP: Control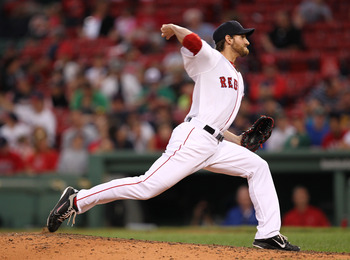 Mark L. Baer-USA TODAY Sports
Chris Carpenter did not make many appearances for the Boston Red Sox in 2012, but in order to make the roster in 2013 he will need to limit the walk total
He walked 10 batters in six innings and had an ERA of 9.00 while with the big league club.
In 21.2 innings with the Pawtucket Red Sox, he also walked 10 batters, but limited the damage to a 2.08 ERA over 21 games and four starts. He also was a perfect 4-for-4 in save opportunities.
Once he can limit the damage when he walks batters, or just doesn't walk over a batter an inning, Carpenter will be a permanent staple in the Red Sox bullpen.
Pedro Ciriaco, IF: Patience at the Plate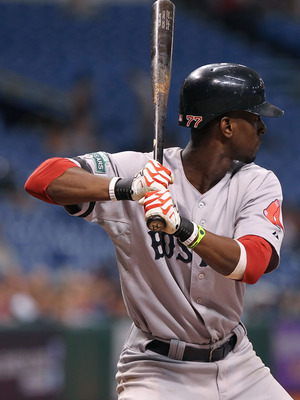 Kim Klement-USA TODAY Sports
Pedro Ciriaco had a huge surge on this team after the blockbuster trade with the Los Angeles Dodgers and the injury to Will Middlebrooks.
He played really well against the New York Yankees and stole 16 bases in 19 attempts, but had trouble finding his way onto the base paths other than a base hit.
The 27-year-old only walked eight times in 76 games and his OBP was .315 compared to a .293 batting average.
Ciriaco will likely be the utility player on this team in 2013. What would really impress the Red Sox brass is the ability to walk when his bat slows down.
Ryan Dempster, SP: Strikeout Pitch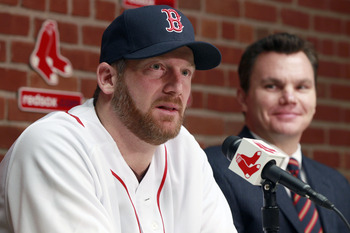 Greg M. Cooper-USA TODAY Sports
Ryan Dempster struggled with striking out batters in 2012. He finished with 153 K's in 172 innings pitched.
Over the past five seasons, this was the lowest total since 2007 when he was the closer for the Chicago Cubs.
He has been able to compile 191 strikeouts in 2011 and 208 in 2010, and that ability will be a great asset to have in the middle of the rotation especially in the powerful AL East.
Felix Doubront, SP: Strength of His Arm
Kim Klement-USA TODAY Sports
Felix Doubront lost some steam towards the end of the season and pitched a career-high with 161 innings and tied a season high for the Boston Red Sox with 11 wins.
The 25-year-old allowed 24 home runs in 29 starts and just needs to work on strengthening his arm to work up to the 200 innings threshold that all starting pitchers hope to be at by the end of the season.
Doubront will likely be able to pitch late into the season in 2013 and will be one of the keys to the Red Sox success going forward.
Stephen Drew, SS: Conditioning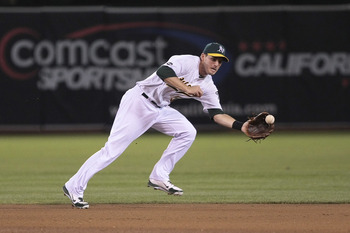 Kelley L Cox-USA TODAY Sports
Stephen Drew will be the new Boston Red Sox shortstop for the 2013 season. He will be the gap player until Jose Iglesias or Xander Bogaerts are ready for the position full time.
Drew has played less than 100 games each of the last two seasons and needs to be on the field to perform at 100 percent.
The former Oakland A needs to put all his power in making sure he stays healthy for a full season, and that he doesn't tweak any of his previous injuries because the Red Sox aren't ready to rely on Iglesias as the main shortstop.
Jacoby Ellsbury, CF: Power Swing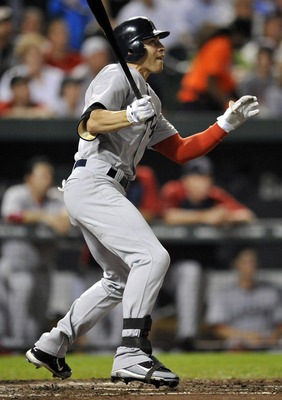 Joy R. Absalon-USA TODAY Sports
Jacoby Ellsbury is heading into a contract year. It is his duty to figure out exactly how to bring back that power stroke he had in 2011 when he hit 32 homers and drove in 105 RBI.
Ellsbury has had trouble staying on the field due to freak injuries from running into players or players landing on him. Last year's shoulder injury was not his fault, but it definitely affected his swing. He finished 2012 with four homers and only 32 extra-base hits in 303 at-bats.
Yes, he is only 29 years old, but he needs to figure out what type of batting stance and swing will be the best at his leadoff position, and the offseason is the perfect opportunity to do so.
Jonny Gomes, LF: Approach Against Righties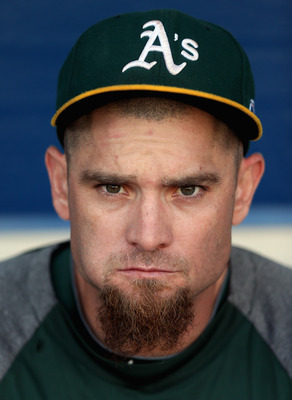 Ezra Shaw/Getty Images
Jonny Gomes is a slugger who hits from the right side of the plate, and is an absolute beast against lefties.
However, if he is going to be the main left fielder, then he will have to also be able to hit against right handers.
The California native only hit .209 in 115 at-bats against righties in 2012.
The only plus is the fact his power still can come from when either a lefty or righty face him. He hit 11 home runs off of lefties and seven off of righties.
What Gomes needs to do is find a solid right-handed batting practice pitcher and work from that.
Mauro Gomez, 1B: Swing for the Fences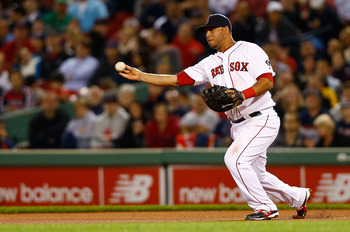 Jared Wickerham/Getty Images
Mauro Gomez will likely be the starting first baseman if the Mike Napoli deal falls through. He needs to be able to bring the 24 home run power he showed in Triple-A to the major-league level.
The young infielder really had trouble with hitting homers in the majors with two home runs in 37 games with the Boston Red Sox in 2012.
The 28-year-old needs to be able to bring his raw power to the professional level in order to be the everyday first baseman for the Red Sox
Joel Hanrahan, RP: Keep It Going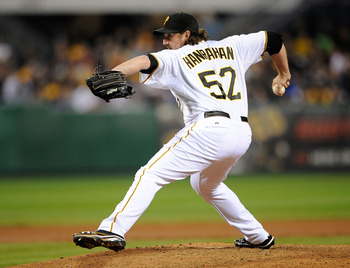 Joe Sargent/Getty Images
Joel Hanrahan has been a monster at the end of the Pittsburgh Pirates bullpen for the past two seasons with a combined 76 saves in 84 opportunities.
This type of productions is what the Boston Red Sox need in 2013 after an abysmal showing in 2012 with only 35 saves in 57 opportunities.
The 32-year-old just needs to show up and continue striking out batters without really walking anyone in order to get the job done.
Jose Iglesias, SS: Hitting, Hitting, Hitting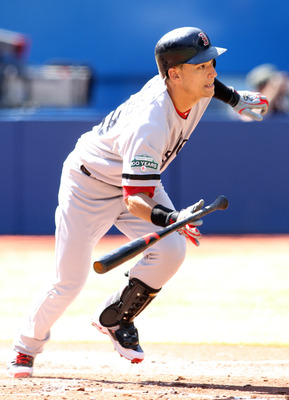 Claus Andersen/Getty Images
In 68 at-bats with the Boston Red Sox in 2012, Jose Iglesias only mustered a .118 average. He hit one home run and drove in a mere two runs. He also only stole one base and walked four times.
What the 23-year-old needs to focus on is to just hit the ball anyway he can. He has the speed to bunt for a hit, but he can't even bunt properly.
Iglesias needs to bat at least .240 to go along with his phenomenal glove in order to be the starting shortstop in 2014.
Ryan Kalish, RF: Health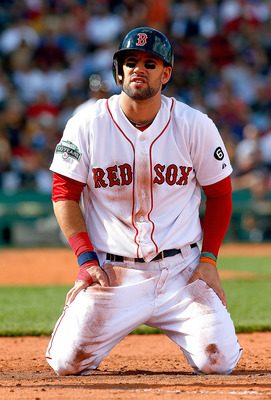 Jim Rogash/Getty Images
Ryan Kalish is in the running to platoon with Jonny Gomes in right field in 2013, but, in order for that to happen, he needs to be on the playing field.
Over the past three seasons, Kalish has only played in 89 games at the major league level due to injury problems. What he needs to realize is that he has to have a full year of minor league at-bats under his belt to be back to his usual self.
With that being said, Kalish will likely be the outfielder who will have to start in the minor leagues to get prepared for later on in the season.
John Lackey, SP: Focused on Rehab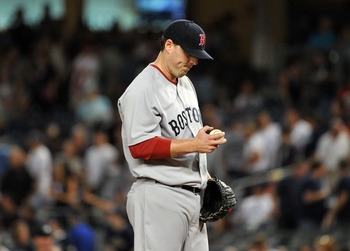 Christopher Pasatieri/Getty Images
John Lackey is a huge X factor for the Boston Red Sox in 2013.
After missing the entire 2012 season to Tommy John surgery, Lackey is entering the fourth year of his current contract with the Red Sox. His arm was obviously tired with a career high 6.41 ERA in 2012 before having the surgery in the offseason.
All the veteran pitcher had to do is work his rehab to the bone and he could be back as a solid fourth starter in this rotation. Ten wins would be a victory for Lackey in 2013.
Ryan Lavarnway, C: Return to the Basics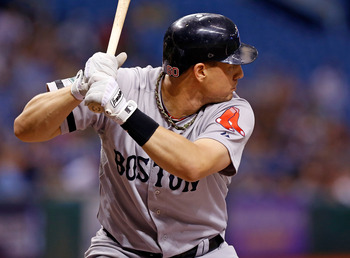 J. Meric/Getty Images
After showing major production in the minors in 2010 and 2011, Ryan Lavarnway took a step back with only eight home runs and 43 RBI in 83 games.
Lavarnway is supposed to be the slugging catcher of the future for the Boston Red Sox, but really has struggled at the major league level. In 63 games, he has batted .172 with four home runs and 20 RBI. He has played great defense, but that is about it.
What the 25-year-old needs to do is go back to hitting basics and figure out what is going wrong with his approach. This will help him realize what he is doing wrong and he can possibly fix it.
Jon Lester, SP: Work on Cutter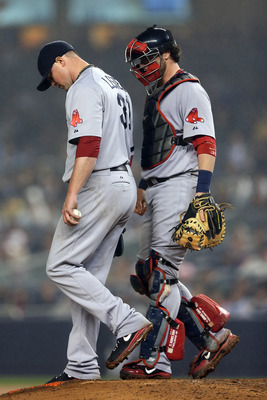 Elsa/Getty Images
Jon Lester struggled with a 4.82 ERA and a 9-14 record in 2012, but most of that was because he backed away from his cut fastball.
I watched every single start Lester made, and when his cutter failed to work for him in the early going, Lester seemed to back away from it and hitters were waiting on his regular fastball.
The 29-year-old has all the potential in the world to be the ace of this Boston Red Sox staff, but needs to go to John Farrell and see what is up with his cutter. This pitch is his bread-and-butter and when it is on and confusing batters, then everything will go right for the young lefty.
Will Middlebrooks, 3B: Cut Down on Swing
Christopher Pasatieri/Getty Images
Will Middlebrooks is a 30-100 guy and he would have come close to those numbers if not for a fastball hitting his wrist.
These kind of numbers are hard to come by, but he could do even better if he could take a couple pitches instead of just hacking away at the plate.
In his rookie campaign, he struck out 70 times in 75 games, which is almost a strikeout per game. This is usually what happens with young sluggers. But what Middlebrooks should have looked at was his last few weeks with the Red Sox when his swing was on and he started hitting the ball after a little mini slump.
Doing this while rehabbing his wrist would help the Red Sox and the 24-year-old going forward.
Andrew Miller, RP: Strengthen Arm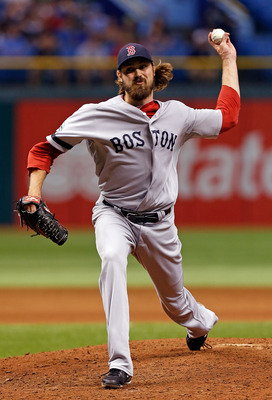 J. Meric/Getty Images
The tall, lanky reliever for the Boston Red Sox really was helpful in 2012 with a 3.35 ERA and 3-2 record out of the bullpen. However, he only pitched in 53 games for a combined 40.1 innings.
The lefty has really come into his own out of the Red Sox bullpen with only 20 walks with 51 strikeouts in 2012 , but he needs to be able to be a long relief guy after being a starter for most of his career.
The 27-year-old should be relied upon for two to three innings at a time, and he has the ability to get the job done if his arm is strong enough.
Franklin Morales, SP/RP: Keep at It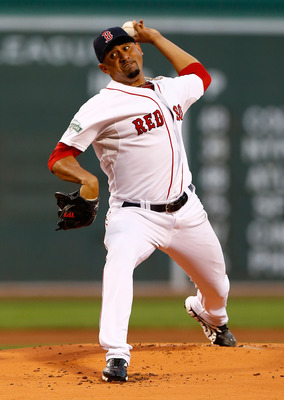 Jared Wickerham/Getty Images
Franklin Morales was another great addition to the Boston Red Sox rotation in 2012.
He started nine games for the Red Sox and got the job done. He finished the season with 37 appearances and a 3.77 ERA in 76.1 innings pitched. He was able to strikeout 76 batters and was really strong as a starting pitcher.
The 26-year-old will be a pitcher that the Red Sox can rely on to spot start, go several innings or just one batter. He has a fastball in the mid-90s and a killer change-up. All that will be able to keep Morales on the 25-man roster after spring training.
Also, be aware that Morales could be in position to be the fifth starter in the near future.
Clayton Mortensen, RP: Control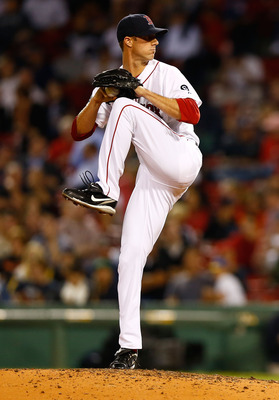 Jared Wickerham/Getty Images
Clayton Mortensen pitched fairly well in 2012 with a 1-1 record and a 3.31 ERA. What will limit his ERA in the future is the number of walks.
Mortensen finished with 19 walks in 42 innings and. while a walk every two innings is really solid, it could be even better if he can get that number down to single digits.
Daniel Nava, Outfielder: Hit Lefties a Little Better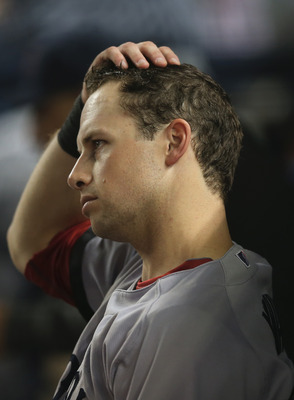 Elsa/Getty Images
Daniel Nava will be in the running for the fourth spot in the Boston Red Sox outfield in 2013 mostly due to the fact he can hit right-handers.
When he was healthy in 2012, he was able to hit .269 in 186 at-bats. He finished with a .185 average in 81 at-bats, but also hit three of his six home runs off of lefties.
This type of split in numbers is something that makes Nava the perfect fit to platoon with Jonny Gomes in right field, but only of he can hit off those lefties in the later innings.
Luckily, for Nava, he is a switch hitter.
David Ortiz, DH: Strengthening and Conditioning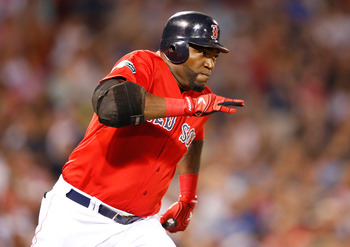 Jim Rogash/Getty Images
Other than one game in August, David Ortiz' last time really fully healthy was when he was rounding the bases after an Adrian Gonzalez home run in July.
The 37-year-old DH has been a huge powerhouse in the middle of the Boston Red Sox order for a decade now, and they could use him for a good chuck of his next two seasons to get back into the postseason before he retires.
What Big Papi needs to do is make sure to do a bunch of exercisers, and be as fit as can be when coming back from his Achilles injury. Whether that means taking a load off for awhile until the swelling goes down or just doing a bunch of slow exercises to get back to full strength, Ortiz needs to realize he doesn't recover as fast as he used to.
Dustin Pedroia, 2B: Resting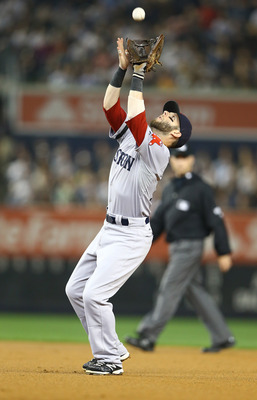 Al Bello/Getty Images
Dustin Pedroia is one of those ball players who just keeps going and going. But with several injuries during the regular season, he needed to get back to 100 percent by resting up for the 2013 season.
Pedroia puts 110 percent into every play and that can lead to multiple injuries. In 2010 he played in only 75 games due to a couple injuries. In 2012 he missed only 21 games, but he is only getting older with time and could take longer to heal going forward.
David Ross, C: Patience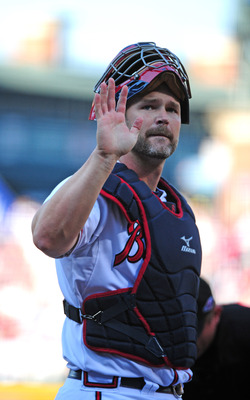 Scott Cunningham/Getty Images
Another batter on this Boston Red Sox team who needs to be more patient at the plate is newly-acquired catcher David Ross.
Ross walked only 18 times in 62 games in 2012. He also struck out 60 times in those games and hit only .256 in 176 at-bats.
The 35-year-old will be the backup catcher to either Jarrod Saltalamacchia or Ryan Lavarnway depending on if there is a trade or not. This means he could get 70 or more games and the Red Sox need some offensive output from the catcher position.
Jarrod Saltalamacchia, C: Cut Down on Swing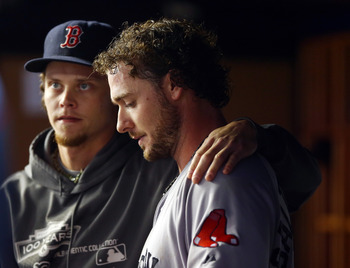 Elsa/Getty Images
Jarrod Saltalamacchia really struggled for most of the season with strikeouts and getting a base hit in general.
A career high 25 home runs and 59 RBI in 2012 was the main benefit of all the playing time for the switch-hitting catcher. However, he struck out 139 times in 121 games and hit only .222 in 405 at-bats.
This type of production is not something the Boston Red Sox need out of their catcher. He needs to work on cutting down his upper cut swing a little bit to get a higher average and lessen his strikeout rate.
Junichi Tazawa, RP: Keep It Going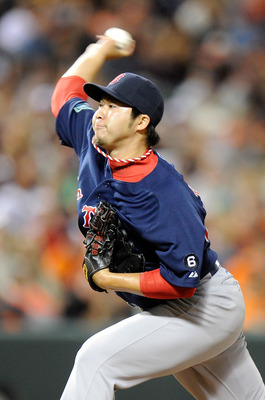 Greg Fiume/Getty Images
Junichi Tazawa is another arm in the Boston Red Sox bullpen who really helped the Red Sox in limited time.
The 26-year-old finished 2012 with only 44 innings pitched in 37 games, but his 1.43 ERA and five total walks with the Red Sox really helped his cause.
What will decide Tazawa's fate is whether or not his success continues in spring training this year, and that will all depend on whether or not his routine stays the same.
Koji Uehara, RP: Scouting the AL East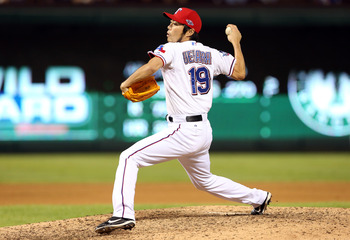 Ronald Martinez/Getty Images
Coming from Texas to Boston is really the only tough part for Koji Uehara. He will have to face strong lineups almost all season long in the AL East, and I doubt his ERA will be below 2.00 for the second straight season.
The 37-year-old needs to look at every player on the teams he will see multiple times in 2013 and make sure he knows how to deal with these players in different situations. Luckily, he doesn't walk many batters with a total of 29 walks in 211.2 innings.
Shane Victorino, RF: Hit the Ball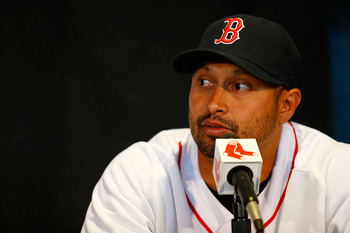 Jared Wickerham/Getty Images
Shane Victorino was an expensive replacement for Cody Ross, and he needs to make sure he is able to hit in the AL East.
The 32-year-old has had past success against the teams in the AL East, but a .255 average won't do. He needs to hit at least .285 to have a successful 2013 season with the Boston Red Sox.
In order to do that, Victorino needs to go to the batting cages a lot more this offseason and alter his approach for Fenway Park.
Keep Reading

Boston Red Sox: Like this team?