Every MLB Team's Player on the Verge of Becoming an All-Star in 2013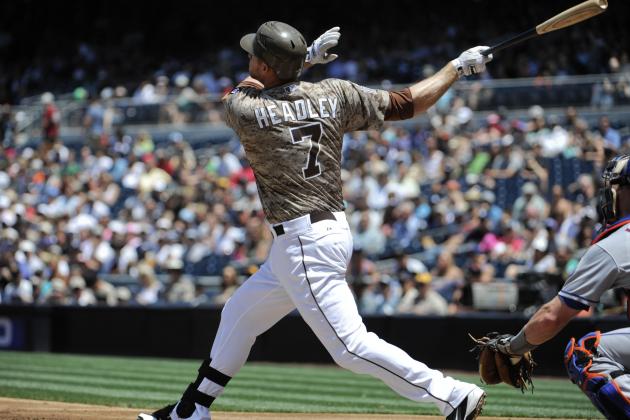 Denis Poroy/Getty Images

The season hasn't even started and we're still a whole six months from the All-Star break, but even now it's fun to look at how the All-Star rosters could shape up in the season ahead.
Aside from which players are snubbed, the biggest story surrounding the All-Star Game rosters is always who receives the honor for the first time.
Here is a look at the one player on each team who has the best chance of being a first-time All-Star this coming season.
Begin Slideshow

»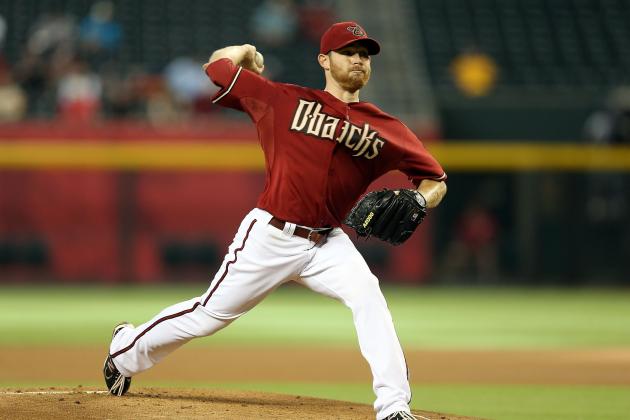 Christian Petersen/Getty Images

A first-round pick and top prospect with the New York Yankees, Ian Kennedy joined the Arizona Diamondbacks in the three-team trade that also included Curtis Granderson, Austin Jackson, Max Scherzer and Austin Jackson, among others.
After a solid first season in the Arizona rotation, Kennedy emerged as a legitimate Cy Young candidate in 2011 when he went 21-4 with a 2.88 ERA to finish fourth in voting.
He took a step back last season in going 15-12 with a 4.02 ERA, but he is in the prime of his career at 28 years old. If he can approach his 2011 numbers, he'll have a good chance at earning an All-Star nod.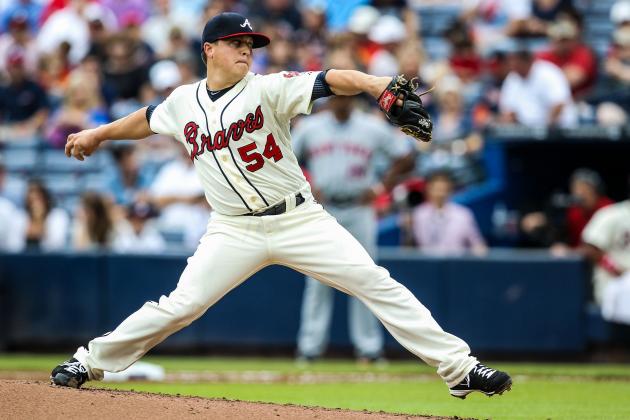 Daniel Shirey/Getty Images

Kris Medlen opened the 2012 season in the Atlanta Braves bullpen, posting a 2.48 ERA over 38 appearances before injuries forced him into the rotation.
He took off from there, going 9-0 with a 0.97 ERA in 12 starts as he was legitimately the best pitcher in all of baseball in the second half.
It's far fetched to expect him to match those numbers this coming season, but he showed ace-caliber stuff and could continue his break through this season.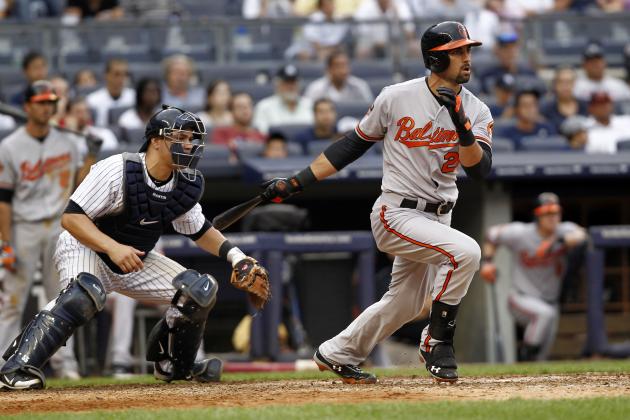 Jeff Zelevansky/Getty Images

Honestly, I was surprised to see that Nick Markakis has never been an All-Star, as he's long been one of the more consistent and productive outfielders in the American League.
Injuries limited him to just 104 games last season, but he should be healthy for the year ahead. While he does not have premiere power, his .834 OPS last season speaks to his value when he was on the field.
With an improving roster around him, the 29-year-old Markakis appears to be in a great position to have a career year as long as he can stay healthy.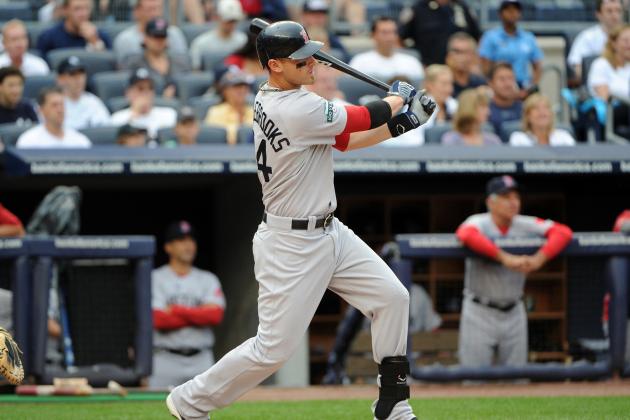 Christopher Pasatieri/Getty Images

Will Middlebrooks opened the 2012 season in Triple-A and hit .333 BA, 9 HR, 27 RBI through 24 games before an injury to Kevin Youkilis opened up a spot in the big leagues for him.
He adjusted quickly to life in the majors and wound up playing the veteran Youkilis right out of Boston, as Youkilis was traded to the White Sox upon his return from the disabled list.
Middlebrooks went on to hit .288 BA, 15 HR, 54 RBI through 75 games before a broken bone in his hand ended his season on August 10. Now entering his first full season, Middlebrooks will be relied on as a key run producer hitting in the No. 5 spot in the Boston Red Sox order.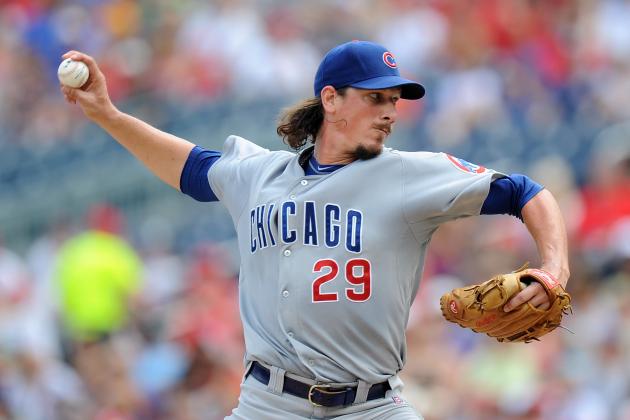 Greg Fiume/Getty Images

In his first season as a full-time starter, Jeff Samardzija took a huge step forward in going 9-13 with a 3.81 ERA over 28 starts with a 9.3 K/9 mark.
Had it not been for a rough June (5 GS, 0-4, 10.41 ERA), his numbers would have looked significantly better. He's currently viewed as the ace of the staff for a rebuilding Chicago Cubs team.
If he gets off to a hot start, there is no reason why he can't rank among the league's top starters when the Midsummer Classic rolls around.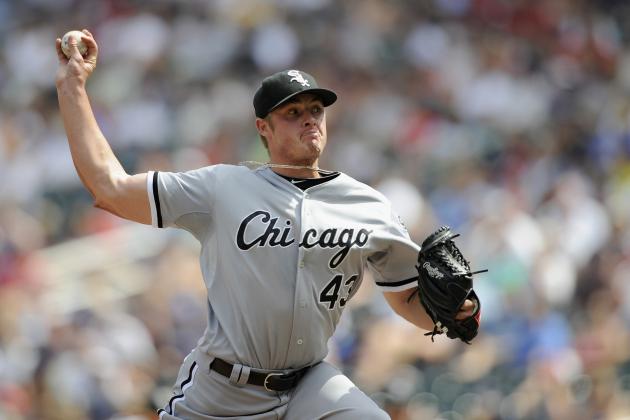 Hannah Foslien/Getty Images

The top relief pitching prospect in the game entering last season, Addison Reed took over as the Chicago White Sox closer a month in last season, and had a solid rookie season.
He appeared in a total of 62 games, converting 29-of-33 save chances with a 4.75 ERA and 8.8 K/9, and he'll enter the 2013 season as the unquestioned closer.
His final full season in the minors paints a good picture of what he's capable of, as he appeared in 43 games and posted a 1.26 ERA with 12.8 K/9. If he can put up those kind of numbers in the majors, he'd rank among the game's top closers.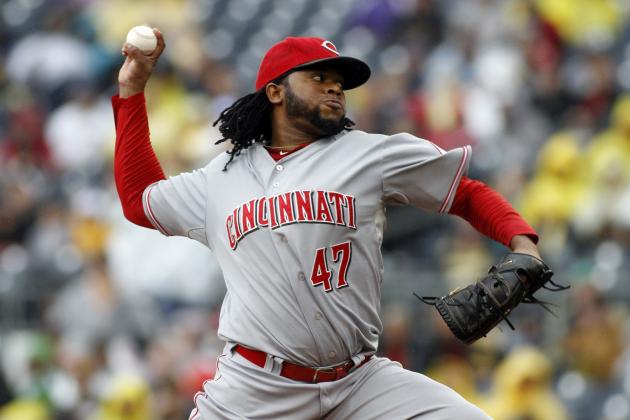 Justin K. Aller/Getty Images

One of the last year's biggest All-Star snubs, Johnny Cueto was 10-5 with a 2.39 ERA at the break last season, but did not earn a spot on the NL roster.
He kept it up all season, finishing the year 19-9 with a 2.78 ERA to finish fourth in National League Cy Young voting, as his 152 ERA+ was the best in the National League.
He'll enter the 2013 season as a bona fide ace and he's not likely to be overlooked again if he can put together a similar first half.
Fellow starter Mat Latos is also a strong candidate to make his All-Star Game debut in 2013.
Jason Miller/Getty Images

Carlos Santana was a prime breakout candidate last season, as he put up a .239 BA, 27 HR, 79 RBI line with a .808 OPS during his first full season.
He didn't take the expected step forward last season though, finishing with a .252 BA, 18 HR, 76 RBI line with a .785 OPS.
He has some of the best plate discipline in the league, topping 90 walks each of the past two seasons and posting a .363 OBP despite a .247 batting average during his three seasons in the majors.
The 26-year-old is just entering his prime, and with an improved lineup around him, this could be the season he makes a run at being the top offensive catcher in the American League.
Doug Pensinger/Getty Images

In what was his fourth full season in the majors last year, Dexter Fowler took a big step forward for the Colorado Rockies, hitting .300/.389/.474 and setting career highs with 13 home runs and 53 RBI.
His home/road splits were significant, but he'll be playing in Colorado once again this season so there is no reason to think he can't repeat on last season's impressive numbers.
With Troy Tulowitzki back in the middle of the lineup, Fowler could put up even better table-setting numbers out of the leadoff spot for the Rockies.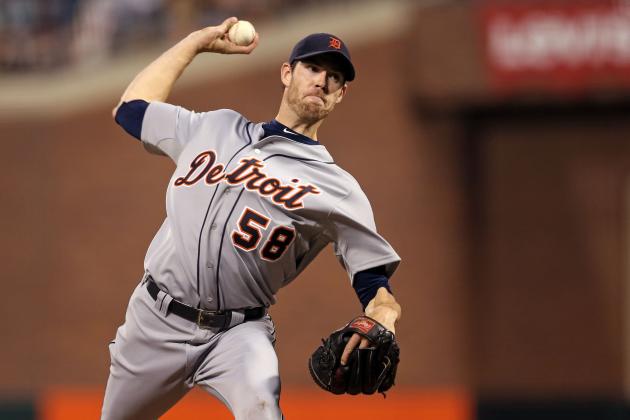 Christian Petersen/Getty Images

While Justin Verlander is the staff ace, and the signing of Anibal Sanchez dominated the offseason headlines, Doug Fister has quietly emerged as a stellar No. 2 starter for the Detroit Tigers.
Acquired from the Seattle Mariners at the deadline in 2011, the 28-year-old went 10-10 with a 3.45 ERA last season, though injuries limited him to just 26 starts.
He was at his best down the stretch, going 3-2 with a 2.77 ERA in six starts after September 1, then posting a 1.40 ERA in three postseason starts. In a full healthy season surrounded by a World Series caliber roster, he could be one of the breakout performers of 2013.
Mark Hirsch/Getty Images

Acquired from the Boston Red Sox last offseason for reliever Mark Melancon, shortstop Jed Lowrie was in the midst of a breakout season last year before an ankle injury shelved him from the middle of July to the middle of September.
The 28-year-old still managed to finish the season with 16 home runs and 42 RBI in just 340 at-bats, as he ranked among the National League's most productive shortstops.
Lowrie has been injury prone throughout his career and his power surge appeared out of nowhere. If he can stay healthy, produce, and the crop of NL shortstops is very thin, then he'll have a real shot at being the Houston Astros representative in 2013.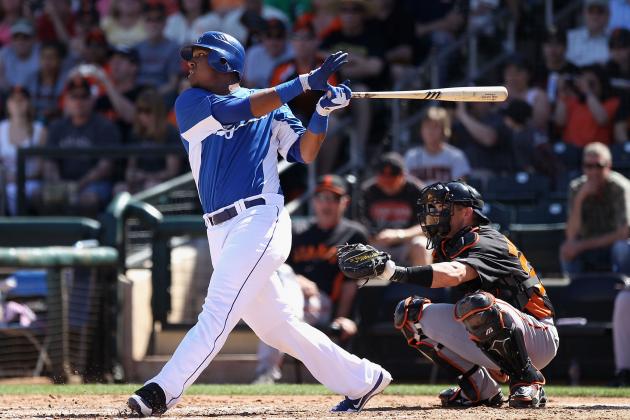 Christian Petersen/Getty Images

After a terrific 39-game audition in 2011 in which he hit .331 BA, 3 HR, 21 RBI, Salvador Perez entered the 2012 season as the Kansas Royals catcher of the present and future.
However, a knee injury that required surgery kept him from making his season debut until June 22. The team was forced to go with the duo of Humberto Quintero and Brayan Pena in his absence.
Perez returned with a flurry, hitting .301 BA, 11 HR, 39 RBI over 289 at-bats, and he has the tools to be the league's next great catcher. Expect big things in his first full big league season.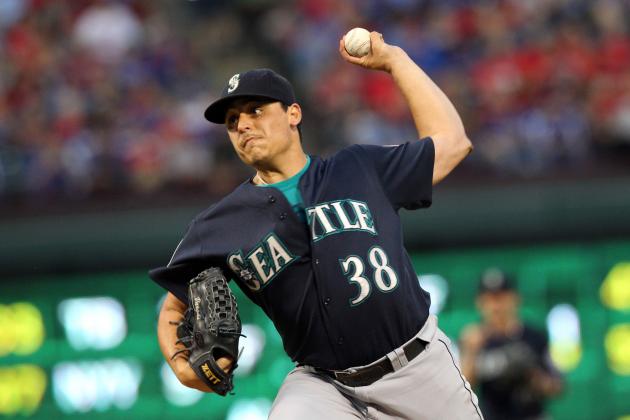 Layne Murdoch/Getty Images

The Los Angeles Angels got the innings-eating veteran starter they were looking for when they dealt Kendrys Morales to the Seattle Mariners for Jason Vargas.
The 29-year-old left-hander has quietly been great for the Mariners over the past three seasons, going 33-36 with a 3.96 ERA and averaging 204 innings per season.
He managed to win 14 games with a 3.85 ERA while pitching for a bad Mariners team last season. With a better team around him, Vargas could be in line for a breakout season.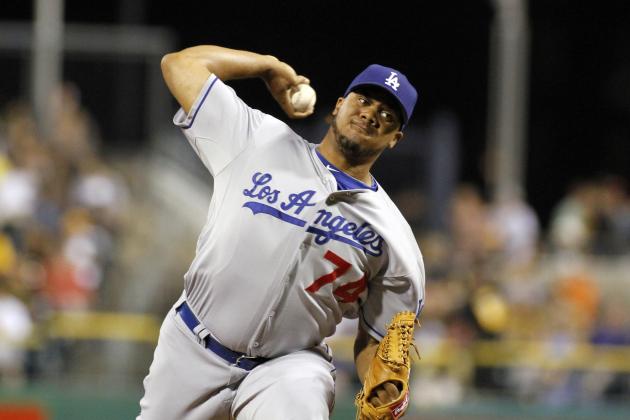 Justin K. Aller/Getty Images

After striking out a whopping 96 batters in 53.2 innings of work as a rookie in 2011, Kenley Jansen entered the 2012 season as the Los Angeles Dodgers closer.
He was terrific once again last year, posting a 2.35 ERA, 13.7 K/9 and converting 25-of-32 save chances before an irregular heartbeat shelved him down the stretch.
The Dodgers re-signed deadline acquisition Brandon League to serve as closer for the upcoming season, but even as a setup man Jansen has a chance to earn an All-Star nomination.
Here's a fun fact about Jansen. He was the starting catcher for the Netherlands in the 2009 World Baseball Classic, and did not begin pitching until midway through the 2009 season.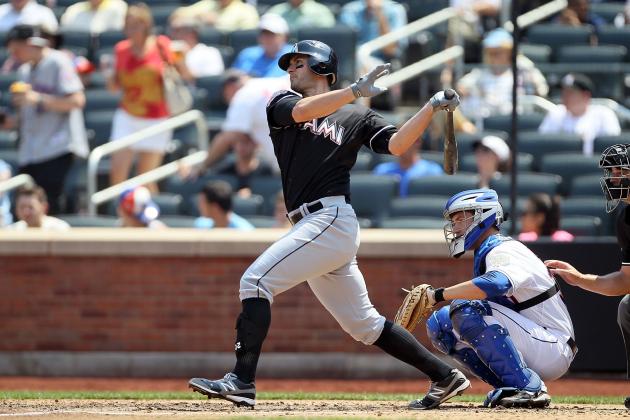 Jim McIsaac/Getty Images

A career minor leaguer, Justin Ruggiano enjoyed a breakout season for the Miami Marlins amid what was a terrible season for the team as a whole.
The 30-year-old outfielder hit .313 BA, 13 HR, 36 RBI over 288 at-bats, stealing 14 bases and posting an impressive .909 OPS while shuffling around the Marlins outfield.
With Emilio Bonifacio no longer with the team, Ruggiano appears to be in line for everyday at-bats in center field this coming season and the late-bloomer could continue to surprise in 2013.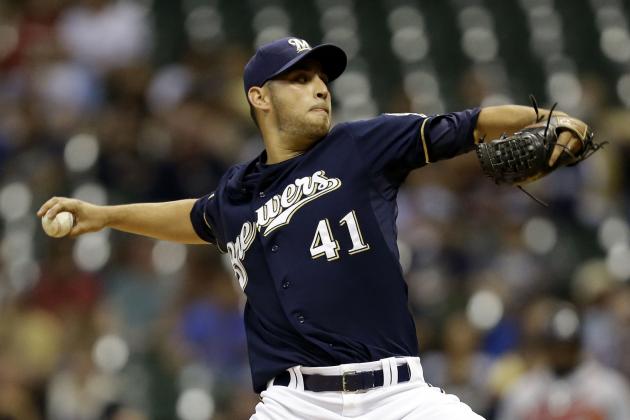 Mike McGinnis/Getty Images

The Milwaukee Brewers appear ready to enter the 2013 season with a largely unproven starting rotation behind ace Yovani Gallardo, as they'll rely on a group of unproven arms on the staff.
One guy capable of stepping up behind Gallardo is right-hander Marco Estrada, who went 5-7 with a 3.64 ERA and 9.3 K/9 in 29 games (23 starts) last season.
He'll open the season as the team's No. 2 starter, and with one of the best offenses in the league behind him, he'll be in a great position to succeed.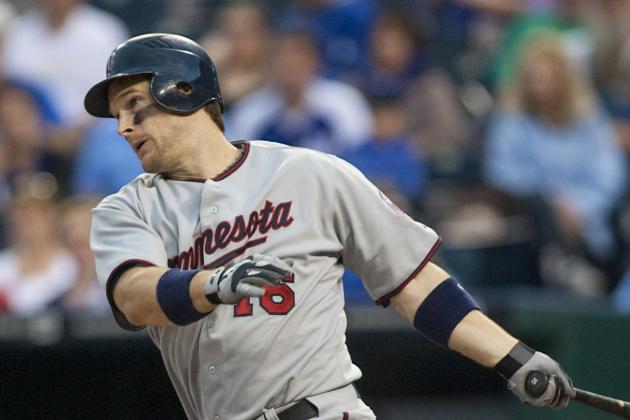 Tim Umphrey/Getty Images

The Minnesota Twins got one of the best bargains of the offseason last year in signing Josh Willingham to a three-year, $21 million deal as the slugger went on to win the Silver Slugger.
The 33-year-old hit .260 BA, 35 HR, 110 RBI last season with a terrific .890 OPS, and the Twins resisted the urge to trade him at the deadline and this offseason.
He'll be counted on to be a major run producer again this coming season, and if he can put up similar run production numbers in the first half in 2013, he has a good chance at being an All-Star.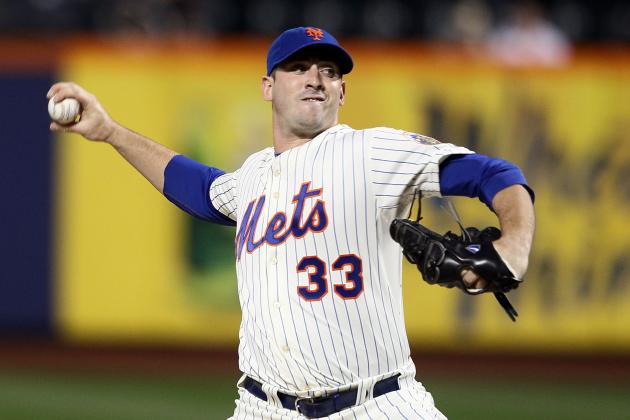 Alex Trautwig/Getty Images

The New York Mets dealt reigning Cy Young winner R.A. Dickey this offseason, but they still look to have a bright future in the rotation led by right-hander Matt Harvey.
The 23-year-old went 3-5 with a 2.73 ERA and 10.6 K/9 over 10 starts in his debut last season. He'll look to build on that and emerge as the ace of the staff in the wake of Dickey's departure.
If first baseman Ike Davis can avoid the slow start he had last season (.170 BA through May), he has the power to be among the league's top run producers and could make his All-Star Game debut in 2013 as well.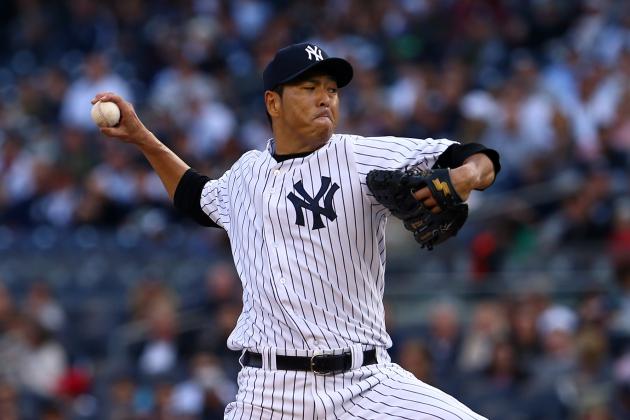 Alex Trautwig/Getty Images

Veteran Hiroki Kuroda was as important to the New York Yankees' success last season as anyone on the team, as he went 16-11 with a 3.32 ERA and gave the team a much-needed reliable starter behind CC Sabathia.
The team brought him back on a one-year, $15 million deal, and he'll look to continue his successful run in the United States.
In five big league seasons, he is 57-57 with a 3.42 ERA, and he has never posted an ERA over 4.00. This could be the season that he gets off to a hot start and gets some deserved recognition.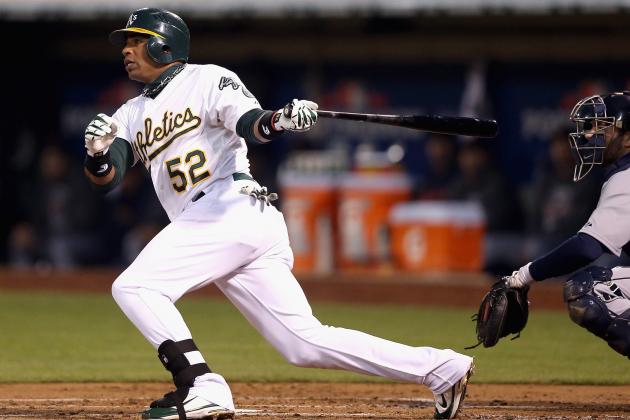 Ezra Shaw/Getty Images

The Oakland A's have a number of candidates for this list, as no one on the roster outside of reliever Ryan Cook has made the All-Star team before.
However, I'll go with last year's rookie sensation Yoenis Cespedes who hit .292 BA, 23 HR, 82 RBI to finish second in AL Rookie of the Year voting and tenth in AL MVP voting.
He adjusted to the big league game quicker than anyone expected, and the 27-year-old now looks like a major steal for the four-year, $36 million deal the A's signed him to.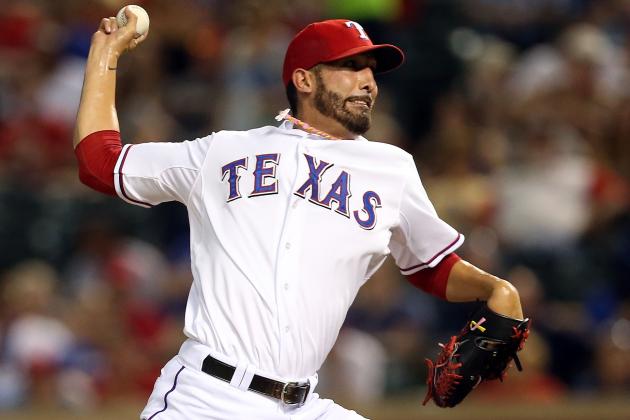 Ronald Martinez/Getty Images

Mike Adams has been among the best relief pitchers in all of baseball dating back to the 2008 season, as he has made a total of 297 appearances with a 1.98 ERA and 9.5 K/9.
After three seasons with the San Diego Padres, he was dealt to the Texas Rangers at the deadline in 2011, and he hit the free agent market this offseason.
He signed a two-year, $12 million deal to join the Philadelphia Phillies, and while he'll again be serving as a setup man, he has as good a chance as any reliever to make the All-Star team.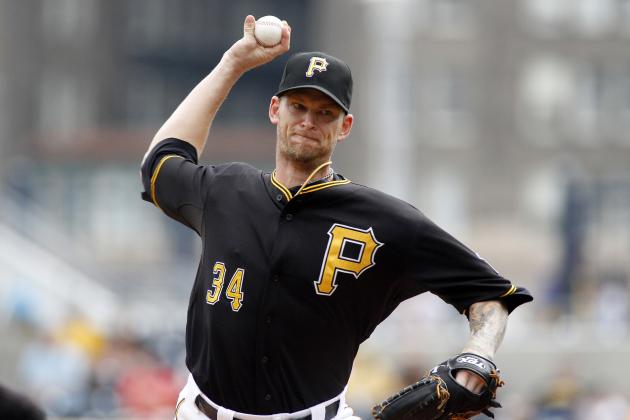 Justin K. Aller/Getty Images

After a disastrous stint with the New York Yankees, the Pittsburgh Pirates acquired A.J. Burnett with three years left on his contract hoping a change of scenery would help him return to form.
He did just that, going 16-10 with a 3.51 ERA, and emerging as the ace of the Pirates staff and ranking as one of the biggest snubs of the All-Star rosters last season.
He was 10-2 with a 3.68 ERA at the break last season, and while his record slipped to 6-8 in the second half, he actually had a better ERA at 3.38. If he can continue pitching like he did in 2012, he'll have as good a chance as anyone on the Pirates not named Andrew McCutchen to make the team.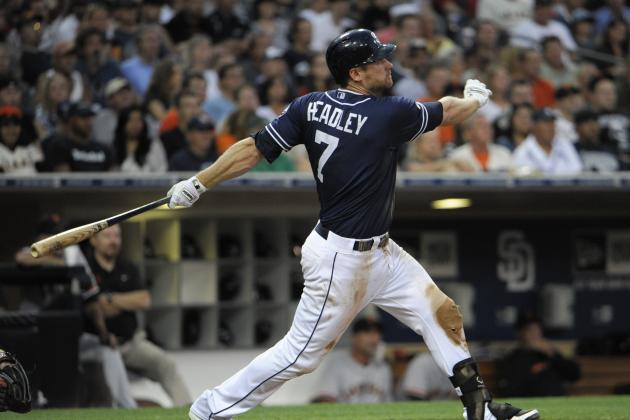 Denis Poroy/Getty Images

An argument can be made that Chase Headley was the game's most productive hitter in the second half of last season as he hit .308 BA, 23 HR, 73 RBI after a .267 BA, 8 HR, 42 RBI first half.
That was enough for him to lead the league in RBI, and the 28-year-old appears ready to take his place as the game's next great third baseman in the season ahead.
A free agent after the 2014 season, another good season could set Headley up to get a huge extension from the San Diego Padres. Or it could further boost his stock once he inevitably hits free agency. After Pablo Sandoval started the All-Star Game for the NL last season, Headley should have a great chance to make the team if he can produce once again.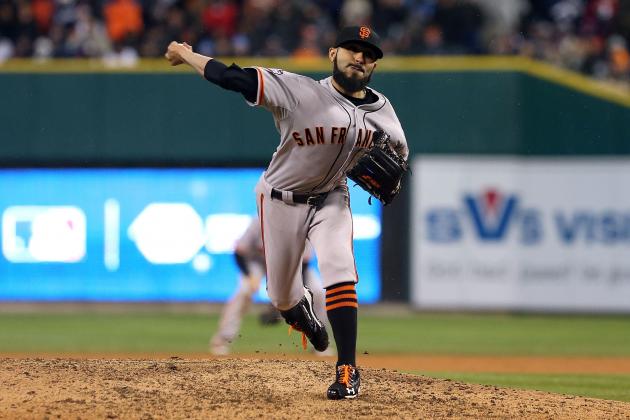 Ezra Shaw/Getty Images

A season-ending injury to Brian Wilson in April left the San Francisco Giants without a proven closer. After Santiago Casilla faltered, Sergio Romo took over and held things down for the rest of the season.
He finished the year with a 1.79 ERA and 10.2 K/9 over 69 appearances and converted 14-of-15 save chances in helping the Giants to the postseason.
He saved four more games in the postseason, including three in the World Series as he struck out five hitters over three perfect innings. He should rank among the league's best closers this coming season anchoring a terrific Giants staff.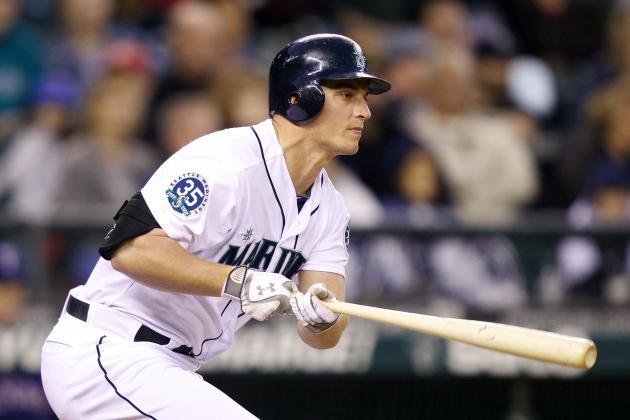 Stephen Brashear/Getty Images

The Seattle Mariners have ranked last in the American League in runs scored each of the past three seasons. One of the lone bright spots on last year's lineup was third baseman Kyle Seager.
The 25-year-old hit .259 BA, 20 HR, 86 RBI and stole 13 bases last season, and with Kendrys Morales and an improving Jesus Montero protecting him in the lineup, he'll be in line for even better numbers this season.
The Mariners will need to have a solid first half to get more than one All-Star representative, assuming Felix Hernandez will make the team as long as he's healthy. If they do get more than one representative though, that person could be Seager.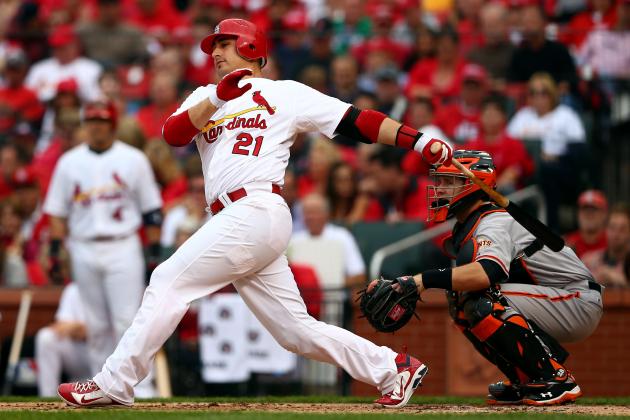 Elsa/Getty Images

Despite being limited to just 119 games last season after undergoing offseason knee surgery, Allen Craig finished the season with a .307 BA, 22 HR, 92 RBI line in 469 at-bats.
He'll get his first chance at a full season's worth of at-bats this coming year. Even though he's slated to hit in the No. 2 spot in the lineup, he has a real shot at a .300 BA, 30 HR, 100 RBI season and an All-Star nod.
Along with Craig, closer Jason Motte has a good chance at making his All-Star debut as well after leading the National League with 42 saves last season.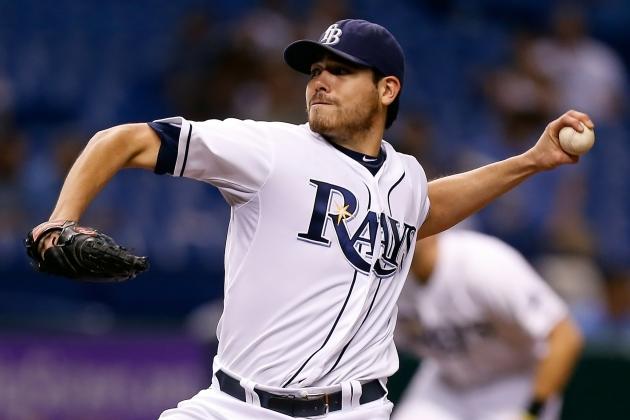 J. Meric/Getty Images

The top pitching prospect in baseball entering last season, Matt Moore had a somewhat disappointing rookie season as he finished 11-11 with a 3.81 ERA over 31 starts.
However, he was much better in the second half with a 6-5 record and 3.01 ERA over his final 14 starts, and that could be a stepping stone to big things this season.
With James Shields traded to the Kansas City Royals, someone will need to step up alongside David Price in the Rays' rotation. It could be just as well be Jeremy Hellickson who makes his All-Star Game debut, but I'll go with more as my prediction here.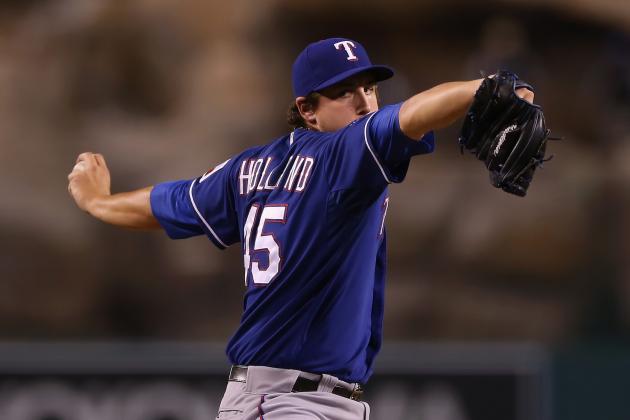 Jeff Gross/Getty Images

After going 16-5 with a 3.95 ERA in 2011 and C.J. Wilson departing in free agency, Derek Holland was expected to emerge as the ace of the Texas Rangers staff in 2012.
However, he struggled all season, spending some time on the disabled list and in the bullpen. He finished the year with a 12-7 record and 4.67 ERA. He'll be slotted behind Yu Darvish and Matt Harrison entering the 2013 season.
The 26-year-old still has plenty of upside, and he finished the year strong last season, so don't be surprised if he is just a year late on the breakout that everyone was expecting.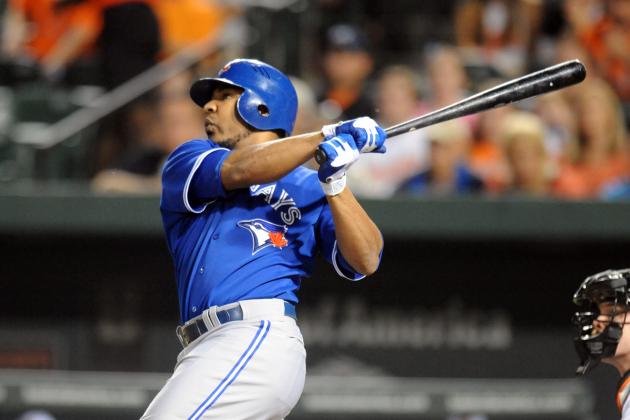 Mitchell Layton/Getty Images

My pick for biggest snub of last year's All-Star game, Edwin Encarnacion was hitting .284 BA, 23 HR, 57 RBI at the break, but was overlooked.
He carried the Toronto Blue Jays lineup all season with Jose Bautista battling injury, and finished his breakout year with a .280 BA, 42 HR, 110 RBI line and .941 OPS.
With newcomers Jose Reyes and Melky Cabrera setting the table and Bautista back to protect him in the order, he could put up even better numbers.
Don't sleep on third baseman Brett Lawrie either, as he has the tools to emerge as one of the game's best third baseman for the next decade.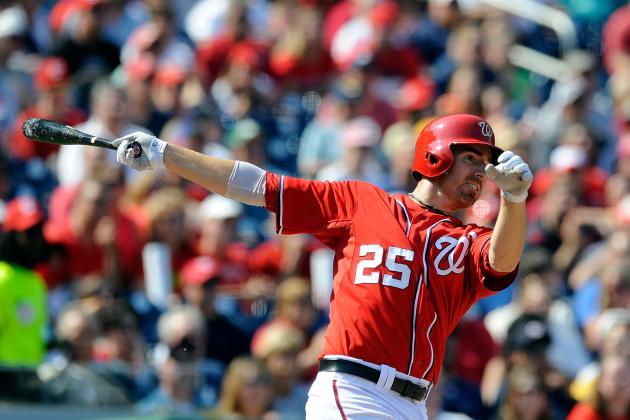 Patrick McDermott/Getty Images

After what was essentially a lost season in 2011, Adam LaRoche came back and carried the Washington Nationals offense last season with a .271 BA, 33 HR, 100 RBI line.
That was enough for the Nationals to re-sign him to a two-year, $24 million deal. He'll be in a great position to reach the 100 RBI mark again in the middle of a deep Nationals lineup.
First base in the National League is not as deep as it once was, and after Joey Votto who will likely start provided he's healthy, the All-Star roster is wide open at the position.