Los Angeles Clippers vs. Houston Rockets: Postgame Grades and Analysis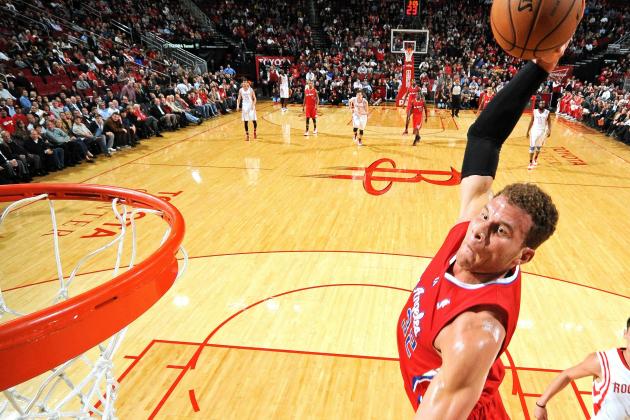 Kyle Terada-USA TODAY Sports

For the second straight night, the Los Angeles Clippers set out to battle without their best player, Chris Paul. It didn't matter (again), as they blew out the Houston Rockets, 117-109, at the Toyota Center in Houston Tuesday night.
After going back and forth for the entire first half, Los Angeles began to pull away early in the third quarter by making good use of the three ball. Blake Griffin basically deciding nobody on the Rockets could guard him was also helpful.
Jamal Crawford caught fire, finishing with 30 points in 30 minutes on a variety of step-back jumpers and spot-up three-pointers, and Griffin made seven of his 13 shots for 19 points to go along with eight assists.
After scoring 14 points in the first quarter, Rockets guard James Harden was held to just nine points for the rest of the game.

Begin Slideshow

»
Eric Bledsoe
Eric Bledsoe's defense in the first quarter was game-changing. He pressured Lin and had two steals in Houston's side of the court that led to direct Clippers baskets.
Bledsoe also scored with a second remaining in the first half on a beautiful cut through the paint, and earlier, he knocked down two mid-range jumpers.
He finished with 19 points, seven rebounds and five assists in 36 minutes.
Grade: A-
Jeremy Lin
When Jeremy Lin attacks the basket, Houston fares extremely well. In the first half that's exactly what he did, scoring six of his 10 points on points in the paint. All that despite playing with a hurt ankle that was rolled in practice earlier this week.
LIn finished with 12 points on 11 shots, but his fourth-quarter defense on a sizzling Jamal Crawford allowed the Clippers to extend their lead to as much as 21 points.
Grade: C+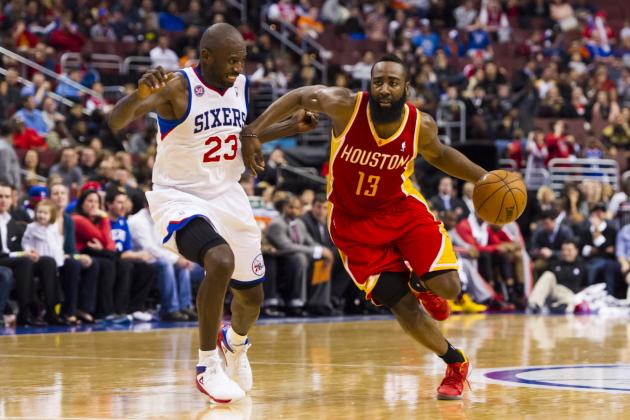 USA TODAY Sports

Willie Green
Green knocked down a few threes at the beginning of the third quarter before finishing with an emphatic and-one dunk that gave the Clippers a 16-point lead. It was one of his most impressive offensive sequences of the season and proof that in games when Green plays well, the Clippers are nearly impossible to beat.
The veteran finished with 15 points in 17 minutes.
Grade: A
James Harden
Harden's offense in the first quarter was pure butter. He scored 14 points on 5-of-8 shooting, shaking Los Angeles' perimeter defenders with a magical array of jab steps and ball fakes. For the rest of the night, he struggled, especially when Matt Barnes pressured him out on the perimeter.
Harden finished an inefficient 8-of-20 (2-of-9 from behind the three-point line) with only six free-throw attempts.
Grade: C+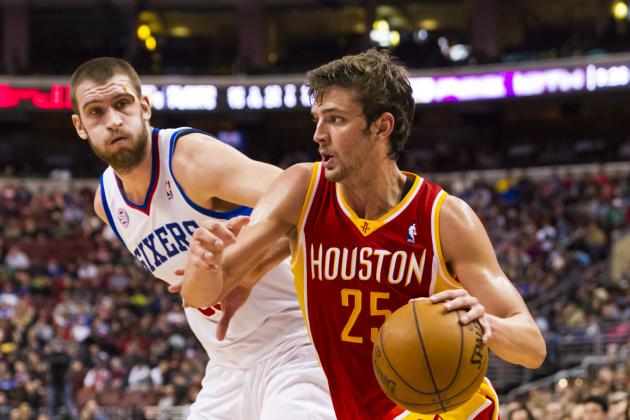 USA TODAY Sports

Caron Butler
In his first 20 minutes of action, Butler missed his only shot, grabbed three rebounds and had one assist. He was nowhere to be seen tonight, and he wasn't really needed.
He finished with one point.
Grade: D
Chandler Parsons
Parsons was quiet in the first half, but every once in a while flashed free for a quick basket. He knocked down a couple three-pointers and also finished a difficult layup in transition over Blake Griffin.
Parsons finished the game 7-of-10 for 17 points and four assists.
Grade: B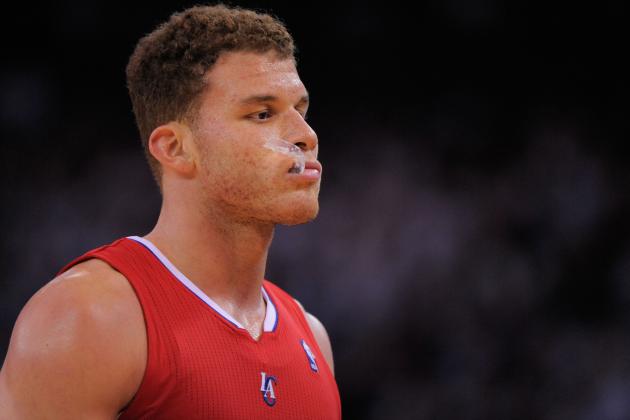 Kyle Terada-USA TODAY Sports

Blake Griffin
Griffin's shot was ugly early on, missing his first two jumpers badly (both lacked a defender within five feet). But his play in the post has made that jumper a moot point. Griffin's vision finding cutters has become lethal, and his spinning jump hook over the right shoulder is basically automatic.
He finished with eight assists and made all five of his free-throw attempts. Houston didn't have an answer whenever the Clippers ran their offense through Griffin.
Grade: A-
Patrick Patterson
Back in the starting lineup, Patterson knocked down his first three-point attempt from the corner. But he had incredible difficulty handling Griffin, and the result was four personal fouls in 16 minutes of play.
Patterson finished with five points on five shots.
Grade: D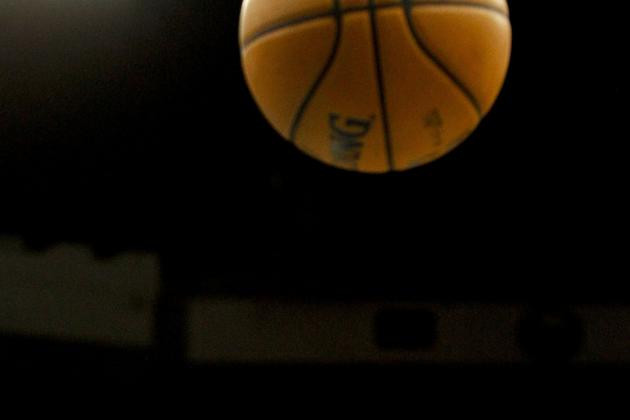 USA TODAY Sports

DeAndre Jordan
Jordan was phenomenal early on, finishing on two emphatic dunks and putting his freak athleticism on display defensively with a monstrous block on a nice back-line rotation. In 22 minutes, Jordan had nine points on just six shots. His footprint on this game came in the opening minutes, and it reverberated for the next three quarters.
Grade: B
Omer Asik
Asik's hands were slippier than usual tonight, fumbling passes thrown in his direction on a regular basis throughout the game. He had four turnovers credited to him and made three of his six shot attempts. He also led the Rockets with nine rebounds
Grade: C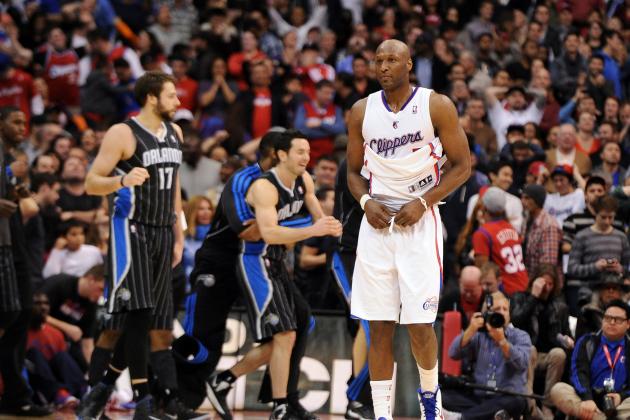 Jayne Kamin-Oncea-USA TODAY Sports

Lamar Odom
Odom picked up three fouls in less than seven minutes of play, obviously limiting his playing time in the first half. He then picked up his fourth foul early on in the third quarter, and it appeared to seriously limit his aggressiveness.
He finished with 11 rebounds and two points in 20 minutes of play.
Grade: C-
Toney Douglas
Generally speaking, a quiet performance from Toney Douglas. He converted on a beautiful and-one drive early in the second quarter, and finished on a strong drive to the hoop with less than 10 seconds left in the third quarter. But apart from that, Douglas' name wasn't often called in his 14 minutes of play.
He finished with seven points, and one made three-pointer.
Grade: C-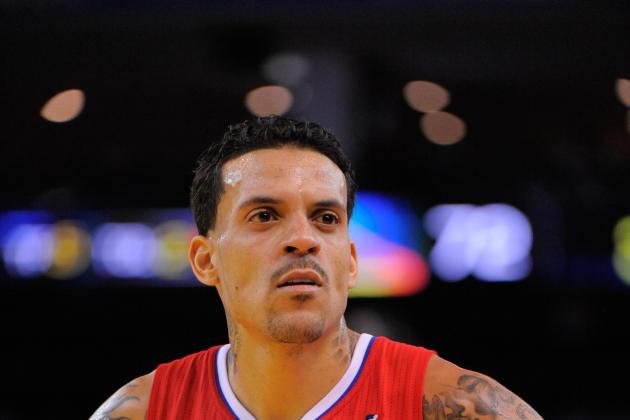 Kyle Terada-USA TODAY Sports

Los Angeles
Jamal Crawford was the reason the Clippers won this game. He scored 30 points in 30 minutes and simply couldn't miss a shot in the third quarter.
In his 1,000th career game, Grant Hill showed he can still contribute, scoring four points in 16 minutes. He even brought the ball up the court a few times, allowing his teammates to curl around screens and play off the ball.
Grade: A
Houston
Marcus Morris looked confident from behind the three-point line, but defending Blake Griffin was nearly an impossible task. The two jostled back and forth up and down the court, with the whistle more times than not being called on Morris' behalf.
Carlos Delfino shot the ball poorly again from long range, going 2-of-7 from behind the three-point line.
Grade: C