2013 New York Giants: 7 Draft Prospects Who Can Start Immediately for Giants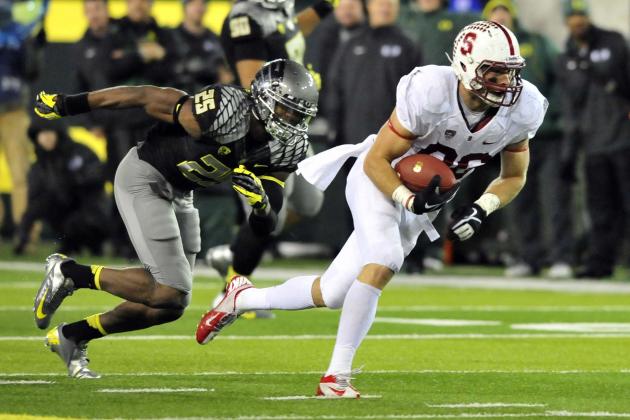 Steve Dykes/Getty Images

Several New York Giants players must look over their shoulders this offseason. After failing to meet expectations in 2012, Big Blue's roster is on the precipice of a shakeup.
In the coming months general manager Jerry Reese and head coach Tom Coughlin will meticulously evaluate the expendable players in their lot.
After making a determination on their current personnel, New York will attempt to fill certain voids in April's rookie draft. Although Reese has been derelict in his duty to draft based on team needs in the past, the Giants currently lack quality in a plethora of positions.
Adding depth to an aging roster will create competition in camp for roles as a starter. Here's a look at the prospects entering April's draft who can immediately crack New York's starting 11.
Begin Slideshow

»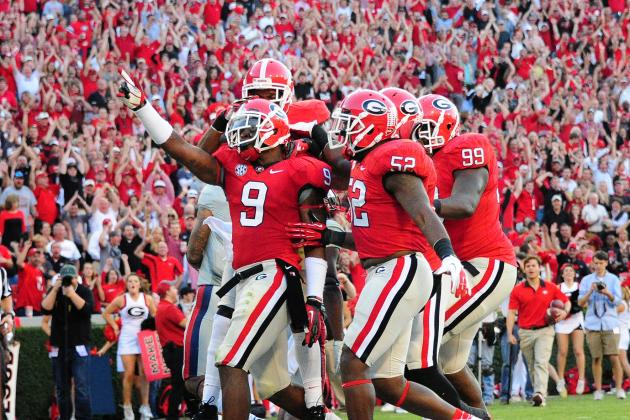 Scott Cunningham/Getty Images

Georgia's Alec Ogletree is a player to keep an eye on as we approach the NFL draft. With tremendous physical traits backed by a sterling collegiate career, this middle linebacker could rapidly rise up team's draft boards.
Ogletree would give the Giants something they haven't had in a very long time: An athletic middle linebacker who can effectively make plays from sideline to sideline.
Let's face it, New York needs a shot in the arm on defense. Chase Blackburn has been serviceable, but he will never be mistaken for a perennial playmaker.
The thought of Robert Griffin III and Alfred Morris running rampant on an aging defense will give Jerry Reese added incentive to target this particular middle linebacker. Alec Ogletree may not cure all the defensive woes which have plagued New York, but he's certainly a good start.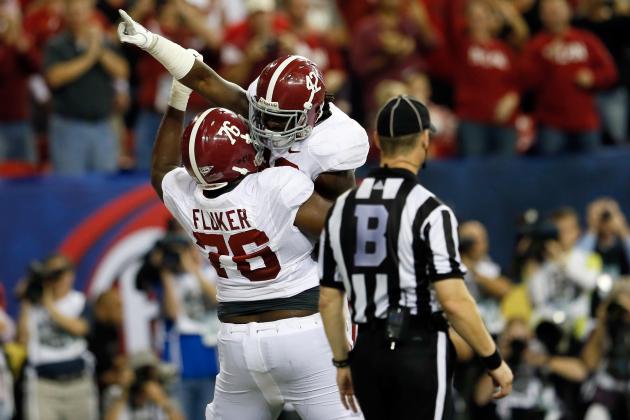 Kevin C. Cox/Getty Images

The Giants haven't selected an offensive lineman in the first round since 1999, when they chose Luke Petitgout out of Notre Dame. Expect that streak to end in 2013.
D.J. Fluker and his 335-pound frame are an ideal fit to replace David Diehl at right tackle. New York is already strong in pass protection, but could use a face lift in their run-blocking up front.
The Giants struggled to establish a consistent running game in 2012. This left Eli Manning in too many 3rd-and-long situations, which the team struggled to convert.
Fluker would instantly improve New York's running game by using his strength to overwhelm opponents. If the former Alabama standout can continue to improve his conditioning, expect him to be an immediate impact player for Big Blue.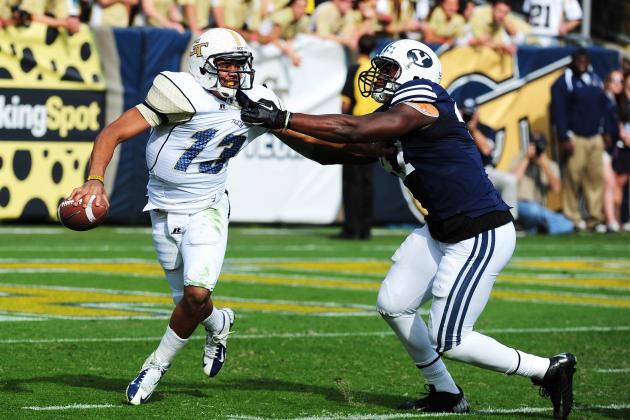 Scott Cunningham/Getty Images

Stop me if this sounds familiar. In desperate need of help at several positions, the Giants decide to draft a defensive end in the first round.
In 2010 New York targeted defensive end Jason Pierre-Paul early in the draft, despite having loads of talent at the position.
Few would be shocked to hear Roger Goodell call yet another defensive end's name in the first round this year. What is stupefying, however, is the regression the team has experienced at the position.
With Osi Umenyiora's imminent departure accompanied by Justin Tuck's interminable battle with injuries, New York has an insufficient number of pass-rushing assets.
Drafting a potential clone of Jason Pierre-Paul is a savory proposition. Ezekiel Ansah is a dynamic athlete with limited experience in the game (sound familiar?). With just three years under his belt at BYU, Ansah has rapidly developed into a top prospect.
A player with Ezekiel Ansah's unparalleled upside could re-establish a menacing defensive line. The last time the Giants took a gamble this big, it paid off handsomely.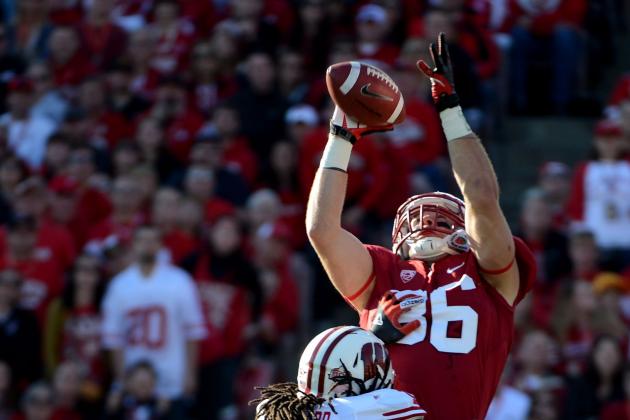 Harry How/Getty Images

Martellus Bennett showed flashes of brilliance during his first season with the Giants. With his contract situation up in the air, however, New York may look to the draft to fill his shoes.
Zach Ertz is bound to be successful as a pass catching threat at the pro level. Eli Manning struggled to consistently find a target down the middle of the field in 2012, which figures to be a place where Ertz can thrive.
Using a first-round pick on Ertz could potentially reignite a lethargic Giants offense from 2012.
A quartet of Victor Cruz, Hakeem Nicks, Zach Ertz and Rueben Randle will give Eli Manning plenty of options through the air next season, a dangerous proposition for opposing defenses.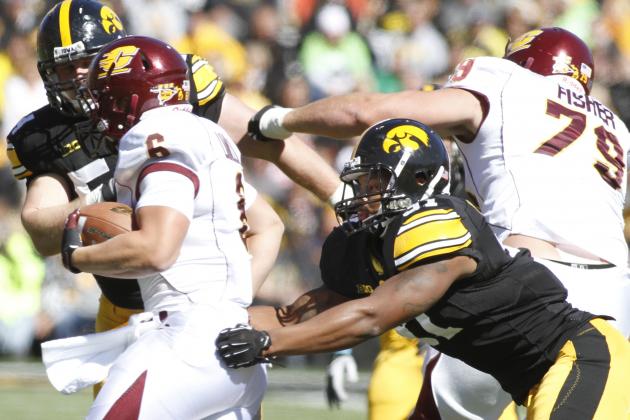 Matthew Holst/Getty Images

At 6'8'', Eric Fisher is an enormous prospect in both stature and potential. Jerry Reese has a penchant for waiting to draft linemen after the first round, but Fisher will be extremely tough to pass on with the 19th overall pick.
The Giants were unsurprisingly successful when they protected Eli Manning last season. Once Sean Locklear suffered a horrific knee injury late in the season, however, the offensive line completely lost its cohesion.
The addition of this Central Michigan product will help form one of the NFL's best offensive line units of 2013. More importantly, a bookend combination of Will Beatty and Eric Fisher at the tackle position will keep Eli Manning's dry cleaning bill to a minimum.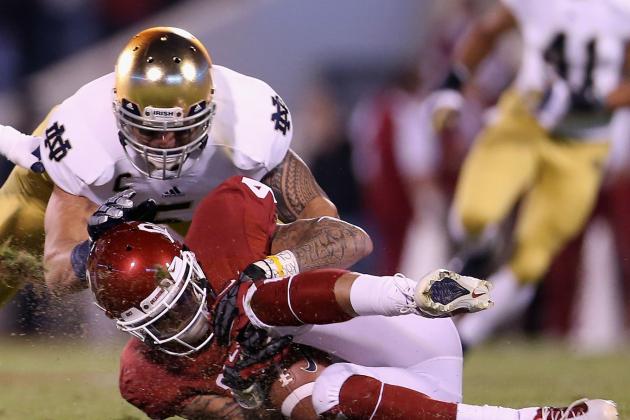 Ronald Martinez/Getty Images

One poor performance shouldn't affect a player's draft status as much as it has for Manti Te'o. Following the embarrassment Notre Dame suffered at the hands of Alabama, questions have been asked of the Fighting Irish leader.
Any hit Te'o's draft stock may have taken from that title game will benefit the Giants. New York was abysmal against the run last season, allowing over 129 yards per contest.
The 2012 Walter Camp Award recipient tallied 113 tackles and 7 interceptions in his senior season.
Te'o's outstanding numbers only begin to tell the story of his accomplished career in South Bend. The Giants will have no choice but to start Manti Te'o from day one, due in large part to his exceptional instincts and intangibles.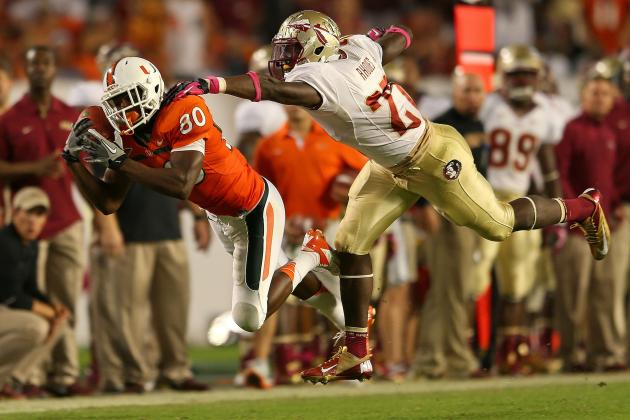 Mike Ehrmann/Getty Images

The Giants have selected a cornerback in the early rounds of the past two rookie drafts. If the team is unable to come to terms with Corey Webster on a restructured deal, they may be in the market to make it a third consecutive year.
Regardless of whether or not Webster returns, New York is in dire need of reinforcements at the cornerback position.
Xavier Rhodes represents the new breed of cornerbacks entering the league. The Florida State junior's size and ability to contest jump balls will make him a valued commodity in April.
Aligning Rhodes with Prince Amukamara in the secondary would establish a formidable, albeit young, tandem. This move also allows Jayron Hosley to develop from the nickel formation for another year. Drafting Xavier Rhodes could quickly turn a weakness into a strength for New York in 2013.