I wouldn't suggest memorizing the NFL draft order quite yet—it's bound to change.
It's inevitable, and it happens every year.
Whether it's because teams feel they can get their No. 1 guy with a later pick or they simply can't stop drooling over a "high-upside" stud about to leave the board, trades are always a crucial part of the first round of the NFL draft.
With that being said, let's take a look at teams that would be smart to move down in the first round to collect more picks.
Note: A complete look at the draft order can be found at the bottom of this page.
Kansas City Chiefs (No. 1)
In case you were wondering, the future quarterback of the Kansas City Chiefs is not named Brady Quinn or Matt Cassel.
If the Chiefs don't secure a new, promising signal-caller after an atrocious 2-14 season, new head coach Andy Reid might just be refused all that Kansas City barbecue he so desperately desires.
You can rest assured he'll get one.
Unfortunately for Reid and the Chiefs, there are no Andrew Lucks in this year's draft class. No Bob Griffins. No Russell Wilsons. Probably not even a Ryan Tannehill.
So what does he do with the No. 1 overall pick?
He could reach for West Virginia's Geno Smith, who will undoubtedly go somewhere in the top 10. However, he would be better served using that coveted pick to acquire more draft choices and take someone like Ryan Nassib, Tyler Wilson or Matt Barkley with a later selection.
Oakland Raiders (No. 3)
Justin K. Aller/Getty Images
The Oakland Raiders are in the same situation. They need a quarterback, but also need a whole lot of other players, too.
Only, in this case, Geno Smith might not even be there.
Reaching for Smith at the Chiefs' No. 1 spot would be a justified decision. However, if he's gone, reaching for the next available gunslinger at No. 3 would be a downright laughable move by the Silver and Black.
On the other hand, grabbing an elite defensive player like Damontre Moore, Jarvis Jones or Star Lotulelei would be fine. This draft is absolutely stacked with frightening D-line specimens.
Trading down and stockpiling picks would be the way to go here.
San Francisco 49ers (No. 30)
Remember when quarterback and wide receiver were positions of need for this team? That was fun.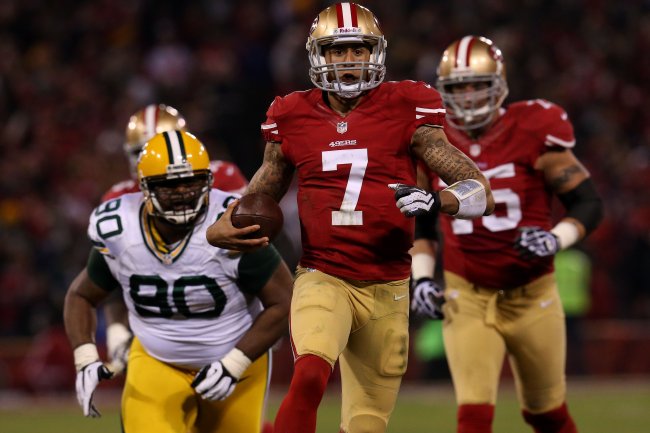 Stephen Dunn/Getty Images
The Niners could certainly use another playmaker in the passing game, but Colin Kaepernick and Michael Crabtree's progressions at the end of this year have made this team easily the most complete on paper.
The only major need is depth.
Moreover, with Jim Harbaugh's reluctance to play rookies, the point of this draft should be to improve all-around depth and enhance (relevant) an already bright future.
While it's not usually a smart idea for a Super Bowl contender to amalgamate picks, it works in San Francisco's situation.
NFL Draft Order
Round One
1. Kansas City Chiefs (2-14)
2. Jacksonville Jaguars (2-14)
3. Oakland Raiders (4-12)
4. Philadelphia Eagles (4-12)
5. Detroit Lions (4-12)
6. Cleveland Browns (5-11)
7. Arizona Cardinals (5-11)
8. Buffalo Bills (6-10)
9. New York Jets (6-10)
10. Tennessee Titans (6-10)
11. San Diego Chargers (7-9)
12. Miami Dolphins (7-9)
13. Tampa Bay Buccaneers (7-9)
14. Carolina Panthers (7-9)
15. New Orleans Saints (7-9)
16. St. Louis Rams (7-8-1)
17. Pittsburgh Steelers (8-8)
18. Dallas Cowboys (8-7)
19. New York Giants (9-7)
20. Chicago Bears (10-6)
21. Cincinnati Bengals (10-6)
22. St. Louis Rams (via Washington Redskins) (10-6)
23. Minnesota Vikings (10-6)
24. Indianapolis Colts (11-5)
25. Seattle Seahawks (11-5)
26. Green Bay Packers (11-5)
27. Houston Texans (12-4)
28. Denver Broncos (13-3)
The following order is subject to change based on postseason results.
29. Baltimore Ravens (10-6)
30. San Francisco 49ers (11-4-1)
31. New England Patriots (12-4)
32. Atlanta Falcons (13-3)
Round 2
33. Jacksonville Jaguars
34. Kansas City Chiefs
35. Philadelphia Eagles
36. Detroit Lions
37. Cincinnati Bengals (via Oakland Raiders)
38. Cleveland Browns
39. Arizona Cardinals
40. New York Jets
41. Tennessee Titans
42. Buffalo Bills
43. Miami Dolphins
44. Tampa Bay Buccaneers
45. Carolina Panthers
46. San Diego Chargers
47. St. Louis Rams
48. Pittsburgh Steelers
49. Dallas Cowboys
50. New York Giants
51. Chicago Bears
52. Cincinnati Bengals
53. Minnesota Vikings
54. Washington Redskins
55. Miami Dolphins (via Indianapolis Colts)
56. Baltimore Ravens
57. Green Bay Packers
58. Seattle Seahawks
59. San Francisco 49ers
60. New England Patriots
61. Houston Texans
62. Atlanta Falcons
63. Denver Broncos
Round 3
64. Kansas City Chiefs
65. Jacksonville Jaguars
66. Detroit Lions
67. Oakland Raiders
68. Philadelphia Eagles
69. Cleveland Browns
70. Arizona Cardinals
71. Tennessee Titans
72. Buffalo Bills
73. New York Jets
74. Tampa Bay Buccaneers
75. San Francisco 49ers (via Carolina Panthers)
76. New Orleans Saints
77. San Diego Chargers
78. Miami Dolphins
79. St. Louis Rams
80. Pittsburgh Steelers
81. Dallas Cowboys
82. New York Giants
83. Miami Dolphins (via Chicago Bears)
84. Cincinnati Bengals
85. Washington Redskins
86. Minnesota Vikings
87. Indianapolis Colts
88. Baltimore Ravens
89. Green Bay Packers
90. Seattle Seahawks
91. San Francisco 49ers
92. Houston Texans
93. New England Patriots
94. Denver Broncos
95. Atlanta Falcons
Round 4
96. Jacksonville Jaguars
97. Kansas City Chiefs
98. Oakland Raiders
99. Philadelphia Eagles
100. Minnesota Vikings (via Detroit Lions)
101. Arizona Cardinals
102. Cleveland Browns
103. Buffalo Bills
104. New York Jets
105. Tennessee Titans
106. Carolina Panthers
107. New Orleans Saints
108. San Diego Chargers
109. Miami Dolphins
110. Tampa Bay Buccaneers
111. St. Louis Rams
112. Dallas Cowboys
113. Pittsburgh Steelers
114. New York Giants
115. Baltimore Ravens
116. Chicago Bears
117. Cincinnati Bengals
118. Washington Redskins
119. Minnesota Vikings
120. Indianapolis Colts
121. Seattle Seahawks
122. Green Bay Packers
123. San Francisco 49ers
124. Tampa Bay Buccaneers (via New England Patriots)
125. Houston Texans
126. Atlanta Falcons
127. Denver Broncos
Round 5
128. Kansas City Chiefs
129. Jacksonville Jaguars
130. Philadelphia Eagles
131. Detroit Lions
132. Oakland Raiders
133. Cleveland Browns
134. Arizona Cardinals
135. New York Jets
136. Tennessee Titans
137. Buffalo Bills
138. New Orleans Saints
139. San Diego Chargers
140. Miami Dolphins
141. Tampa Bay Buccaneers
142. Carolina Panthers
143. St. Louis Rams
144. Pittsburgh Steelers
145. Dallas Cowboys
146. Baltimore Ravens
147. Chicago Bears
148. Cincinnati Bengals
149. Washington Redskins
150. Minnesota Vikings
151. San Francisco 49ers (via Indianapolis Colts)
152. Green Bay Packers
153. Seattle Seahawks
154. San Francisco 49ers
155. Houston Texans
156. New England Patriots
157. Denver Broncos
158. Atlanta Falcons
Round 6
159. Jacksonville Jaguars
160. Kansas City Chiefs
161. Detroit Lions
162. Oakland Raiders
163. Philadelphia Eagles
164. Arizona Cardinals
165. Cleveland Browns
166. Minnesota Vikings (via Tennessee Titans)
167. Buffalo Bills
168. New York Jets
169. San Diego Chargers
170. San Francisco 49ers (via Miami Dolphins)
171. Tampa Bay Buccaneers
172. Carolina Panthers
173. New Orleans Saints
174. St. Louis Rams
175. Dallas Cowboys
176. Pittsburgh Steelers
177. New York Giants
178. Chicago Bears
179. Cincinnati Bengals
180. Washington Redskins
181. Minnesota Vikings
182. Miami Dolphins (via Indianapolis Colts)
183. Baltimore Ravens
184. Green Bay Packers
185. Seattle Seahawks
186. San Francisco 49ers
187. New England Patriots
188. Houston Texans
189. Atlanta Falcons
190. Denver Broncos
Round 7
191. Kansas City Chiefs
192. Jacksonville Jaguars
193. Oakland Raiders
194. Philadelphia Eagles
195. Detroit Lions
196. Cleveland Browns
197. Arizona Cardinals
198. Seattle Seahawks (via Buffalo Bills)
199. New York Jets
200. Tennessee Titans
201. Miami Dolphins
202. New England Patriots (via Tampa Bay Buccaneers)
203. San Francisco 49ers (via Carolina Panthers)
204. New Orleans Saints
205. San Diego Chargers
206. St. Louis Rams
207. Pittsburgh Steelers
208. Miami Dolphins (via Dallas Cowboys)
209. New York Giants
210. Chicago Bears
211. San Francisco 49ers (via Cincinnati Bengals)
212. Washington Redskins
213. Minnesota Vikings
214. Philadelphia Eagles (via Indianapolis Colts)
215. Baltimore Ravens
216. Seattle Seahawks
217. Green Bay Packers
218. San Francisco 49ers
219. Houston Texans
220. New England Patriots
221. Denver Broncos
222. Atlanta Falcons