Oregon Football: Projecting the Ducks' 2013 2-Deep Depth Chart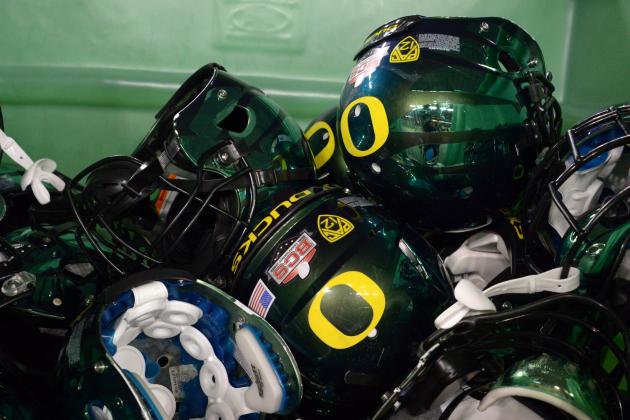 USA TODAY Sports

Are you ready for some football? Thought so, but unfortunately all Ducks have to be content with a projection of the 2013 Oregon football depth chart—the opening kickoff is over seven months away.
It will, however, be seven delicious months of build-up and anticipation. Oregon is poised to return a potentially even better version of the 2012 team that went 12-1 and was undefeated in regulation (unlike another team who actually made it to the BCS National Championship Game.)
Back in December, Bleacher Report looked at both possible offensive and defensive depth charts for the Ducks. But a few things have changed this month—one reason why this game is so much fun.
It's time to revisit who might actually see the field for Oregon in 2013.
Begin Slideshow

»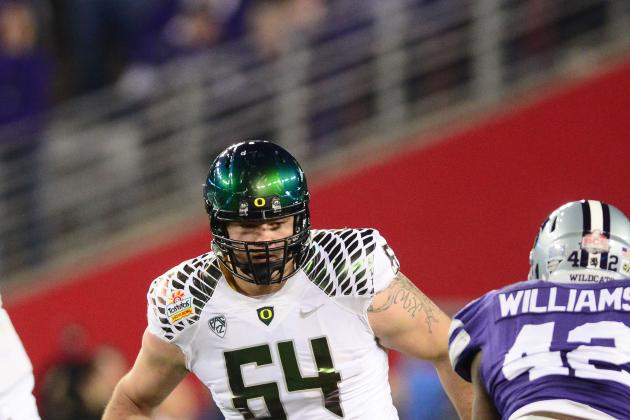 Mark J. Rebilas-USA TODAY Sports
Tyler Johnstone
In a major bummer for Duck fans, left guard Kyle "hardly got to know you" Long will be off to his next adventure after the NCAA turned down his medical eligibility request for one more year with Oregon.
Also gone off the 2012 O-line will be seniors Ryan Clanton and his backup Nick Cody at right guard. So, that means three of the four 2-deep guards must be replaced.
There is, however, good returning depth at other positions on the O-line, and two (so far) promising recruits who will be incoming freshmen: Evan Voeller (West Linn, OR) and Jake Pisarcik (Medford, NJ).
With national signing day only three weeks away, the Ducks are in the running for other O-line candidates. Most notable is Cameron Hunt, a 6'4", 267-pound, 4-star guard from Corona, CA. Originally committed to Cal, Hunt reopened his recruitment when head coach Jeff Tedford was fired. Hunt will visit Oregon on Jan. 18, and is expected to choose between Cal, Michigan, Ohio State and Oregon.
Projecting the guards right now is tricky, but the tackles and center positions should be set. Projected starters are in bold type.
LEFT TACKLE: Tyler Johnstone—Andre Yruretagoyena
LEFT GUARD: Hamani Stevens—Axel McQuaw or Evan Voeller
CENTER: Hroniss Grasu—Karrington Armstrong or Mana Greig
RIGHT TACKLE: Jake Fisher—Everett Benyard III
RIGHT GUARD: Jamal Prater—Trevor Fox or Evan Voeller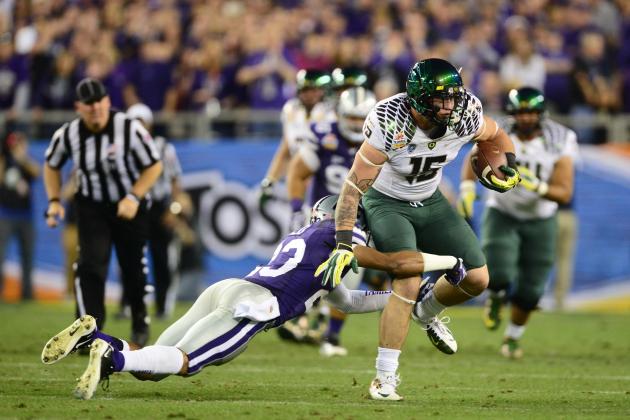 Mark J. Rebilas-USA TODAY Sports
Colt Lyerla in the Fiesta Bowl
Yeah, good luck Kansas State defender trying to tackle Oregon tight end Colt Lyerla with one arm.
Will. Not. Happen.
Lyerla worked his way out of coach Chip Kelly's doghouse and into Duck fans' loving embrace in 2012 with his bruising, impossible-to-bring-down style of play. The big guy has terrific hands and powerful legs that just keep churning. And, he's loyal to his coach, never a bad thing:
Stop hatin on chip, he wants to get drafted like everyone else #NFL

— colt lyerla (@ThaRealCL) January 6, 2013
Lyerla will once again be your starting tight end. Unless...redshirt freshman Evan Baylis, who joined the Ducks last fall as a highly-touted 4-star recruit, comes blazing out of his redshirt in spring camp or fall practice.
Also in the mix are Koa Ka'ai and Pharaoh Brown, who at various times during the 2012 season appeared on the official Oregon depth chart. Lyerla needs to mind his P's and Q's to hold onto his starting job.
TIGHT END: Colt Lyerla—Evan Baylis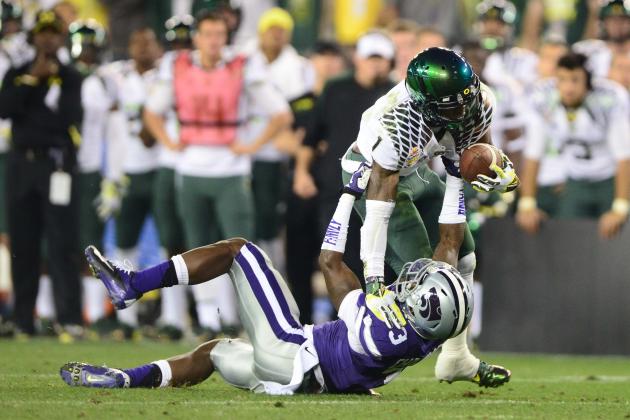 Mark J. Rebilas-USA TODAY Sports

If Oregon wants superstar quarterback Marcus Mariota to be a Heisman Trophy candidate in 2013, the Ducks will throw the ball more than they did in 2012. And, with the wealth of wide receivers on this roster, more balance between running and passing might be a good thing.
If you read the December offensive depth chart piece, you know that the writer was concerned that starting WR Josh Huff might declare early for the NFL draft. As of today, all of Oregon's underclassmen will return in 2013, according to USATODAYsports' Paul Myerberg:
As of now, Oregon is the only team among the top 11 of the final AP poll to not lose any underclassmen to the 2013 draft.

— Paul Myerberg (@PaulMyerberg) January 15, 2013
With the WR corps intact and a year of valuable experience working with a new starting QB, along with the exciting addition of 4-star recruit Darren Carrington (well done, Scott Frost!), look for some real fireworks in the Ducks' passing game in 2013.
WIDE RECEIVER 1: Daryle Hawkins—Bralon Addison
WIDE RECEIVER 2: Josh Huff—Eric Dungy or Dwayne Stanford
WIDE RECEIVER 3: Keanon Lowe—B.J. Kelley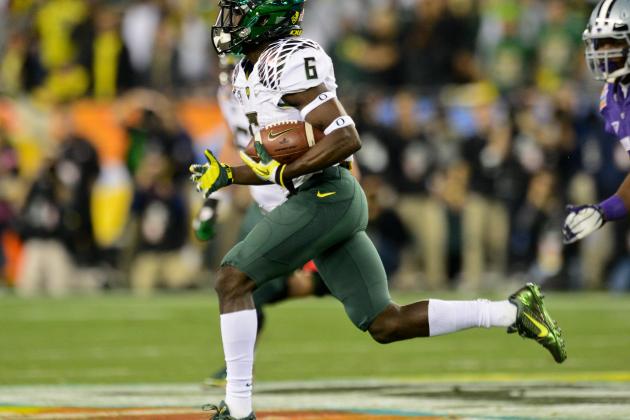 Matt Kartozian-USA TODAY Sports

While Duck fans will have the pleasure of watching several former Oregon running backs—Kenjon Barner, LaMichael James, Jonathan Stewart, LeGarrette Blount—on Sundays next fall, who will they be watching on Saturdays?
Everyone is all excited about incoming 5-star recruit Thomas Tyner and 4-star Dontre Wilson, and rightfully so. Both RBs have speed, talent and game-changing ability.
But the guys already on the Ducks' roster aren't exactly chopped liver. De'Anthony Thomas will certainly get his carries, and most Oregon fans hope that number goes up in 2013.
And don't forget about Byron Marshall, who gets an A+ for his job backing up Barner and Thomas in 2012. While he didn't appear much last year, junior Ayele Forde also has terrific talent and will be in the competition mix.
RUNNING BACK: De'Anthony Thomas and Byron Marshall—Thomas Tyner
Mark J. Rebilas-USA TODAY Sports

This will be a short slide.
The only mystery here is will No. 2 quarterback Bryan Bennett transfer or not. First, there was widespread speculation (mostly on Twitter) that Bennett would transfer to Cal Poly. But then, it was reported by Chris Courtney of 247Sports.com that he would remain at Oregon after all.
There has also been speculation that Bennett might move to another position, even on the defensive side of the ball. Oregon fans may not know until the spring game if Bennett is in the fold or not. If things stay the same as they are today, here's how the QB position looks:
QUARTERBACK: Marcus Mariota—Bryan Bennett or Jeff Lockie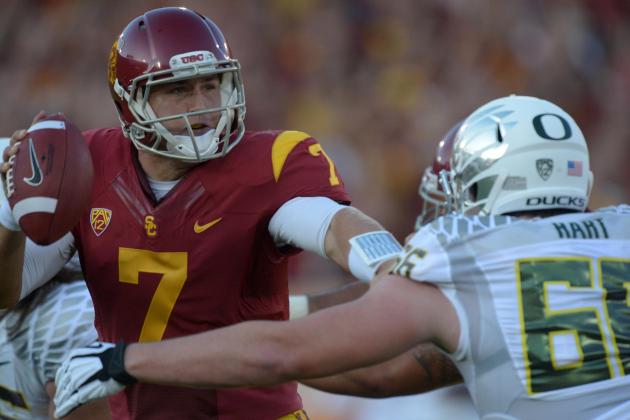 USA TODAY Sports

Don't you just love this photo of defensive end Taylor Hart closing in on USC's Matt Barkley?
Awww. Be honest, won't you miss Barkley? It's kind of like when former President Richard Nixon left and said: "You won't have me to kick around any more."
Oregon's defensive line, even when depleted with midseason injuries, was phenomenal in 2012. Huge losses in DE Dion Jordan and DT Isaac Remington are the only holes to fill this year, and because each of those two great players were out for some games, their young backups got some game experience and important street cred.
Mourn the departures of Jordan and Remington if you must, but please don't worry about the state of Oregon's D-line in 2013...it's in very good, big hands.
DEFENSIVE END: Taylor Hart (thanks for not leaving early, Taylor!)—DeForest Buckner
DEFENSIVE END: Tony Washington—David Kafovalue or Christian French
DEFENSIVE TACKLE: Wade Keliikipi—Alex Balducci
DEFENSIVE TACKLE: Arik Armstead—Ricky Heimuli
Kirby Lee-USA TODAY Sports

Remember in the last slide when you were advised not to worry about Oregon's D-line in 2013?
Well, now you can worry...but just a little bit.
The departures of all-world Oregon linebackers Kiko Alonso and Michael Clay is cause for much gnashing of the teeth. Talent and size like Clay and Alonso possessed doesn't come along every day in college football. Add to that, the recent decision of sophomore Anthony Wallace to transfer, and the Ducks suddenly look thin.
While Alonso and Clay's backups, Rahim Cassell and Derrick Malone, did see some action in 2012, both linebackers are smaller than is ideal.
But all is not lost. JC transfer Joe Walker at 6'3", 230 lbs could compete for a starting position. And the most excellent strong-side linebacker Boseko Lokombo will apparently return for his senior season.
It's possible that Duck fans are freaking out for no reason over the linebacker positions. You have to obsess about something, however, or it wouldn't be the offseason, right?
SLB: Boseko Lokombo—Tyson Coleman
WLB: Derrick Malone—Joe Walker
MLB: Rahim Cassell—Rodney Hardrick or Joe Walker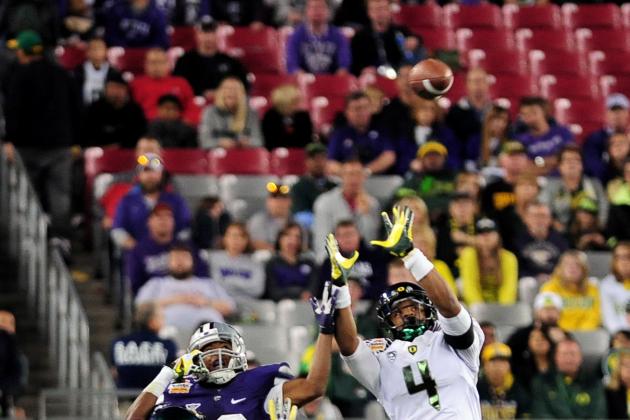 USA TODAY Sports

It's amazing what one year in college football can do. Last year at this time, Duck fans knew things were safe at safety with John Boyett, and were worried about the young cornerbacks and who could possibly replace Eddie Pleasant at rover.
What nit-wits we all were.
Things changed rather dramatically in Oregon's defensive backfield in 2012, and those changes will mostly carry forward in 2013. As President Obama is likely to say later this month about the state of the union: "The state of the Oregon defensive backfield is strong."
All the safeties return including, hopefully, injured Avery Patterson who took over so admirably when Boyett went down. Both starting cornerbacks return, as do their backups.
Add in redshirt freshmen and twins Eric and Stephen Amoako, who are listed as safety and cornerback, respectively. The Amoako's are red-hot Texas athletes who may have something to say about their positions this year.
So, overall, wow. Big wow.
CORNERBACK: Terrance Mitchell—Dior Mathis
CORNERBACK: Ifo Ekpre-Olomu—Troy Hill or Stephen Amoako
SS: Brian Jackson—James Scales
FS: Avery Patterson or Erick Dargan—Ben Butterfield or Eric Amoako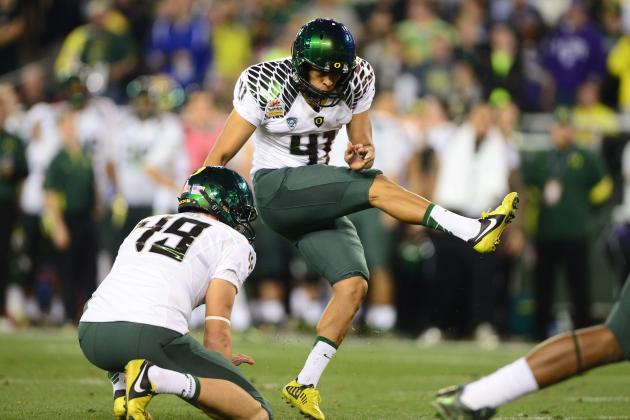 Mark J. Rebilas-USA TODAY Sports

It has been pointed out by a highly intelligent B/R reader and commenter that placekicker Alejandro Maldonado is a young man doing the best he can and, therefore, does not deserve our scorn.
In the spirit of the new year, let's roll with that, OK? That does not mean, however, that in our new kumbaya world, Maldonado should still be the starting placekicker for the Ducks.
He shouldn't, and won't be. That job will be won by incoming recruit Matt Wogan from Indian Trail, NC.
In other special teams' news, punter Jackson Rice, long-snapper backup Jeff Palmer, and placekicker and complete mystery man Rob Beard are the departing seniors.
On the return side of the special teams' equation, the Ducks are good with everyone, especially rocket man De'Anthony Thomas, returning.
Here's how the Ducks should look on special teams:
KO: Alejandro Maldonado—Matt Wogan
PK: Matt Wogan—Alejandro Maldonado
P: Dylan Ausherman—Matt Wogan
KR: De'Anthony Thomas—Keanon Lowe
PR: De'Anthony Thomas—Bralon Addison
LS: Drew Howell (punts)—No idea
HLD: Bryan Bennett—Jeff Lockie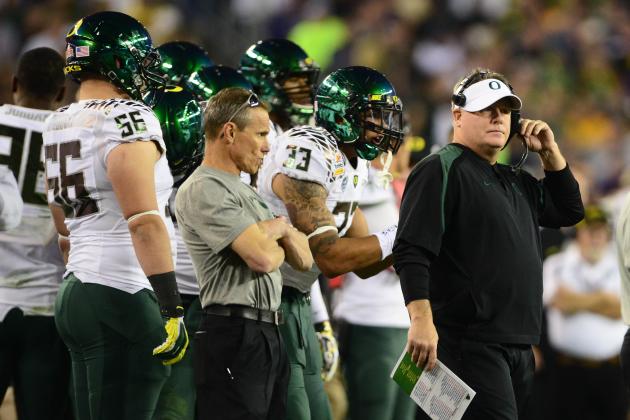 Mark J. Rebilas-USA TODAY Sports

So, since the depth chart is now all figured out for the Ducks, and the running of the bulls is several months off, all Chip Kelly needs to do now is hit the recruiting trail.
Right?
Kay Jennings is a member of the Football Writers Association of America.