6 Forgotten Winners Heading into the 2013 NHL Season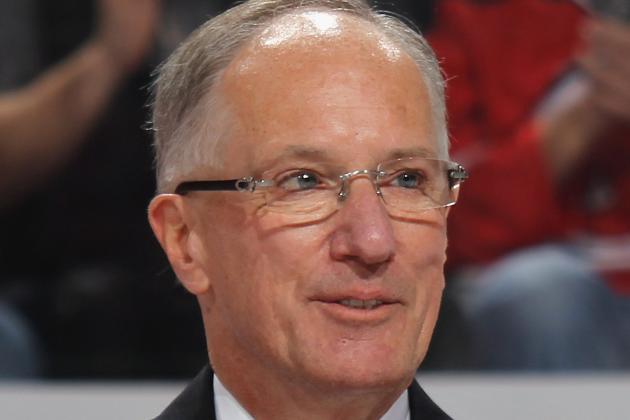 Bruce Bennett/Getty Images
Mike Emrick will be back announcing NHL games, instead of youth hockey, now that the lockout is lifted.
There's little doubt that a vast majority of the NHL players were relieved by the end of the lockout.
It meant an end to being forced to wait for updates, playing in Europe or just sitting around. Owners also now have favorable terms as they attempt to make a profit off the game.
But there are many individuals who may not be in the mainstream that are also happy the lockout is over.
They were the forgotten workers and individuals who were not making a living or at least saw their income limited during the four-month lockout.
Begin Slideshow

»
Bar and restaurant owners, waiters, waitresses and bartenders will do better because the NHL is back in business.
Sports-themed restaurants and bars draw sports fans to their locations. When fans can't see the NHL teams they love, they don't come to those restaurants and the owners and employees suffer.
When Philadelphia fans can go back to their favorite bars and Chicago fans can go to their pubs, life gets much better for the bartenders, waiters, waitresses and owners.
People are going to drink beer whether there is NHL hockey or not.
However, they will drink a lot more beer if there is hockey.
Whether it's at the arena, at the bar or at home, hockey fans are going to tip an extra Molson, Bud or Coors Light when they can drink it while watching NHL hockey.
That's great news for the beer companies.
Hockey players and coaches are not the only ones who make their living at the NHL arenas.
There are Zamboni drivers, arena maintenance workers, ushers, security workers, ticket takers and vendors.
When the NHL locks out its players, it also locks out these workers who are inside the arena on game day.
In cities where there is also basketball played in the arena, these workers may get some of their pay, but they don't get all of it.
Now that the NHL is back, arena workers are fully employed once again.
Broadcasters get locked out when there are no NHL games being played.
That does not mean just the play-by-play broadcasters as well as the color broadcasters. It also means the producers, directors, camera people and all the engineers as well as the other technicians.
Many of these individuals get paid by the game, so that means that there was no money coming in for four months.
In most NHL cities, a large portion of the fan base is going to drive to the games.
That means people have to park their cars so they can get to the facility and then leave quickly.
The parking lot attendants are invaluable in helping people get in and out.
When there are no hockey games at the arena, there are fewer opportunities for these forgotten workers to make their money.
They are now back in business.
Journalists chronicle the hockey season.
When there are no games because the league is locking out its players, they have to cover the lockout.
It becomes a long and tedious story that many journalists don't like covering and many readers could care less about.
Other journalists don't get the chance to write about the sport they love because editors don't always want stories about the lockout hockey history.
With the lockout over, journalist get to write about the ongoing business of hockey and the games themselves.