Full New York Jets Scouting Guide for the 2013 East-West Shrine Game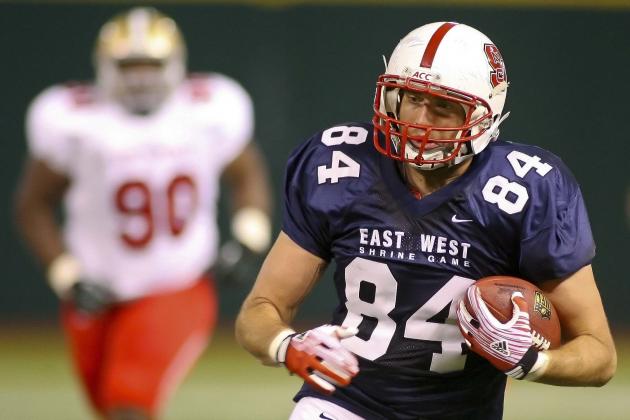 Phil Sears-USA TODAY Sports

With the large number of holes on the New York Jets' roster and the expected lack of cap flexibility to address a majority of those holes through free agency, the mid-to-late rounds of the NFL Draft will be incredibly important to the Jets this year.
The Jets have done a poor job of late finding productive players in the later rounds of the draft, and that's led to a lack of roster depth.
Over the past four drafts, only two players (Jeremy Kerley and Matt Slauson) who have contributed extensively to the team were picked in the fifth round or later.
All of this is important because the East-West Shrine Game is set for this Saturday (4 p.m. ET).
The game features many under-the-radar players who are projected to be mid-to-late round draft picks or undrafted free agents.
The Jets have shown a propensity recently to take chances on small-school players like Muhammad Wilkerson, Kenrick Ellis, Demario Davis and Vladimir Ducasse, so you'd have to expect the team to be doing its due diligence at this game, even with a change in the general manager.
Unless they get incredibly lucky, the Jets won't find the franchise-changing players they need in the East-West Shrine Game. However, they could find important role players or overachievers who can step into a starting role and contribute.
With a need for depth at a number of positions, Jets fans watching the game should keep their eye on a number of players on both sides of the ball.
Here's a group of players who could catch the eye of the Jets and land on the team come draft day.
Begin Slideshow

»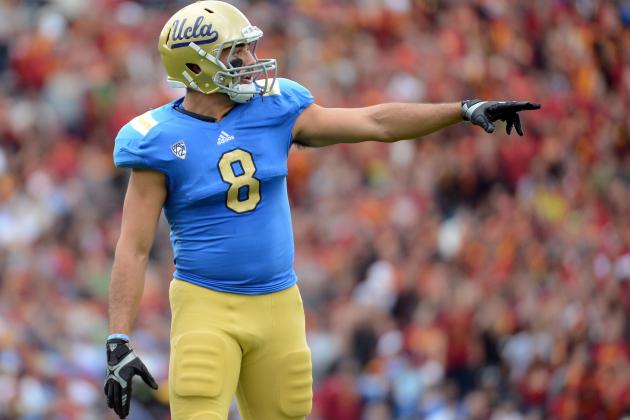 Harry How/Getty Images

The Jets' tight-end situation is in such a state of flux that fans should keep an eye on every tight end who steps on the field in these postseason all-star games.
One tight end who will have no problem standing out in the East-West Shrine Game will be 6'7" UCLA product Joseph Fauria.
As teams hunt for the next Rob Gronkowski or Jimmy Graham, these tall, rangy tight ends like Fauria have become highly desirable.
The nephew of former NFL star Christian Fauria, Joseph Fauria is seen as a project with a high ceiling.
On the season, he caught 46 passes for 637 yards and 12 touchdowns.
With Dustin Keller a free agent and Jeff Cumberland and Konrad Reuland far from being No. 1 tight ends on a legitimate contender, the Jets could take a chance on a tight end in the middle rounds, which is where Fauria is slated to go.
He has smooth hands and is obviously a nice target in the red zone. On the negative side, he remains unpolished and needs work with his blocking.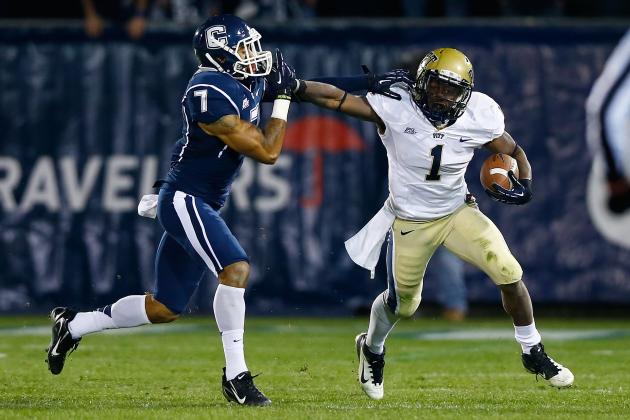 Jared Wickerham/Getty Images

If the Jets are willing to overlook some of the negatives that come along with Ray Graham, they may be able to use a mid-round value pick on the talented running back.
Graham battled a hamstring injury in 2012 and also had an off-field incident in which he was charged with disorderly conduct, according to nfldraftscout.com, after a confrontation with a fellow student.
On the field, Graham's ability is unquestioned.
The two-time first-team All-Big East performer is Pitt's No. 2 all-time leading rusher and has the breakaway speed the Jets sorely lack.
Dane Brugler of nfldraftscout.com reported that Graham, as expected, looked like the quickest athlete on the field as the East squad ran its practices this week.
CBSSports.com ranks the 5'9" Graham as the No. 14 overall running back in the draft class and projects him to be a fourth- or fifth-round pick.
If the Jets miss out on Eddie Lacy or Giovani Bernard early, Graham could be a possible target.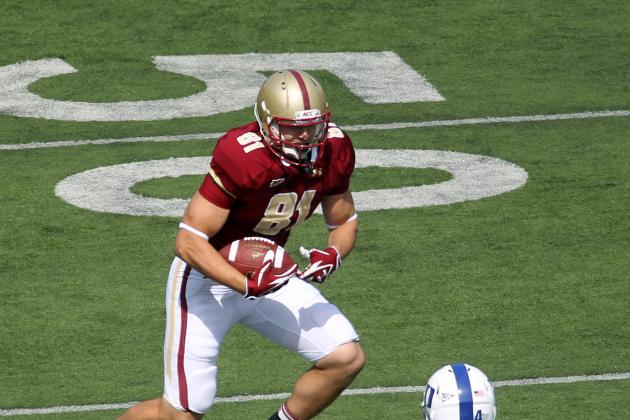 Stew Milne-USA TODAY Sports

Tight end Chris Pantale is a player who needs to show good production in the East-West Shrine Game to prove that he is capable of better production than he showed at Boston College.
The 6'5", 255-pound Pantale has an NFL body and the look of a good NFL tight end, but had just 21 catches for 189 yards in 2012.
Draft scouts are going to have to decide whether Pantale's lack of production was because of Boston College's putrid offense or if it was rooted in a lack of ability.
The Jets need a primary tight end in 2013. So if Dustin Keller walks, the Jets shouldn't choose a project like Pantale as his replacement.
However, if Keller returns, Pantale would be a nice project to develop as a backup.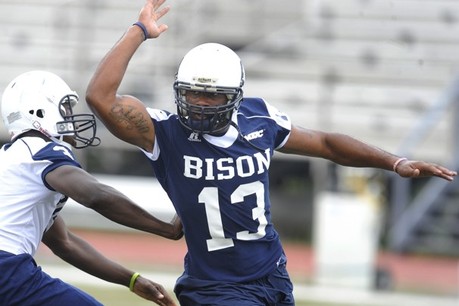 Photo by Richard A. Lipski
In each of the past two drafts, the Jets have taken a chance on a small-school defender, hoping to cash in on high-ceiling players who came in under the radar.
If the Jets continue that trend, Keith Pough could follow in the footsteps of Kenrick Ellis and Demario Davis.
A high-energy outside linebacker from Howard University, Pough is just the type of late-round project the Jets can take a chance on if they spend their first-round pick on another outside linebacker.
Pough (6'3", 238 pounds) was the MEAC Defensive Player of the Year in 2012 and set the Football Championship Subdivision all-time record with 71.5 career tackles for loss.
He's a player who could increase his draft value with a strong performance in the game against a level of opponent he just did not see at Howard.
The Jets need a complete overhaul at linebacker. Finding a late-round gem who can contribute immediately like Pough would be a huge step in the right direction.
Christian Petersen/Getty Images

Jets fans should keep their eyes on all six quarterbacks in the East-West Shrine Game. But if they had to concentrate on one, it should be Arizona's Matt Scott.
He is a raw senior prospect who was mostly stuck behind Nick Foles at Arizona. He did fill in at times as a starter when Foles was injured, but he didn't get his full chance until 2012.
All Scott did when given the chance was lead Arizona to a No. 3 finish in the nation in total offense.
The 6'2", 200-pound Scott has a strong arm, even if he does have a three-quarters delivery, and has shown tremendous running ability as well.
With the ever-evolving NFL turning to more mobile quarterbacks, a strong showing by Scott could boost his already decent draft status.
Scott threw for 3,620 yards and 27 touchdowns and rushed for 506 yards and six touchdowns in 2012.
It's no secret that Rex Ryan likes a mobile quarterback. While Scott only started 17 games in college, he remains a good prospect with a high upside.
CBSSportsline.com has Scott rated as the No. 10 quarterback prospect in the draft and expect him to be drafted in the third or fourth round. That makes him the highest-rated quarterback in the East-West Shrine Game, according to their rankings.
Scott doesn't seem to be a quarterback who could be thrown into a starting role immediately, so he might not fit the Jets' game plan.
However, if they brought in a stop-gap veteran and got rid of Mark Sanchez, Scott would be a nice option as a developmental quarterback.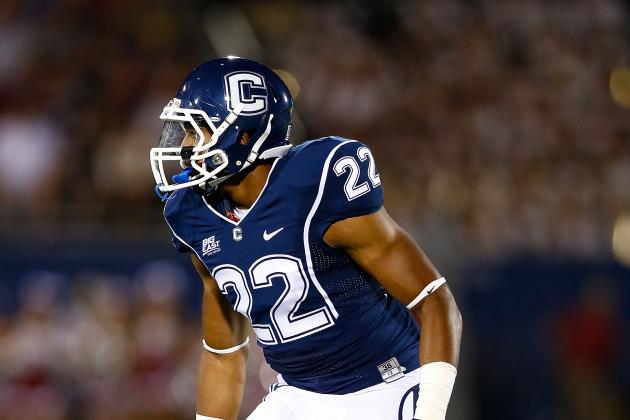 Jared Wickerham/Getty Images

The Jets need several players at the linebacker position and have the opportunity to do that in a cost-effective way through the draft.
They have been frequently linked to players like Barkevious Mingo, Dion Jordan or Jarvis Jones in the first round, any of whom would be a fine choice as a pass-rushing outside linebacker.
However, they also need depth at the position, which is where Sio Moore could come in.
The first-team All-Big East linebacker is the kind of player who could play a huge role in rejuvenating a position that was manned by plodding veterans the past two seasons.
Moore is undersized at 6'1", 240, which, along with concerns about his his ability to shed blockers at the pro level, is keeping him out of the first two rounds.
However, Moore has a knack for making plays in opponents' backfields and that is valued by everyone.
Moore has started 21 games over the past two seasons. During that time, he has 27.5 tackles for a loss, eight sacks, 11 passes defended and three interceptions.
He's the kind of playmaker the Jets haven't had at the position since Calvin Pace and Bryan Thomas were playing their best years ago.
If the Jets had a linebacking corps of David Harris, Demario Davis, Garrett McIntyre, Barkevious Mingo and Sio Moore in 2013, all of a sudden the unit could once again become a great strength.
If you're one of those fans who likes to keep an eye on the trenches looking for the next dominant big man, the East-West Shrine Game might not be for you.
The game will not feature any of the top linemen in the country, but instead will be filled with projects and small-school players looking for their chance to play against the big boys.
If Jets fans had to pick one small-school lineman to scout during this game, take a look at Terron Armstead of Arkansas-Pine Bluff.
Armstead is a 6'5", 305-pound tackle who is projected by CBSSports.com as a sixth- or seventh-round pick.
The Jets are in need of a tackle as Jason Smith will surely be cut due to his ridiculous 2013 salary cap number.
What the Jets should probably do is draft or sign a high-level tackle, put him in Austin Howard's spot and move Howard into Smith's role.
However, if the Jets decide that Howard is good enough to start again next season, they can certainly take a chance on a player like Armstead to fill Smith's role.
Alfie Crow from sbnaation.com reported that Armstead has impressed in East-West Shrine practice, showing fluidity and strength in matchups against defensive ends.
Armstead appears to have the versatility to move inside and play guard, something that could be valuable to the Jets, who have an offensive line that could look very different in 2013.