25 Best and Worst Moments of the 2012-2013 College Football Bowl Season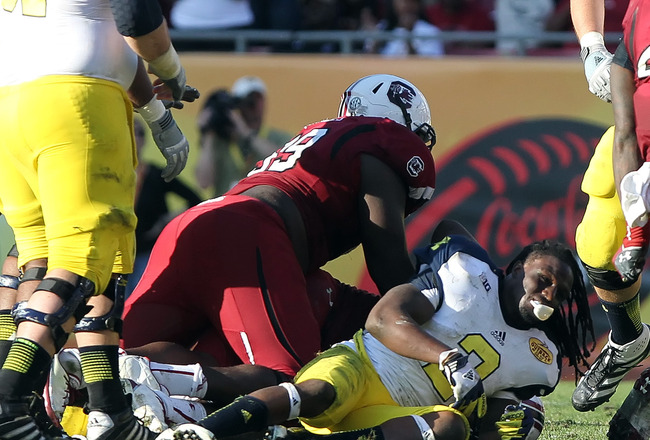 Kim Klement-USA TODAY Sports
The 2012-13 bowl season may not have been perfect, but it sure had its memorable moments.
Some of the best will be watched over and over again as we wait for college football to return. Some of the worst, well, they are best left behind.
From Louisville's stirring upset of Florida to Duke fumbling away a chance to win its first bowl game in 50 years, this bowl season had plenty of ecstasy and agony.
Best Moment: Ole Miss Makes Best of Bowl Game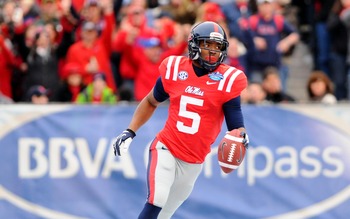 USA TODAY Sports
There's nothing like a few years away from a bowl game to make a fanbase appreciate going to the postseason.
Ole Miss fans went to the BBVA Compass Bowl in droves and got their money's worth as the Rebels beat Pitt 38-17.
Not since Alabama and Auburn stopped playing the Iron Bowl in Birmingham has Legion Field had that many fans.
Worst Moment: When We Realized Alabama Was Going to Rout Notre Dame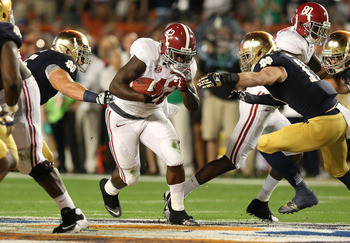 Matthew Emmons-USA TODAY Sports
After last season's 21-0 bore of a BCS National Championship Game between Alabama and LSU, I was hoping for more out of this game.
But after just a quarter, it was clear that it would be disappointing for everyone but Alabama fans.
Hey, I'm sure even the Crimson Tide fanbase would have liked more of a challenge than what Notre Dame offered.
Best Moment: Nick Florence Passes RGIII in Season Passing Yards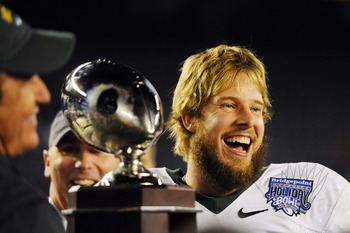 Christopher Hanewinckel-USA TODAY Sports
While Nick Florence didn't take home the Heisman, he did break Robert Griffin III's Baylor single-season passing record in the Bears' 49-26 win over UCLA in the Holiday Bowl.
Florence didn't have huge numbers, completing 10-of-13 passes for 188 yards, but he did throw for two touchdowns and did not have an interception.
He finished the season with 4,309 passing yards, surpassing Griffin's total of 4,293.
Not bad at all.
Worst Moment: Armed Forces Get Beat Up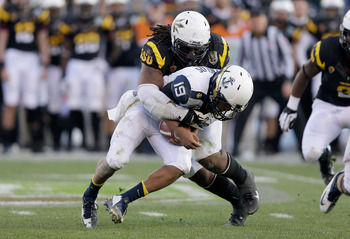 Ezra Shaw/Getty Images
Air Force and Navy get extra respect for the service they render to this country, but they sure took a beating in the bowl season.
The Falcons were shot down by Rice 33-14 in the Armed Forces Bowl, and Arizona State did more than just sink the Midshipmen's battleship as they lost 62-28 in the Kraft Fight Hunger Bowl.
I'm not asking for a return to the 1940s when Army and Navy were among the premier teams in the country, but I would like to see better things for our servicemen than this.
Best Moment: A Bowl Win for Vandy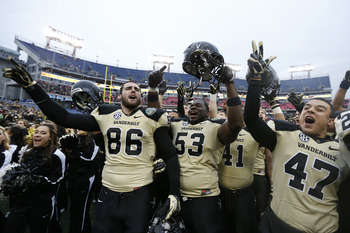 Joe Robbins/Getty Images
While many people don't like to see the SEC succeed, you can't help but admire the Vanderbilt story. The Commodores have been a bottom-dweller in the nation's best conference year after year, but James Franklin has these kids believing.
Their 38-24 win over N.C. State in the Music City Bowl was just the third bowl win in school history.
Worst Moment: Florida's Disastrous Failed Onside Kick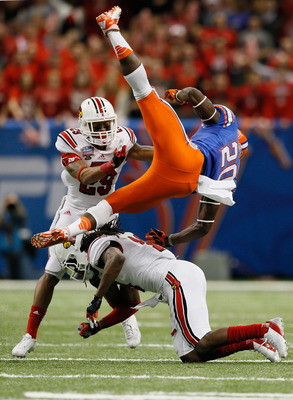 Kevin C. Cox/Getty Images
Florida had a rough start against Louisville in the Sugar Bowl, so it thought an onside kick might turn its fortunes.
Instead, it went as wrong as it possibly could.
Not only did Florida fail to recover the onside kick, but two Gators picked up personal fouls and Chris Johnson got himself ejected for throwing a punch on the play.
That's a cringe-worthy moment by anyone's standards.
Best Moment: Keanon Lowe Fakes Injury to Let Dane Ebanez Play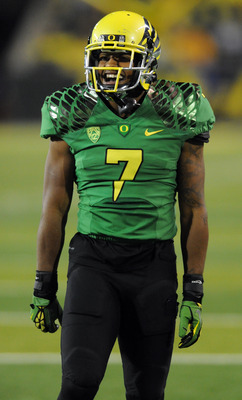 Steve Dykes/Getty Images
Most of the time, faking an injury would definitely make a "worst" list. This is one of those exceptions.
Oregon wide receiver Keanon Lowe faked an injury, according to John Canzano of The Oregonian, so that walk-on and scout team leader Dane Ebanez could go into the game against Kansas State. After all, it isn't every day you get to play in the Fiesta Bowl.
Kind of reminds you of Rudy, doesn't it?
Worst Moment: The Heart of Dallas Blowout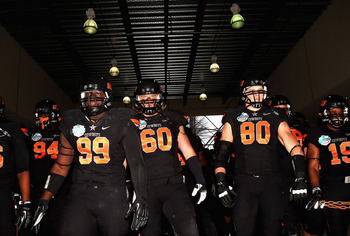 Ronald Martinez/Getty Images
In a perfect bowl season, each game has two evenly-matched opponents. The Heart of Dallas Bowl showed that we had far from a perfect bowl season.
Oklahoma State absolutely flattened Purdue, 58-14. The Cowboys needed a better opponent, and we needed a better game than that.
Best Moment: Alex Okafor Makes His Final Mark at Texas
Alex Okafor knew that the Alamo Bowl game against Oregon State was one of his last opportunities to audition for the NFL, and boy, did he make the best of it.
The Texas senior made quite an impact, picking up 4.5 sacks and forcing a fumble in his final game as a Longhorn. The coaches tell you to leave it all on the field, and Okafor did.
Worst Moment: Louisiana Tech Refuses to Go to a Bowl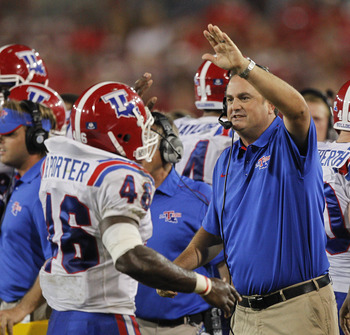 Bob Levey/Getty Images
This shows how petty college football programs can be.
Rather than face in-state rival Louisiana-Monroe in the Independence Bowl, Louisiana Tech decided to just stay home, according to USA Today.
Really?
At least take the extra practices. I hate it when big-name teams turn up their noses at non-AQ teams, and it really bothers me when non-AQs pick on each other.
Best Moment: Louisville Upsets Florida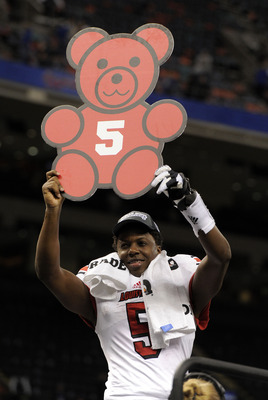 USA TODAY Sports
Who doesn't like a good underdog story?
No one gave Louisville much of a chance against the mighty Florida defense, but Teddy Bridgewater and the Cardinals had other ideas.
From Terrell Floyd's interception returned for a touchdown to Bridgewater's second touchdown, Louisville showed the Gators who's boss in a 33-23 victory in the Sugar Bowl. Florida fans may claim that their team was not motivated to play the Cardinals, but that's a lame excuse.
This may have started Teddy Bridgewater's 2013 Heisman campaign.
Best/Worst Moment: Musburger Draws Attention to McCarron's Girlfriend
This one depends on your perspective.
For Katherine Webb, this moment was actually a boon. As they say, any publicity is good publicity.
As for me, I'd rather watch the game.
Best Moment: Boise State Wins on a Field Goal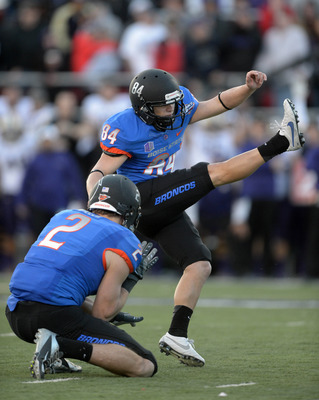 USA TODAY Sports
Winning the Las Vegas Bowl may not seem like such a big deal for a team that has won BCS bowl games. But considering Boise State lost just about everyone from last year's team, it is a major accomplishment.
Also, making a 27-yard field goal may seem routine, but the Broncos have lost a few big games in the past few years on last-minute field goals. So, their game-winning kick in a 28-26 win over Washington was extra special.
Worst Moment: Duke Fumbles Away a Chance to End a 50-Year Drought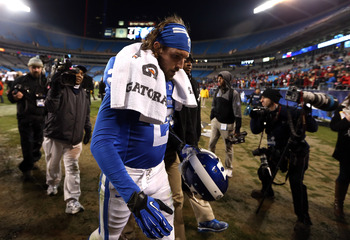 Streeter Lecka/Getty Images
It was amazing to see how quickly things turned against Duke in the Belk Bowl.
Down by just a touchdown, the Blue Devils had made it all the way to the Cincinnati 5-yard line with just 1:20 remaining when Josh Snead fumbled the ball. Just a few seconds later, Brendon Kay threw a dagger 83-yard touchdown pass as the Bearcats prevailed 48-34.
Duke hasn't won a bowl game in 51 years, but it looks like it will be at least one more year before the Blue Devils can break through.
Sure, there's always basketball, but I'm sure the football team doesn't want to hear that.
Best Moment: Aaron Murray's Rebound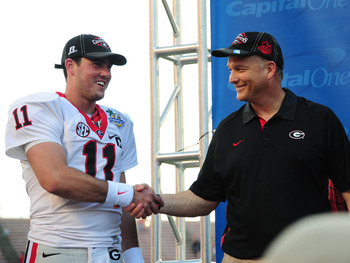 Scott Cunningham/Getty Images
Aaron Murray might have brooded over his team's close loss against Alabama in the SEC Championship Game that kept the Bulldogs out of the national championship game. After all, he drove the Dawgs all the way to the Alabama 5-yard line before running out of time.
However, Murray didn't show any signs that his mind was still on that play in Georgia's 45-31 win over Nebraska in the Capital One Bowl. Instead, he lit up the Cornhuskers defense for 427 yards and five touchdowns.
It's always good to see a quarterback bounce back and get a big win.
Worst Moment: The Mountaineers Get Snowed in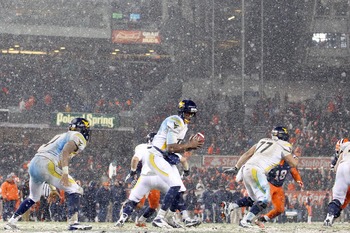 USA TODAY Sports
Geno Smith and the Mountaineers looked like they were going to take the Big 12 by storm after they destroyed Clemson in last year's Orange Bowl.
If that victory was a symbol of hope, the Mountaineers' 38-14 loss to Syracuse in the Pinstripe Bowl was reality smacking West Virginia in the face. Smith should have gotten a better exit from West Virginia than this snowy shame.
Best Moment: Arizona's Thrilling Comeback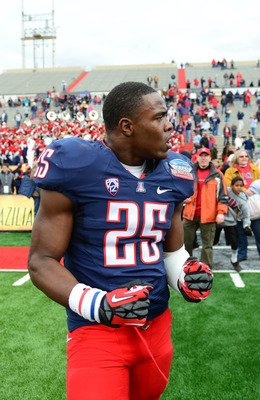 Mark J. Rebilas-USA TODAY Sports
Who would have thought that the New Mexico Bowl would have provided such an exciting game?
Arizona put together one of the best bowl comebacks since the 1980 Holiday Bowl. The Wildcats came into the fourth quarter down 45-28, but they scored three touchdowns, including two within the final minute of the game, to beat Nevada 49-48.
Just goes to show that it ain't over 'til it's over.
Worst Moment: USC's Season Ends with a Thud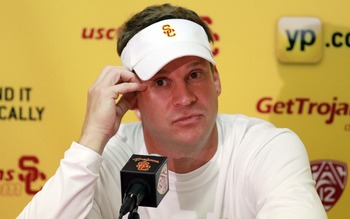 Kirby Lee-USA TODAY Sports
It's hard to believe that this was the No. 1 preseason team in the AP poll.
To put this 21-7 flop in the Sun Bowl in perspective, the only team to score fewer points on Georgia Tech was FCS member Presbyterian.
Sure, USC didn't have quarterback Matt Barkley, but this was a puzzling ending to what should have been a promising season.
Best Moment: Pat Fitzgerald's First Bowl Victory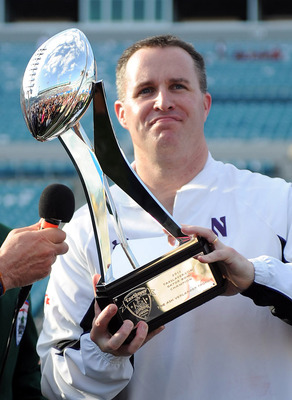 USA TODAY Sports
Pat Fitzgerald had already worked a minor miracle by getting Northwestern to bowl games year in and year out, but that elusive bowl victory seemed to always be another year away.
Until now.
Northwestern earned its first bowl win under Fitzgerald, beating Mississippi State 34-20 in the Gator Bowl, and it couldn't come soon enough. It was nice to see one of college football's overachieving coaches finally take home a bowl win.
Worst Moment: Sammy Watkins Injured
Paul Abell-USA TODAY Sports
You hate to see any player helped off the field in a bowl game, particularly at the start of the game.
Unfortunately, that's what happened to Clemson's Sammy Watkins. LSU's Barkevious Mingo took out Watkins on a hard but clean hit on Clemson's second offensive play.
However, the rest of the Clemson team stepped up and defeated LSU, 25-24, in the Chick-fil-A Bowl in one of the best games of the bowl season.
Best Moment: Johnny Football's Heisman Encore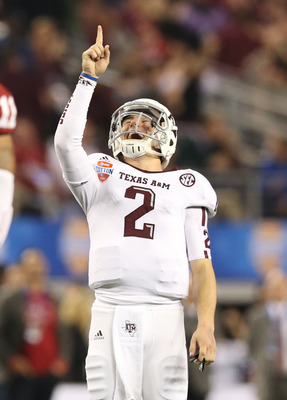 USA TODAY Sports
So many Heisman Trophy winners have gone on to underperform in their bowl games that there's been talk of the so-called "curse of the Heisman."
Like Johnny Football would be affected by such a thing.
Instead, Johnny Manziel put together a masterful performance with 287 yards passing, 229 yards rushing and four touchdowns in Texas A&M's 41-13 victory over Oklahoma in the Cotton Bowl.
Oklahoma's defense didn't know what hit it.
This was the culmination of an almost perfect first season for Manziel. Does perfection and a national championship follow next season?
Worst Moment: The Entire Orange Bowl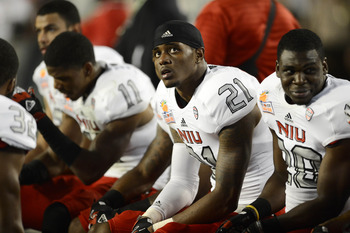 Ron Chenoy-USA TODAY Sports
I love non-AQ teams, but this game never should have happened.
I want a future in college football where, like in every other sport, any team at least has the possibility of winning a national championship. That's why I welcome the demise of the BCS in hopes that the four-team playoff will one day expand enough so that, in theory, any team could win it all.
The only thing that was painfully obvious in this Orange Bowl was that Northern Illinois wasn't yet ready to compete with the likes of Florida State. The Seminoles deserved a better opponent. The Huskies deserved a better way to showcase their talent and achievement than to get pounded into the ground in a lopsided 31-10 defeat.
We also deserved better than this worthless bore of a game. Trust me, a playoff can't come soon enough.
Best Moment: Kyle Van Noy Unleashes Beast Mode
The Poinsettia Bowl was a painful game to watch and would have easily made it on the worst moments side of this slideshow if it weren't for one thing: the dominance of Kyle Van Noy in Brigham Young's 23-6 win over San Diego State.
He blocked a punt, forced a fumble in the end zone and recovered it for a touchdown and returned an interception for a touchdown.
Most linebackers would love to have those kind of achievements over a career. To have all of those in a single game, which produced more touchdowns than either team's offense, is just unreal.
Worst Moment: Manti Te'o's Missed Tackles
Matthew Emmons-USA TODAY Sports
After Manti Te'o and the Notre Dame defense were so dominant during the regular season, it was painful to watch a playmaker like him miss play after play against Alabama in the BCS National Championship Game.
Clearly, Te'o and the Fighting Irish were just unprepared for the might of the Crimson Tide offensive line and the will of running backs Eddy Lacy and T.J. Yeldon.
Alabama pretty much did what it wanted in its 42-14 victory. I would have loved to have seen Te'o at least make the Tide sweat a bit.
You expect more from a linebacker who was the runner-up for the Heisman.
Best Moment: Jadeveon Clowney's Big Hit
Ever been on the wrong side of a terrible call? South Carolina's Jadeveon Clowney found himself in that situation, as the refs awarded Michigan a first down after a measurement clearly revealed that it should have been a turnover on downs.
So he decided to get the ball back on his own.
Clowney hit poor Wolverines running back Vincent Smith so hard that his helmet and the ball came loose, and Clowney recovered the fumble.
Now this is the football that we know and love.
Keep Reading