What Marco Reus Must Do in 2013 to Contend for the Ballon d'Or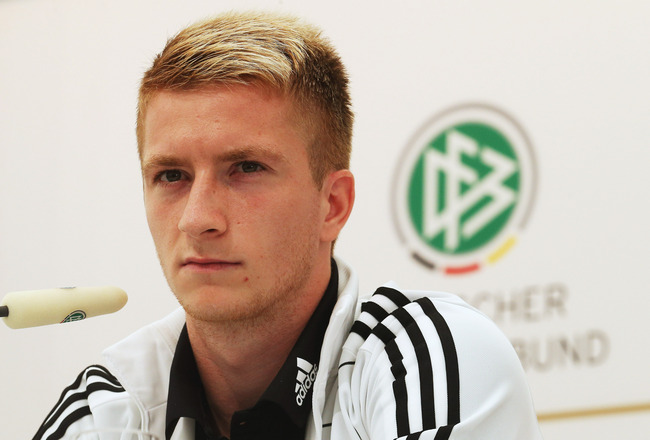 Joern Pollex/Getty Images
No country has produced more Ballon d'Or winners than Germany, but it's been 16 years since their last winner, Matthias Sammer, won the trophy. And although the future looks bright for the Bundesliga, at present, there are few German players who could realistically contend for the title. Perhaps the most likely possibility in 2013 is Marco Reus.
There are many world-class German players right now: Reus, Mesut Ozil, Manuel Neuer, and Bastian Schweinsteiger are just some of the many Bundesliga academy graduates who fit into an elite class of footballers. Discounting goalkeepers, defenders and defensive midfielders, who have historically been criminally underrated in the award's selection (only four non-attacking players have won the award since 1963), however, there are few Germans who could contend for the Ballon d'Or.
By his own admission, Thomas Mueller is "not a player who is enjoyable to watch for 90 minutes." As marvelously efficient and remarkably effective as he is, by the nature of his game, the Bayern Munich man will never catch the attention of Ballon d'Or voters the way his flashier contemporaries do. The same goes for Toni Kroos who will in 2013, deservedly or not, stand in the shadow of his teammates for club and country. If a Bayern Munich player wins the Ballon d'Or, it will be Franck Ribery; if a Germany international does, it will be Reus or Mesut Ozil.
On the topic of Ozil, he has the vast shadow of Cristiano Ronaldo to contend with at Real Madrid, which effectively ends the former's candidacy given that there is no international summer tournament in which the playmaker could put himself ahead of his club teammate. That leaves Reus and perhaps Mario Goetze as the only Germans with any chance of winning the award in 2013. And with the latter still a couple years before his prime, it seems Reus is the most likely candidate—albeit one with very little chance of even being considered among the final three.
Still, it is slightly possible for Reus in 2013 to follow in Sammer's footsteps, even if Ronaldo and Lionel Messi repeat their 2012 exploits and score 50, 60, or 70 goals. Click "Begin Slideshow" to find out just what the Germany forward needs to do to be a contender.
Show Up Lionel Messi and Cristiano Ronaldo (again) Head-to-Head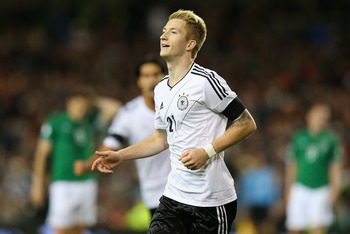 Alex Livesey/Getty Images
There is no better way to compare elite players than in a direct, head-to-head match. Elite footballers typically play for elite teams, and in such matches, it's possible to compare a pair of big-names on the grand stage of a tough match.
Reus already got the better of Cristiano Ronaldo at least once this season, and perhaps twice depending on one's interpretation. Even though it was Ronaldo and not Reus who scored at the Signal-Iduna Park in October, Dortmund beat Real Madrid 2-1. Weeks later, Reus scored the opener for BVB at the Santiago Bernabeu and Ronaldo was unable to find the target as it was Mesut Ozil whose last-gasp free kick spared the Liga side's blushes in a 2-2 draw.
Still, voting for the next Ballon d'Or is theoretically based only upon performance in the 2013 calendar year, and in any case, not all will be convinced by Reus' performance. In short, he has more to do to prove himself than does Ronaldo, and only with repetition and a greater dominance in head-to-head performance will Reus stand a chance at garnering the voters' favor.
To his misfortune, Reus needs the luck of the Champions League draw on his side if he is to stand a chance at contending for the Ballon d'Or ahead of Messi and Ronaldo. And that means tough encounters against Real Madrid and Barcelona.
If Reus does get the chance to face off against the Spanish giants, he'll face difficult but manageable opposition. Dortmund already came out the better against Real earlier this season, and Barca's defense looked suspect in the Champions League group stage: In four matches against Spartak Moscow and Celtic, they conceded five goals.
Despite their strong performances in the Champions League group stage, it would be extremely difficult for Dortmund if they were to meet Real Madrid or Barcelona this spring. BVB have not won a knockout round match in Europe's elite club competition since 1998. And for Reus to be the difference-maker, when he is certainly not the stand-alone star of his team, is even more difficult.
Win the Champions League and Score in the Final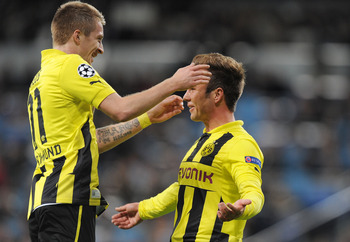 Denis Doyle/Getty Images
It is indeed true that Lionel Messi twice won the Ballon d'Or without having won the previous Champions League. However, that phenomenon is the privilege of a player who at 25 has won Europe's elite club competition twice and is already bearing down on Diego Maradona's career goals tally.
Until Dortmund gain the kind of reputation Barcelona have developed over the last seven years, no BVB player will have a chance of winning the Ballon d'Or without winning the Champions League in the previous season.
This season, Reus has been a key figure for the Bundesliga title holders, netting the opening goal in away matches against Manchester City, Real Madrid, and Ajax. Should Dortmund advance to the Champions League final at Wembley, there's no reason to believe he can't be the hero again. It won't be easy, but if BVB win the Champions League, Reus will more likely than not play a big role.
The real question is, can Dortmund go all the way? It's hard to argue that they weren't the best team in the Champions League this fall: Only PSG earned more points (15) than BVB (14), who won what was unquestionably the "Group of Death." Dortmund have gotten the better of the Spanish and English champions, and are undefeated with five wins in their last six encounters with Bayern Munich.
There are a lot of intangibles still outstanding, however. This Dortmund team is very inexperienced in the Champions League, and has a very thin bench. There is no guarantee that Nuri Sahin will ever be the player he was in 2010-11, let alone reach that level this spring, and currently the only natural fullbacks in the squad behind the starters are the perpetually-injured Patrick Owomoyela and recent reserve call-up Marcel Halstenberg.
If everything goes right, Dortmund can contend for the Champions League title. But they'll need to get Nuri back to his best, overcome their inexperience, stay fit and avoid suspensions. And a little luck couldn't hurt, either. It's a very, very difficult obstacle to overcome, but if they can do it, Reus can be their match-winner.
Score 60 or More Goals
Alex Livesey/Getty Images
In recent years, showing up other candidates in the Champions League has not been enough even for consideration among the final three Ballon d'Or candidates. Didier Drogba and even Ramires outplayed Lionel Messi last spring, and the former netted a late equalizer in the final to force extra time in Chelsea's eventual win over Bayern. But that was not enough. Nor was it enough for Wesley Sneijder to be the best player on a treble-winning Inter in 2010.
If there's one thing we've learned in recent years, it's that reputation is crucial for individual awards, and that reputation usually does not come for awhile after it's earned. Messi scored 91 goals in 2012, but failed in the hurdle that mattered most—the Champions League semifinals in which he missed a crucial penalty—and even played second fiddle for Pedro Rodriguez in the Copa del Rey final.
A similar criticism can be made of Cristiano Ronaldo, who also missed a key penalty in the Champions League and utterly flopped at Euro 2012 in games against Spain, Germany and Denmark. But both Messi and Ronaldo had been established as world stars for several years prior to the 2012 Ballon d'Or voting, and both scored goals by the truckload. Reputation and overall prolificacy earned them spots on the podium.
Andres Iniesta's inclusion in the final three was the exception: The midfielder played his hand in a relatively modest 27 goals in 60 appearances in 2011-12, but was Spain's standout player at Euro 2012 and was rewarded accordingly. Still, Iniesta had the benefit of being held in high regard for several years prior, as demonstrated by his €70 million valuation according toTransfermarkt. Had 2012 been his first year in the spotlight, he may well not have been considered as a finalist for the Ballon d'Or.
Marco Reus shot to superstardom in Germany last season, but has only just begun to develop a reputation abroad due to his Champions League performance. There are still 18 strikers in the Champions League who, deservedly or not, are valued higher than he. Even if Reus scores the winner in the Champions League final and outshines Messi and Ronaldo head-to-head, he'll need goals by the dozen to back him up.
They don't all need to be key goals (five or so in a rout of Fuerth will count just as much towards his tally as five against Bayern), but to get the voters' attention, surely he'll need more than Sneijder had on his side in 2010 and more than Drogba did in 2012. And that, sadly for Reus, is a year-end tally of goals he'll almost surely never reach.
Keep Reading