Realistic Best & Worst Case Scenarios for Mike McCoy's First Year with Chargers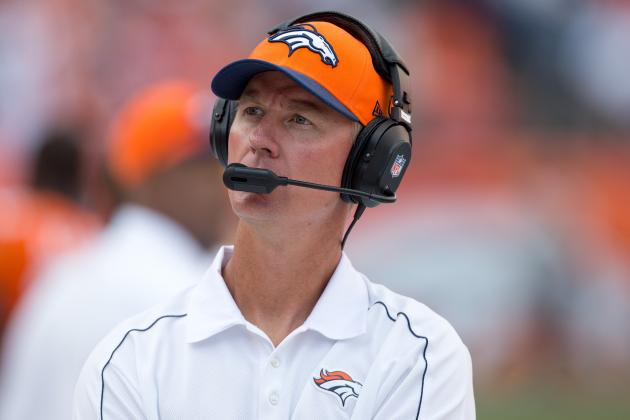 Justin Edmonds/Getty Images
Another former Broncos assistant becomes a rival head coach.
Mike McCoy is now the new head coach of the San Diego Chargers, according to Adam Schefter of ESPN.com:
It's official: Chargers called press conference to announce hiring of Mike McCoy.

— Adam Schefter (@AdamSchefter) January 15, 2013
McCoy becomes the second Denver Broncos assistant coach in as many years to take a head-coaching gig with a division rival. Dennis Allen, who was Denver's defensive coordinator in 2011, became the Oakland Raiders coach beginning in 2012.
Now with McCoy moving to Southern California, the rivalries in the AFC West will only intensify for 2013. And here is what Bolts fans can expect, for better or for worse, from McCoy's first season.
Begin Slideshow

»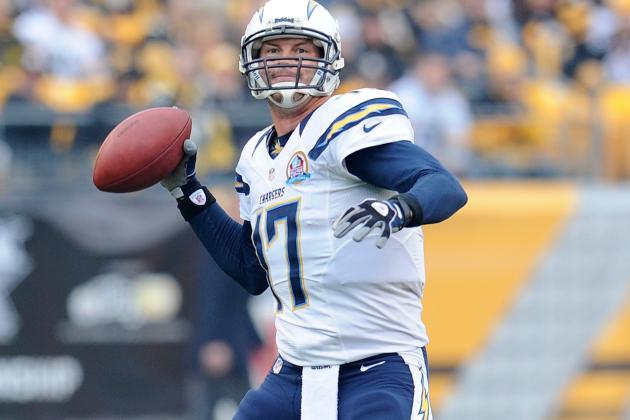 Joe Sargent/Getty Images

Let optimism reign in Southern California, because a fresh start with a favorable schedule offers much promise.
Just before the New Year the NFL released its list of 2013 opponents.
San Diego squares off against the entire NFC East and AFC South, as well as the Cincinnati Bengals and Miami Dolphins outside the division. Given how sluggish the Bengals and Indianapolis Colts looked during the postseason, those are potential wins.
The more winnable matchups, though, come against the Tennessee Titans, Jacksonville Jaguars, Philadelphia Eagles, Oakland Raiders and Kansas City Chiefs. None of these teams field a consistent pass rush or reliable passing game to challenge Philip Rivers.
That's seven victories right there.
Should the defense continue to stuff against the run and get more quarterback pressure, the Bolts could also log wins over the Dallas Cowboys, New York Giants, Miami Dolphins and Houston Texans. Dallas doesn't protect Tony Romo enough, Eli Manning's line is aging, the Dolphins are still suspect up front and Houston was exploited against the better teams this season.
In short, San Diego isn't too far behind regarding postseason contention.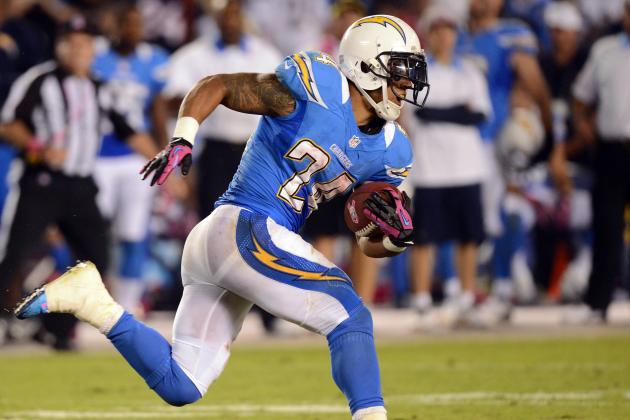 Harry How/Getty Images

Given the schedule and total personnel San Diego offers to Mike McCoy on each side, a .500 finish isn't terrible.
The 7-9 campaign in 2012 was certainly deceiving, though, because four of the Bolts' wins came against the Raiders and Chiefs.
Now without question those division rivals are expected to be swept again, but facing off against the Titans, Jaguars, Cowboys and Dolphins are currently the most appealing matchups. Along with Denver, San Diego gets other postseason teams in the Washington Redskins, Texans, Colts and Bengals.
These aren't guaranteed losses by any means, but definitely more realistic by comparison to the rest of the schedule.
Washington, Indy and Cincinnati each field a potentially explosive attack, and Houston is still solid defensively. Factor in the two matchups with the Broncos, and the Chargers have a slew of games that will require a total team effort to win, as opposed to the games against K.C. and Oakland.
Of any opponent next season, the Giants are the most intriguing since they are comparable to the Charges in terms of inconsistency. Big Blue experienced highs and lows in 2012; you never know which Eli Manning will show up.
The same can be said of Philip Rivers, because he was solid against the Baltimore Ravens and Pittsburgh Steelers last season. Then again, he also struggled against the Cleveland Browns and Bengals.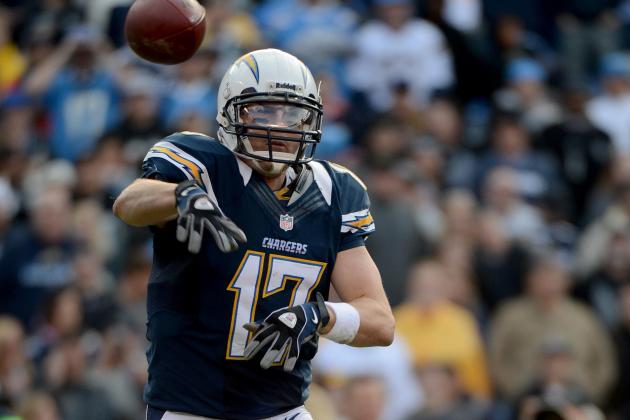 Donald Miralle/Getty Images

Adaptability is the best quality we've seen from Mike McCoy the past four seasons in Denver.
In 2010 his quarterback was Kyle Orton: a game-managing pocket passer with absolutely zero mobility and a weak arm.
Still, Orton possessed solid accuracy to the intermediate and short levels. The end result was plenty of yards after the catch from Brandon Lloyd and Eddie Royal. After switching to Tim Tebow in 2011, he engineered a more simplistic approach, using a run-heavy game plan to utilize Tebow's strengths.
That resulted in an unlikely playoff berth and a postseason victory over the then-defending AFC champion Steelers. In 2012, he had to change his style for Peyton Manning, one of the best pure passers in the game, but also one of the league's most immobile quarterbacks.
Looking at these three quarterbacks, Manning is who Philip Rivers mirrors the most. And although there are distinct disparities between Manning and Rivers as pro quarterbacks regarding resumes, the potential still resides.
We have to remember that Rivers is only 31 years old and in four consecutive seasons (starting in 2008) he tossed for 4,000-plus yards. McCoy brings the ability to adjust accordingly, which means a return to the Pro Bowl could be in Rivers' sights.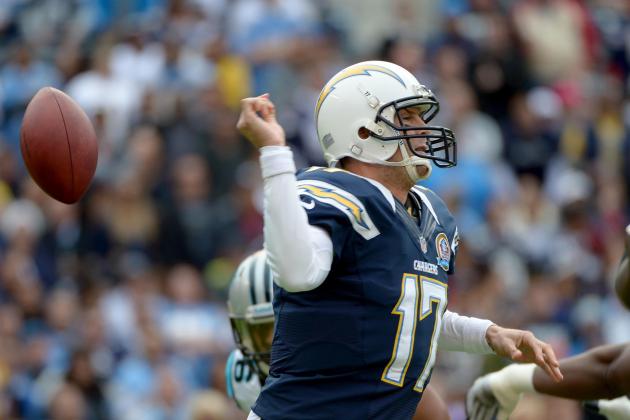 Donald Miralle/Getty Images

The downside of Philip Rivers exists with inconsistency over the past two seasons.
Coming off his best season in 2010 with 30 touchdowns to just 13 picks, 4,710 passing yards and a 66.0 completion percentage, Rivers' 2011 and 2012 seasons weren't nearly as impressive.
The coin flipped in 2011 with career highs in interceptions (20) and fumbles when dropping back (seven). The 62.9 completion percentage was also his worst since 2007.
Unfortunately this past season was not any better. In fact, Rivers only regressed.
Along with tossing 15 picks, he lost seven fumbles and was sacked 49 times. San Diego also ranked No. 26 in red zone touchdown percentage (46.8).
Combine all these elements and Rivers is a project for McCoy. Tim Tebow was different because of his skill set and not being an established quarterback. Rivers is a seasoned-vet, but the past two seasons are evidence of a declining signal-caller.
And 2013 will be a turning point for his career, regardless of the direction.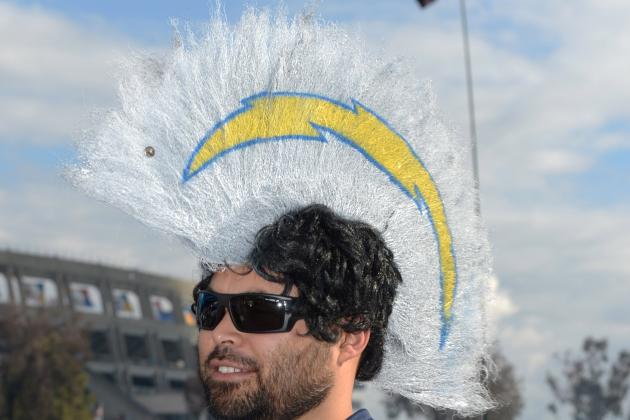 USA TODAY Sports

True Chargers fans who couldn't attend games struggled mightily finding their team on TV this past season.
According to Michael Gehlken of the San Diego Union-Tribune:
More Chargers games were blacked out last year than any season since 2004.

After an evaluation of stadium ticket prices, change is coming.

Four of eight home games were blacked out in 2012. Nine of the past 18 games not played in prime time have been blacked out since 2010.
Also, part of that was due to the team significantly underachieving. Fortunately, Bolts fans no longer have to worry about getting "Norv'd" by their head coach. For those unaware, that refers to Norv Turner's lack of postseason success and missing the playoffs three consecutive years.
McCoy, at least, provides a fresh perspective on what the Chargers are capable of.
Given his success as the Broncos' offensive coordinator, the appeal to go to a Chargers game has increased. Should the team start fast in 2013, Qualcomm Stadium will be filled each home game.
In turn, those unable to attend can finally catch their team on TV.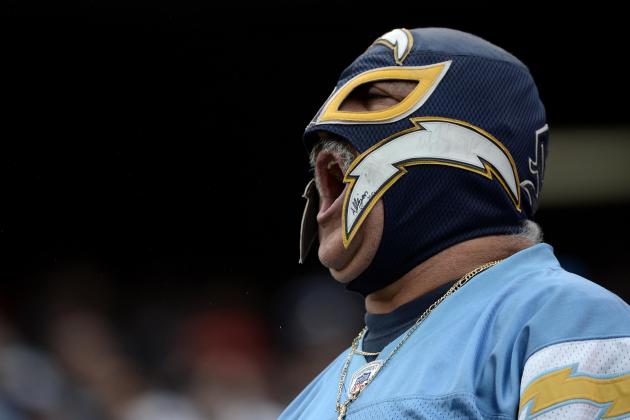 Donald Miralle/Getty Images

Anyone who attended the blacked-out Chargers games in 2012 likely ran into this guy.
And considering that San Diego's home record was 3-5, he was probably more obnoxious than usual.
That level of insane fandom, however, is certainly more common when the team is winning and more fans are attending games. Then everyone gets involved and that's how any crowd becomes a significant factor during NFL games.
But what if San Diego struggles in the early part of next fall?
Well, then the likelihood of games getting blacked out on TV simply increase. Not to mention, if anyone is concerned with McCoy's hiring it's that the Chargers are his first head-coaching job.
Norv Turner had gigs with the Redskins and Raiders prior to joining San Diego, but success in Southern California was scarce after 2009. Factor in Dennis Allen's first season with the Raiders after leaving Denver and it shows that nothing is guaranteed when in charge.
On the bright side, head-coaching experience must start somewhere and McCoy has found a much better team than Allen did. So don't expect San Diego to remain down for long.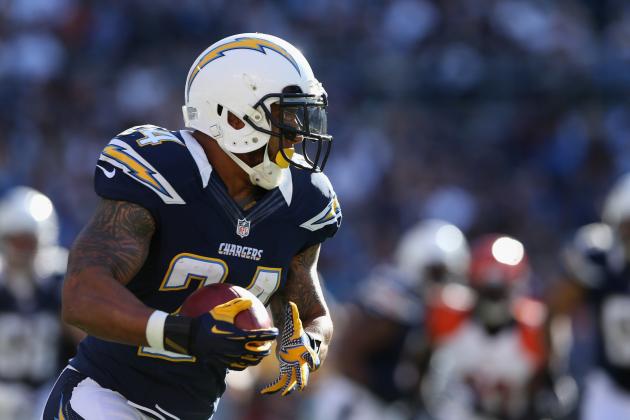 Jeff Gross/Getty Images

In three season Ryan Mathews has not played in every game.
The obvious reason is durability, but his potential when healthy still remains as he's only 25 years old.
Despite only playing in 14 games during the 2011 campaign, Mathews totaled 1,546 yards and scored six touchdowns. Just imagine if he played a full season.
Mike McCoy now has the opportunity to get Mathews to produce like he did two years ago.
We've already touched on his adaptability as a coach, which will transition nicely with a young No. 1 ball-carrier. Throughout his time in Denver, McCoys' best backs consisted of Knowshon Moreno and the aging Willis McGahee.
For as reliable as McGahee was over the past two seasons, Moreno's potential pales in comparison to that of Mathews'. Proven to be a dual-threat, Mathews still brings the size capable of slamming inside and the speed to bounce to the outside.
McCoy wasn't a pass-heavy coordinator, so Mathews will be fed more as the season progresses.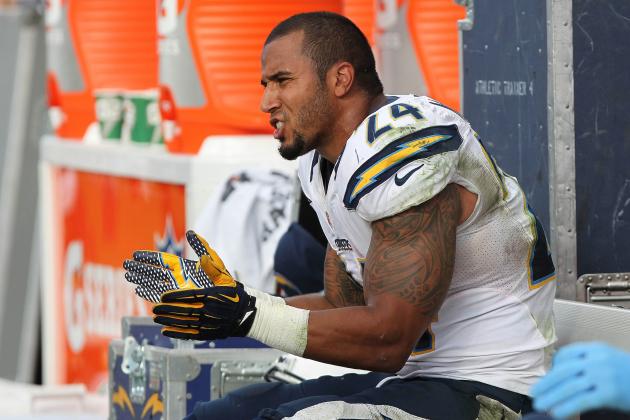 Kim Klement-USA TODAY Sports

Because of his durability concerns it would not be surprising to see Ryan Mathews underachieve.
He's still a young running back, which is to his advantage regarding his future.
At the same time he still must prove to be more dependable. The ability to average four-plus yards per rushing attempt, make defenders miss in the open field, break tackles and get downhill does exist.
It's about becoming more and more consistent on a weekly and yearly basis.
The good side of not relying on Mathews too often, though, also means less chance of injury. Given that he has been prone throughout his brief career, saving Mathews' potential impact for 2013's second half could also help him avoid injury.
Using Mathews sparingly may be a worst-case scenario, but the last thing San Diego needs is to strictly become one-dimensional in November and December. Instead, feed Mathews in short-yard situations and inside the red zone.
This keeps play-action relevant and then he can produce more emphatically later in the season. Rivers and the defense are good enough to keep the Bolts in playoff contention during the season's first half.
When the games become intensified, that's when the ground attack must really take over, but it is up to McCoy to trust the young back when the going gets tough.
Jake Roth-USA TODAY Sports

A lot of what we saw from Mike McCoy and the Broncos offense were quicker-developing plays.
With Kyle Orton's lack of arm strength by comparison to that of Jay Cutler, Tim Tebow or Peyton Manning, Denver had to get plenty of yards after the catch.
So, that calls for numerous three-and-five step drops and faster reads.
Tebow rarely had plays that required more than two reads. His flawed mechanics and inability to read pre-snap forced Tebow to often adjust mid-play, which resulted in him making things happen outside the pocket.
Peyton Manning simply did his typical reads and quickly released whenever he saw the smallest open window. Interestingly enough, Manning was sacked only 21 times in 2012.
Although Orton and Tebow were sacked more often, that was because each also hesitated on decision-making more than Manning. Looking at San Diego's receiving personnel, having Philip Rivers attack the middle of the field more will slow down opposing pass rushes.
And since he did get walloped 49 times last season, Mike McCoy can't afford to constantly call longer developing plays. With receivers such as Danario Alexander, Malcom Floyd, Eddie Royal and tight end Antonio Gates, the Chargers have players who can accumulate yards after the catch.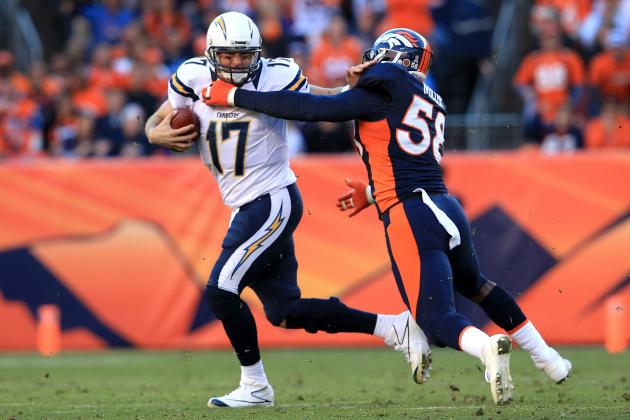 Doug Pensinger/Getty Images

Philip Rivers getting pressured simply comes from a lack of pass protection.
That was a key reason for San Diego's frustrating campaign in 2012, and it must get fixed for 2013.
Mike McCoy must also expect opponents to blitz Rivers relentlessly, because quarterback pressure results in inflated turnover opportunities. Whether it's forced fumbles or ill-advised throws, Rivers has had major turnover issues in each of the last two seasons.
Also, regardless of McCoy's ability to adapt with his quarterback's skill set, other factors must improve to help Rivers stay upright.
Until Ryan Mathews takes that next step into becoming a consistently dominant rushing force, the better defenses won't honor the ground game. If he doesn't take the next step, the play-action passing will not be as effective, and Rivers will face blitz after blitz.
McCoy could call more quicker-developing plays that put more pressure on the receivers to get open faster. So, when defenses are attacking, Rivers' targets will get press coverage with inside leverage.
That would force him to be more accurate on back-shoulder and over-the-top throws, which are the most difficult in pro football. And if he hesitates on those throws, he may take more sacks.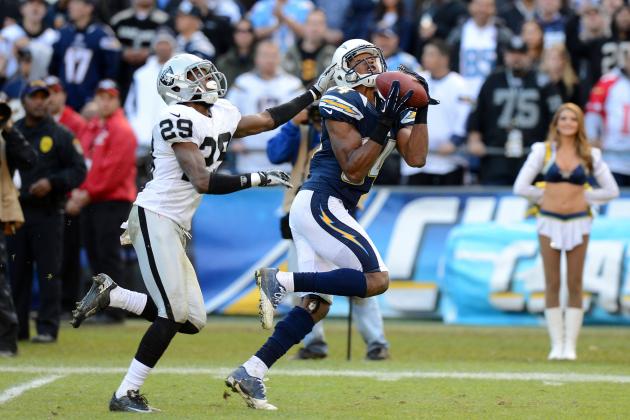 Jake Roth-USA TODAY Sports

Despite having a disappointing season, the Chargers still managed to average 21.9 points per game.
And they scored above that average 11 times.
Mike McCoy did San Diego one better in 2012, because the Broncos ranked No. 2 in scoring offense with an average of 30.1 per game. Now yes, much of that is courtesy of Peyton Manning and the defense getting the offense in excellent field position.
Improvements can be done with Philip Rivers, though.
San Diego ranked No. 31 in total offense, so there's basically nowhere to go but upward. With McCoy's quarterback expertise and Mathews' explosiveness, the Chargers can pull a 180-degree turn for the better.
After all, the Broncos were No. 5 in red zone touchdown percentage (60.8 percent) under McCoy, more than 13 percent better than San Diego in 2012.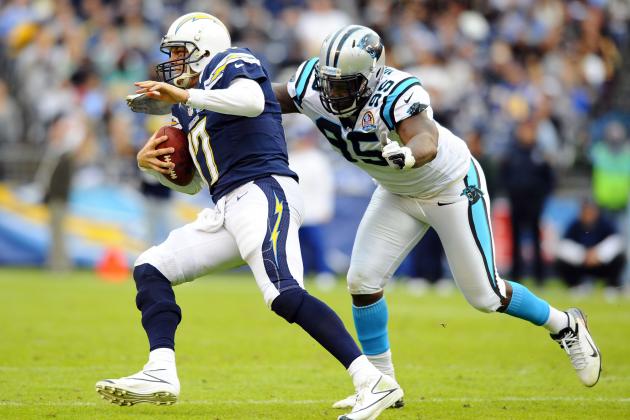 Christopher Hanewinckel-USA TODA

When San Diego wasn't hitting its scoring average, Philip Rivers and Co. were lucky to avoid the goose-egg.
In the five games that the Chargers scored fewer than 20 points, they were also held under the 14-point threshold, and three times they were held to fewer than 10 points.
That's inconsistency at its finest, which is something no offense can build confidence from.
Had San Diego scored its average in its losses to Cleveland, Cincinnati and Baltimore, it would have been 10-6 instead of 7-9. This is the minute difference between making and missing the playoffs.
Mike McCoy definitely has the personnel from the Bolts to generate plenty of points on a weekly basis. The problem resides within executing the intended play-call and everyone being on the same page when Rivers calls an audible.
Factor in a schedule that features defenses with talented pass-rushers from Denver, Kansas City, Washington, Dallas, New York, Houston, Cincinnati and Indianapolis, and San Diego must exceed its expectations.
Otherwise, 2013 will echo the frustrations of 2012.