The Brightest Emerging Star from Each NHL Team Entering 2013 Season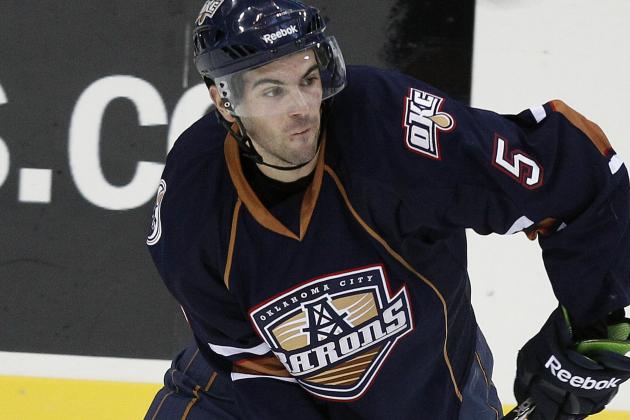 David Maxwell/Getty Images
Edmonton rookie Jason Schultz will be asked to step in and produce right away.
The 2012 NFL season was the year of the rookie quarterback.
Andrew Luck, Robert Griffin III and Russell Wilson weren't just good for rookies, they were spectacular performers.
A number of NHL rookies could also steal the show this year. The Edmonton Oilers, as is their wont, have a couple of potential rookie stars in defenseman Justin Schultz and No. 1 draft pick Nail Yakupov.
Let's take a look at each team's top rookie prospect for the upcoming season.
Begin Slideshow

»
Sami Vatanen has an excellent chance to make the Ducks. He has been playing with Richmond in the American Hockey League.
Vatanen sees the ice well and has the ability to wait an extra split second before making the pass or taking the shot.
When he matures, he can be the kind of player who makes those around him better.
Dougie Hamilton has superstar written all over him for the Boston Bruins.
While he will obviously need time to develop, general manager Peter Chiarelli and head coach Claude Julien will give Hamilton a chance to put his skills on display.
Hamilton has great size and speed and he can blast the puck from the blue line. He should be an asset on the power play.
Hamilton will most likely spend a lot of his time playing with veteran defenseman Dennis Seidenberg.
Marcus Foligno figures to play an important role with the Buffalo Sabres.
Foligno was the 104th pick in the 2009 NHL draft, but he has made consistent progress in the Sabres organization.
Foligno had 13 points in 14 games last year when he was called up late in the season and he should be an important fixture in Buffalo for years to come.
Flames fans should love watching the explosive Sven Baertschi play on a regular basis.
Baertschi has explosive offensive skills, including speed and a blistering shot. He dominated in the Western Hockey League last year and he scored three goals in five games when he was called up by the Flames.
The Hurricanes got excellent production from Jeff Skinner and Justin Faulk the last two years. During their rookie seasons, they emerged as consistent and productive players whom the Hurricanes will be able to count on for years.
This season, the Hurricanes will look to center Jeremy Welsh for depth at the forward position. Welsh has size and strength at 6'3" and 200 pounds to assert himself.
Brandon Saad has had the chance to pull on his Blackhawks uniform in the past, but head coach Joel Quenneville is going to give Saad the opportunity to play a key role with the team this year.
Saad has size, strength and determination when going to the net and he could eventually be a top line forward for the Hawks.
Undrafted Mike Sgarbossa may not come in with much hype, but that doesn't mean he's not going to be able to make a contribution if he emerges from training camp with an Avalanche roster spot.
Sgarbossa, 20, has been productive with the Lake Erie Monsters of the AHL, scoring 13 goals and 28 assists.
Colorado Avalanche head coach Joe Sacco told the Denver Post that he likes Sgarbossa's instincts and desire to have the puck on his stick in the offensive zone.
If defenseman Ryan Murray was healthy, he would clearly be the best rookie prospect for the Blue Jackets.
However, Murray suffered a torn labrum in his left shoulder and he's out for the rest of the season (source: Globeandmail.com).
Boone Jenner is a talented forward who has a shot to win a spot with an excellent showing in camp this week.
Defenseman Brenden Dillon has played well for the Texas Stars of the AHL. He has scored 14 points in 37 games.
Dillon is not flashy, but he can assert himself with his size and strength. The 6'3", 228-pound Dillon is a big hitter who can punish opposing forwards.
Brendan Smith figures to play a key role for the Detroit Red Wings following the retirement of Nicklas Lidstrom.
Nobody expects Smith to replace Lidstrom—nobody is capable of that—but he has the skills to step in and at least make a contribution. He had a goal and six assists in 14 games last year with the Wings.
The rookie choice for the Edmonton Oilers could easily have been No. 1 draft pick Nail Yakupov, but Schultz figures to be a prime contender for the Calder Trophy as the league's best rookie.
Schultz has played very well for the Oilers' top minor league team in Oklahoma City. While he does not look like an extremely physical player, he has solid offensive and defensive skills.
While some observers believe he may be somewhat overrated, Jonathan Huberdeau has size and skills to make fans take notices. He has a slew of standout moves when he comes in alone on the goalie and he should be a key player for the Panthers.
Huberdeau figures to win a spot on the second line and should be a fixture for the Panthers for years to come.
It's going to be difficult for any rookie to get significant playing time with the defending Stanley Cup champions.
If anyone has a chance to make an impact, it could be right wing Tyler Toffoli, who has very solid offensive skills. While his skating could be better, he knows what to do with the puck when he gets it in the offensive zone.
In some ways, Mikael Granlund is very lucky.
While he is one of the most hyped rookies in the league, the focus in Minnesota will be on free agents Zach Parise and Ryan Suter. That means the bright lights won't focus on Granlund, at least in the beginning of the season.
Granlund is a superior offensive talent with electrifying skills. He his not big or fast at 5'10" and 179 pounds, but he can make the kind of plays that will bring fans out of their seats.
The Canadiens have needed a big, strong playmaking center. While Alex Galchenyuk may have some struggles in the beginning of his career, it seems likely that the Canadiens will give him a chance to show what he can do with the big club.
Galchenyuk was a key part of Team USA's gold medal win in the recently completed World Junior Championships and he has the intangible characteristics to make him a star.
The Predators roster is mostly set, but that doesn't mean that injuries or slumps won't force head coach Barry Trotz's hand and he may have to call up a rookie at some point.
That may well be Mattias Ekholm, who is smart and effective but needs to get stronger.
Top draft pick Stefan Matteau has the ability to become an NHL star.
The thought was the 18-year-old would need time to develop before he would win a spot on the Devils' roster. While nothing is assured, head coach Peter DeBoer has been impressed by Matteau in training camp and told NJ.com that Matteau has not looked out of place while practicing with the varsity.
Matteau is an aggressive player with the kind of offensive skills that should help him become a solid contributor.
The Islanders had no plans to rush 2011 first-round draft choice Ryan Strome into the lineup, but he was Team Canada's second-best center behind Ryan Nugent-Hopkins at the World Junior Championships.
Strome has size, skills and skating speed and he has a chance to be one of the Islanders' better players.
The Rangers are counting on Chris Kreider to become a contributor in his rookie season. They have every right to expect that, considering that Kreider scored five goals for the Blueshirts in last year's playoffs.
Kreider has size, skating speed and a booming shot from the left wing. He also has the hands to make plays with the puck in close quarters.
Jakob Silfverberg figures to be in a position to succeed this year as it looks like he will be a top-six forward with the Senators.
HockeyBuzz.com has Silfverberg playing on a line with Jason Spezza and Milan Michalek. If that's accurate and he can stay there the majority of the season, he will have an opportunity to put up huge numbers and contend for the Calder Award.
Silfverberg should make an impression with his smooth skating and quick hands.
The Flyers had hoped that center Ben Holmstrom would have a chance to crack the lineup, but he injured his knee in December while playing for the AHL Philadelphia Phantoms.
Tye McGinn is an aggressive and tough player in familiar Flyers fashion, but he is not the smoothest skater and his hands need work. He is in training camp with the varsity and he has a chance to make the team.
The Coyotes have quite a bit of young talent within their organization and their best prospect may be Brandon Gormley.
However, he is still at least a year away and the Coyotes are giving a chance to David Rundblad in camp. Rundblad is a right-handed shot with solid offensive potential.
He will have to beat out fellow rookie Michael Stone if he is going to make the team. Stone is a also a right-handed shot (source: AZcentral.com).
The Penguins are a veteran-driven team that figures to be one of the best teams in the Eastern Conference.
They will go as far as Sidney Crosby, Evgeni Malkin, James Neal, Kris Letang and Marc-Andre Fleury can carry them. However, if any young player will be able to break through and contribute as a rookie, it could be right wing Beau Bennett.
Bennett was the team's first-round pick in the 2010 draft and he should ultimately be a top 6 forward. However, if he makes the team this year, he will see spot duty.
Vladimir Tarasenko could challenge Justin Schultz of the Edmonton Oilers for the Calder Trophy.
Tarasenko is an explosive offensive player who was averaging a point per game this year while playing in the KHL.
The Blues are a strong defensive team that figures to build off of its second-place finish in the Western Conference last year. Tarasenko will help the Blues' offense catch up with the defense this season.
Nick Petrecki is a big defenseman who can thump. At 6'3" and 230 pounds, Petrecki can handle himself and punish opposing forwards.
Petrecki has been invited to the Sharks' training camp. While it has taken him quite a while to become a player worthy of NHL consideration since he was drafted in 2007, this could be the year that he makes a contribution.
Tampa Bay is counting on former Nashville Predators prospect Anders Lindback to turn around their fortunes in goal.
While he is not technically a rookie because he has 38 games in two seasons under his belt, this will be his first season as a No. 1 goalie.
Cory Conacher is a rookie. He was the last player cut by the Lightning a year ago and he was the AHL rookie of the year in 2011-12. Conacher has been skating on a line with Vinny Lecavalier and Teddy Purcell in training camp, according to TampaBay.com.
Morgan Rielly is working at a disadvantage to make the Toronto Maple Leafs.
There is little doubt that he will one day be a solid NHL defenseman, but he is trying to make an impression as an 18-year-old in a week-long training camp.
While it seems likely that he won't make the big club, head coach Randy Carlyle has been impressed by what he has seen.
"He has great vision on the ice and he has NHL passing skills," Carlyle told the Toronto Sun. "You see him up top on the power play, you can see that is one of his strengths. The other part of it, the defensive zone coverage and the gap control drills we did, those are different, but those are different for every junior player coming into an NHL camp.
Jordan Schroeder scored 21 goals for the Chicago Wolves of the American Hockey League.
He is battling Andrew Ebbett to see who will start at center on the No. 2 line because Ryan Kesler is injured.
Schroeder and Ebbett are close in their battle for the position, although head coach Alain Vigneault said that Ebbett had been the best offensive player for the Wolves this year (source: Vancouver Sun).
The Capitals' top two prospects are Evgeny Kuznetsov and Filip Forsberg.
Kuznetsov is two years older than Forsberg and figures to get his chance first. It may not come this year because the Caps are a veteran-laden team and because of the shortened training camp.
Kuznetsov has world-class talent, according to The Hockey News' season-preview magazine.
Mark Scheifele should be in a decent position to make the Jets. He got off to an excellent start with the Barrie Colts of the Ontario Hockey League and was a key member of Canada's top line in the World Junior Championships.
There is little doubt about his talent, but he needs to play with more intensity if he is going to become a consistent player.