North Carolina Basketball: 1 Critical Improvement for Each Tar Heel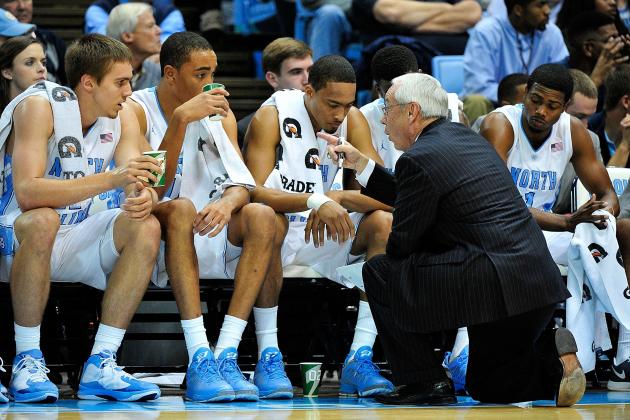 Grant Halverson/Getty Images

It is far too early to give up on North Carolina basketball.
UNC was off to a disappointing 0-2 start to its ACC season before their big win over FSU. Now the team appears to be forming a bond that could propel them to the next level. But in order for the team to reach its full potential, individual improvements still need to be made.
This is a young, talented group of Tar Heels. Potential oozes from their pores. But with so much youth, it would be an impossible feat for all of them to reach their respective ceilings this season.
A more realistic expectation would be to point out one critical improvement for each Tar Heel, and hope each player can reach that goal.
There is nothing outlandish on this list. Every player is more than capable of improvement in these areas, and these minor tweaks could go a long way in making this team a contender.
The only players left off this list are Jackson Simmons and Luke Davis, as neither are in the primary rotations. Simmons may have earned more playing time after his performance against FSU, but that remains to be seen.
And, frankly, he hasn't shown much weakness other than his athletic limitations. Simmons may not be a top-flight athlete, but he is a quality basketball player.
On to the list.
Begin Slideshow

»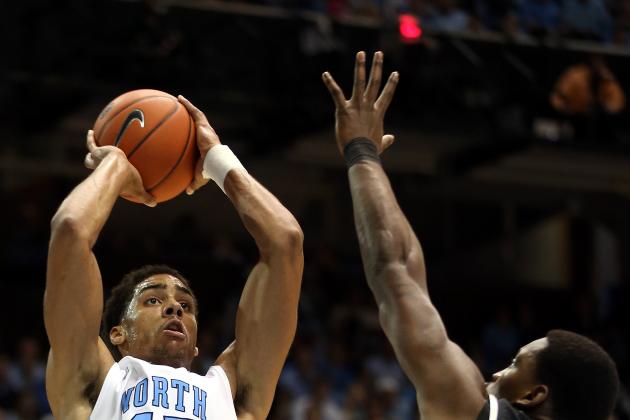 Streeter Lecka/Getty Images

It would be nice to see James Michael McAdoo get more physical and aggressive, but it is even more important he just slows down on the offensive end.
When receiving the post feed, it seems as though McAdoo is trying to make his move before securing the ball. Anyone who watches football has heard commentators jump on a receiver for the same thing. It is no different in basketball.
A player must have possession of the ball before he can do anything with it.
When McAdoo does secure the ball, he has a tendency to operate as quickly as possible. That has forced many ill-advised and off-balance shots that cost the team many quality possessions.
Despite his 14.4 points per game, his shooting percentage is a low 45.5 and he averages 2.9 turnovers per contest.
McAdoo simply needs to slow it all down and work with what the defense gives him. Then his shooting percentage will go up, turnovers will go down and he'll drop more dimes to open players.
Not only will that benefit McAdoo's own numbers, but the team will become more efficient because of it.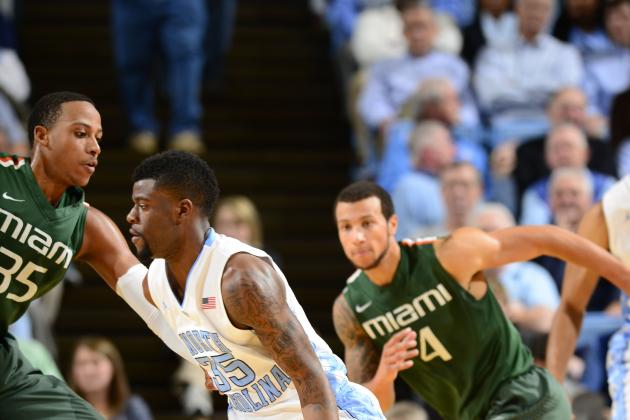 USA TODAY Sports

In the photo to the left, you can see a nice, low dribble by Reggie Bullock. That isn't always the case, though.
Bullock has a tendency to raise his dribble height when he tries to drive, opening himself up to steals and loss of ball control. He isn't the strongest of players, but improved handles will go a long way in becoming a more effective penetrator.
With an average of 5.8 rebounds, 3.3 assists and a three-point percentage of 46.9, there isn't much more that can be asked of Bullock. He's doing about as well as anyone could expect this season.
The Tar Heels are having issues inside the paint, which is why they need more penetration from the wings. If Bullock makes some minor tweaks to his dribbling, he will get in the lane—and to the free-throw line—more often.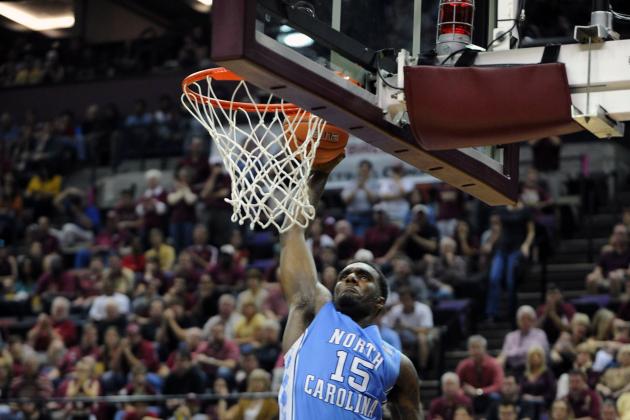 USA TODAY Sports

P.J. Hairston is a star in the making, but he can't live behind the arc.
As stated in the previous slide, Carolina needs more wings to penetrate. No wing on the roster is more capable of doing that than Hairston.
At 6'6", 220 pounds, Hairston has the body to power through defenders and the lift to dunk over them. He has proven that on multiple occasions, and the latest example of that was his two monstrous dunks against FSU.
Hairston shows very little fear when he's driving with a full head of steam.
Most importantly, he needs to get those easy layups and dunks early to get himself in an offensive rhythm. When he is on, Hairston is one of the deadlier marksmen in the game.
The more Hairston takes it to the hole, the better he will be on his jumpers—and Carolina only gets scarier from there.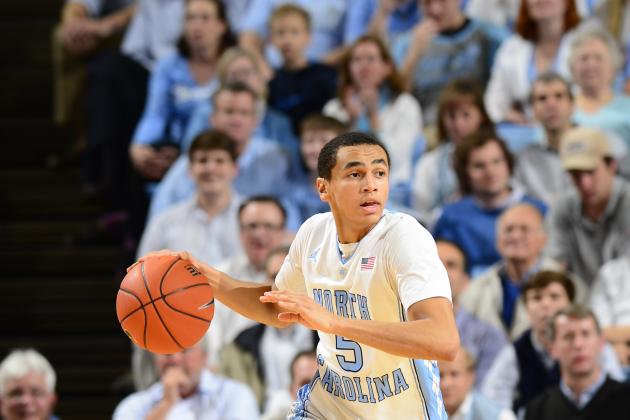 USA TODAY Sports

Marcus Paige has come along pretty well over the last couple weeks, making better passes and fewer big mistakes.
One thing that still stands out is his indecisiveness. He has been caught in the air many times, unable to decide whether he should shoot or pass the rock.
As a point guard, Paige should never pick up his dribble or leave his feet without knowing the next step.
Though Paige was very hesitant to penetrate through the first couple of months of the season, he has started to do that with regularity. But the same indecisiveness exists.
It appears as though he usually drives with the intention to dish, only shooting as a last resort. Because he waits until the last second to shoot, he is usually stuck too close to the basket to get off a good shot.
Partial blame should go to his teammates, as there never seems to be a cutter ready for the pass. If his teammates aren't aware, he should make the decision to take a shot sooner.
Paige has a great floater, and he should use that a little more when guys aren't cutting to the basket.
Bob Donnan-USA TODAY Sports

The mental aspect of knee surgery is the hardest to overcome. That's exactly what Dexter Strickland has to do, though.
Before tearing his ACL last season, Strickland was a renowned lockdown defender. Since coming back, he hasn't played at the same high level as before—the level fans had become accustomed to. At a press conference in late December, Roy Williams shared the same sentiments.
"Dexter is still nowhere near the defensive player that he was last year," he said, according to Inside Carolina. "It's not even close."
Strickland still has his north-to-south quickness, but it's his lateral movement that is causing him problems on the defensive end.
Moving from side to side and quick stops are the most uncomfortable things for Strickland to do at this stage in his recovery. The knee probably feels like it will give at any moment because his mind is likely to be fixated on that.
The truth is that it has been a year. Strickland's ACL is as strong and secure as it will ever be.
If Strickland wants to get back to his true level of defensive play, he will have continue to strengthen his leg muscles and try his best to forget what happened. That's no easy task, but his—and his team's—success depends on it.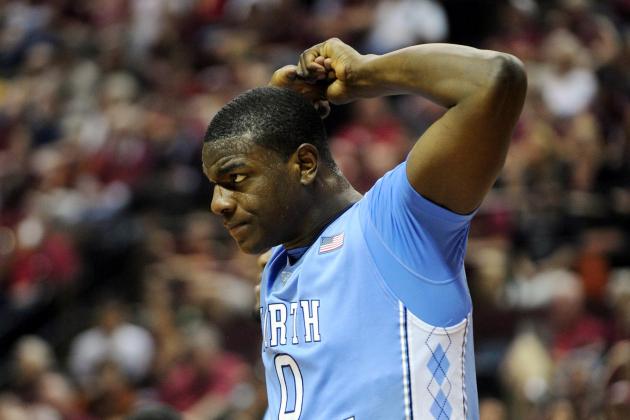 USA TODAY Sports

Like the other freshmen on this squad, Joel James still has a lot of areas to improve. Even more so in his case, as this is only his fourth year of organized basketball.
The good news for James is that nobody expected a finished product.
With such little experience and a new body to get used to, mistakes will be made. He barely even knows what he is capable of becoming. (In reality, none of us do.)
What we do know is that he is better than what he has shown lately. And a lot of that has to do with what is going on inside his head.
You don't need to be an expert to see how hard James tends to be on himself. Even with the slightest mistake, such as a foul, his body language tells it all.
Either he drops his head, or he looks up to the sky in disgust with himself.
This is a frustrating time for the big man. He's in a top-tier program, and it desperately needs his help down low. But he has to understand that mistakes happen.
This is the learning process.
James needs to get out of his own head and play through his mistakes. Once he stops being so hard on himself, he won't make as many back-to-back errors that put him back on the bench.
During the game, James should focus on what he's doing right rather than dwelling on what he did wrong.
This kid has a great body, good feet and a soft touch. When it all comes together, it will beautiful to watch.
But that won't happen until he gets out of his own way.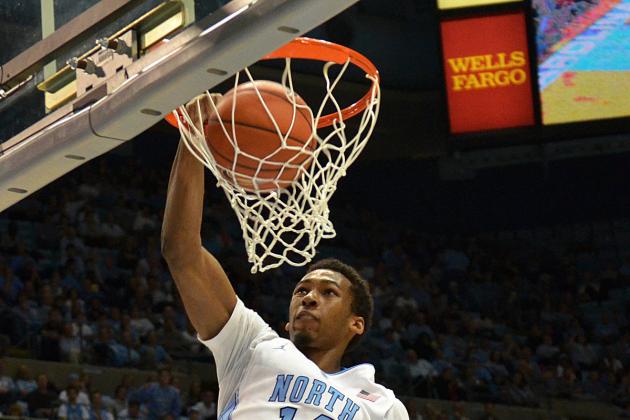 Rob Kinnan-USA TODAY Sports

It's been a slow process pumping the aggression out of Desmond Hubert. Roy Williams has given him the benefit of the doubt for much of the season, as he has more starts than any other center on the team.
That has really paid off over the last few games, as Hubert is giving Roy plenty of reasons to keep him in the lineup.
By no means is he the offensive threat Carolina had in Tyler Zeller, but he has been a solid center. Much of that has to do with his newfound aggression.
Hubert appeared to be timid in the past, showing little willingness to push players around on the block. Now he is doing that, and making strong moves to the basket with the ball in his hands.
It's rare that the ball gets to him, but Hubert has made the most of his opportunities. He's shown a few post moves by the basket, and threw down a couple of authoritative slams against FSU.
As small as his contributions may be, he is showing he can make a difference in the game with his hustle, blocks and occasional scoring. That all started with Hubert becoming aggressive.
If he continues that trend, Hubert will see all of his stats go up, and it will be easier for him to make a case to be the primary center.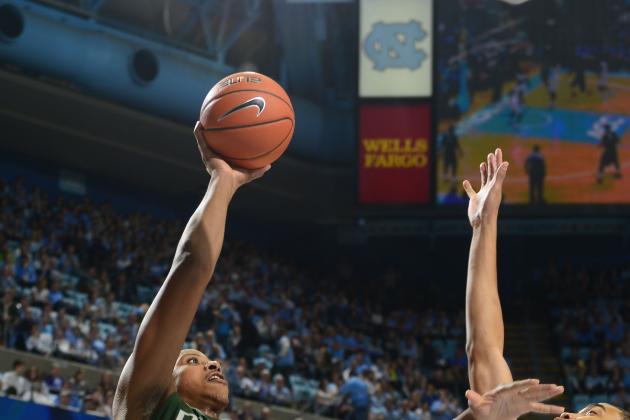 USA TODAY Sports

Brice Johnson leads the team in field-goal percentage at 61.8. He is second only to Hairston in scoring efficiency. However, there are two main reasons Johnson isn't starting right now: strength and defense.
Most of his strength and weight will be added in the offseason, so there isn't much he can do about that right now. But he can improve his defense pretty easily by anticipating his opponent's next move.
When Johnson anticipates what his opponent is about to do, he is able to get in position to contest. If he simply reacts to a move that's already made, he can't contest without fouling.
Johnson has a serious disadvantage at the 4 and 5 positions with his 187-pound frame. In the ACC, he is facing guys that are anywhere from 200 to 270 pounds at those positions.
Length and athleticism aside, the only way Johnson can make up for that is being one step ahead of the other guy.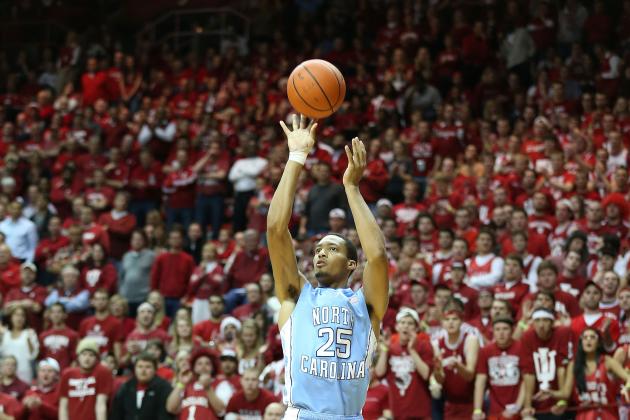 Andy Lyons/Getty Images

One of the biggest knocks on J.P. Tokoto as a high school prospect was his shooting. That has been evident during his first few months at Chapel Hill.
It was surprising to see him attempt seven threes over the first eight games, given his reputation as an inconsistent jump shooter. But he showed that reputation was justified by only making one of them.
In the last eight games, he hasn't attempted a single three.
That is probably best for both his confidence and the efficiency of the team. But he shouldn't stop shooting all together. Tokoto has a pretty good mid-range jumper, and shouldn't be afraid to pull the trigger.
He could also stand to work on his free-throw shooting.
Being a guy that likes to play above the rim, Tokoto is going to get fouled a lot over the course of his career at Carolina. Even in his limited play, he has taken 22 foul shots.
Unfortunately, he only made eight of those.
If he doesn't already, he should take the time to get some extra coaching from the resident marksman at Carolina, Hubert Davis. That would take advantage of his resources.
Tokoto has a lot of potential with his athleticism, energy, defense and rebounding. If he adds shooting to his repertoire, he will be a deadly player for years to come.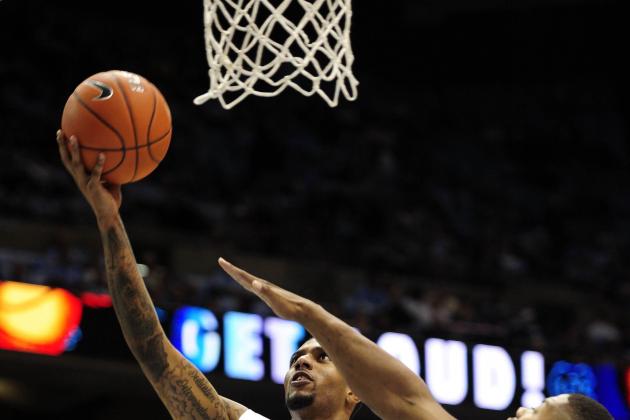 Curtis Wilson-USA TODAY Sports

Reggie Bullock and Leslie McDonald are the only Tar Heels shooting above 40 percent from downtown. Currently, McDonald is shooting 43.1 percent from that range.
Like Bullock, though, it would be nice to see more penetration from McDonald.
He has the tools to do it, and has sparsely displayed that through the course of the season. At 6'5", 215 pounds, he has the size and dribbles to be an effective driver.
McDonald is also one of the best finishers on the team, so it's time he put his abilities to use.
It's tough to say what is holding him back, but he is definitely capable of being more than just a spot-up shooter. He should be taking it to the hole with the rest of the wings.