8 Players Whose Legacies Are on the Line in NFL's Conference Championship Round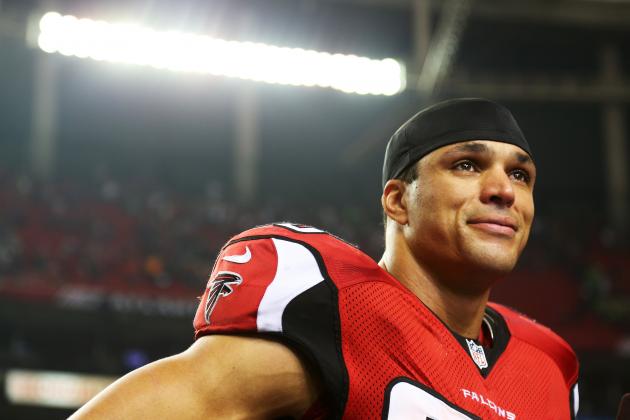 Mike Ehrmann/Getty Images
Tony Gonzalez is already the best tight end to ever play the game, but a Super Bowl ring would greatly add to his legacy.
When it is all said and done, every NFL player wants to have left his mark on the league. Each one wants a legacy that he can be remembered by, and the best way for a player to do that is through the playoffs.
With the NFL conference championships coming up this weekend, a handful of players are going to have their legacies on the line. Their performances will likely affect how they are remembered for years and years after they retire.
Here are eight players whose legacies are on the line in the NFL's conference championship round.
Begin Slideshow

»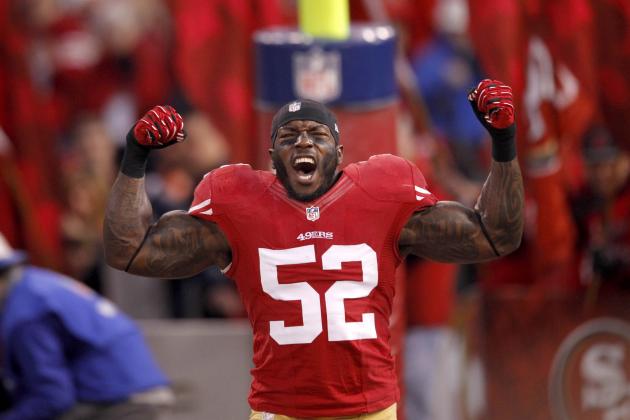 Cary Edmondson-USA TODAY Sports

Since Patrick Willis entered the NFL in 2007, he has widely been considered one of the best, if not the single best, inside linebacker in the NFL. Unfortunately, for the first few seasons it appeared as if he was always going to be a great player on a mediocre team.
However, the San Francisco 49ers have turned into a top team under Jim Harbaugh and are making their second straight trip to the NFC Championship Game. They'll take on the Atlanta Falcons and their high-scoring offense on Sunday.
What Willis needs to do this weekend in order to continue to stake his claim as the best middle linebacker in football is completely take over the game. He'll likely be matched up with Tony Gonzalez (more on him later) and will need to be playing top-end football.
While Willis is young, and still has plenty of time to cement his place in NFL history, back-to-back losses in the NFC Championship Game could cast a shadow over his other accomplishments.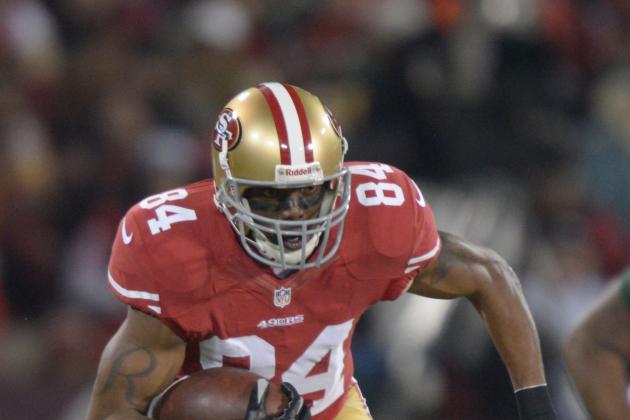 Kirby Lee-USA TODAY Sports

For all that Randy Moss has accomplished over his storied NFL career, he has yet to win a Super Bowl. This season could very well be his last chance at getting that elusive ring.
While he clearly isn't the same force of nature he was the last time he played this deep into the playoffs back in 2007, he still has the ability to make big plays. He can still stretch the field, which really opens up the offense for the San Francisco 49ers and Colin Kaepernick.
Moss is already considered one of the greatest receivers to ever play the game, but another trip to the Super Bowl would distance himself from all other receivers not named Jerry Rice.
Daniel Shirey-USA TODAY Sports

If we're talking about the best players to never win a Super Bowl, Tony Gonzalez absolutely needs to be in the conversation. Not only does he own every important receiving record for a tight end, but he also has the second-most receptions from any position in NFL history.
However, as good as Gonzalez has been throughout his career, he has never made it to the Super Bowl. In fact, until the Atlanta Falcons beat the Seattle Seahawks in the divisional round, Gonzalez had never won a playoff game.
Now that he has the taste of a playoff win in his mouth, he'll certainly want more. This is even more true with this season likely being the last that Gonzalez will play.
If Gonzalez can get a win this weekend, and finally get a Super Bowl ring, his legacy will end in fitting fashion for one of the game's greatest players.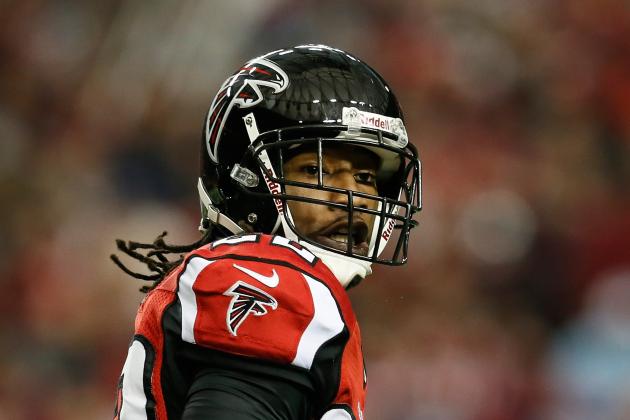 Kevin C. Cox/Getty Images

Few players raise their game in the playoffs like Asante Samuel does. It started with the New England Patriots and continued with the Philadelphia Eagles. In his first season with the Atlanta Falcons, he is trying to continue his tradition of high play in the playoffs.
Samuel has seven career playoff interceptions, which is the most among active players, and tied for fifth all-time. His four interceptions that he's returned for a touchdown are the most in NFL history.
Simply put, Samuel has the tendency of making huge plays when his team needs it most. With a matchup against the San Francisco 49ers, the Falcons will need Samuel to play at an extremely high level.
Should Samuel get another interception in his conference championship matchup, he'll only add to his already impressive playoff resume.
Doug Pensinger/Getty Images

Ray Lewis is already considered one of the greatest linebackers to ever play the game. In what will be his last season, a win on Sunday would only add to his already impressive legacy.
While Lewis has already won one Super Bowl back in 2000, he has failed to even get back to the big game since that season. He's been close over that time span, playing in two other conference championships in the past four seasons.
Another trip to the Super Bowl would would make Lewis the greatest middle linebacker to ever play the game. A win in that Super Bowl, and another Super Bowl MVP, could make Lewis the greatest defensive player in NFL history.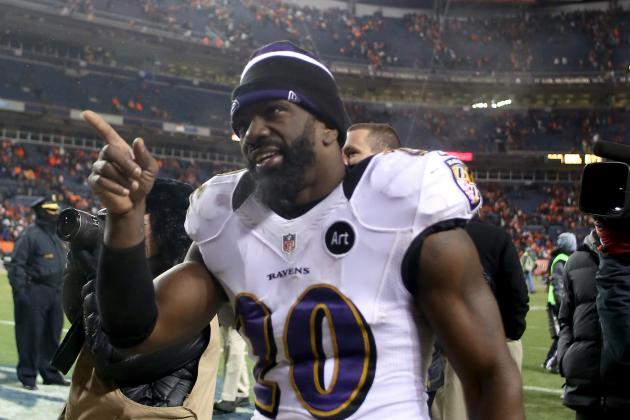 Jeff Gross/Getty Images

The fact that Ed Reed hasn't had an opportunity to play in a Super Bowl is one of the greatest travesties of our time. He's been one of the most enjoyable players to watch over the course of his career, and you can only imagine how pumped up he'd be to play in such a huge game.
With Reed becoming a free agent in 2013, this could potentially be the last game we see Reed in a Baltimore Ravens uniform. Heck, at 34 years old, this could potentially be the last game we ever see Reed play.
If he fails to come away with a victory, his window to winning a Super Bowl would be extremely small. On the other hand, if Reed wins on Sunday, his legacy as one of the greatest safeties in NFL history would be only a win away from being complete.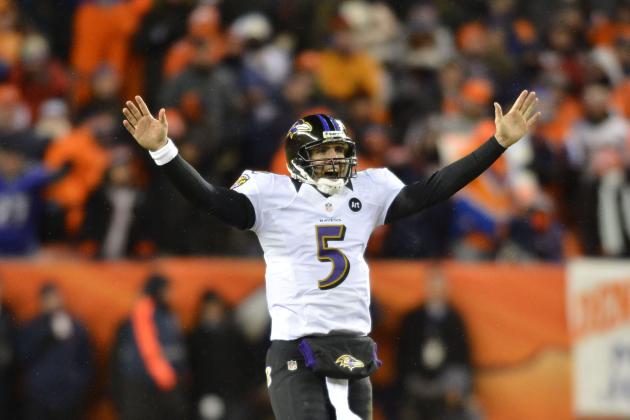 Ron Chenoy-USA TODAY Sports

I know it may sound crazy to think of Joe Flacco having any type of legacy, but hear me out for a second. Sure, he is only in his fifth season in the league, but he is already playing in his third AFC Championship Game.
Right now, Flacco's legacy is made up of coming up just a little short in championship games. Another loss on Sunday would only add to the negativeness of his legacy.
However, a win against the New England Patriots could begin to change how many view Flacco. He would no longer just be a quarterback that comes up short, but he could actually begin to gain the label as a winner.
We all know that Flacco and the entire Baltimore Ravens roster is playing for Ray Lewis from here on out. If Flacco has a terrible game and is the main reason the Ravens lose to the Patriots, he may never be forgiven in Baltimore.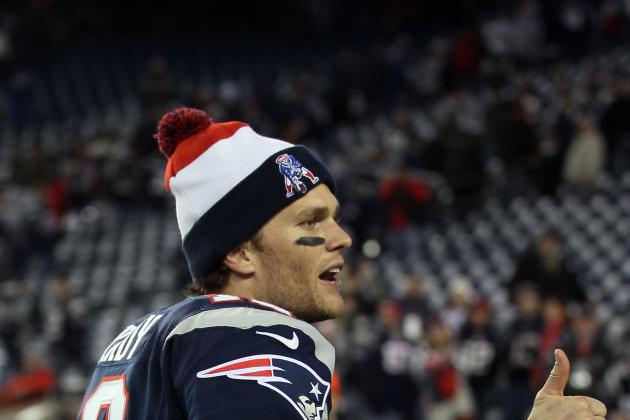 Elsa/Getty Images

What more could Tom Brady possibly do to add to his legacy? He already holds the NFL record for most playoff wins as a quarterback (17).
However, a win against the Baltimore Ravens would send Brady to his sixth Super Bowl, which would be another NFL record. If Brady were to then go on and win that game, he could have his fourth Super Bowl ring, which would tie an NFL record for quarterbacks.
Basically, two more wins from Brady and it would be extremely hard to argue against him being the greatest quarterback to ever play the game. I'd say that is quite a bit that he could add to his legacy this weekend.