Breaking Down the 2013 SEC Football Schedule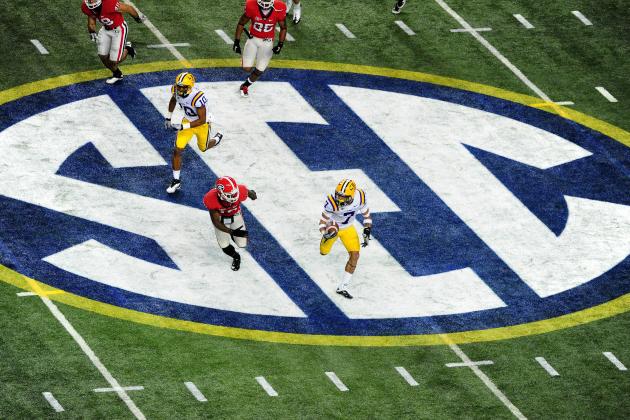 Scott Cunningham/Getty Images

We are only one week into the doldrums of the college football offseason, but it's never too early to start looking ahead.
We've poured over the 2013 SEC college football schedule and have broken it down in every way possible so that you can start getting prepared for the SEC's quest for eight in a row.
Which team had the toughest out-of-conference schedule? What stretch is the toughest in the SEC?
We break it down in this slideshow.
Begin Slideshow

»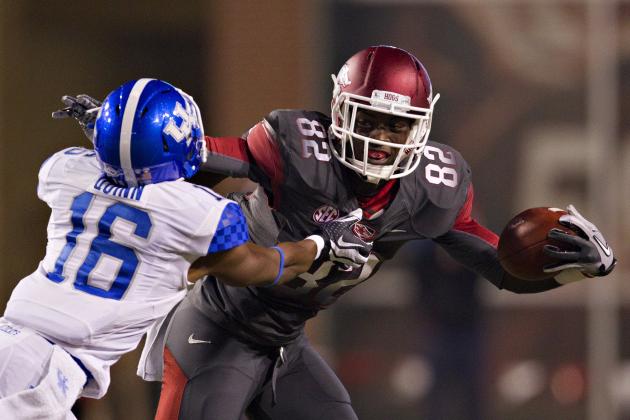 Wesley Hitt/Getty Images
Arkansas WR Mekale McKay
The Razorbacks draw South Carolina and Florida out of the SEC East in 2013 and have a brutal in-conference road schedule that features games at Florida, Alabama, Ole Miss and LSU.
Yikes.
In addition to the tough in-conference slate, the Hogs will travel to Rutgers on Sept. 21 in a revenge game after the Scarlet Knights upset the Hogs, 35-26, in 2012.
With quarterback Tyler Wilson, running backs Dennis Johnson and Knile Davis, wide receiver Cobi Hamilton, tight end Chris Gragg and linebackers Alonzo Highsmith and Tenarius Wright all gone from last year's squad, first-year head coach Bret Bielema has his work cut out for him.
The schedule isn't going to do him any favors, either.
Streeter Lecka/Getty Images
Alabama head coach Nick Saban
With its 42-14 win over Notre Dame in the 2013 BCS National Championship Game to close out the 2012 season, Alabama solidified itself as the first true college football dynasty of the BCS era.
Considering its 2013 schedule, that dynasty shows no sign of letting up anytime soon.
Head coach Nick Saban's crew opens with Virginia Tech in the Chick-fil-A Kickoff Game before taking a week off in preparation for its Week 3 showdown with Texas A&M in College Station. After that game, it's smooth sailing for the Crimson Tide.
Their remaining three SEC road games are at Kentucky, Mississippi State and Auburn. In addition to Kentucky, the Crimson Tide draw the rebuilding Tennessee Volunteers out of the SEC East and have another bye week before hosting LSU.
The schedule-makers were kind to the Crimson Tide. The dynasty thanks them.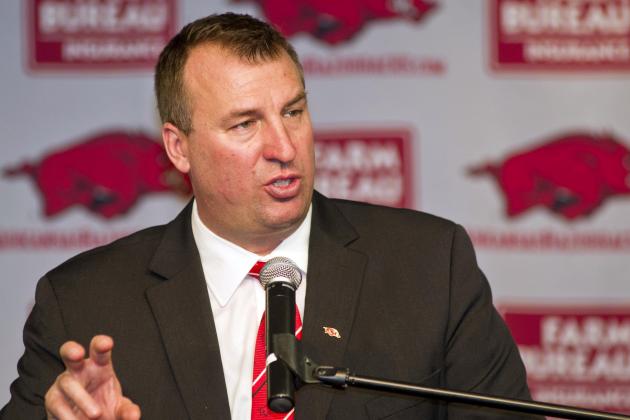 Beth Hall-USA TODAY Sports
Arkansas head coach Bret Bielema
It's going to be a rebuilding year in Fayetteville in 2013, but the Razorbacks better rebuild in a hurry, because their five-game stretch in late September and October is absolutely brutal.
Try this on for size: at Rutgers, vs. Texas A&M, at Florida, vs. South Carolina and at Alabama.
Goodness, that's five straight games against teams that likely will be ranked in the Top 25 and four straight against teams that finished the 2012 season in the Top 10 of both polls.
That's almost unfair.
With Mekale McKay, Javontee Herndon and Julian Horton returning at wide receiver, the Hogs will have some weapons for whomever wins the quarterback job. But the offense will need to click early in preparation for that stretch.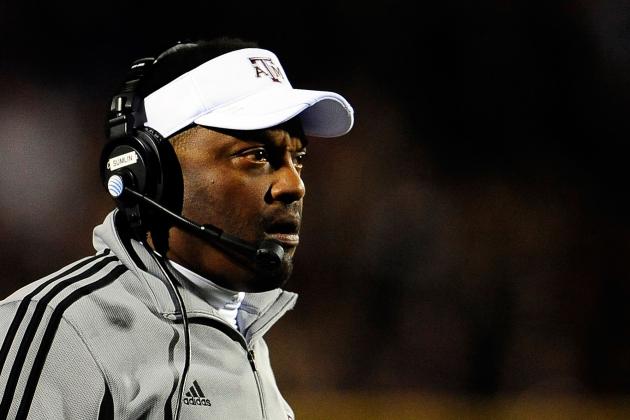 Stacy Revere/Getty Images
Texas A&M head coach Kevin Sumlin
The SEC utilizes the 6-1-1 format, meaning each team plays all six of its division mates, one permanent cross-division rival and one more team from the opposite division, which rotates every season.
In 2013, Texas A&M and Ole Miss both drew the best hand in the games that they avoid. Both schools will play Missouri and Vanderbilt out of the SEC East, meaning they avoid Georgia, South Carolina, Florida, Tennessee and Kentucky.
While Commodores head coach James Franklin has the Vandy program cooking at a level unlike any that we've seen in generations, it's not at a championship-caliber level yet.
South Carolina draws Arkansas and Mississippi State out of the SEC West, both of which are long shots for the SEC title.
We already discussed Alabama's easy schedule. The Crimson Tide get Kentucky and Tennessee out of the East, avoiding Georgia, Florida, South Carolina, Vanderbilt and Missouri—the top five teams from the division in 2012.
Other than those four programs, every team in the SEC will play at least one 10-win team from the opposite division in 2013.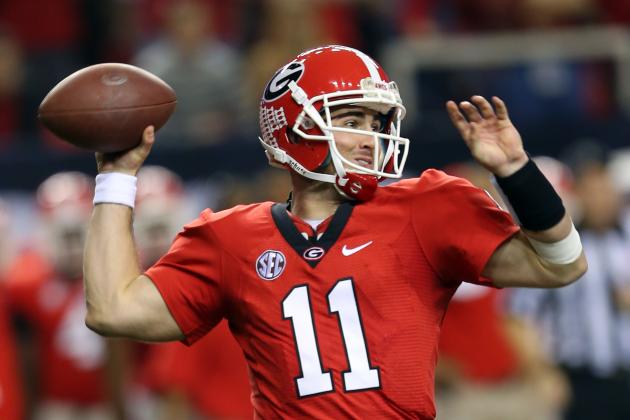 Mike Ehrmann/Getty Images
Georgia QB Aaron Murray
The narrative this offseason will undoubtedly be how Alabama is unbeatable, but don't forget that the Crimson Tide lost a game during the regular season and came close to two other losses. Roadblocks exist for every team, and every contender will face them in 2013.
Georgia: If the Bulldogs want to win their third consecutive SEC East title, they may have to snap their three-game losing streak to South Carolina when the two teams meet on Sept. 7 in Athens. The Bulldogs have been fortunate to get a rather easy draw out of the West over the last two seasons, but that changes in 2013 with the appearance of LSU on the docket. The Bulldogs must take care of business within the division.
Florida: After a bye week on Oct. 26, the Gators will play Georgia in Jacksonville, host a tough Vanderbilt team and then travel to South Carolina to close out SEC play. That game in Columbia could be a big-time roadblock and could be this season's de facto SEC East Championship Game.
South Carolina: While Florida will be tough, the Gamecocks know that they have to beat Georgia in Athens in Week 2 to have a shot at their second SEC East title. If they lose, consider the division title more of a myth than reality.
Alabama: Alabama's Week 3 showdown with Texas A&M will be the biggest game of the season in the SEC. The Crimson Tide will have two weeks to prepare, with revenge from last season's loss to the Aggies in Tuscaloosa at the top of their minds. Alabama got to the title game after that loss in 2012, but better safe than sorry.
LSU: This one is simple, it's the Alabama game on Nov. 9. The Tigers will have a bye week before and after the game, which means that it will take on a championship feel for Les Miles' crew. If they want to win the SEC West, they're going to have to topple the Tide.
Texas A&M: For the Aggies, it's all about Alabama. After Rice and Sam Houston State to start the season, Kevin Sumlin, Johnny Manziel and the Aggies will host the Crimson Tide in the biggest game of the SEC season. The winner will become the SEC West front-runner, and the loser will need help.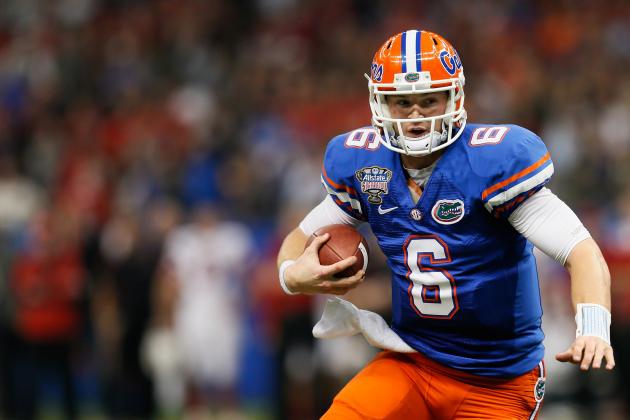 Kevin C. Cox/Getty Images
Florida QB Jeff Driskel
Unless two teams from major conferences finish the season undefeated, even a one-loss SEC champ will get the benefit of the doubt. Aside from the always-tough BCS National Championship Game, there are roadblocks for every SEC team.
Florida: If the Gators are able to get themselves in the SEC Championship Game, they'll still have to clear one final hurdle against intra-state rival Florida State at the end of the season to maintain their BCS National Championship hopes. Can't have a late loss.
Georgia: The Bulldogs are in the same boat as Florida, needing to get past the Georgia Tech Yellow Jackets at the end of the season in addition to Clemson in Death Valley to start the season. The Bulldogs can't drop either of those if they want to hoist the crystal.
South Carolina: It's all about getting by Clemson. If the Gamecocks are fortunate enough to win the East, they can't drop their last game of the season to an out-of-conference foe and still win the national title.
Alabama: The Crimson Tide needed some luck to get in position to win the title in 2012 and can't drop its opener to Virginia Tech to open the 2013 season. In two of their three titles during this run, they've dropped a conference game. Can't add an out-of-conference loss on top of that and realistically have a shot at big one.
Texas A&M: While the Alabama game will get a lot of the hype, the trip to Baton Rouge to face LSU on the next-to-last week of the season looms large. It could be either the division-clinching game for the Aggies, or the one that eliminates them from title contention.
LSU: As is the case with other contenders, LSU can't have an out-of-conference loss if the SEC does beat itself up, as was the case in 2012. The Tigers can't lose the Cowboys Classic to TCU in the season opener.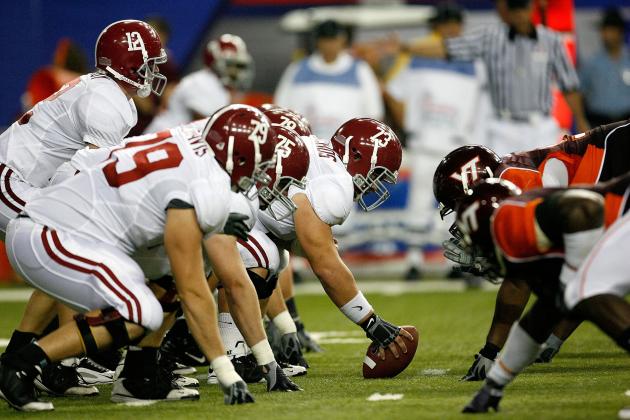 Kevin C. Cox/Getty Images

Alabama vs. Virginia Tech: Virginia Tech won't receive a ton of offseason hype, but this rematch of the 2009 Chick-fil-A Kickoff Game will tell us a lot about both programs and the direction that they're going.
Georgia at Clemson: This season opener will test the new-look Georgia defense, which is losing a ton of firepower from its 2012 SEC East championship team.
Mississippi State vs. Oklahoma State: Mississippi State is 4-20 vs. teams that finish with eight or more wins under Dan Mullen. Getting a win over Oklahoma State could be the fifth.
LSU vs. TCU: The Horned Frogs were an insanely young team, playing a total of 28 freshmen in 2012. LSU is going to have a ton or roster turnover, so this is a dangerous game for the Tigers.
North Carolina at South Carolina: The Tar Heels finished 8-4 last season and would love nothing more than to wreck South Carolina's title hopes in Week 1.
Washington State at Auburn: Mike Leach vs. Gus Malzahn? Point-a-minute football.
Florida at Miami (Fla.): The Hurricanes were a young bunch in 2012 and managed to finish with a 7-5 record. Florida will have a ton of unanswered questions defensively and need to find a downfield passing threat.
Tennessee at Oregon: The new-look Vols defense will get tested in a big way early with its Week 3 matchup in Eugene.
Ole Miss at Texas: An under-the-radar game that will let us know if Hugh Freeze's team is for real.
SEC vs. ACC Rivalry Games: Florida, Georgia and South Carolina will all close out their seasons vs. their respective ACC rivals Florida State, Georgia Tech and Clemson, respectively. Those are all must-win games anyway but take on additional meaning considering that all three SEC teams will likely be in the national title hunt.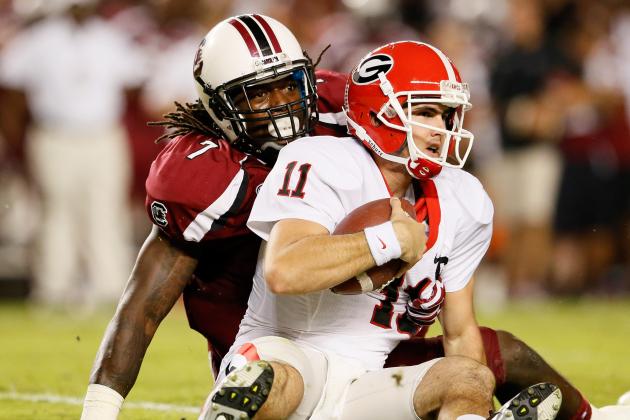 Kevin C. Cox/Getty Images
South Carolina DE Jadeveon Clowney and Georgia QB Aaron Murray
Ole Miss at Vanderbilt: This Week 1 showdown is a must-win for both teams if they want to legitimately be in the division title discussion
South Carolina at Georgia: Back to where it belongs in Week 2 of the season, the winner of this game will have the early-season edge in the SEC East.
Alabama at Texas A&M: The game of the year in the SEC will feature two teams that will likely land in the preseason Top Five. As Bart Scott so eloquently put it, "CAN'T WAIT."
Mississippi State at Auburn: If Auburn is going to make a bowl game, it probably needs to beat the Bulldogs in Week 3 of the season.
Tennessee at Florida: This traditional rivalry game again serves as the SEC opener for both programs. Will Florida be able to pass the ball? Is Butch Jones ahead of schedule? We'll know in Week 4.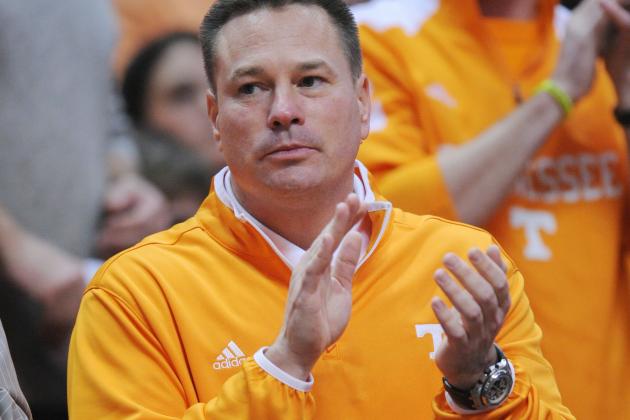 USA TODAY Sports
Tennessee head coach Butch Jones
Austin Peay at Tennessee: The Butch Jones era at Tennessee gets off to a slow start in Week 1 when the Vols host the Austin Peay Governors out of the Ohio Valley Conference.
Vanderbilt at UMass: Why exactly is Vanderbilt traveling to Gillette Stadium to play UMass?
Georgia State at Alabama: Nothing like tuning up for that tough road trip to Kentucky with a meeting with Georgia State.
Western Carolina at Auburn: ...but at least they have a cool nickname. The Catamounts.
Coastal Carolina vs. South Carolina: It's only worthwhile if former Chanticleers' head coach David Bennett can say this after the game.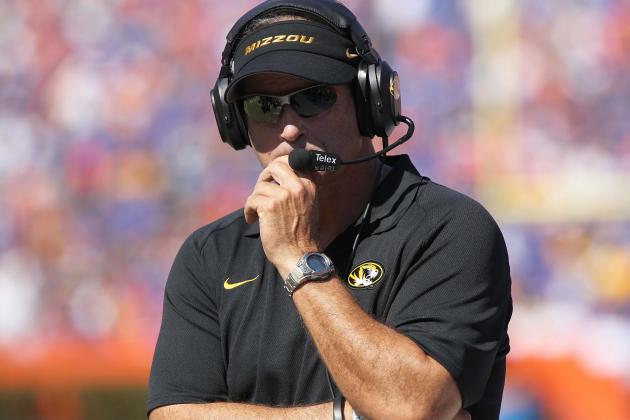 Kim Klement-USA TODAY Sports
Missouri head coach Gary Pinkel
Having time to prepare for an opponent is critical for any team looking to make a run at a title. The 2013 SEC schedule features two bye weeks for each team.
Missouri actually has three bye weeks as of now, with Week 3 and Week 5 being listed as "TBA" or "Open Date" on the schedule. The first, coming after not-so-difficult, out-of-conference matchups with Murray State and Toledo, sandwich a trip to Indiana and come before a trip to Vanderbilt. Whichever is left won't exactly benefit the Tigers all that much.
Auburn gets a bye before Alabama but have seven straight games prior to that, culminating with a road trip to Tennessee and a date with Georgia in the Deep South's Oldest Rivalry. Yikes.
South Carolina does get a bye week before Florida, but its first one is before that difficult road trip to UCF and a home game vs. Kentucky.
Ole Miss gets two weeks to recover from that tough out-of-conference test against Idaho in preparation for Arkansas and Troy.