South Carolina Football: Projecting the Gamecocks' 2013 2-Deep Depth Chart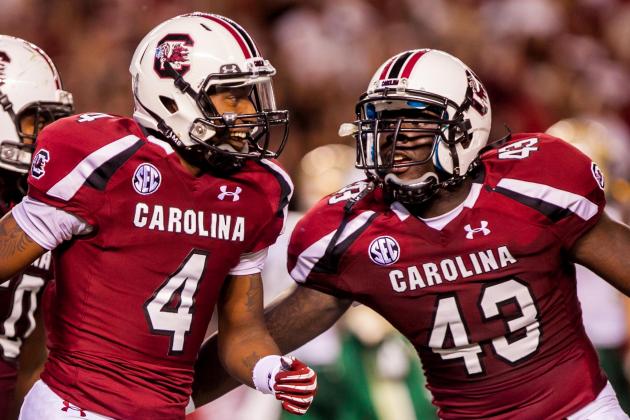 Jeff Blake-USA TODAY Sports

South Carolina has many questions entering the 2013 season when it comes to the two-deep.
Who takes over for Marcus Lattimore? How do the Gamecocks replace five of six linebackers featured on the 2012 two-deep? Who replaces All-SEC players like Devin Taylor and D.J. Swearinger?
Also the fan favorite (and least important), who will be the starting quarterback?
For what it's worth, this will change many times over. Players rise in camp and showcase skills and improvements made over the summer. This is the time when kids grow into their roles and figure out what type of players they can truly be. It's an exciting time of the year.
Here is the first look at South Carolina's potential two-deep lineup.
Begin Slideshow

»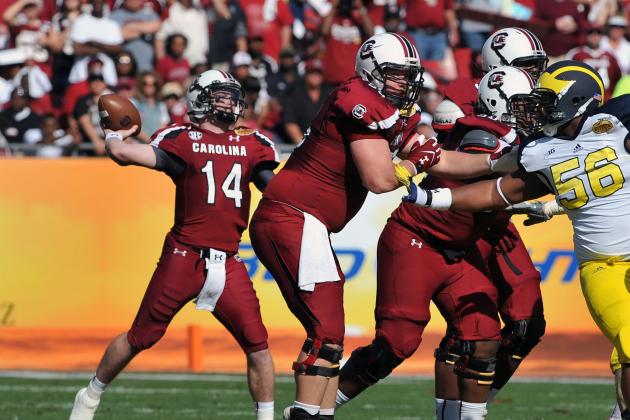 Al Messerschmidt/Getty Images

1. Connor Shaw
2. Dylan Thompson
You might as well call this 1a. and 1b.
As much as fans will call for Dylan to be the number one guy, Connor Shaw does more than enough to maintain his starting roll. Fret not, Thompson enthusiasts, he will get opportunities to play, and probably a great deal.
Again, fans need to step back and enjoy the fact that the Gamecocks have two legitimate options at quarterback for the first time in the history of the Steve Spurrier Era. People may look at the individual statistics, but these guys work as a tandem to create one of the best quarterback situations in the SEC.
Together, the statistics are truly amazing. (220/355, 62 percent completion percentage, 2,983 yards, 27 touchdowns and 9 interception).
Who care's that it's two guys? Why change what works? Let them both play. They'll get the job done.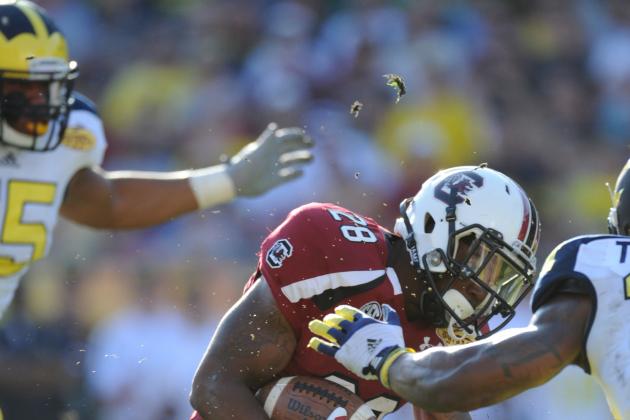 Al Messerschmidt/Getty Images

1. Mike Davis
2. Brandon Wilds
This position could go a wide variety of ways. However, if I had to put my money down on the two-deep, I'd put it down to end up with the talented Mike Davis leading the way and the powerful Brandon Wilds spelling him.
Davis has the ability to be a superstar. He's aggressive and shifty. He has great burst and speed. He runs angry. He will be the next big name offensive weapon to emerge.
Brandon Wilds is coming off of surgery and a red-shirt year. He was fabulous as a freshman when Marcus Lattimore went down. If he comes back healthy, he's the closest to a Lattimore-type that we have. He's a bruising runner with great balance and vision.
We're unsure if Shon Carson will stay on the football team or completely dedicate his time to the two-time National Championship baseball program. He was drafted by the Cincinnati Reds coming out of High School, but is also coming off of injury. He's a fast, shifty playmaker when in the lineup. Or in theory, anyway. He's been hurt more often than not.
Kendric Salley is an impressive redshirt freshman with great skills, and true freshman David Williams could make an impact. Williams ran a 4.4 40-yard dash and has good size at 6'1. 198 pounds. He could redshirt to add weight.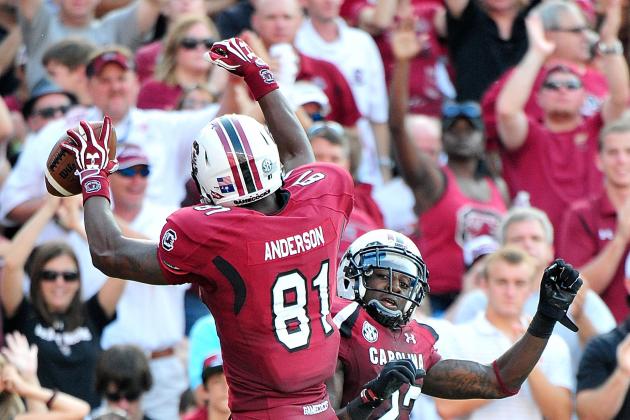 Grant Halverson/Getty Images

1. Rory Anderson
2. Jerell Adams
Justin Cunningham will be missed from this group. Gone is the tough, all-star caliber blocking and leadership that Cunningham possessed.
However, this group brings an element that Cunningham lacked.
Explosive, big play potential.
At 6'5" and 6'6" respectively, these guys are long tight ends with wide receiver skills. They're both fast and have the capability of going the distance if they become more consistent with their catching and route running skills.
Linebackers can't keep up and corners are too small to cover these two, if they work hard over the offseason. Good luck, SEC.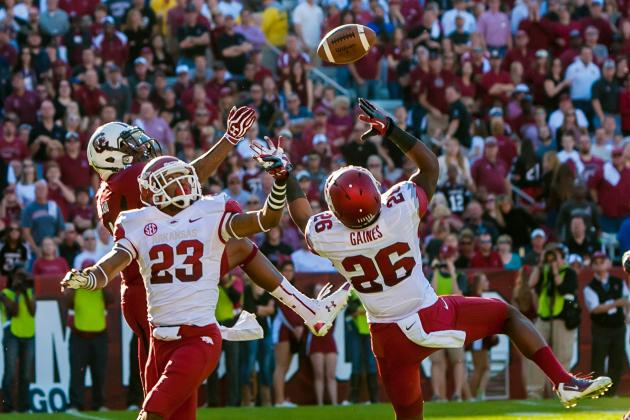 Jeff Blake-USA TODAY Sports

1. Shaq Roland
2. DeAngelo Smith
With Ace Sanders declaring for the NFL draft, there is a huge void at the number one receiver spot.
Shaq Roland, last year's big time recruit, will most likely step into the starting role. He's an excellent receiver in practice but he failed to do any major damage as a freshman last year. This should change. He's got excellent speed and hands and the ability to jump like a basketball star.
However, he needs to strengthen his hands and concentration. He seems nervous out on the field a good bit. If he gains confidence, he could be South Carolina's next great receiver.
Who will be his backup?
For now, pencil upcoming senior DeAngelo Smith into that role. However, freshmen Jody Fuller, Kwinton Smith and possibly Shamir Jeffery could have some say in that.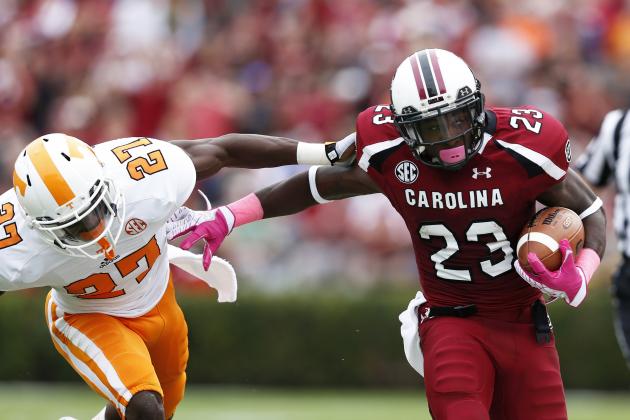 Joe Robbins/Getty Images

1. Bruce Ellington
2. K.J Brent
Last year, Bruce Ellington shed the label of "basketball player playing football". Ellington is a football player, plain and simple. With 45 catches for 600 yards and seven touchdowns, he's a proven playmaker and a lock to return as a starter.
The number two spot is wide open. K.J. Brent should see the most playing time here. Damiere Byrd was the number two Y receiver for the Michigan game, and it could be him. Nick Jones may get in the mix as well.
The Gamecocks have many solid wide receivers. It's another great problem to have. Brent's 6'4" frame and speed should help him see the field more as a sophomore.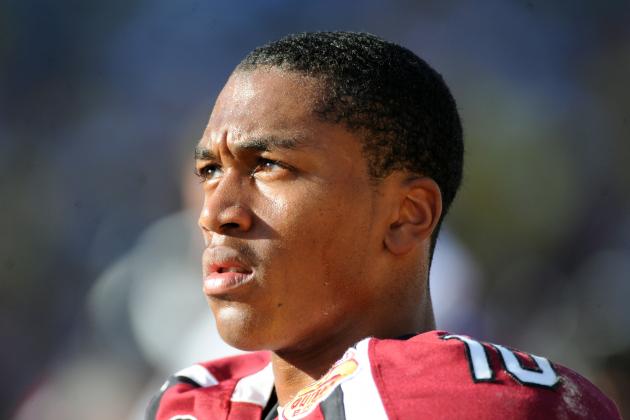 Al Messerschmidt/Getty Images

1. Damiere Byrd
2. Nick Jones
Damiere Byrd should excel as the Z receiver next year. His elite speed and improved route running will make it his more dangerous spot to work. He may work with the Y unit again and see time there, but he's the prototypical slot receiver.
Nick Jones is a lot like Damiere Byrd. He's wicked fast and has pretty decent hands. He hasn't made quite as many big plays as Byrd, but he'll create a one-two punch from the Z position that the Gamecocks haven't ever seen.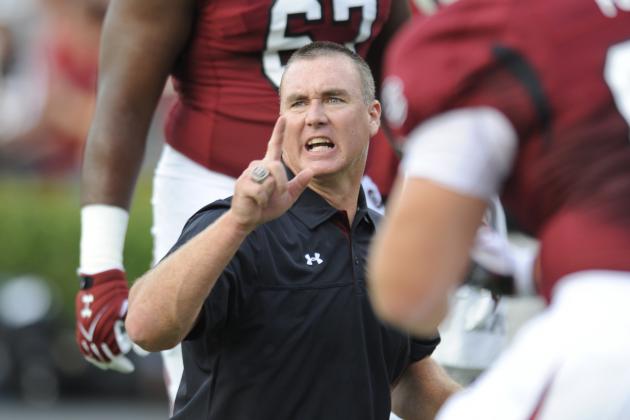 Mary Ann Chastain/Getty Images
Coach Shawn Elliot has his hands full when picking the starting left tackle.
1. Corey Robinson
2. Brock Stadnik
Surprisingly. Corey Robinson beat out Brandon Shell for the left tackle spot, which is generally reserved for your best linemen.
Robinson has elite size and strength. With some work, he could become a really good player. Brandon Shell could end up as the starter here, but for now I'll give the nod to Robinson, with Shell starting on a different part of the line.
Brock Stadnik is going to be a very good player for the Gamecocks, and will play next year after red shirting his first year. My guess is that his excellent technique and hands lead him to the backup left tackle spot.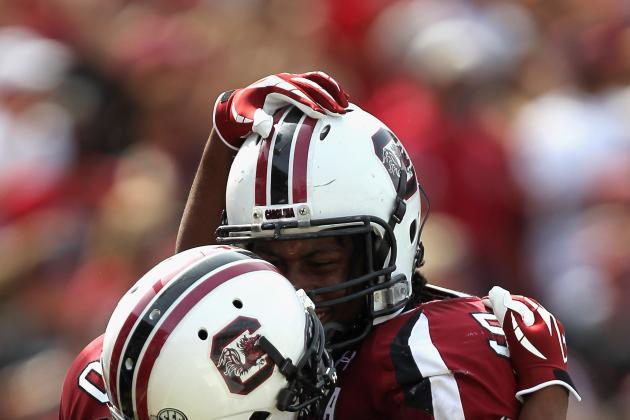 Streeter Lecka/Getty Images

1. A.J. Cann
2. Will Sport
I don't see much movement here. A.J. Cann has the potential to be an NFL caliber guard. He's athletic, fierce and has great hands. If he could stay on the field he'd be stellar.
Will Sport has been a surprisingly steady. While he's listed as a tackle, his play at the guard spot was strong throughout the year. His balance needs work. However, if they decide to keep him as the backup left guard he could develop into a good one.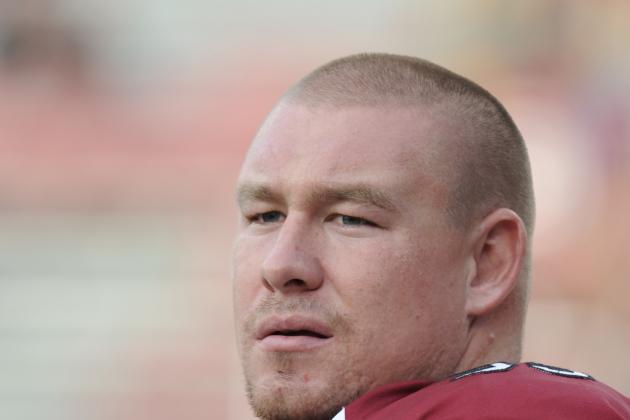 Mary Ann Chastain/Getty Images
Who will replace this legend?
1. Cody Waldrop
2. Clayton Stadnik
Cody Waldrop has garnered rave reviews and has been identified by Coach Elliot as the man that should win the starting job. He's a tough guy with good size. He's an angry blocker and has been excellent in practice. However, he is a redshirt freshman and replacing one of the most underrated offensive linemen the Gamecocks have ever had in T.J. Johnson.
The backup spot should belong to Brock Stadnik's "little" brother, Clayton. He's a talented player with a great deal of upside.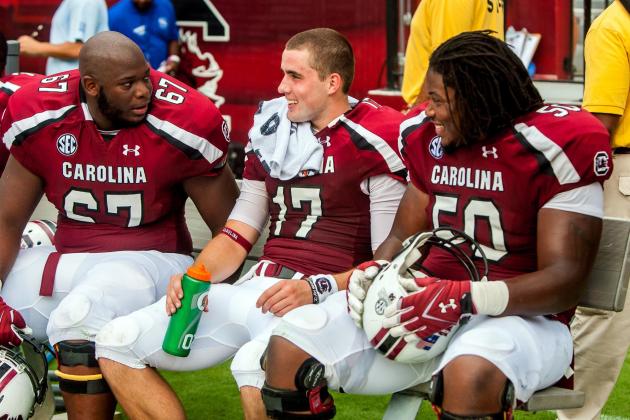 Jeff Blake-USA TODAY Sports

1. Ronald Patrick
2. T.J. Broome
Again, no changes here. Patrick and Broome will share the right guard position. They played solidly throughout the year and continued to grow.
Broome improved at a really high level this year and may challenge Patrick for the starting spot. However, the seniority of Patrick will give him the starting nod.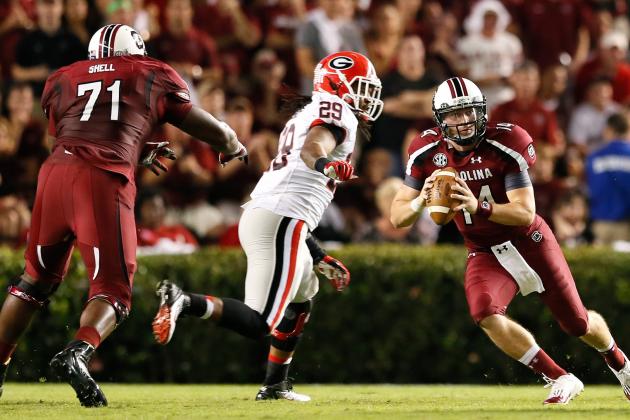 Kevin C. Cox/Getty Images

1. Brandon Shell
2. Cody Gibson
Brandon Shell was a five star offensive tackle coming out of high school and was widely regarded as one of the best in the entire class two years ago.
He's been solid but not spectacular. He seems to have conditioning issues. He will retain his starting right tackle spot and continue his development. He has the chance to be a really special linemen.
Gibson has unique size and agility. He moves quickly and knows how to counter stunts with the best of the linemen. He has a tendency to play too highly allowing the opposition to get under him and establish a solid push. If he learns to play a bit lower he will be an extremely solid linemen capable of starting down the road.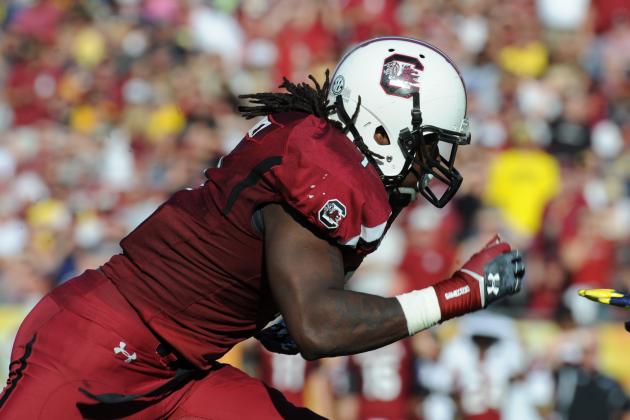 Al Messerschmidt/Getty Images

1. Jadeveon Clowney
2. Deon Green
I'm going to go ahead and go out on a limb and say that Jadeveon Clowney will return as the starting defensive end for the Gamecocks. He's a monster.
Now, the backup spot gets complicated. The defense is in a state of flux, with players moving positions and trying to fill in the void left by losing the starting linebackers and both defensive ends on the other side of the line.
Deon Green should emerge as a productive threat that backs Clowney up. He's big and strong and can play both inside and out. He'll be able to take some of the pressure off of Clowney in running situations.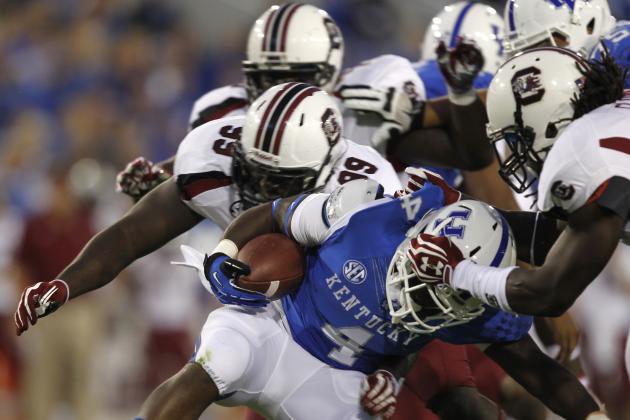 John Sommers II/Getty Images

1. Kelcy Quarles
2. J.T. Surratt
There will be no change here. Kelcy Quarles is an excellent all-around defensive tackle. He has great speed and agility. He can rush the passer and stop the run. He had a good year this year and will have an even better one next year.
J.T. Surratt provides experience and production to the backup spot. He's a solid player who should see playing time throughout the line.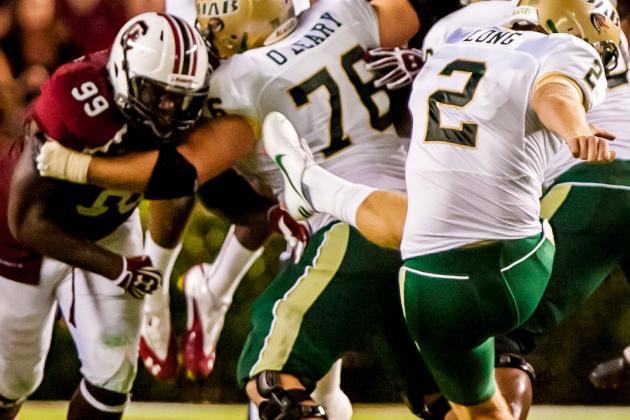 Jeff Blake-USA TODAY Sports

1. Gerald Dixon Jr.
2. Philip Dukes
The ginormous Byron Jerideau will be missed. He's a massive run-stopping force who could manhandle offensive linemen. Replacing him is the athletic Gerald Dixon Jr. At 6'3" and 304 pounds, he's quite the man-child and should have no problem playing well.
Philip Dukes has been a bit of a mystery after coming in as a highly sought after recruit. He has plenty of talent and athletic skills but seems to be unable to pull it together. Depending on his offseason routine, he could become a starting-caliber linemen or fall off the two-deep altogether.
The ball is in his court.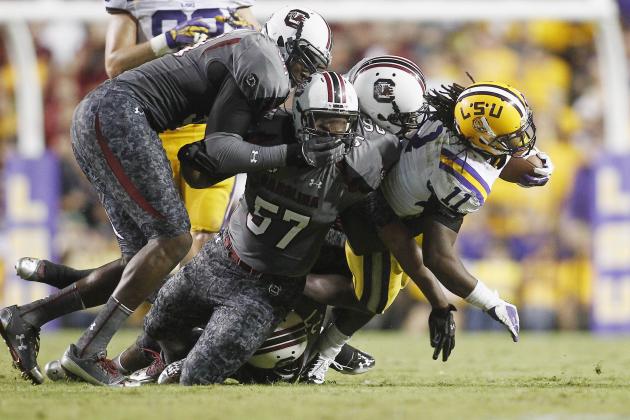 Crystal Logiudice-USA TODAY Sports

1. Chaz Sutton
2. Gerald Dixon
Chaz Sutton showed flashes of brilliance last year backing up Jadeveon Clowney and Devin Taylor. He had five sacks this year in a backup role, and he could have "break-out player" written all over him. His 6'5" 255 pound frame will serve him well in this role as starting defensive end.
I believe the Clowney/Sutton combo in 2013 may actually be better than the Taylor/Clowney combo of 2012, and that's saying something.
The "other Dixon", Gerald Dixon, will back him up. Dixon is a future starter at defensive end and will have a great 2013.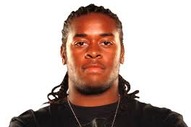 espn.go.com
1. Kaiwan Lewis
2. Chaun Gresham
Things get tricky with the linebacker and spur positions. Five of the six players on last year's two-deep are gone. The Gamecocks will rely on athleticism and the work of the defensive ends to help keep the team's defense elite while the new linebacker core gets experience.
Reginald Bowens and Damario Jeffery held down the middle linebacker spot last year. Both are gone.
This year, I have a feeling that Kaiwan Lewis steals this spot from positional journeyman Chaun Gresham. Incoming freshman Lorenz Bryant has the size and speed to play this role. Again, this is a wide open race.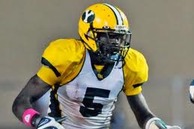 jacksonville.com
1. Kelvin Rainey
2. Mason Harris
I'm going with the exciting tight end-turned linebacker to start at the weakside position. Rainey was an excellent two-way player coming out of high school. Many teams wanted him as a linebacker and the Gamecocks gave him a shot at tight end.
It didn't work out due to the amount of depth at the position.
However, he's now an athletic linebacker who has great speed and awareness to go along with his 6'3" 225 pound frame. He could be a superstar.
Backing up Rainey will be Mason Harris, an undersized defensive end who has made the switch as well. The linebacker position will depend a great deal on the athletic youngsters who are still finding their way.
My prediction could be way off. This is just my gut feeling.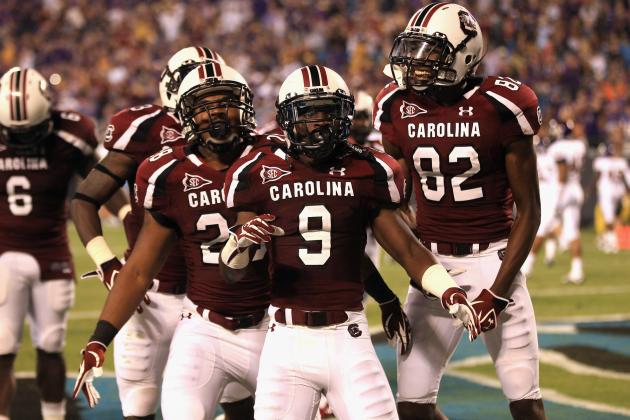 Streeter Lecka/Getty Images

1. Sharrod Golightly
2. Jordan Diggs
The Spur (a hybrid safety/linebacker position) is a little clearer. Sharrod Golightly will take the place of the excellent DeVonte Holloman. Golightly has swagger and is an aggressive player. He is a vicious hitter for his size, which may be his biggest weakness.
Holloman was a load at 6'2" and 241 pounds, while Golightly registers in at 5'10" and 179 pounds. He is a much faster player.
Jordan Diggs should get an expanded role in the defense as well. This versatile player played sparingly his freshman year, but he has good speed and instincts. He could push Golightly for the starting position.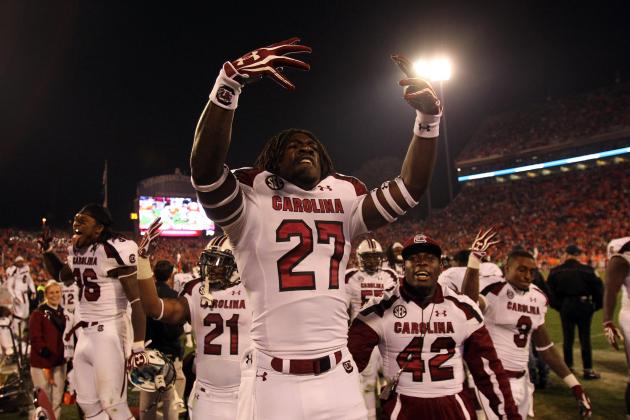 Streeter Lecka/Getty Images

1. Victor Hampton
2. Ahmad Christian
Victor Hampton has a mean streak. This is a good think. This returning starter has all the qualities you need in order to be a top-shelf corner. He's a great hitter. He's fast, built well and can jump. However, his head isn't always in the games.
He needs to become more of a leader on the field. Learn to talk a bit less and drop those dumb penalties he's known for. He should also learn to find a better balance between taking risks and making the smart play. He tends to get jumpy to make a pick and gets burned.
Ahmad Christian has elite speed. He could grow into a great starting corner. He'll sit behind the excellent Hampton for now, but he'll make plays in 2013.
Al Messerschmidt/Getty Images

1. Jimmy Legree
2. Rico McWilliams
Jimmy Legree was shockingly good this year. The junior outplayed Akeem Auguste in almost every conceivable way. He made big plays and showed an intelligence that some corners lack.
Rico McWilliams started off as a sensation during the spring camps and all the way through summer. McWilliams looked destined to start or play a massive role with the team. Hard hitting and flying all over the field, this player just stood out.
Then he tore a ligament that required surgery during an 7 on 7 drill. If he comes back fully healthy, he'll be here backing up Legree.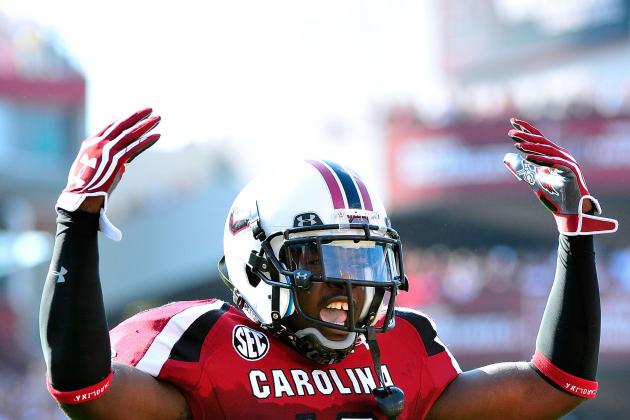 Grant Halverson/Getty Images

1. Brison Williams
2. T.J. Gurley
Brison Williams was last years starter and did a tremendous job. He'll keep this role. He's another heady player who seems to be a solid tackler.
Young T.J. Gurley should end up backing him up. With a year of big time college football and weight room training, Gurley will continue to grow into a solid player.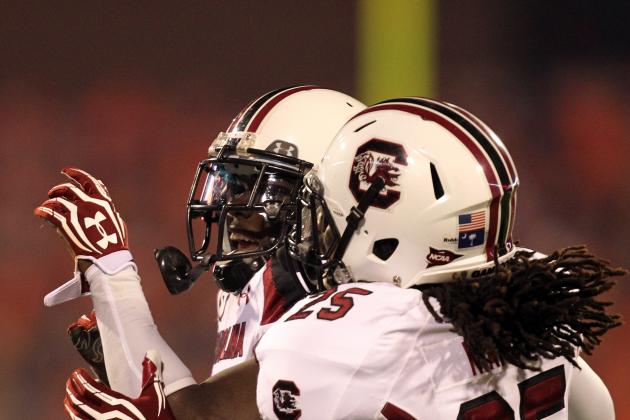 Streeter Lecka/Getty Images

1. Kadetrix Marcus
2. Chaz Elder
Who replaces the incredible D.J. Swearinger?
Nobody, of course.
However, this position still has the chance to be very good. Kadetrix Marcus is a multi-talented player who must develop a mean streak in order to play the defender position that Swearinger held down.
Chaz Elder is listed as a corner right now, but his size and skill package make him an excellent choice for a safety. Will the coaches think that way?
Who knows.