16 Realistic Predictions for NFL Conference Championship Games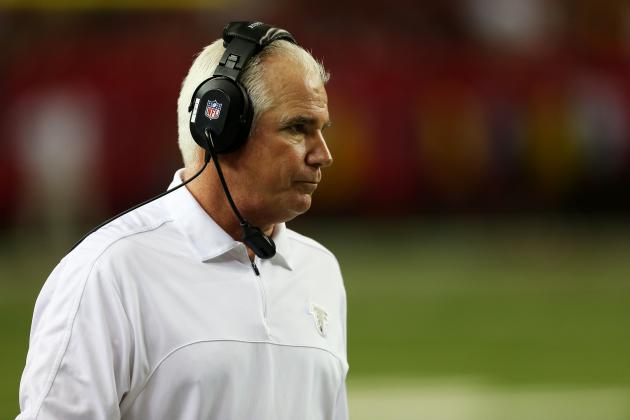 Mike Ehrmann/Getty Images
Can head coach Mike Smith lead his Atlanta Falcons to their first Super Bowl since 1998?
During the NFL regular season, we had our weekly fun with bold predictions, forecasting the result of each game and often with outlandish scenarios and familiar/historic references. It was hit or miss all season, most miss, but done tongue in cheek with the hopes of informing and entertaining at the same time.
Now it's time to get serious.
The San Francisco 49ers, Atlanta Falcons, Baltimore Ravens and New England Patriots are one win away from getting back to the Super Bowl, a feat that's been a long time coming for the first three franchises listed. For the Pats, it could be business as usual, they'd be making a sixth Super Bowl appearance in the last 12 seasons.
But what will it take to get there and which players will play the most pivotal of roles on Sunday?
We join our first conference championship game of the afternoon already in progress.
Begin Slideshow

»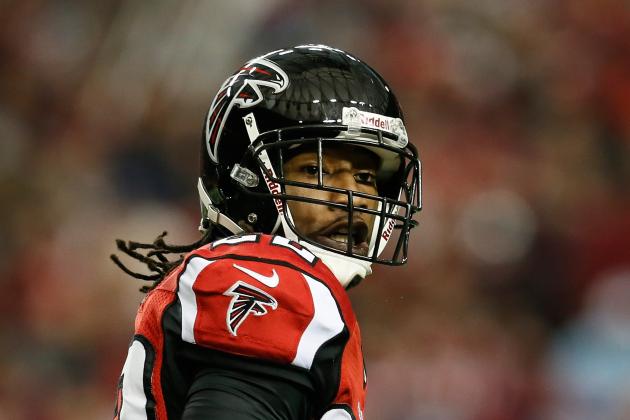 Kevin C. Cox/Getty Images

As we saw last week, San Francisco 49ers quarterback Colin Kaepernick is pretty good, but he isn't perfect.
Let's not forget that the second-year quarterback gave the Green Bay Packers an early 7-0 lead courtesy of an interception that was taken back 52 yards for a touchdown by Sam Shields.
Of course, Kaepernick and his team recovered pretty well, to say the least, as the Niners rolled to a 45-31 win.
But this week, it's a little déjà vu all over again. San Francisco rolls out to a quick 7-0 first-quarter lead and is marching again when Kaepernick gets a bad break. His pass goes off the hands of wideout Michael Crabtree and right to Atlanta Falcons' cornerback Asante Samuel.
The veteran defender the does what he does best. Samuel grabs the prize at his own 35-yard line and returns it 65 yards for a score, extending his own NFL record for postseason interception returns for touchdowns at five.
Suddenly, we're tied, 7-7.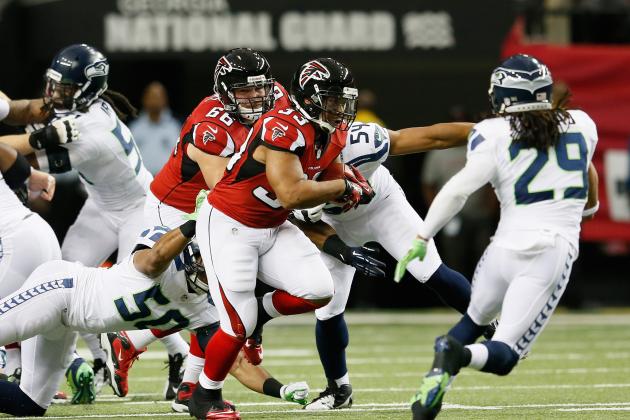 Kevin C. Cox/Getty Images

Last Sunday, the Atlanta Falcons gave the Seattle Seahawks a taste of their own medicine.
That was in the form of power running, as Michael Turner and Jacquizz Rodgers combined for 162 of the Falcons' season-high 167 yards on the ground.
But this week's foe is the San Francisco 49ers, a team that was No. 3 in total defense this season.
Head coach Mike Smith and offensive coordinator Dirk Koetter may opt for a different game plan this week, although the Niners' defense can be had.
Including last week's win over the Green Bay Packers, San Francisco held opponents to fewer than 100 yards rushing in 10 of their 12 victories. But in the five games the 49ers failed to win in 2012, Vin Fangio's unit gave up an average of 143 yards per game on the ground.
It will be a long day for Turner and company as Atlanta is held to 65 yards rushing.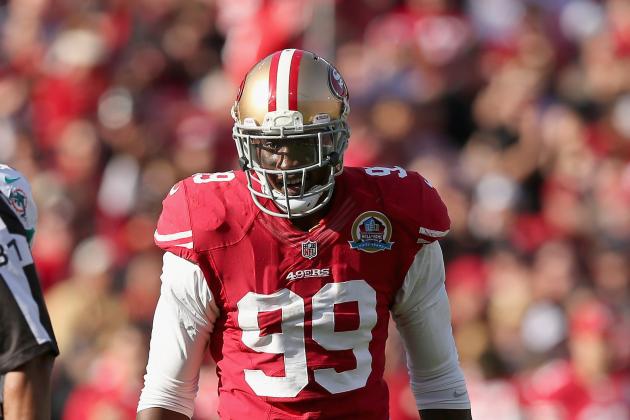 Ezra Shaw/Getty Images

Last week, with defensive end Chris Clemons out of commission, the Seattle Seahawks did not record a sack of Atlanta Falcons quarterback Matt Ryan.
Don't look for a repeat performance this week from the San Francisco 49ers' defense.
In the previous slide, we mentioned that the Falcons' ground attack would be limited to just 65 yards.
While the Atlanta offense has been fairly unbalanced all season, the Niners' defenders will make it particularly tough early on Michael Turner early. That will set the tone for the rest of the game.
Including playoffs, 49ers Pro Bowl outside linebacker Aldon Smith does not have a sack. This is surprising regardless of the reasons when considering he totaled 19.5 sacks in the first 13 games of the season.
That changes this week as both Aldon and defensive tackle Justin Smith each get to Ryan twice on the afternoon, with linebacker Ahmad Brooks making it five sacks by the Niners' defense by game's end.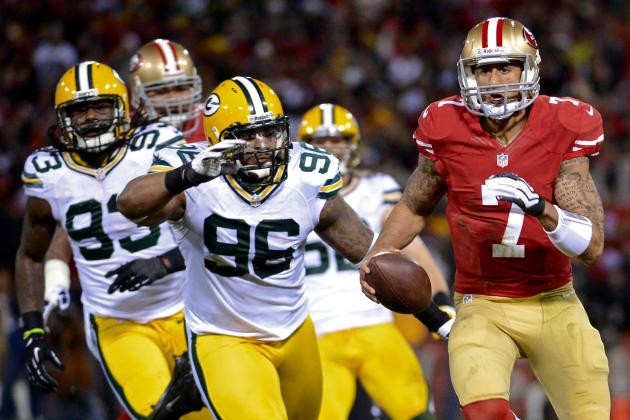 Harry How/Getty Images

You still have to marvel at what San Francisco 49ers quarterback Colin Kaepernick did in first playoff start.
In last week's 45-31 win over the Green Bay Packers, the second-year pro set an NFL record for a quarterback by rushing for an astounding 181 yards (and two touchdowns). Consider that the Atlanta Falcons (167), Baltimore Ravens (155) and New England (122) didn't reach those totals on the ground in their playoff wins of a week ago.
But almost lost in his running was his passing performance as Kaepernick's 263 yards through the air was six more than Aaron Rodgers (257) managed last Saturday.
However, don't look for a repeat performance at the Georgia Dome. With his team ahead 20-7 early in the third quarter, Kaepernick sprains his ankle on a short run down the right sidelines and is lost for the rest of the afternoon. Enter veteran Alex Smith, who guides the team to three field goals the rest of the way.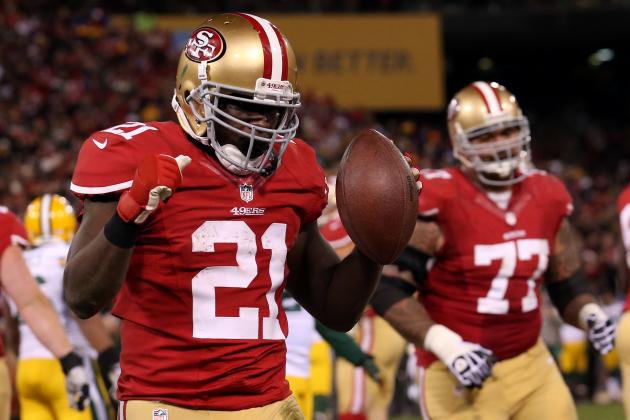 Stephen Dunn/Getty Images

The band Simple Minds put it best.
"Don't you—forget about me."
In last week's 45-31 win over the Green Bay Packers, the San Francisco 49ers rolled up 323 yards rushing, the fourth most in a game in NFL postseason history.
Obviously quarterback Colin Kaepernick's 181 yards on the ground are what stole the show against the Pack.
While the Niners' second-year star got more than half of the team's rushing yards, veteran running back Frank Gore got the majority of the carries. The franchise's all-time rushing leader totaled 23 of the club's 43 rushing attempts, good for 119 yards and a score. Gore also caught two passes for 48 yards.
Jim Harbaugh knows that you can beat the Falcons with the ground game and controlling the clock. Gore's role will become even more important on Sunday after Kaepernick is lost for the rest of the afternoon.
With Alex Smith back at quarterback and the Niners protecting a 10-point lead in the fourth quarter, you can expect Gore to top those 23 carries from a week ago.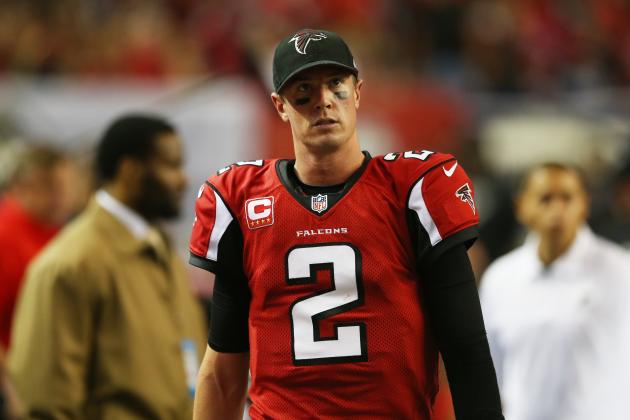 Mike Ehrmann/Getty Images

In last week's victory over the Seattle Seahawks, Atlanta Falcons quarterback Matt Ryan attempted to erase a lot of doubt surrounding him and the team's recent inability to win in the playoffs.
Now, with one postseason victory under his belt, Ryan hopes to lead the franchise where they haven't been since Jamal Anderson and the "Dirty Birds" made a trip to South Florida for Super Bowl XXXIII.
While Ryan did throw for 250 yards and three touchdown passes in last Sunday's 30-28 win, he also served up a pair of interceptions.
As previously noted, the Falcons will gain just 65 yards rushing against the San Francisco 49ers and Ryan will be sacked five times.
Even worse is the fact that the frustrated Atlanta signal-caller will wind up throwing for 198 yards and one score, but will be picked off three times by the Niners' secondary.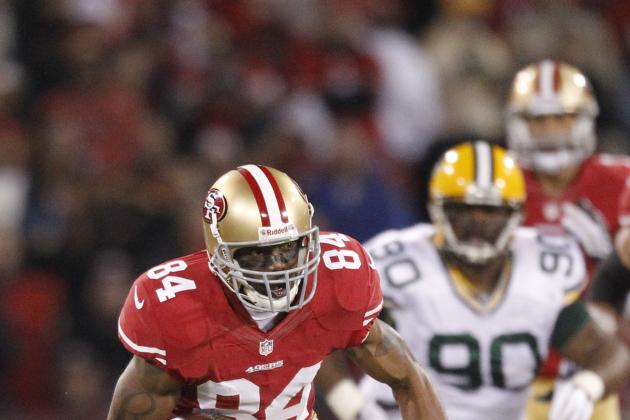 Cary Edmondson-USA TODAY Sports

The last and only time the Atlanta Falcons reached the Super Bowl was 1998, when they faced the Denver Broncos in the 33rd installment of the game.
That season in the Divisional Playoffs, the Falcons edged the San Francisco 49ers, 20-18, in the only previous playoff meeting between these clubs.
Of course, the 1998 season was also significant for many other reasons, like the NFL debut of a wide receiver named Randy Moss.
Drafted by the Minnesota Vikings in the first round, Moss wowed everyone during his rookie season. Dennis Green's team scored a then-record 556 points while Moss totaled 17 touchdown receptions.
But any dreams of a Super Bowl ended with a home loss to the Atlanta Falcons in the NFC title game.
On Sunday, Moss will catch just two passes (one each from Colin Kaepernick and Alex Smith), but one will cover 15 yards and a score. That little bit of payback of sorts will lead to the following.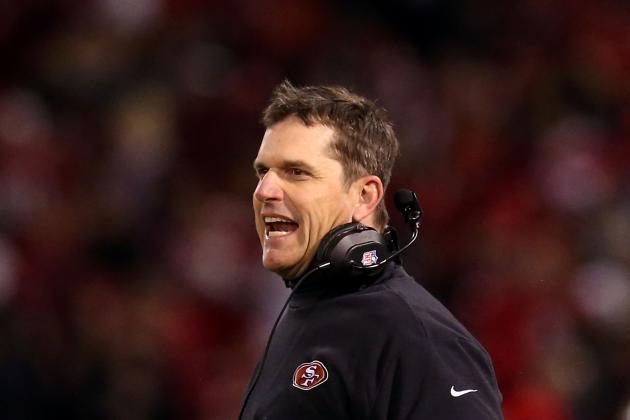 Stephen Dunn/Getty Images

Whether the San Francisco 49ers or Atlanta Falcons win on Sunday, it will continue a recent trend of sorts in the NFC.
The victor would be the conference's 11th different representative in the last 13 Super Bowls. The New York Giants the only team making more than one appearance since 2000.
Although the Falcons haven't been to the Super Bowl in 14 seasons (1998), it's been an even longer drought for the 49ers. They last appeared in the big game following the 1994 campaign, when Pro Football Hall of Fame quarterback Steve Young threw a record six touchdown passes in besting the San Diego Chargers.
By early Sunday evening, Jim Harbaugh, this time as a head coach, will be heading to a game he came one last-second incomplete pass from in 1995 when he was quarterback of the Indianapolis Colts.
The bigger question may be the health of his starting quarterback (Colin Kaepernick) and whether former starter (Alex Smith) will have to be ready to play at New Orleans in two weeks.
49ers 29, Falcons 20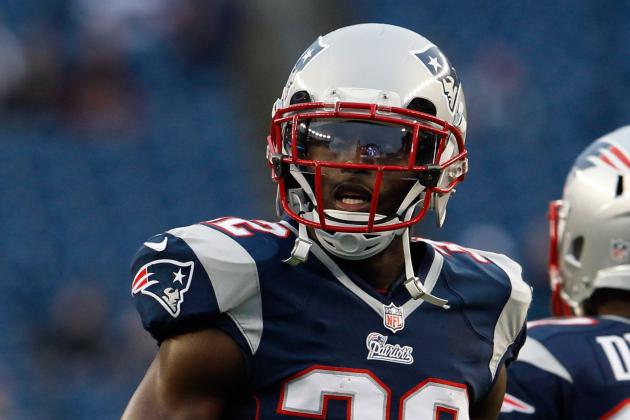 USA TODAY Sports

In last Saturday's 38-35 double overtime win over the Denver Broncos, the Baltimore Ravens gave up 398 total yards of offense and three touchdowns.
Of course, that was the good news in some ways.
John Harbaugh's team did give up a pair of scores on returns as Denver's Trindon Holliday took a punt back 90 yards for a touchdown and returned a kickoff 104 yards for a touchdown.
Lesson learned by Harbaugh and Co.?
After the New England Patriots win the opening toss and take the ball, Devin McCourty fields the ball at his own two-yard line and races 98 yards to give Bill Belichick's team (after the PAT) a quick 7-0 lead.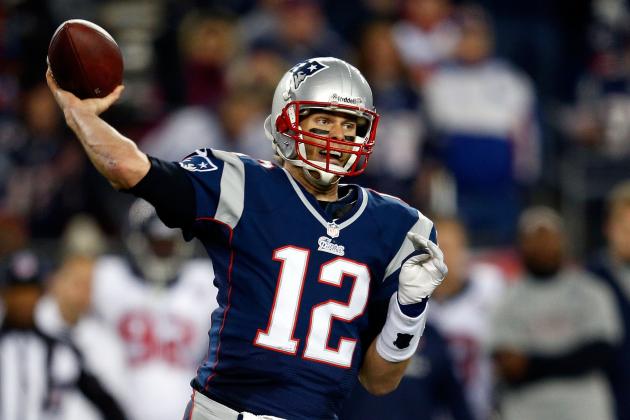 Jim Rogash/Getty Images

It's only natural to assume that the NFL record for most career passing yards in the postseason is owned by the man who has thrown for the most yards in the regular season.
But for how long?
In 23 career postseason contests, New England Patriots quarterback Tom Brady has thrown for 5,629 yards, fourth in NFL history behind Brett Favre (5,855), Joe Montana (5,772) and Peyton Manning (5,679).
That means the star signal-caller needs 226 yards to tie Favre for the all-time lead in this category.
Now we'll go out on a limb here and say Brady owns the mark by afternoon's end, win or lose. If you're curious, the quarterback's low outing of the season in this department was 223 yards in the regular-season win over the Denver Broncos.
Safe to say we feel good about Brady's chances.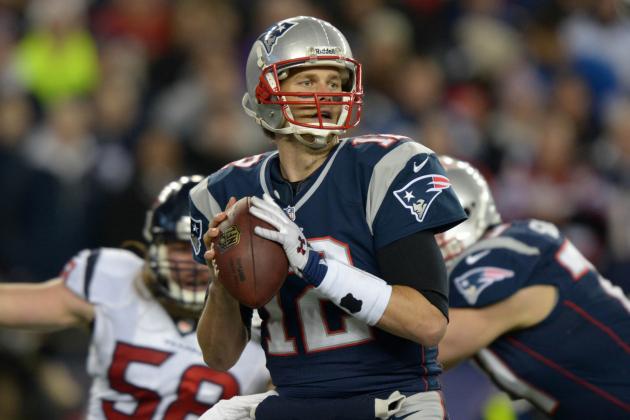 USA TODAY Sports

In last season's AFC Championship Game, New England Patriots quarterback Tom Brady had his issues despite the win.
The prolific signal-caller completed 22-of-36 passes for 239 yards and a pair of interceptions. You'll notice that we didn't refer to a touchdown pass because this marks the last time Brady didn't throw on in a regular season or postseason game.
Only Pro Football Hall of Famer Joe Montana (45) and Brett Favre (44) have thrown more touchdowns in the playoffs than Brady (41). As previously mentioned, Brady will own the NFL record for most passing yards in the postseason.
But you'll have to wait until Super Bowl XLVII or next year to see him throw his next postseason touchdown pass.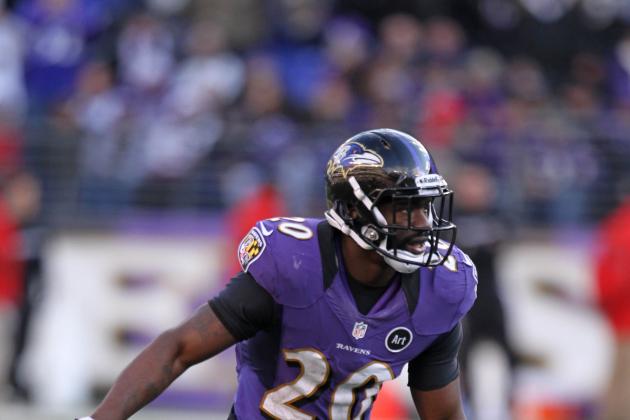 USA TODAY Sports

Speaking of NFL records, the Baltimore Ravens have one of their own on the verge of a significant milestone as well.
Safety Ed Reed has emerged as one of the best ball hawks in league history. His 61 interceptions are the 10th-most in NFL annals. For your information, the record for career interceptions is owned by Pro Football Hall of Fame safety Paul Krause (81).
Reed has also totaled eight interceptions in the postseason, one short of the league record owned by the trio of Charlie Waters, Bill Simpson and Hall of Famer Ronnie Lott.
We already reminded everyone that New England Patriots quarterback Tom Brady failed to throw a touchdown pass in last year's AFC title game. Near the end of the first half, the prolific passer gets greedy and is picked off Reed, who for now ties Waters, Simpson and Lott in the record book.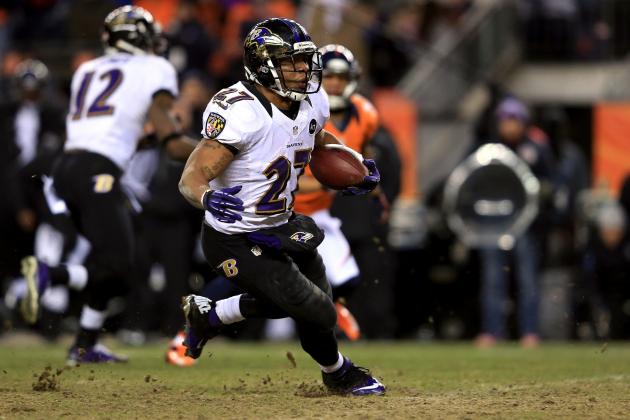 Doug Pensinger/Getty Images

We're playing a strategic hunch here.
Anyone who has watched the Baltimore Ravens' offense in the playoffs knows they are thriving under quarterback Joe Flacco and his ability to connect on the deep ball.
While the strong-armed pro has hit on only 30-of-57 passes in two games, those completions have added up to a gaudy 613 yards (20.4 average) and five touchdowns without an interception.
In last week's overtime win at Denver, Baltimore Ravens wide receiver Torrey Smith caught just three passes, but they covered 98 yards, including scores of 59 and 32 yards in the first half. His ability to stretch opposing defenses is a very big key, especially this upcoming week.
With the New England Patriots defense concentrating on Smith, Anquan Boldin and Jacoby Jones, as well as improving tight end Dennis Pitta, it will be old nemesis Ray Rice that does the damage. He'll run for 86 yards but catch eight passes for 112 yards and a touchdown.
Hey diddle diddle, indeed.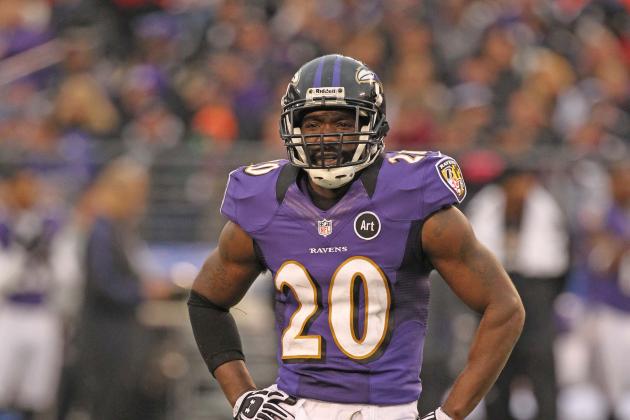 Mitch Stringer-USA TODAY Sports

Remember Baltimore Ravens free safety Ed Reed?
He of the second-quarter interception of New England Patriots' quarterback Tom Brady which killed a late first-half drive by the Pats?
This time around, the rangy defender comes up with an even bigger play. With the Pats ahead 23-20 in the fourth quarter and moving into field goal range, Brady attempts to end the game with 4:32 to play by firing a bullet to wide receiver Brandon Lloyd.
But the ball comes in a little too hot and Ed-on-the spot grabs the deflection, giving him an NFL record 10 career interceptions in the playoffs.
More importantly, the Ravens have new life in this AFC title game showdown.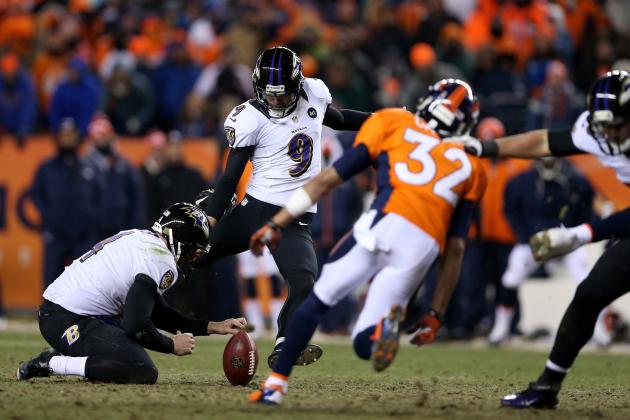 Jeff Gross/Getty Images

No Baltimore Ravens fan or football observer will soon forget the end of last season's AFC Championship Game in Foxborough.
Let us flash back to late in the fourth quarter of the 2011 title game. While wide receiver Lee Evans' dropped touchdown pass likely cost John Harbaugh's team the win, that miscue was made even worse when former Pro Bowl kicker Billy Cundiff pushed a 32-yard field-goal attempt wide. The Ravens went home as 23-20 losers.
Both Evans and Cundiff are gone. But rookie performer Justin Tucker has stepped into the role and succeeded with flying colors. He connected on 30-of-33 field-goal attempts, including a perfect 4-of-4 from 50-plus yards.
That latter number is significant because of what will eventually happen. With his team down 23-20 with less than four minutes to play, Tucker watches as quarterback Joe Flacco leads the Ravens on a march that ends at the New England 33-yard line with just four seconds to play.
No worries. Tucker connects from 51 yards out, his third field goal of the afternoon, and John Harbaugh's team is headed to overtime for a second-straight week.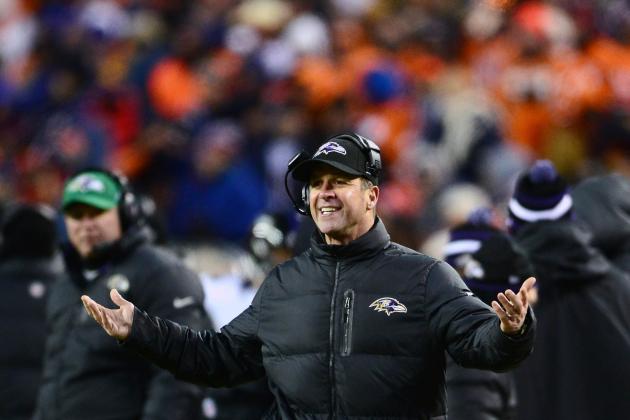 Mark J. Rebilas-USA TODAY Sports

Whether the Baltimore Ravens or New England Patriots win on Sunday, it will continue a recent trend of sorts in the AFC.
The only teams to represent the conference in the Super Bowl since 2000 are, and will be, the Patriots, Ravens, Oakland Raiders, Pittsburgh Steelers and Indianapolis Colts.
Of course, a victory by New England means their sixth trip to the Big Game over that span. For the Ravens, it would mark their second Super Bowl appearance ever.
The Ravens have really gathered themselves after a late-season slump, but winning at Foxborough is not an easy task. However, John Harbaugh's club won a playoff game at Gillette Stadium in 2009 and is getting ready to do so again, even if it takes a little extra time and another Justin Tucker field goal.
Ravens 26, Patriots 23 (OT)