Each MLB Team's Top Prospect They Refuse to Trade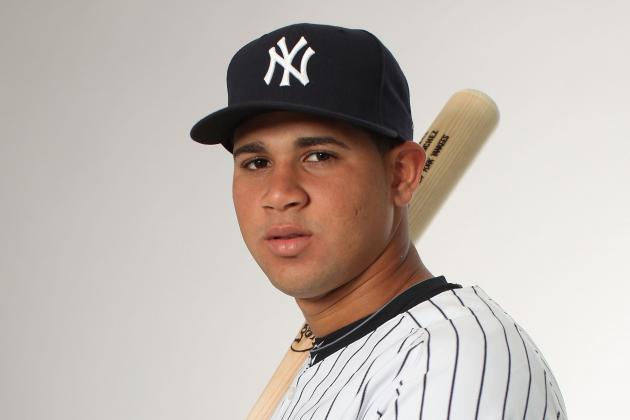 Nick Laham/Getty Images

If baseball fans have learned anything this offseason, it's that there's no such thing as an untouchable prospect.
Since the beginning of November, six top-50 prospects have been involved in a blockbuster trade: Wil Myers, Travis d'Arnaud, Trevor Bauer, Noah Syndergaard, Jake Odorizzi and Jake Marisnick.
As with any prospect-related trade, there's a tremendous amount of risk involved. That's exactly why a trade involving a high-ceiling, low-to-medium risk prospect is so rare.
Here's a look at each team's top prospect they refuse to trade.
Begin Slideshow

»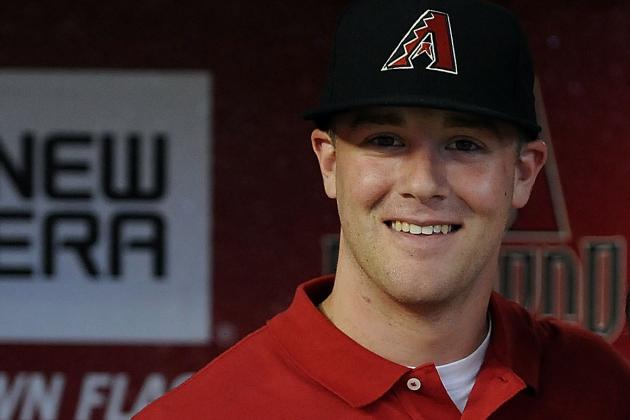 Norm Hall/Getty Images

Even though Tyler Skaggs has lots of upside as a No. 3 starter, Bradley's athleticism and pure stuff give him front-of-the-rotation potential. Both his fastball and curveball currently grade as plus pitches, though the right-hander's overall command is still very raw.
If it improves, Bradley should have no problem reaching his ceiling as a Nos. 1 or 2 starter for the Diamondbacks.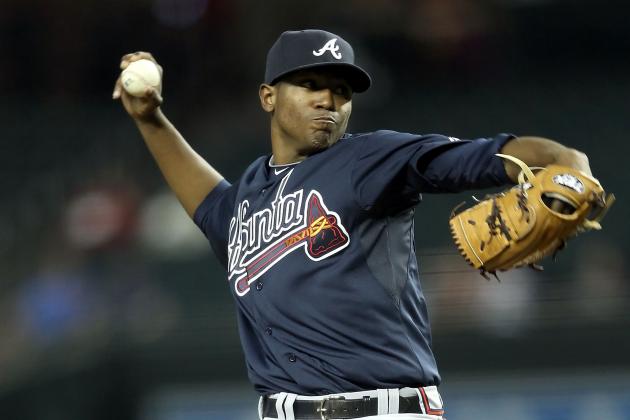 Christian Petersen/Getty Images

Teheran's name will continue to pop up when discussing the Braves' top trade chips. However, the organization seems optimistic that the 21-year-old right-hander can regain the form that made him one of baseball's top pitching prospects heading into the 2012 season.
Yes, Teheran's coming off a dismal and disappointing season at Triple-A Gwinnett, but the few mechanical adjustments he recently made in the Dominican Winter League suggest that he may have righted the ship.
Plus, why would the organization want to move him while his prospect stock is at a career low?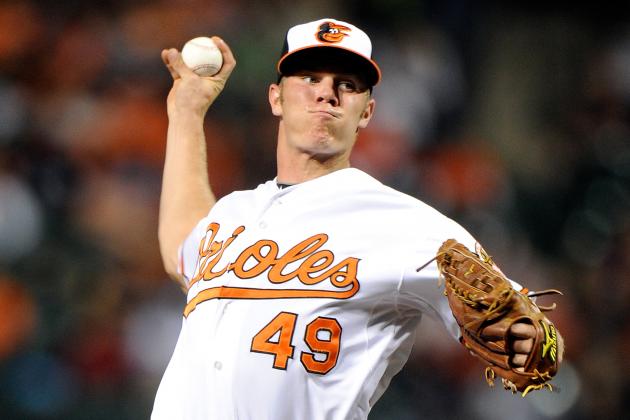 Greg Fiume/Getty Images

Extremely polished for his age, Bundy offers a combination of pitch-ability and stuff rarely found in a 20-year-old pitcher. He boasts a four-pitch mix highlighted by a plus fastball and curveball, though his command of the latter can be inconsistent. The right-hander also throws an above-average slider and changeup, both of which project to be at least above-average offerings.
Considering that he received a brief call-up last year, Bundy will likely spend a majority of the season in the major leagues. He's that simply that good. Already mature, both physically and mentally, it shouldn't take long for the right-hander to emerge as the Orioles' ace.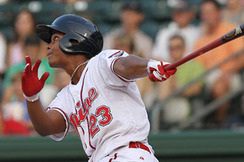 Courtesy of MiLB.com
Headed into the 2012 season, there was skepticism as to whether Bogaerts' raw bat and approach would translate at higher minor-league levels. However, the shortstop continued his surge through the system by batting .302/.378/.505 in 104 games at High-A Salem to open the season. Following a late-season promotion to Double-A Portland, he batted .326/.351/.598 with 15 extra-base hits in 23 games.
After mashing as a teenager in Double-A to close the year, Bogaerts is another strong first half away from reaching the major leagues as a 20-year-old. Considering that the Red Sox have been desperately trying to solidify the shortstop position for years, there's no chance they will trade Bogaerts.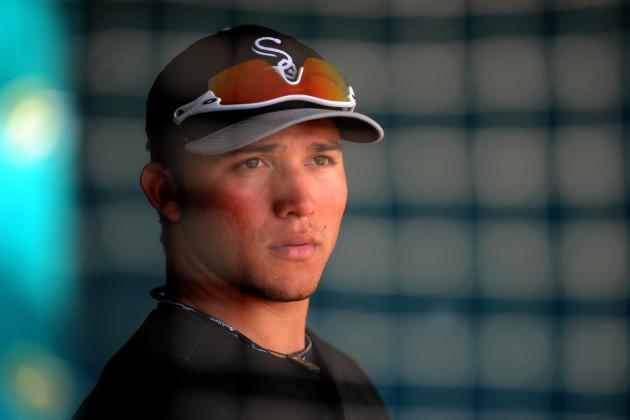 Jennifer Hilderbrand-USA TODAY Sports

Already highlighted by its first-round draft pick from 2012, outfielder Courtney Hawkins, the White Sox's farm system ranks as one of the worst among all organizations. Though it lacks lacks impact talent, it does have have a few nice pieces—one of them being infielder Carlos Sanchez. As a 20-year-old last season, the switch-hitting infielder reached Triple-A Charlotte after opening the year at High-A Winston Salem.
Sanchez isn't a big-name prospect, but his hit tool, advanced secondary skills and defensive versatility make him valuable. He's a great interim option at any infield position and could even make Gordon Beckham expendable in 2013.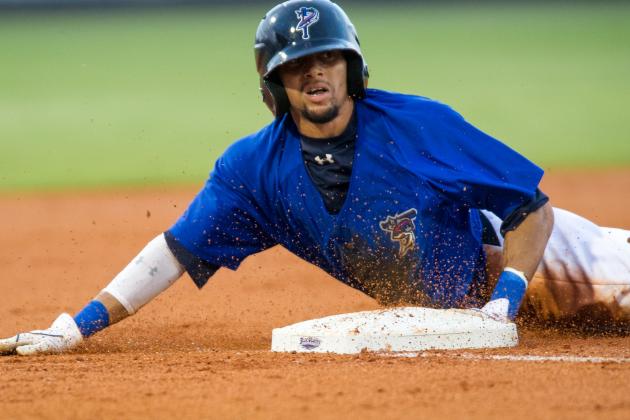 Michael Chang/Getty Images

The fastest human being I've ever seen, Hamilton shattered the professional stolen-base record last season with 155 between High and Double-A. More importantly, the switch-hitter's secondary skills were vastly improved, as he exhibited the potential to be a game-changing presence at the top of the order.
The organization moved him from shortstop to center field prior to the Arizona Fall League. Although he's understandably raw, Hamilton possesses the speed to compensate for any poor read or route.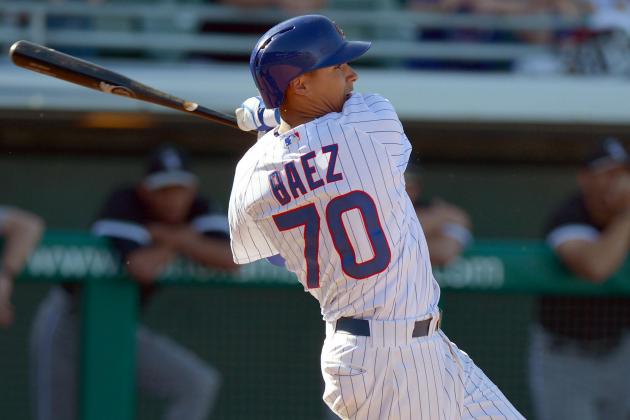 Jake Roth-USA TODAY Sports

If Baez develops as hoped—and as his early track record in the minor leagues suggests—the right-handed hitting shortstop has the potential for monster production. Even though he possesses some of the best bat speed in the game, his approach and pitch recognition is raw and will need refinement.
However, when that's said and done, Baez could emerge as a perennial all-star at either shortstop or third base.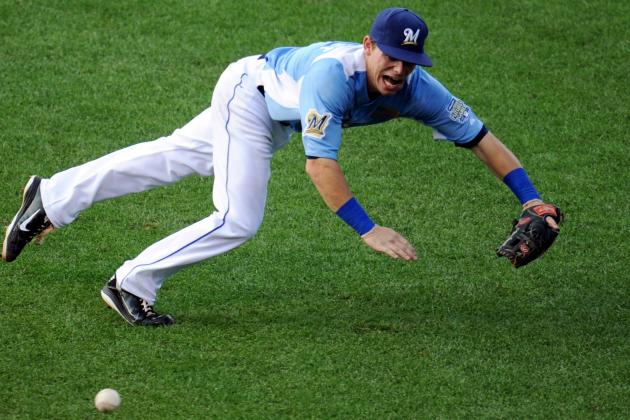 Peter G. Aiken-USA TODAY Sports

The top defensive shortstop in the minor leagues, Lindor's glove alone ensures a long career in the majors. Therefore, the fact that he possesses an advanced bat from both sides of the plate and mature on-base skills suggests the potential to be a regular all-star.
A younger player—he turned 19 in mid-November—Lindor could conceivably reached the major leagues before his 21st birthday.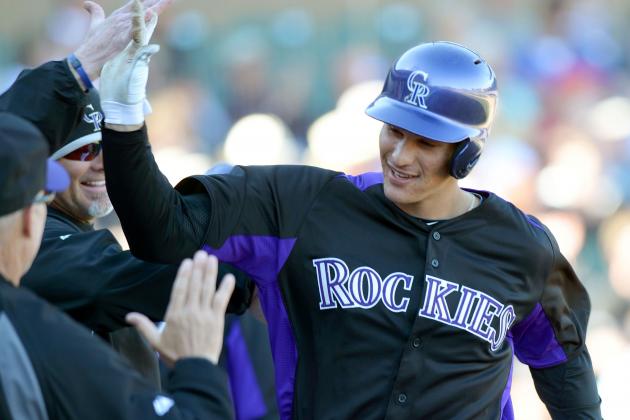 Jake Roth-USA TODAY Sports

After a monster offensive campaign at High-A Modesto in 2011, Arenado came back down to earth last season outside the environment of the hitter-friendly California League. But with a clear path to playing time this season, the third baseman represents an important part of the organization's future.
Arenado is at least a half-season at Triple-A away from the major leagues. He could post 2011-like numbers at Coors Field.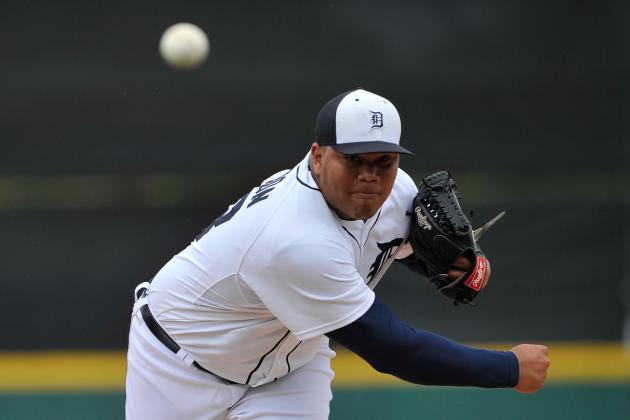 Jerome Miron-USA TODAY Sports

Although the Tigers' top prospect is Nick Castellanos, there's no guarantee that he'll reach the major leagues with the organization, as he currently lacks a clear path.
Having opted not to sign a legitimate closer this offseason, the Tigers are seemingly prepared to open the 2013 season with Bruce Rondon. A hard-throwing right-hander, Rondon's fastball routinely touches triple-digits and will rank as one of the best in the majors.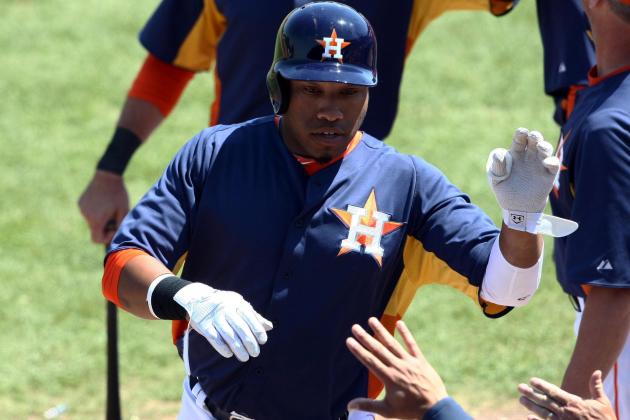 Douglas Jones-USA TODAY Sports

Justin Maxwell led the powerless Astros with 18 home runs last season, as the team featured only two other players with double-digit home-run totals, Jed Lowrie (16) and J.D. Martinez (11). Therefore, despite having never played a game above Double-A, first baseman Jonathan Singleton ranks as the organization's top power prospect.
Singleton will miss the first 50 games of the 2013 season after testing positive for a drug of abuse (marijuana) last week, according to ESPN.com, but the inevitable infusion of his pop into their everyday lineup is worth the wait.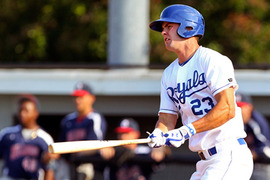 Courtesy of MiLB.com
If this had been written about a month earlier, I would have said Wil Myers—obviously. However, after the Royals traded him to the Tampa Bay Rays, the honor now falls to outfielder Bubba Starling.
The organization's first-round selection in 2011 draft, his athleticism and potential for five above-average-to-plus tools in the major leagues give him a high ceiling. He's slightly behind the developmental curve and an overall raw player, but, with patience, Starling's payoff could be huge.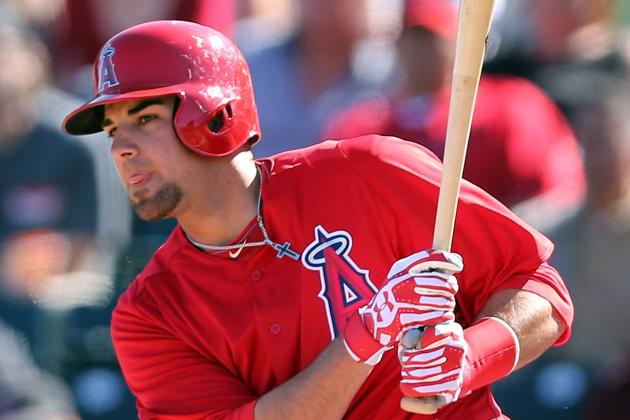 Christian Petersen/Getty Images

After trading Jean Segura, John Hellweg and Ariel Pena for Zack Greinke last summer, the Los Angeles Angels' system is barren. Luckily, their one standout prospect, switch-hitter Kaleb Cowart, is a third baseman, which is arguably one of the organization's weaker positions at the major league level.
Considering that the 20-year-old made huge strides in all facets of the game last season between Low- and High-A, he's currently on pace to arrive in Anaheim ahead of schedule.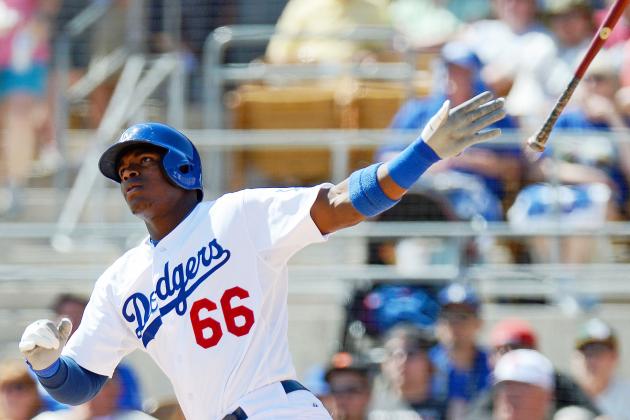 Jake Roth-USA TODAY Sports

A physically strong right-handed hitter, Puig is an above-average athlete with loads of raw power to all fields. Given his lack of experience as a professional, the Cuban defector will need to iron out his share of bad habits as he develops.
However, the final product could be a star-level right fielder batting in the middle of the Dodgers' order.
With an "all in" mindset when it comes to both signings and acquisitions, Puig may be the only player in the team's system who's actually off limits.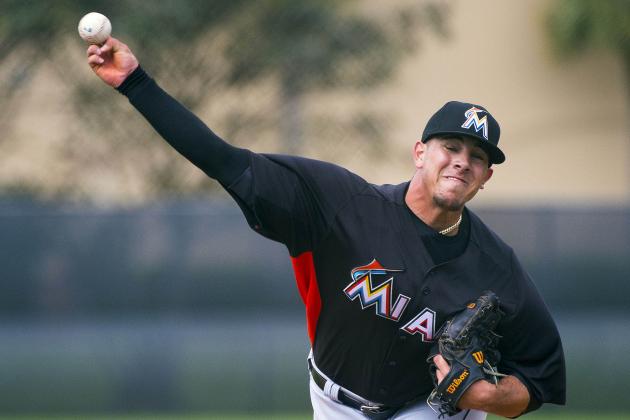 USA TODAY Sports

After trading away all of their talent at the major league level not named Giancarlo Stanton, the Marlins are clearly in the midst of a rebuilding phase. Leading their new youth movement is right-hander Jose Fernandez, who dominated at two Class-A levels last season as a 19-year-old.
The right-hander is considerably advanced and polished for his age and is on pace to debut in the major leagues before his 21st birthday.
Few pitchers have the potential to be a Nos. 1 or 2 starter in the major leagues. Fernandez is certainly one of them.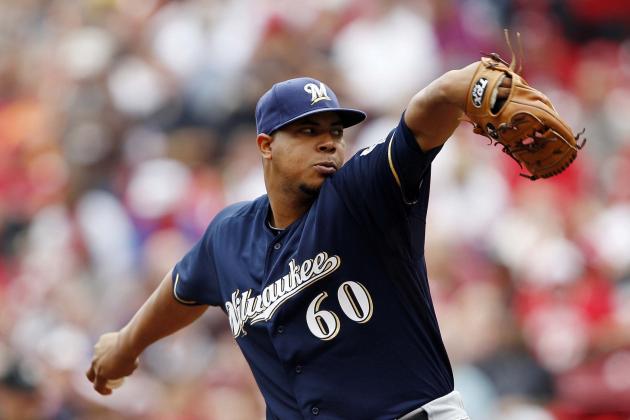 Frank Victores-USA TODAY Sports

Although they acquired right-handers John Hellweg and Ariel Pena for Zack Greinke last season and drafted Taylor Jungmann and Jed Bradley in 2011, the Brewers' system still lacks projectable talent on the mound.
Peralta is the exception, however, as the right-hander had a strong showing in the major leagues to conclude the 2012 season. A durable right-hander with a thick frame, he has a chance to open the upcoming season in the starting rotation and could develop into a solid No. 3 starter capable of eating innings.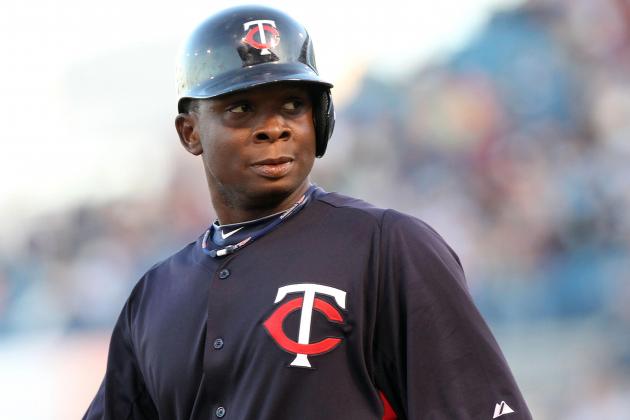 Kim Klement-USA TODAY Sports

Possessing effortless, plus-plus raw power to all fields, Sano is one of a select few prospects capable of hitting 40-plus home runs as a professional. However, he's still a high-risk prospect with a large gap between the present and future.
The biggest question is if Sano will remain at third base, where his current below-average defense doesn't project favorably. Regardless, his power is exceptional and should be his calling card for the duration of his career.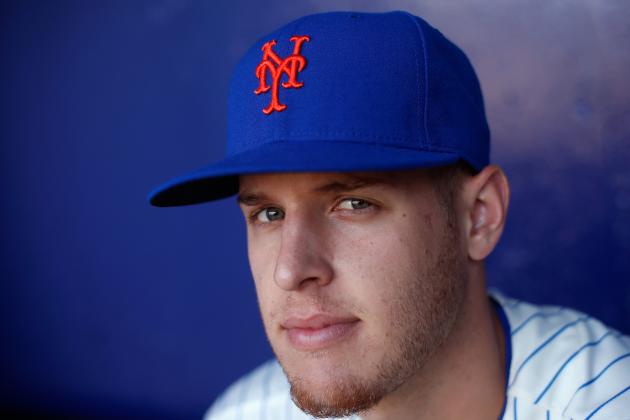 Chris Trotman/Getty Images

Acquired from the Giants in exchange for Carlos Beltran in late 2011, Wheeler has blossomed into one of baseball's top prospects. Behind an electric arm, the 6'4" right-hander showcases an advanced four-pitch mix of average-to-plus offerings.
For as good as it appears Matt Harvey will be, Wheeler has the potential to be even better. Considering the Mets' recent infusion of young talent from the R.A. Dickey trade, they have every reason to hold on to their future ace.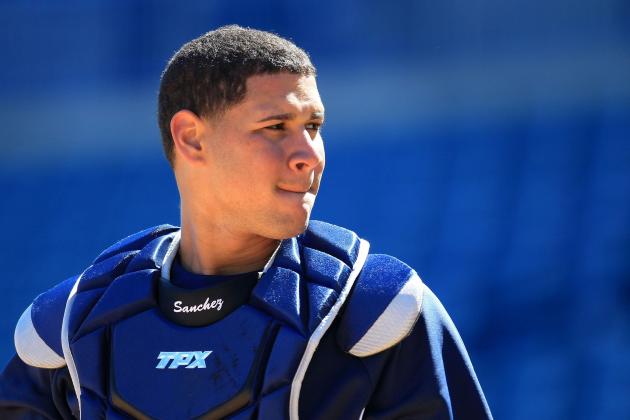 The Star-Ledger-USA TODAY Sports

The Yankees lack a prospect who truly stands out relative to the other talent in the system. Beyond their collection of potentially above-average infielders and outfielders, the organization's most intriguing prospect is Sanchez, a right-handed hitter who clubbed 18 home runs between two Class-A levels last season.
Although his defensive projection behind the plate is fringy and his skills need refinement, Sanchez's bat is a premium at the position and should be considerably better than any combination of Francisco Cervelli, Chris Stewart and Austin Romine.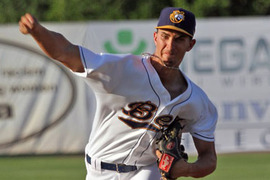 Courtesy of MiLB.com
The A's have benefited from an influx of impressive pitching prospects over the last two seasons, as evidenced by the record-setting 101 games started by rookie hurlers in 2012.
While the organization still has a few remaining arms poised to reach the major leagues in 2013 (Brad Peacock and Sonny Gray, mainly), it may be another two years before their next great pitching prospect, right-hander A.J. Cole, is big-league-ready.
While it's possible that Billy Beane and company will trade for additional depth on the mound, Cole, 20, is at the front of the team's next wave of talent.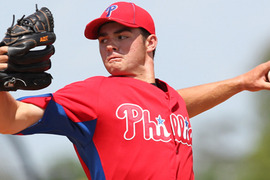 Courtesy of MiLB.com
Since it's doubtful that both Cliff Lee and Roy Halladay will remain in Philadelphia for the duration of their current contracts, the organization will need to produce a young pitcher or two over the next several years.
Biddle sharpened the command of his three-pitch mix last season, especially his above-average fastball and curveball. The left-hander has the potential to be at least a No. 3 starter in the major leagues and is ready for Double-A.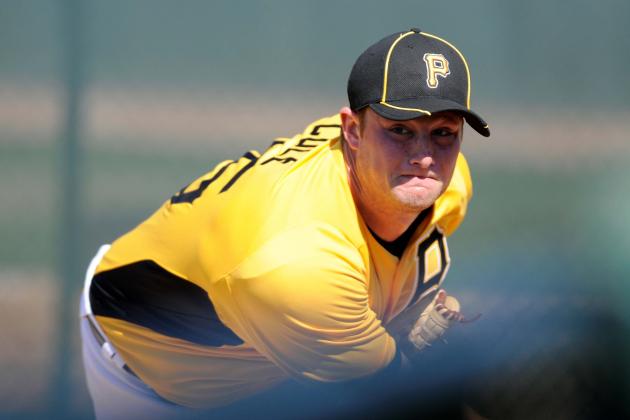 Brad Barr-USA TODAY Sports

A 6'4" right-hander, Cole is the definition of a power pitcher. His fastball sits in the high-90s and will frequently touch triple-digits. It is complemented by a hard, late-breaking slider in the high-80s. Cole's changeup isn't as consistent but flashes the potential to be a third plus offering by the time he reaches the major leagues, which figures to be sometime during the 2013 season.
The first-overall draft pick in 2011, Cole is on the cusp of a big-league promotion. Provided that his command continues to improve, it shouldn't take him long to reach the front of the Pirates' starting rotation.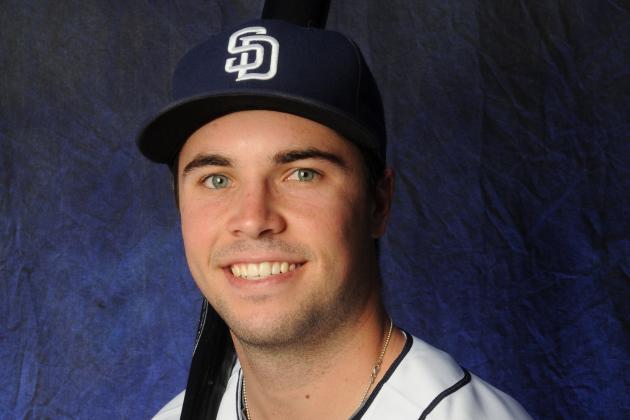 Rich Pilling/Getty Images

Arguably the top defensive catcher in the minor leagues, Hedges has the potential for a long career in the majors based upon his defense alone. Yes, he's that good.
Therefore, the fact that he showed an improved bat with more power last season only improved his prospect stock. Lauded for his makeup and game-calling ability, Hedges has the makings of a full-package, all-star backstop.
Even though Yasmani Grandal's bat will be a premium behind the plate, Hedges could make him expendable as he reaches the upper levels.
Kelley L Cox-USA TODAY Sports

Don't look now, but the Giants are quietly assembling another collection of homegrown starting pitchers. (Just imagine if they kept Zack Wheeler.)
At the head of the group is Crick, a 6'4" right-hander with a strong frame and powerful arm. His promising three-pitch mix is highlighted by a plus fastball in the low-to-mid-90s. Both his slider and changeup are raw offerings, but flash the potential to be above average.
All that Crick needs is experience.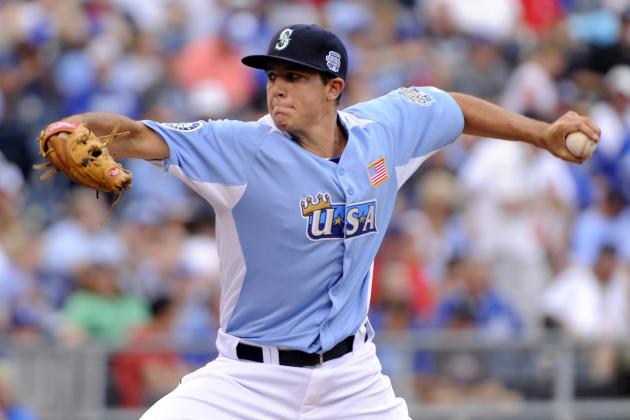 H. Darr Beiser-USA TODAY

Had the Mariners not recently attempted to trade top prospect Taijuan Walker to the Diamondbacks as part of a package for outfielder Justin Upton, he would have been the logical choice. However, in the wake of that news, it seems as though the organization is committed to the development of left-hander Danny Hultzen.
The No. 2 overall selection in the 2011 draft, the Virginia alumnus has the upside of a No. 3 starter due to his pitch-ability and should spend a majority of the 2013 season in the Mariners' starting rotation.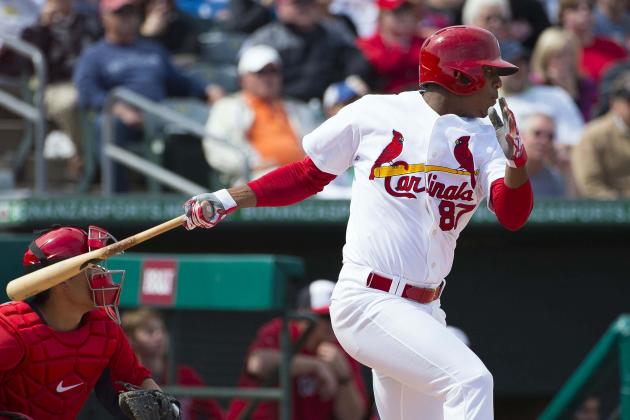 USA TODAY Sports

The purest hitter in the minor leagues, Taveras is the one prospect I believe could make the jump from Double-A to the major leagues right now and still be successful. The left-handed hitting outfielder has some of the best hand-eye coordination and bat-to-ball ability I've ever seen, both of which project favorably at the highest level.
Taveras should find himself in the middle of the Cardinals' lineup at some point during the 2013 season, as his bat appears to be something truly special.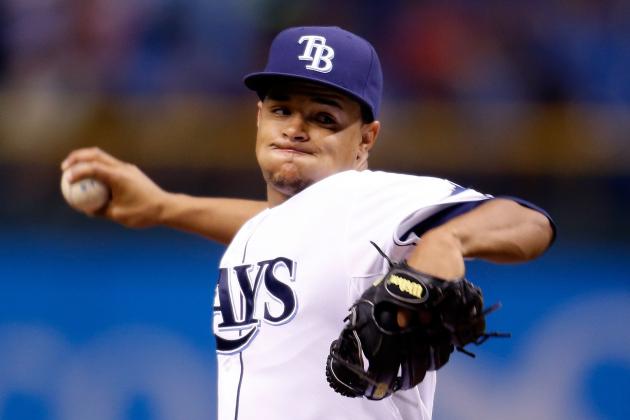 J. Meric/Getty Images

Having struggled with his command in the high minors since joining the Rays, the right-hander showed signs of putting things together last season, which included two impressive stints in the major leagues.
Given his explosive plus fastball-slider combination, Archer will always be valuable in a relief role, provided he throws strikes. However, the improvement to both his changeup and overall command over the course of the 2012 season makes him a candidate for a spot at the back end of the Rays' Opening Day rotation.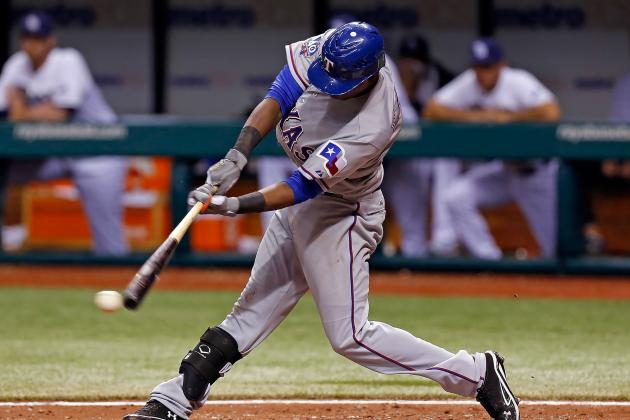 J. Meric/Getty Images

Unanimously regarded as baseball's top prospect, Profar thrived against advanced competition last season as a 19-year-old at Double-A. The switch-hitting shortstop also made quite the impression following a big-league promotion in early September, as he launched a no-doubt home run in his first career plate appearance and even collected a knock in the Rangers' Wild Card play-in game.
Considering that he's nearly big league-ready and possesses as much upside as any prospect in the game, the Rangers have wisely held onto the shortstop this offseason despite the fact he's currently blocked at both middle infield positions.
Courtesy of MiLB.com
Along with former teammates Noah Syndergaard and Justin Nicolino, Sanchez has been moved gradually through the Blue Jays' system. Despite the potential for one of baseball's top homegrown rotations by 2015, the organization traded Syndergaard and Nicolino this offseason in a pair blockbuster trades with the Mets and Marlins, respectively.
They held on to Sanchez for a reason: the 20-year-old right-hander has the pure stuff and athleticism to develop into a frontline starter. With a three-pitch mix including an effortless plus fastball in the mid-90s, as well as a knack for missing bats, Sanchez could emerge as one of the game's top pitching prospects with improved command.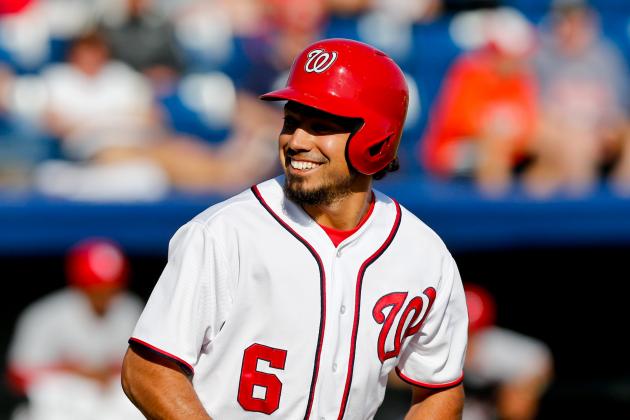 Derick Hingle-USA TODAY Sports

Rendon's prospect stock took a hit over the last year after the third baseman fractured his ankle the second game of the season. The injury was his fourth in as many years. However, the offensive upside is still present, as Rendon is one of the purest hitters in the minor leagues with equally impressive plate discipline.
He hasn't been healthy long enough as a professional to flash his true power, but it should be above average in the major leagues. With a severely depleted system, Rendon stands alone as the organization's top prospect.
The signing of Adam LaRoche for two more seasons may slow his ascent to the major leagues, but, at the same time, could also get him looks at other infield positions.