Comparing Carmelo Anthony's 2012-13 Season with His Best Career Seasons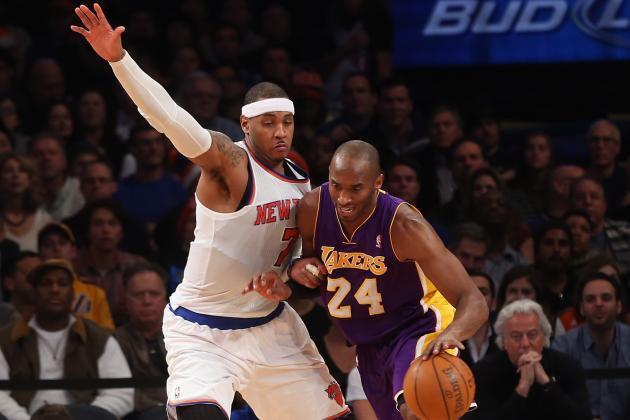 Bruce Bennett/Getty Images

There may be MVP chants in the air, and they may be deserved, but is Carmelo Anthony having the best season of his career?
No matter the sport, a player's best season and MVP season don't necessarily coincide. A lot of the time there's just someone else having a better year.
Or, a player could win the MVP based not on his statistical play, but the impact he had on his team—taking it to the next level or deep into the postseason, for example.
In 2012-13, Anthony is exhibiting all the MVP traits. He's got the New York Knicks exceeding expectations on the back of a head-turning stat line that is one of the best in the NBA right now.
But is this year shaping up to be his greatest regular-season performance yet?
Surprisingly, it was impossible to find a rundown of Anthony's best seasons on the Internet. No articles, posts or forum topics.
It's about time for a little retrospective.
All stats in this article are current as of Jan. 14, 2012. Stats courtesy Basketball-Reference.com.
Begin Slideshow

»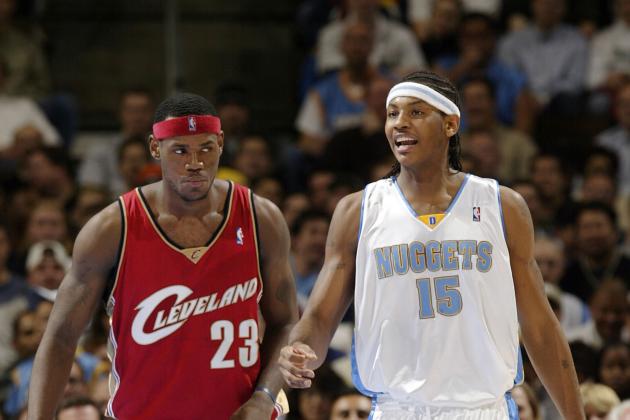 Brian Bahr/Getty Images

After winning the NCAA championship in his only year at Syracuse, Carmelo Anthony made the jump to the NBA amidst great anticipation and fanfare.
He delivered immediately, averaging 21 points, six assists and a steal per game his first season in the pros.
Anthony would have won Rookie of the Year had it not been for another phenom making his debut that season—LeBron James—straight out of high school.
The final tally was 508-430 in favor of the would-be King James. Incidentally, Dwyane Wade and Chris Bosh also placed in that year's voting.
With Anthony's arrival, the Denver Nuggets went from 17-65 (.207) to 43-39 (.524). They went from a team that hadn't made the postseason in eight years to one that would be playoff bound each of Anthony's seven full years there.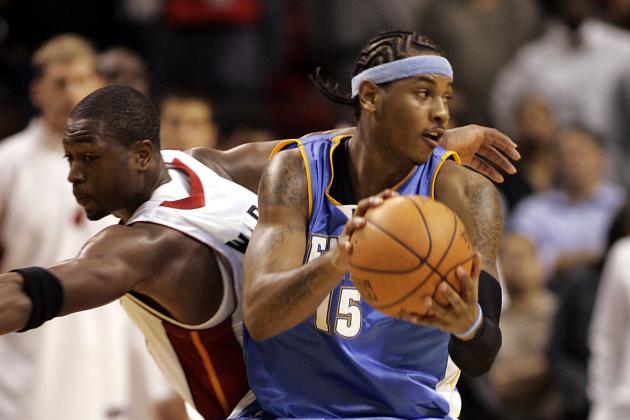 Eliot J. Schechter/Getty Images

In 2005-06, Carmelo Anthony took the Denver Nuggets to the team's first Northwest Division title in 18 years (1987-88).
After slipping some in his sophomore campaign, Anthony came back strong in his third season and established himself as one of the top pure scorers in the league.
He finished with what is still his second-highest field-goal percentage, 48 percent, and his highest overall point total—the only time he's broken the 2,000-point barrier.
Anthony did, however, have his worst season from behind the arc and on the boards.
Still, he averaged 26.5 points a game, cracking the top-10 leaderboard for the first time.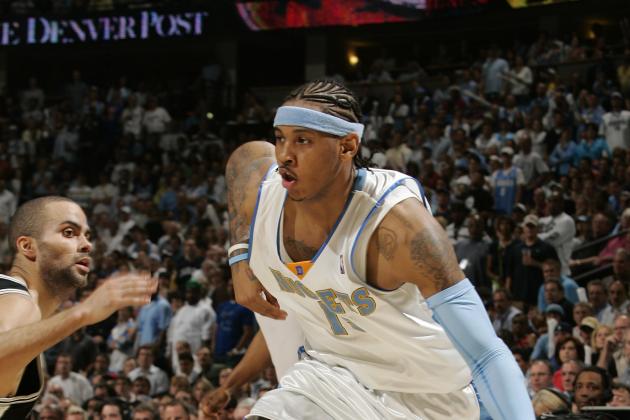 Brian Bahr/Getty Images

Carmelo Anthony upped his scoring pace the following season. In 2006-07, he put up the best scoring average of his career, 28.9 points per game, finishing second to Kobe Bryant for the scoring title.
But this season doesn't rank higher for a number of reasons.
First, he only made it into 65 games, the fewest he's ever played in a full season, and it's likely a full schedule would have whittled his average output down a bit. Secondly, he had the worst total rebounding season of his career.
And the Denver Nuggets slipped to second in the Northwest and dropped three seeds in the West.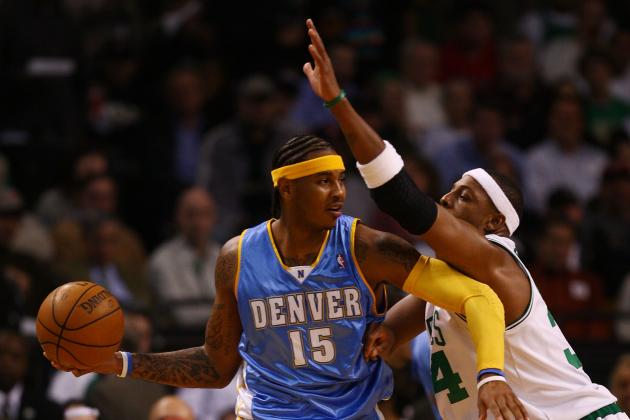 Elsa/Getty Images

Carmelo Anthony's fifth year in the league saw him put up his second-highest point total, just 22 points shy of another 2,000-point season. His average was a little off, though, at 25.7 per game.
But he made up for it in accuracy and on the boards—marking career bests in each category at 49 percent and 7.4 rebounds a game, respectively.
He totaled the most assists and steals of his career as well.
It was arguably Anthony's best defensive season to date, supported by a career best in defensive win shares.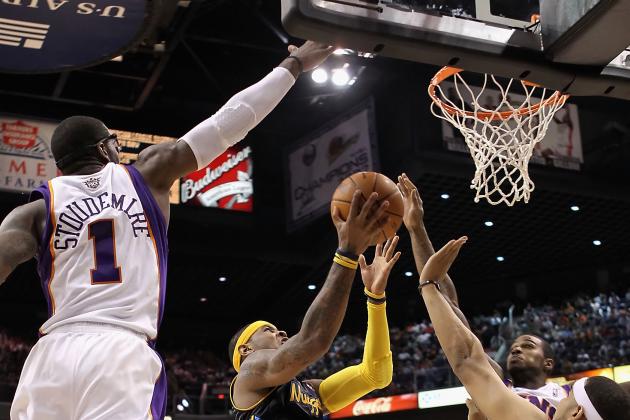 Christian Petersen/Getty Images

Carmelo Anthony did not have career years in any individual statistical category in 2009-10, but this was his most all-around balanced season.
It's the second of only two times he finished with a scoring average over 28 points, third-best in the NBA for the season. Anthony collected 6.6 rebounds and dished over three dimes a game.
It was his most efficient year so far with a 22.2 PER. His game had the polish of a veteran.
Anthony finally made his biggest impression on the voters too, placing sixth in the MVP race—his best finish.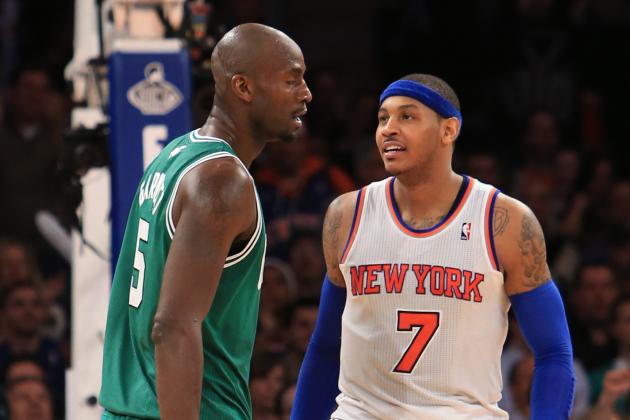 USA TODAY Sports

For the most part, the record shows Carmelo Anthony's game improving over time.
This season, Anthony is averaging 29.3 points per game, which would be his best and is just a smidgen behind Kobe Bryant for the overall lead. Melo's on a pace to shatter his career high of 2,122 points.
Anthony's stat line could use some padding in the rebounding and assists departments, but then again, it's not all his fault. Tyson Chandler's been taking care of the boards, and Anthony is second on the team per game.
Meanwhile all the passing has been handled by three pass-first point guards in Raymond Felton, Jason Kidd and Pablo Prigioni.
Perhaps most telling is Anthony's efficiency this season. His PER is 3.5 points higher than anything he's ever put out there.
Could 2012-13 be the culmination of Anthony's progression and be his best season to date?
It's looking like it in statistical production, leadership and all those intangibles that define an MVP.
Together, that would surely cinch it.
TOTALS
| | | | | | | | | | | | |
| --- | --- | --- | --- | --- | --- | --- | --- | --- | --- | --- | --- |
| | SEASON | G | FG% | 3P% | TRB | AST | STL | BLK | TOV | PTS | PER |
| ? | 2012-13 | 30 | .461 | .421 | 187 | 72 | 29 | 16 | 74 | 878 | 25.7 |
| 1. | 2009-10 | 69 | .458 | .316 | 454 | 222 | 88 | 30 | 209 | 1943 | 22.2 |
| 2. | 2007-08 | 77 | .492 | .354 | 571 | 259 | 98 | 39 | 253 | 1978 | 21.1 |
| 3. | 2006-07 | 65 | .476 | .268 | 391 | 249 | 77 | 23 | 234 | 1881 | 22.1 |
| 4. | 2005-06 | 80 | .481 | .243 | 394 | 216 | 88 | 42 | 218 | 2122 | 22.0 |
| 5. | 2003-04 | 82 | .426 | .322 | 498 | 227 | 97 | 41 | 247 | 1725 | 17.6 |
PER GAME
| | | | | | | | | | | | |
| --- | --- | --- | --- | --- | --- | --- | --- | --- | --- | --- | --- |
| | SEASON | G | FG% | 3P% | TRB | AST | STL | BLK | TOV | PTS | PER |
| ? | 2012-13 | 30 | .461 | .421 | 6.2 | 2.4 | 1.0 | 0.5 | 2.5 | 29.3 | 25.7 |
| 1. | 2009-10 | 69 | .458 | .316 | 6.6 | 3.2 | 1.3 | 0.4 | 3.0 | 28.2 | 22.2 |
| 2. | 2007-08 | 77 | .492 | .354 | 7.4 | 3.4 | 1.3 | 0.5 | 3.3 | 25.7 | 21.1 |
| 3. | 2006-07 | 65 | .476 | .268 | 6.0 | 3.8 | 1.2 | 0.4 | 3.6 | 28.9 | 22.1 |
| 4. | 2005-06 | 80 | .481 | .243 | 4.9 | 2.7 | 1.1 | 0.5 | 2.7 | 26.5 | 22.0 |
| 5. | 2003-04 | 82 | .426 | .322 | 6.1 | 2.8 | 1.2 | 0.5 | 3.0 | 21.0 | 17.6 |